Inverted Pouches Market
Inverted Pouches Market (Capacity: Below 150 ml, 150-500 ml, 500 ml-1 Liter, and Above 1 Liter; Material: Polyolefin, Metalized Aluminum, EVOH, and Others; Pouch Type: Premade and FFS; and End Use: Food [Dairy, Sauces & Condiments, Salad Dressings, Honey, and Others], Personal Care, and Others) - Global Industry Analysis, Size, Share, Growth, Trends, and Forecast, 2019 - 2027
Category :

Packaging

Format :
Inverted Pouches versus Glass Bottles: Which is better?
Inverted pouches have high preference in the rapidly growing F&B industry. The demand for gluten-free and GMO-free sauces has catalyzed the growth of ready-to-use pre-made pouches. As such, pre-made pouch type segment of the inverted pouches market is estimated to reach an output of ~9,800 units by the end of 2021. Hence, companies are increasingly focusing on developing pre-made pouches.
On the other hand, manufacturers in the inverted pouches market are increasing research activities to decipher whether inverted pouches are environment friendly. For instance, producer of clean-label sauces, Uncle Dougie's, collaborated with leading flexible packaging solutions provider Glenroy, to measure the environmental footprint and sustainability of inverted pouches. Manufacturers are using industry standard environment impact measuring software to demonstrate eco-friendly attributes of inverted pouches.
Moreover, growing awareness about organic products is boosting the demand for ready-to-use inverted pouches. In order to cut through the clutter of health claims, companies are manufacturing eco-friendly pouches that are pervasively gaining the trust and faith of consumers.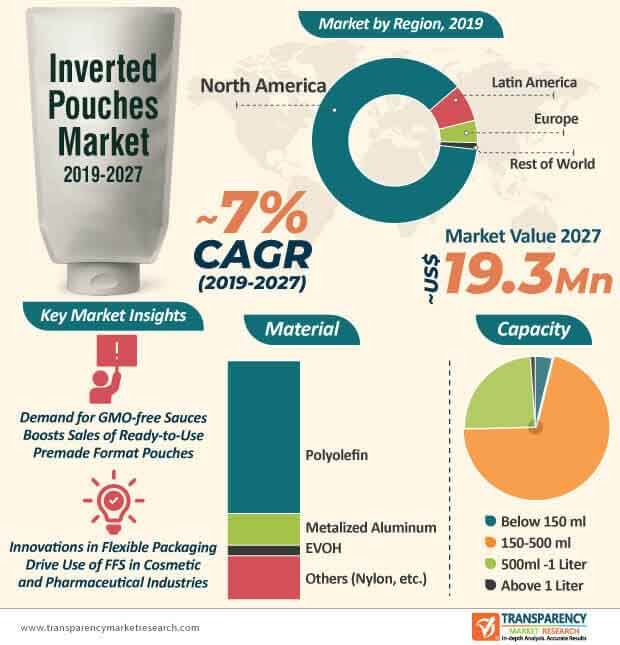 Request a sample to get extensive insights into the Inverted Pouches Market
Companies Strengthen Supply Chain of Squeeze Inverted Pouches for Personal Care Market
Inverted pouches are a game-changing solution for companies looking to boost the uptake of their products. Traditional plastic tubs for dips are now being pervasively replaced with inverted pouches. This has led to the rise in the usage of the product, resulting in high product sales.
Another leader in flexible packaging, ProAmpac, has entered the competition in the inverted pouches market by tapping into opportunities in the personal care segment and other categories with the introduction of PRO POUCH Squeeze inverted pouch. As such, the personal care end use segment of the inverted pouches market is projected to reach a volume of ~2,100 units by 2027. Hence, companies are increasing efficacy in consumer-centric formats of inverted pouches to innovate in cosmetics packaging.
To understand how our report can bring difference to your business strategy, Ask for a brochure
Innovative squeeze inverted pouches are increasingly replacing traditional squeeze bottles, convenient for both food and non-food packaging solutions. Apart from food and personal care, manufacturers are leveraging opportunities in industrial chemicals by strengthening supply chain of squeeze inverted pouches.
Customizable Valves and Dispensing Spouts Enhance Consumer Experience
The inverted pouches market is largely consolidated with major players, with Glenroy alone accounting for ~72-75% of the market share. Another challenge that emerging players have to overcome is the difficulty of dispensing through conventional formats of packaging. As consumers are becoming increasingly aware about various packaging formats, manufacturers are introducing child-friendly dispensing spouts and closures to improve user experience.
On the other hand, manufacturers are increasing production capabilities to optimize the shelf life of food products. As such, food end use segment of the inverted pouches market is estimated to reach a production of ~20,100 units by 2027. Hence, manufacturers are focusing on shelf life optimization of food products to cater to unmet needs of consumers.
Companies are gaining competitive edge over other players by introducing inverted pouches with one-way valves to prevent oxygen intake in the pouch, and this eventually extends the shelf life of products. They are adding more value to pouches by developing customizable valves that maintain viscosity and quality of squeezable food products.
Advantages of Inverted Pouches Prove Instrumental in Merchandizing Applications
Flexible packaging solutions have led to innovation in the inverted pouches market. Manufacturers are aiming to gain long-term business stability by increasing the availability of novel inverted pouches for ultra-high temperature processing and pasteurized dairy products. Inverted pouches are growing increasingly popular as a real asset for merchandising. Easy storage of inverted pouches is another key factor driving the inverted pouches market.
Additionally, companies are undertaking research to understand consumer psychology. Manufacturers are spreading awareness about advantages of inverted pouches among food manufacturers to boost product uptake.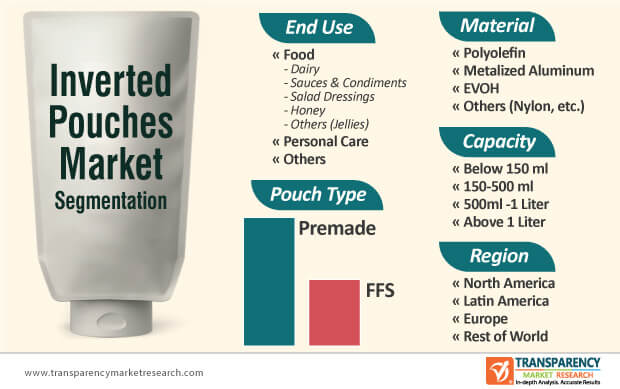 Stuck in a neck-to-neck competition with other brands? Request a custom report on Inverted Pouches Market
Analysts' Viewpoint
Focus on product uptake has helped manufacturers in the inverted pouches market to establish harmonious business relations with food manufacturers. The new technology's upright design makes it door-appropriate and an important asset for merchandising to boost visibility at retail stores.

Eco-friendly attributes, such as reduced fossil fuel and overall water usage in the production of inverted pouches as compared to glass bottles, are gaining widespread popularity in the market landscape. However, there is a need to improve dispensing of food and cosmetic products to cater to sanitary needs of consumers. Thus, companies should develop customizable valves and dispensing spouts to enhance consumer convenience.
Inverted Pouches Market: Overview
According to Transparency Market Research's latest market report on the inverted pouches market for the historical period of 2014-2018 and forecast period of 2019-2027, the market is expected to be driven by a growing preference toward lightweight and convenient packaging.
Globally, the inverted pouches market was valued at ~US$ 11 Bn in 2019 and is projected to register a CAGR of ~7% during the forecast period of 2019-2027.
Millennials Prefer Products in Inverted Pouches
Use of inverted pouches attracts the attention of various age groups, especially millennials. Features, such as easy-to-use and enhanced service life of a product are the main factors that attract the attention of millennials. Additionally, millennials expect brands to provide enhanced functional solutions and are ready to pay more for premium products. This drives the demand for inverted pouches during the forecast period.
According to a leading brand in dairy packaging, there was a sharp increase in its market share after it added inverted pouches to its product portfolio.
Brand Owners to Use Inverted Pouches Due to Cost-effectiveness and Aesthetic Appeal
Nowadays, packaging is not about the format, but also about functionality. Innovative solutions, such as inverted pouches offer long shelf life and enhance brand visibility. Inverted pouches differentiate a manufacturer's products from those of competitors on a store shelf, as they are an eye-catching packaging format. It also provides larger billboard space for brand promotion. Therefore, it is adopted by several brands, such as Uncle Dougie's, and Daisy Brand. Glenroy, a significant manufacturer claimed that its inverted pouches were noticed 40% faster and are 53% longer lasting than rigid packaging in the retail environment.
Inverted pouch packaging solutions are more compact and more cost-effective as compared to conventional packaging containers, such as bottles and jars. Advantages associated with inverted pouches are making them as strong alternatives to conventional packaging solutions.
Unlike conventional packaging solutions, inverted pouches are lighter, more aesthetically appealing, and convenient to carry. The reclosable feature of inverted pouches is considered important, as it aids in eliminating food wastage, therefore making it a preferred choice for local fast food chain outlets.
Inverted pouches offer lower manufacturing costs and handling costs. Inverted pouches are also considered an ideal solution for food manufacturers offering their products through e-Commerce, as this packaging is leak proof.
Converters in the food packaging industry are witnessing high demand for inverted pouches with innovative add-on features and closures such as "Sierra". Inverted pouches also have customized designs that are uniquely contoured for smooth pouring of packaged liquids.
Demand for Increasing Product Shelf Life to Propel Market Growth
Consumers in today's modern world are increasingly opting for packaged food products due to their busier lifestyles and the easy availability of convenient food products. High demand has created the need for flexible packaging products, such as inverted pouches for packaging of a variety of products and to enhance shelf life of these products. Ever-increasing consumption of packaged food products is expected to create a high demand for inverted pouches in the global market.
Consumer preferences are more inclined towards flexible packaging solutions, which are easy-to-handle, and have a low cost. In the last decade, a shift in food consumption habits was observed, with the average North American consumer preferring fast foods. Part of the shift was attributed to the change in work culture and a fast-paced lifestyle, which was followed by an increase in the number of packaged and retail food outlets. This led to the rise in demand for inverted pouches that extend the shelf life of food products.
Apart from consumers, one of the most recurring demands cited by producers of sauces and condiments, is the need for extended shelf life. Additional demands included reclosable and lightweight packaging solutions. This facilitated growth in demand for inverted pouches, which enhance product safety, visibility, and extend shelf life. Brand owners in developed countries, such as the U.S., Germany, and the U.K., etc. use inverted pouch packaging to cater to rising demand for products with extended shelf life. These product lines include food & cosmetics.
Promising Investment Opportunities for New Players
Inverted pouch market is highly a concentrated market; therefore, there are huge opportunities for new players to enter into the market. Inverted pouches can be made from both FFS and pre-made machines, thereby translating opportunities for pre-made and FFS pouch manufacturers in the market. Furthermore, high demand for a variety in capacities and shapes has enabled strong competition in design-level innovations. Thus, channeling efforts toward innovative design of inverted pouches will be prolific for the inverted pouches manufacturers.
Global Push for Adoption of Sustainable Packaging Solutions to Restrain Market Growth
Flexible packaging brand owners across the world are strategically planning to adopt sustainable solutions for packaging of their products. The demand for sustainable packaging solutions is expected to increase substantially in the future, due to several harmful effects of using plastic packaging products on the environment. This might affect the inverted pouches market during the forecast period.
Inverted Pouches Market - Scope of the Report
Transparency Market Research (TMR) published a new report on the global inverted pouches market, providing forecast for the period of 2019-2027. As per TMR's study, substantial growth opportunities for players in the inverted pouches market is expected due to increasing demand from packaged products. The report provides valuable insights, which enables readers to make winning business decisions for the future growth of their businesses. The report highlights significant factors that are constantly determining the growth of the inverted pouches market, untapped opportunities for manufacturers, trends and developments, and other insights across various key segments. Macroeconomic factors that are directly or indirectly affecting the growth of the market are also incorporated in the report.
Key Questions Answered in TMR's Inverted Pouches Market Report
What will be the market size for inverted pouches by the end of 2027?
What thickness is expected to be most preferred for inverted pouches? What was its market size in 2019?
Which is the most preferred pouch type in the inverted pouches market?
Which region will be most lucrative in the inverted pouches market?
Who are major key players in the inverted pouches market?
Key indicators associated with the inverted pouches market have been calculated thoroughly in the report. Vital market dynamics, such as key drivers, challenges, and trends, along with opportunities in the inverted pouches market have also been included. A comprehensive study on the supply chain, which includes key players and end users have been incorporated in the market report. Other key aspects laid down in the market include pricing strategy of leading market players, and comparative analysis of market. Furthermore, forecast factors and forecast scenarios of the inverted pouches market have been covered in the report to understand future prospects of the market.
A comprehensive evaluation and forecast on the inverted pouches market has been provided on the basis of capacity, pouch type, material, end use, and region.
Y-o-Y growth comparison, volume and revenue comparison, and market share comparison of various market segments have been provided in the report. The inverted pouches market has been analyzed at both regional and country levels.
The report delivers an exhaustive assessment on the structure of the inverted pouches market, in tandem with a dashboard view of all leading company profiles in the report. Every company's share analysis on market players has also been presented in the report, apart from the footprint matrix of profiled market players. The report depicts the presence of inverted pouches manufacturers by leveraging an intensity map. It also highlights key end users for inverted pouches.
Key companies profiled in the inverted pouches market report include Glenroy Inc., Polymer Packaging Inc.,Semco S.A.M, and ProAmpac.
Research Methodology
A realistic methodology, along with a holistic approach, makes the base for sharp insights, which have been provided in the inverted pouches market report for the evaluation period. This TMR report comprises detailed information on growth prospects, along with riveting insights and forecast assessment of the market.
Extensive primary and secondary researches have been employed to obtain keen insights into the forecast study of the inverted pouches market. The report has further undergone a cross-validation by in-house professionals to make the inverted pouches market report one-of-its-kind, with the highest credibility.
Inverted Pouches Market - Segmentation
The inverted pouches market has been divided on the basis of capacity, material, pouch type, end use, and region. Each of these segments have been analyzed in detail to provide readers with a holistic view of the industry.
Capacity

Below 150 ml
150-500 ml
500 ml -1 Liter
Above 1 Liter

Material

Polyolefin
Metalized Aluminum
EVOH
Others (Nylon, etc.)

Pouch Type

End Use

Food

Dairy
Sauces & Condiments
Salad Dressings
Honey
Others (Jellies)

Personal Care
Others

Region

North America
Latin America
Europe
ROW
Custom Market Research Services
TMR offers custom market research services that help clients to get information on their business scenario required where syndicated solutions are not enough.
REQUEST CUSTOMIZATION