Global Insecticides Market: Snapshot
The global population explosion put direct pressure on the agriculture industry to increase its yield of crops in the immediate future. This demand for high yield crops is the primary driver for the increasing demand for insecticides on a global level. The demand for higher yield is further complicated by the lack of arable land in terms of total crop output needed, compounding on the pressure for highly efficient insecticides and fertilizers. As stated by the World Bank, farmers are expected to increase their crop yield by 60% by 2050 in order to sustain the current increase in global population.
The demand for insecticides goes up even further with a growing threat of pest infestation. Climate change i.e., an increase in the global average temperatures, has brought about a growth in the number of crop-based infections, infestations, and weeds. Warmer winters cause most frost sensitive insects to now survive the winter and breed again in the summers, further increasing the number of moths, certain types of infestation beetles, aphids, and certain types of butterflies that are detrimental to crop yield.
The growth rate of the global insecticides market is therefore considered very high, despite it already being a large scale market. It is expected to progress at a CAGR of 5.1% from 2015 to 2023 in terms of revenue. The revenue is expected to reach US$2.75 bn by the end of 2016 and US$3.89 bn by the end of 2023.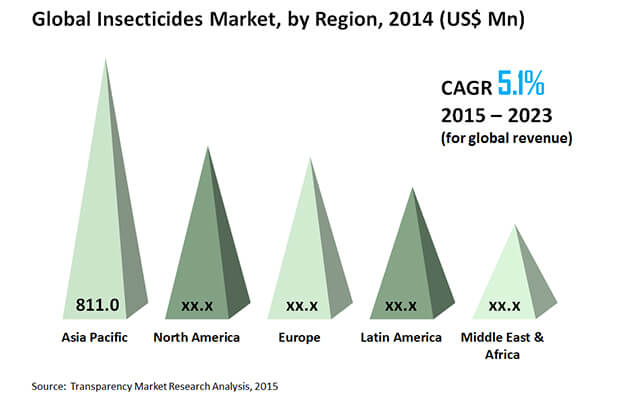 APAC Demand for Insecticides Remains High
By the end of 2023, Asia Pacific is expected to hold a 38.63% share in the volume of insecticides globally. The key reason for this is the primarily agrarian culture of the region, especially in nations such as India. Organophosphates is the leading insecticide type consumed in the region, similar to other major regions.
While the global average demand for insecticides is led by fruits and vegetables till 2023, it comes a close second to the leading demand for insecticides in oilseeds and pulses in Asia Pacific. Cereals and grains are expected to remain in the third position in terms of insecticides consumption rates.
China is expected to continue leading the demand for insecticides in Asia Pacific till 2023. In 2023, China is expected to hold a volume-based share of 53.57% within the Asia Pacific insecticides market.
Biopesticides Expected to be the Future of Insecticides
Naturally derived chemicals that are used to combat insects and infestations in fields – commonly known as biopesticides – are showing a high growth in demand. A lot of biopesticides such as canola oil and baking soda are not only harmless to the environment, but are also very inexpensive to manufacture. Such insecticides can effectively be used in small scale farms as well as gardens due to their harmlessness towards animals and humans.
Biopesticides are fulfilling a major gap in the demand for insecticides that will not be toxic to the environment around them. This is a growing concern in the use of conventional insecticides, most of which are moderate to high in toxicity and need to be handle and disposed with care. The future of insecticides is expected to reside in the development of effective biopesticides.
The leading manufacturers of insecticides from a global standpoint include DuPont, Bayer AG, The Dow Chemical Company, Syngenta AG, BASF SE, ADAMA Agriculture Seolutions Ltd., FMC Corporation, and Sumitomo Chemical Co. Ltd.
Insecticides are crop protection chemicals that are widely used to combat insect pests across the globe. Insects are the most diverse species of animals and are majorly found in tropical habitats such as swamps, jungles, deserts, and even in highly harsh environments such as pools of crude petroleum. Insects inflict damage to crops by directly feeding on them. This poses a challenge of food security for the mankind. Demand for insecticides has been rising owing to the increasing need for better crop yield and growing threat of pest infestation. Deterioration of the climate and rise in the average global temperature is leading to the growth of various kinds of insects. Insects also inflict damage to crops by introducing new diseases through fungus and bacteria deposition on crops. Adoption of effective and non-chemical route for crop protection such as Integrated Pest Management (IPM), organic farming, genetically modified (GM) crops, and crop rotation is hampering the insecticides market. These practices are found to be cost-effective and non-toxic by farmers and agricultural experts. Biopesticides are expected to be provide opportunities for the insecticides market.
This report estimates and forecasts the insecticides market on the global and regional level. The study provides forecast from 2015 to 2023 based on volume (kilo tons) and revenue (US$ Mn).
The study includes market estimate of five key categories of insecticides: organochlorines, organophosphates, carbamates, pyrethrins & pyrethroids, and others. The study also provides a comprehensive view of the insecticides market by dividing it into crop types such as cereals & grains, oilseeds & pulses, fruits & vegetables, and others. These product and crop segments have been analyzed based on historic, present, and future trends, and the market has been estimated from 2015 to 2023 in terms of volume (kilo tons) and revenue (US$ Mn). Regional segmentation includes current and forecast demand for insecticides in North America, Europe, Asia Pacific, Latin America, and Middle East & Africa (MEA). Detailed market segmentation further includes demand for products and crops mentioned above in all the regions.
The report includes a detailed value chain analysis, which provides a comprehensive view of the market. This section of the report provides detailed information about value addition at each stage of the value chain in the insecticides market. The report comprises drivers and restraints for the insecticides market along with their support data during the forecast period. Additionally, the report includes the study of opportunities in the insecticides market from 2015 to 2023.
The report includes Porter's Five Forces Analysis model to measure the degree of competition in the insecticides market. The study comprises an additional section of qualitative write-up and analysis on market attractiveness, wherein product segments have been analyzed. Furthermore, the report provides price trend analysis for insecticides from 2015 to 2023 in US$/Kg.
Secondary research sources that were typically referred to include, but were not limited to company websites, annual reports, broker report, investor presentations, financial reports, and SEC filings. Other sources such as internal and external proprietary databases, news articles, statistical databases, national government documents, market reports, webcasts, and podcasts specific to companies operating in the market have also been referred for the report.
In-depth interviews and discussions with a wide range of key industry participants and opinion leaders were conducted to compile this research report. Primary research represents bulk of the research efforts, supplemented by extensive secondary research. Key players' product literature, annual reports, press releases, and relevant documents were reviewed for competitive analysis and market understanding. This helped in validating and strengthening secondary research findings. Primary research further developed the analysis team's expertise and market understanding.
The report covers detailed competitive outlook that includes market share and profiles of key participants operating in the global market. Key players profiled in the report include ADAMA Agricultural Solutions Ltd., BASF SE, Bayer AG, The Dow Chemical Company (Dow), DuPont, FMC Corporation, Syngenta AG, Sumitomo Chemical Co. Ltd., and Nufarm Limited. Company profiles include attributes such as company overview (headcount, headquarters, and stock listing), brand overview, key competitors, business overview, business strategies, recent/key developments and acquisitions, and financial overview.
The global insecticides market has been segmented as follows:
Insecticides Market – Product Segment Analysis
Organochlorines
Organophosphates
Carbamates
Pyrethrins & pyrethroids
Others (Including organosulfur, benzoylureas, botanicals, neonicotinoids, etc.)
Insecticides Market – Crop Analysis
Cereals & grains
Oilseeds & pulses
Fruits & vegetables
Others (Including industrial & municipal, household, ornamental plants, grass, etc.)
Insecticides Market – Regional Analysis
North America

U.S.
Rest of North America

Europe

France
U.K.
Spain
Germany
Italy
Rest of Europe

Asia Pacific

China
India
ASEAN
Rest of Asia Pacific

Latin America

Brazil
Rest of Latin America

Middle East & Africa (MEA)

GCC
South Africa
Rest of MEA