The varied applications of infrared sensors are boosting the global infrared sensors market
With the rapid advancements in technology, the modern day infrared sensors have become light in weight and have also become more affordable, with a decline in their pricing. In addition, the power consumption in such sensors is also low and these factors are contributing in infrared sensors gaining traction in a variety of applications ranging from the military to IoT applications. With the help of infrared sensors, infrared red light can be detected from far away, which can be operated in real time and movements can be detected instantaneously, and these properties make infrared sensors ideal for the purpose of security. In today's context, the networked digital and data-heavy battle space have become crucial for military security and success. Hence, the main application of infrared sensors in military is in the sector of motion imagery that helps in the identification of military targets. Infrared sensors help in increasing the situational awareness of the operator by providing the ability to recognize sea, land and waterway features and contact patrol craft and small boats in near shore environment, where the performance of surface radars is limited.
IoT applications for infrared sensors include medical equipment, home appliances with temperature control, non-contact temperature measurements, movement detection and the ability to measure body temperature among others. For instance, infrared sensors are used to measure the emitted thermal radiation from powerful motors and equipment without coming in contact with them. Such kind of infrared sensors are also not affected by electrical noise, due to which their usage is steadily rising in industrial applications.
With the increasing concerns about environment protection and energy conservation, there have been various initiatives taken by the governments all over the world to conserve energy and this is boosting the demand for infrared sensors. As there is rising consciousness about energy savings, it is expected to trigger the need for installing occupancy and vacancy sensors across various indoor and outdoor applications. Such kind of occupancy and vacancy sensors use infrared sensors to detect the presence of a moving object and accordingly control the operation of various lighting applications. This enables the reduction in overall energy consumption and helps to save energy to a great extent.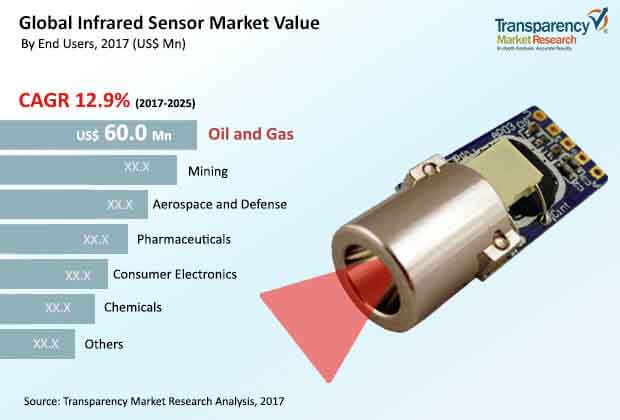 Global infrared sensor market by end users
In the field of consumer electronics, infrared sensors are used extensively since they are inexpensive, have become smaller in size and have become much more efficient. Due to such factors, their use has increased tremendously in smartphones, tablets, smart TVs, gaming, home appliances, etc. The consumer electronics segment was valued at US$ 40 Mn in 2017 and is anticipated to reach a valuation of US$ 97.9 Mn in the year 2024. The aerospace and defense segment was valued at US$ 42.1 Mn in 2017 and is forecasted to touch a valuation of US$ 101.1 Mn in the year 2024. Due to the large amounts of investments in developing aircraft and defense equipment by the United States and Europe, the demand for infrared sensors is being boosted during the forecast period. The mining segment was valued at US$ 43.8 Mn in 2017 and is anticipated to reach a valuation of US$ 104.8 Mn in the year 2024. In the mining industry, infrared sensors are used for the detection of gases in mines, which help in maintaining the safety aspects in the operation of mines.
Global Infrared Sensors Market: Overview
Infrared sensors are devices emitting, detecting, and receiving infrared waves as heat and infrared radiation. However, there are only a few among these sensors which are capable of only receiving the waves. Most of the infrared detectors are coated with either Fresnel lenses or parabolic mirrors for receiving infrared waves from an entire area. As these waves reach the sensor, it generates a voltage in different waves that is used for triggering alarm or activating some other system. Infrared sensors are used to detect motion and measure heat as well. When objects pass within the wavelength of these sensors, the light waves detect those objects and reflect them back to the sensors. Hence, these sensors help in the motion detection of objects. They have wavelengths less than that of microwaves but longer in comparison with visible light. Thus they cover the intermediate region between the two. Besides, infrared sensors can detect all objects with temperature more than zero, in turn retaining thermal energy. These sensors are able to sense the difference between white and black surfaces, as white reflects light, while absorbs light.
Global Infrared Sensors Market: Segmentation
The global Infrared Sensors market is segmented on the basis of working mechanism, detection, functionality, end use and geography. Based on the working mechanism, the market is segmented into passive and active. On the basis of the type of detection by the infrared sensors, the global market is segmented into uncooled and cooled. The market is also segmented by functionality into thermal and quantum sensors. Based on the type of end use, the market is segmented into consumer electronics, aerospace and defense, oil and gas, chemical, mining, pharmaceuticals, and others.
By geography, the global infrared sensors market has been classified into five regions namely North America, Europe, Asia Pacific, Middle East and Africa, and Latin America. Common applications of infrared sensors encompass rail safety, gas leak detection, flame detection, petroleum exploration, alcohol level testing for driver under influence, anesthesiology testing, water and steel analysis, temperature detection and space operations.
Research Methodology
The report has been compiled after in-depth interviews and opinions obtained from industry experts and opinion makers. Primary research account for the bulk of research efforts along with a secondary research phase. Review of key players' product literature, press releases, annual reports, and relevant documents were essential components of primary research. Secondary research involved reaching out to trade journals, government websites, technical writings, Internet sources, trade associations, and online paid databases. Employing this approach, the information presented in the report is reliable to the highest degree. As a result, the information in the report has caught the attention of industry participants to gauge future growth opportunities.
Secondary research sources typically include but are not limited to company websites, financial reports, investor presentations, annual reports, broker reports, SEC filings and external proprietary databases. Analysts conduct primary interviews with industry experts and opinion leaders on a regular basis to validate data and analysis. This helps validate and corroborate research findings.
Global Infrared Sensor Market: Competitive Landscape
This report also includes various ups and downs about particular country or geography that has impacted the overall market globally. The report provides a detailed outline/blueprint of the infrared sensor market globally that will assist new companies in establishing their presence and market players in expanding their market share in the market. The report concludes with the company profile section which includes company overview, financial overview, SWOT analysis, product portfolio, business strategies and recent developments for market players.
Market Taxonomy
By Working Mechanism
By Detection
By Functionality
By End User
Consumer Electronics
Aerospace and Defense
Oil and Gas
Chemical
Mining
Pharmaceuticals
Others
By Geography
North America
Europe
Asia Pacific
Latin America
Middle East and Africa