Infrared Detectors Market
Infrared Detectors Market (Product Type - Bolometers, Photoconductive Detectors, Photovoltaic Detectors, Pyroelectric Detectors, Thermopiles; Technology Type - Cooled, Uncooled; Wavelength Type - Near Wavelength (NIR), Short Wavelength (SWIR), Medium Wavelength (MWIR), Long Wavelength (LWIR), Very Long Wavelength (VLWIR) - Global Industry Analysis, Share, Size, Growth, Trends and Forecast 2017 - 2022
Category :

Electronics & Semiconductors

Format :
Global demand for infrared detectors continues to be influenced by their growing applications in industrial, military, medical, and automotive domain. Some of the common applications of infrared detectors include gas leak and flame detection, petroleum exploration, and temperature sensing. On account of wide-ranging applications, the global infrared detectors market is likely to grow at a steady pace during the forecast period 2017-2022.
Asia Pacific Excluding Japan (APEJ) at the Forefront of Global Sales
Infrared detectors have been pervasive in developed countries, however, price decrease on account of technological innovation has meant that end-users in developing countries are able to afford infrared detectors. The strong pace of development in developing countries is likely to provide catalysis to demand for infrared detectors in emerging markets such as Asia Pacific excluding Japan (APEJ). Pervasive demand for infrared applications has made APEJ one of the leading markets for infrared detectors globally. The APEJ infrared detector market is poised to grow at a higher pace than the global average during the forecast period.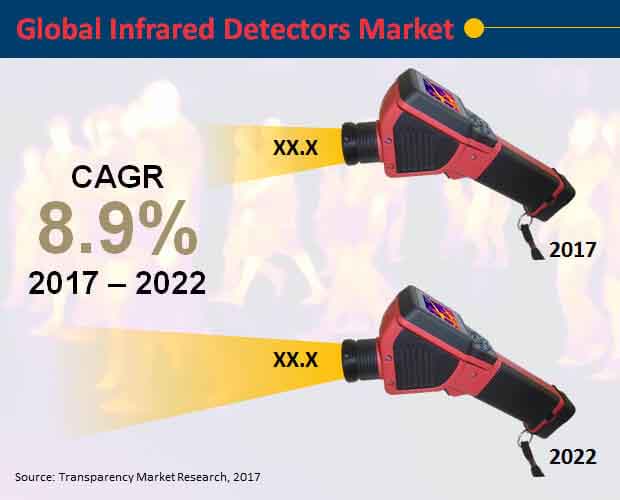 One of the key factors why demand for infrared sensors is growing in APEJ is due to the strong consumer electronics market in the region. Demand for smartphones, laptops, music players, and other consumer electronics items has remained sustained in the APEJ, which has given boost to the infrared detectors market. The consumer electronics market in APEJ is on a solid footing, and is projected to grow at a healthy pace in the future. The growth in consumer electronics market is likely to create growth opportunities for infrared detector manufacturers in the foreseeable future.
Although infrared detectors continue to be used widely, inaccuracy has remained a longstanding challenge. These detectors are unable to detect differences in objects that have a similar temperature range. This limits their application where accuracy is of prime importance. There have been innovations in this regard, with researchers from a number of universities in the UK successfully developing graphene-based pyroelectric bolometer that has a high level of accuracy. Although technological advancement has brought down the prices of infrared detectors, many small and medium establishments are still reluctant to invest in these devices, owing to the perception that these devices don't offer value for money.
Among end-users, a preference for long wavelength infrared detectors (LWIR) has been observed. In terms of global revenues, sales of LWIR account for nearly one-third revenue share; this trend is likely to continue during the forecast period. Demand for infrared cameras that work on LWIR has remained high in the defense sector, and it is highly likely the status quo will remain unchanged during the forecast period. Spending on R&D to build the next-gen of infrared cameras is likely to result into advanced products, further boosting the demand for infrared detectors.
There has been considerable interest in applications of infrared detectors for space exploration projects. Development of Advanced Superlattice Infrared detectors for Space Application (ASISA) can create growth opportunities for manufacturers.
Manufacturers of infrared detectors continue to bank on R&D to introduce technologically advanced products in the market. Considering the nature of this industry, collaborations with universities remains a strategically important move for manufacturers. Research and development on part of manufacturers will remain important for future developments in infrared detectors.
Need for Custom-made Detectors to Open New Avenue in Infrared Detectors Market
The wide range of infrared (IR) detection applications is key to growing demand in the infrared detectors market. Advances made in optical materials as detection elements have led to the development of new infrared detection technologies notably high-end infrared sensors. An example is the use of novel infrared sensing technologies in space satellites and the aerospace industry over the past few years. Growing use of these in remote sensing applications in various industries is a key trend in the infrared (IR) detectors market. Growing use cases of infrared detection in science, agriculture, and medicine is generating new opportunity for manufacturers and vendors. In the oil and gas industry, they are used in flame monitors, gas analyzers, and security applications. Growing research in new materials that can be used in the technology has boosted the prospects in the infrared detectors market. A case in point is the utilizing quartz for optical fibers. Growing interest in quantum-type infrared detectors is expected to expand the horizon for product innovations in the market. Growing adoption of linear image sensor based on IR detection for multichannel spectroscopy is a key trend. Use of these in image readout systems in smart consumer devices might open new avenues for players in the infrared (IR) detectors market.
The COVID-19 pandemic has caused wide-ranging impacts on the macroeconomic, technological, and demographic factors shaping the growth dynamics of businesses across industries. The production and supply of infrared detection also had undergone certain alterations to meet the urgent demands in 2020 and emerging demand for smart devices in the post-pandemic world. To a large part, the positive growth is expected to come from the rapidly expanding prospective demand for sensors in smart devices used in industrial applications. To a small part, the growth in the infrared detectors market is expected to come from their use in human body detection. Prominently, the demands are expected to gain momentum on the back of growing trend of industrial automation.
Transparency Market Research offers an in-depth and comprehensive analysis on the global market for infrared detectors. The report serves as a credible business document for analysing the future prospects of global infrared detectors market, forecasting how the market will expand over the period of next five-years. The study offers accurate insights on how infrared detectors will procure their position in the global sector for industrial machineries. To derive insightful and precise forecast for the assessment period, 2017-2022, past five-year revenues of key market players have been aggregated as baseline for the report. Inferences provided in the report can enable manufacturers of infrared detectors take informed steps towards future market direction.
Report Structure
The report commences with an executive summary that highlights the regional forecasts on the global infrared detectors market. The executive summary also offers insights on the overall market forecast for each year of the assessment period. An overview section in the report has been detailed with a market introduction, and a standard definition on infrared detectors. This section also provides global market size forecast in Y-o-Y growth metrics and compound annual growth rates (CAGRs). In addition, analysis on market dynamics, cost structure, distribution network, average pricing and supply chain are also provided in this section.
The report also reveals raw material sourcing strategies being exercised by leading players in the global infrared detectors market. An intensity map that demarks the presence of market participants across all key regions, and a region-wise market positioning assessment is also provided in the report. Key sections in the report are chronologically representing how the global infrared detectors market has been analysed across segments and sub-segments. The report also included a detailed section on competition landscape in the global infrared detectors market. Key players have been extensively profiled and these companies have been analysed on the basis of their current market standings.
Research Objective
A team of subject market experts, research consultants and analysts at Transparency Market Research have dedicated their efforts towards developing a study that analyses the global infrared detectors market thoroughly. The scope of the research is to address pitfalls and headways encompassing the market, and enable its participants towards making informed decisions in expanding the global and regional presence in the foreseeable future.
Global Infrared Detectors Market: Key Segmentation
The report has segmented the global infrared detectors market on the basis of product-type, wavelength-type, technology-type, and EUVs (end-use vehciles).
Key types of products analysed in the report include:

Bolometers
Photoconductive Detectors
Photovoltaic Detectors
Pyroelectric Detectors
Thermopiles
Other Products

On the basis of technology

Based on the wavelength,

Near Wavelength(NIR)
Short Wavelength(SWIR)
Medium Wavelength(MWIR)
Long Wavelength(LWIR)
Very Long Wavelength(VLWIR)

With respect to the EUV

Aerospace & Defence
Security
Medical
Automotive
Consumer Electronics
Other End Use Vertical

By Regions

North America
Latin America

Brazil
Mexico
Rest of Latin America

Europe

Netherlands
Italy
UK
Germany
Rest of Europe

Japan
Asia-Pacific Excluding Japan (APEJ)

China
India
ASEAN
Rest of APEJ

Middle East & Africa (MEA)

GCC
South Africa
Rest of MEA
Custom Market Research Services
TMR offers custom market research services that help clients to get information on their business scenario required where syndicated solutions are not enough.
REQUEST CUSTOMIZATION

Infrared Detectors Market