Hydrogen Generator Market
Hydrogen Generator Market (Product Type: Onsite and Portable; Process: Steam Reforming, Electrolysis, and Others; Application: Chemical Processing, Fuel Cells, Petroleum Recovery, Refining, and Others; and Capacity Share: 1W - 100W, 100W - 300W, 300W - 700W, 700W - 1KW, 1KW- 3KW, and Above 3KW) - Global Industry Analysis, Size, Share, Growth, Trends, and Forecast, 2020 - 2030
Energy & Natural Resources
TMRGL79136
2020-04-29
145

Pages
Hydrogen Generators May Soon Replace Conventional Biodiesel Generators amidst Environmental Concerns
Technological advancements across different industries have played an important role in accelerating innovations, roping in new products, improved solutions, etc. However, amidst the ongoing industrial renaissance across developing regions, particularly in the Asia Pacific and Africa, non-renewable resources are depleting at a rapid pace. Environmental concerns coupled with the focus on minimizing the carbon footprint are factors that have accelerated innovations within the energy sector. Hydrogen gas has emerged as an ideal renewable and clean alternative to address the ascending global energy crisis, owing to high-energy-density and non-carbon fuel properties. Research and development activities continue to explore the potential applications of hydrogen gas in energy-efficient vehicles, fuel cells, aircraft, and home heating systems.
Several studies continue to focus on utilizing hydrogen gas as an energy-carrier and advocate the use of hydrogen gases to produce electricity. Recent advancements in water-splitting processes and hydrogen generation technologies are expected to accelerate the growth of the hydrogen generator market during the forecast period. As governments across the world continue to focus on energy conservation, hydrogen generators are expected to gradually replace conventional biodiesel generators in the upcoming years– a major factor expected to provide an impetus for growth of the market for hydrogen generators. At the back of these factors, the global hydrogen generator market is expected to attain a market value of ~US$ 2 Bn by the end of 2030.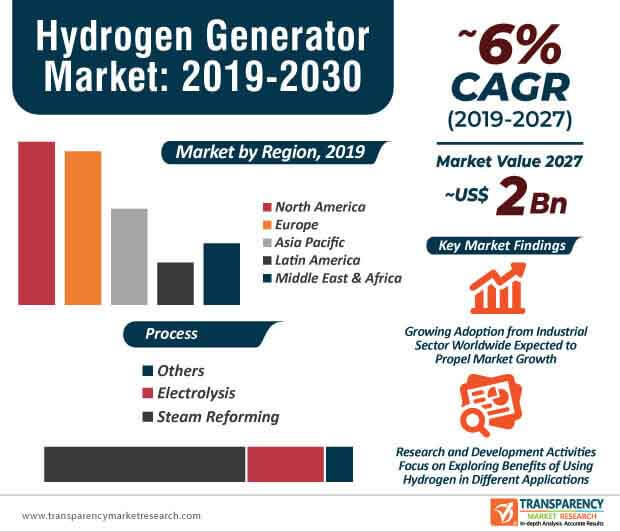 Request a sample to get extensive insights into the Hydrogen Generator Market
Soaring Demand from Industrial Sector to Fuel Market Growth
Innovations within the hydrogen generator market have gained considerable traction over the past decade and the trend is set to continue during the forecast period. While innovations revolving around hydrogen technologies are largely focusing on the potential uses of hydrogen gas in the automotive sector, the industrial sector is projected to offer an array of opportunities to market participants operating in the current hydrogen generator market. One of the leading factors that are anticipated to drive innovations in hydrogen is the growing support provided by government authorities and progress made by research institutions that have identified hydrogen as the potential replacement for fuel alternatives that are currently being deployed.
To understand how our report can bring difference to your business strategy, Ask for a brochure
Groundbreaking advancements within the hydrogen generator market have paved the way for advanced fuel cells due to which, hydrogen generators are likely to gain mainstream prominence in the forthcoming decade. While transportation and the automotive sector are gradually leaning toward the sustainable path by adopting hydrogen-based energy solutions, the energy sector is expected to leverage the advantages of hydrogen gas and gradually replace biodiesel generators with hydrogen. The adoption of hydrogen generators is expected to remain the highest across North America due to government initiatives and surge in electricity prices, particularly across the U.S. Initiatives such as the Hawaii Renewable Hydrogen Program are likely to play a key role in accelerating the deployment of hydrogen generators over the upcoming decade. While the U.S. is expected to be at the forefront in terms of market share and technological advancements, progress in hydrogen technology across Japan is estimated to create opportunities in the Asia Pacific region.
Demand to Decline amidst COVID-19 Pandemic, Brands Focus on Developing New Technologies
The ongoing COVID-19 pandemic is expected to play a key role in influencing the growth trajectory of the global hydrogen generator market. The global demand for crude oil is expected to remain lowest since 1995, due to disruptions in the supply chain, along with the lockdown of core industries worldwide. The declining prices of crude oil have led to a glaring decline in electricity prices across Europe due to which, the demand for new technologies, including hydrogen generators is expected to remain sluggish particularly in 2020.
As more number of companies in the hydrogen generator market are expected to decrease capital expenditure, several ongoing and pipeline projects are projected to miss deadlines due to which, the market growth is expected to remain slow. Furthermore, delay in the dispatch and delivery of equipment to power plants and delay in the production of renewable and clean energy, particularly in China and India, are expected to restrict market growth in the first half of 2020 and possibly 2021. While bottlenecks across the production floor and supply chain are expected to hinder market growth amidst the ongoing COVID-19 crisis, market players are likely to focus on seeking novel ways to minimize production costs.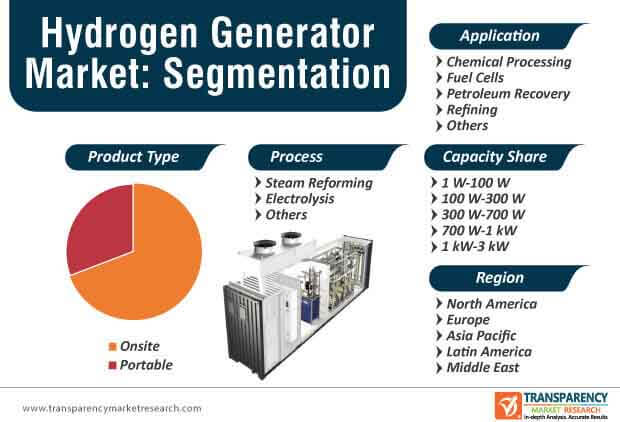 Stuck in a neck-to-neck competition with other brands? Request a custom report on Hydrogen Generator Market
Analysts' Viewpoint
The global hydrogen generator market is expected to expand at a healthy CAGR growth of ~6% during the forecast period. Some of the top factors that are likely to accelerate market growth include focus on the production of clean energy by government and research institutions, mounting environmental concerns, and efforts to minimize industrial and commercial carbon emission. While the adoption of hydrogen generators is expected to remain high across North America and Europe during the forecast period, Asia Pacific is projected to present abundant opportunities as well. Amidst the ongoing pandemic, companies in the hydrogen generator market should focus on streamlining their supply chain and development of cost-effective solutions to gain ground.
Hydrogen Generators: Overview
Hydrogen generator is used to produce hydrogen gas by hydrolysis of water, using several techniques, which primarily include but are not limited to electrolysis and steam reforming
Hydrogen gas generator is a convenient, safe, and typically more cost-effective alternative than high-pressure cylinder of hydrogen
Hydrogen generator provides hydrogen of a consistent purity and eliminates the risk of variation in quality of gas
Hydrogen generator is also capable of producing gas on-demand around the clock. This eliminates the risk of running out of gas at an inopportune moment.
Hydrogen generator also helps save time, as it eliminates the need to spend time in ordering and changing of replacement cylinders
Availability of Cost-effective Natural Gas Feedstock to Drive Hydrogen Generator Market
Natural gas is the major operating expense in an on-site hydrogen generator operation. However, natural gas is cost effective vis-à-vis other low-cost feedstock such as water, biomass, or coal. Hydrogen can be produced in plants and delivered through pipeline, gas trailers, or liquid tankers. Thus, natural gas proves to be a highly cost-effective feedstock.
Hydrogen can be produced through the steam reforming technology, which employs natural gas as feedstock. This is a cost-effective method of producing hydrogen.
On-site Hydrogen Storage and Timely Availability to Drive Hydrogen Generator Market
On-site hydrogen generator provides continuous and controlled supply of hydrogen, with minimum requirement for storage or transportation to the consumption site. In on-site hydrogen generation, the amount of stored compressed hydrogen is less even for large consumption due to the immediate availability of gas. Thus, hydrogen can be stored in low-pressure tanks. This reduces the cost of hydrogen and simultaneously provides the added benefit of safer operations.
Hydrogen produced in large-scale production plants costs approximately US$ 5-6/GJ, which is almost three to four times less than that produced in hydrogen generators. However, the overall production cost decreases in on-site hydrogen generation due to no or low storage requirements. Thus, hydrogen generator proves to be more cost-effective vis-à-vis large-scale hydrogen generation plants.
Rising Emission Level to Hamper Hydrogen Generator Market
Considering the cost, efficiency, and environmental footprint, natural gas is considered to be one of the ideal fuels for hydrogen production through steam reforming. Carbon emissions are lower compared to other feedstock such as coal or biomass. However, the process still adds carbon dioxide to the environment, thereby leading to an increase in overall carbon emissions.
Considering the emission pattern, natural gas emits lesser amount of carbon compared to other fuels. Carbon emissions from other energy related fuels are increasing at a considerable rate. Steam reforming can be a short-term solution. However, the U.S. Department of Energy does not consider steam reforming as a long-term solution to meet the demand for hydrogen due to its greenhouse gas (GHG) emissions.
Underdeveloped On-site Hydrogen Generation Provides Opportunities to Hydrogen Generator Market
Increase in demand for cost-effective, hazard-free, efficient, and third party independent operations is proving to be a boon for hydrogen generator manufacturers. Hydrogen generation plants that employ the steam reforming technology can depend upon the existing natural gas pipeline networks for their feedstock requirements.
Hydrogen generator manufacturers can conduct research and development (R&D) in generator technology, as the technology is still in the developing stage. The size of an on-site hydrogen generator can be reduced, thus providing users with the benefit of lower footprint and requirement of less space to install the equipment. Thus, the global hydrogen generator market is underdeveloped. However, it is poised to expand significantly during the forecast period.
Thus, suppliers have opportunities to increase their market share by providing competitive and cost-effective technology to end users
Recent Developments, Expansions, Acquisitions, and New Contracts in Hydrogen Generator Market
In February 2020, AFC Energy announced plans to launch a global mobile generator that is powered by hydrogen to replace polluting diesel generators on construction sites. The new hydrogen power generator uses an alkaline fuel cell technology that has been developed at the company's research facility in Surrey. It can be scaled from 20 kW to more than 1MW to fit with typical power requirements of construction machinery. The technology can also use ammonia as a feedstock and apply a cracker to produce hydrogen on-demand to fuel the generator.
In April 2020, BayoTech, an on-site hydrogen production company, announced it had entered into a collaborative partnership with DLL. BayoTech and DLL have partnered to create a leasing program to bring BayoTech hydrogen generators to customers. This collaboration is expected enable customers to access low-cost, on-site hydrogen without having to make a large capital commitment. BayoTech fits in with the business model of DLL of working with innovative energy companies around the globe that provide solutions to support a lower carbon footprint.
North America to be Highly Lucrative Region of Hydrogen Generator Market
North America led the global hydrogen generator market in 2019, owing to significant demand for hydrogen for Fuel Cell Electric Vehicles (FCEVs). Furthermore, the development of supportive infrastructure such as hydrogen refueling stations is anticipated to drive the hydrogen generator market in the region.
Interest in electrolytic hydrogen has been rising across the globe due to the decline in costs of renewable electricity, particularly solar PV and wind. This is estimated to propel the hydrogen generator market in North America during the forecast period.
Highly Competitive Hydrogen Generator Market
The global hydrogen generator market is highly fragmented. Various regional organized players operate in the market. Hydrogen generators are largely designed based on customer demand. This helps lower the cost of storage for manufacturers.
ey players operating in the global hydrogen generator market are

Air Liquide
Air Products and Chemical Inc.
Praxiar technology Inc.
Linde AG.
Proton On-site Inc.
Hy9 Corporation
Hydrogenics Corporation
Epoch Energy Technology Corporation
MVS Engineering Pvt. Ltd.
McPhy Energy SA,
Nel Hydrogen
Hydrogen Generator Market – Scope of the Report
A latest study collated and published by Transparency Market Research (TMR) analyzes the historical and present-day scenario of the global hydrogen generator market in order to accurately gauge its growth potential. The study presents detailed information about important drivers, restraints, and key trends that are creating a landscape for growth of the global hydrogen generator market in order to identify opportunities for market stakeholders. The report also provides insightful information about how the global hydrogen generator market would expand during the forecast period i.e. 2020–2030.
The report offers intricate dynamics about different aspects of the global hydrogen generator market, which aids companies operating in the market in making strategic decisions. TMR's study also elaborates on significant changes that are anticipated to configure growth of the global hydrogen generator market during the forecast period. It also includes key indicator assessment that highlights growth prospects for the global hydrogen generator market and estimates statistics related to the market, in terms of value (US$ Mn).
This study covers detailed segmentation of the global hydrogen generator market, along with key information and a competition outlook. The report mentions company profiles of players that are currently dominating the global hydrogen generator market, wherein various developments, expansions, and winning strategies practiced by these players have been presented in detail.
Key Questions Answered in TMR's Report on Hydrogen Generator Market
The report provides detailed information about the global hydrogen generator market on the basis of comprehensive research on various factors that are playing a key role in accelerating growth of the global market. Information mentioned in the report answers path-breaking questions for companies that are currently operating in the global market and are looking for innovative methods to create a unique benchmark in the market so as to help them design successful strategies and make target-driven decisions.
Which type segment of the global hydrogen generator market would emerge as a revenue generator for the market during the forecast period?
How are key market players successfully earning revenues in the global hydrogen generator market?
What would be the Y-o-Y growth trend of the global hydrogen generator market between 2020 and 2030?
What are the winning imperatives of leading players operating in the global hydrogen generator market?
Research Methodology – Hydrogen Generator Market
The research methodology adopted by analysts for compiling the report on the global hydrogen generator market is based on detailed primary as well as secondary research. With the help of in-depth insights of the market-affiliated information obtained and legitimated by market-admissible resources, analysts have offered riveting observations and authentic forecasts of the global hydrogen generator market.
During the primary research phase, analysts have interviewed market stakeholders, investors, brand managers, vice presidents, and sales & marketing managers. On the basis of the data obtained through interviews of genuine resources, analysts have emphasized the changing scenario of the global hydrogen generator market.
For secondary research, analysts have scrutinized numerous annual report publications, white papers, market association publications, and company websites to obtain the necessary understanding of the global hydrogen generator market.
Hydrogen Generator Market – Segmentation
TMR's research study assesses the global hydrogen generator market based on product type, process, application, capacity share, and region. The report presents extensive market dynamics and growth trends associated with different segments and how they are influencing growth prospects for the global hydrogen generator market.
Product Type

Onsite

Portable

Process

Steam Reforming

Electrolysis

Others

Application

Chemical Processing

Fuel Cells

Petroleum Recovery

Refining

Others

Capacity Share

1W – 100W

100W – 300W

300W – 700W

700W – 1kW

1kW – 3kW

3kW & Above

Region

North America

Europe

Asia Pacific

Latin America

Middle East
Custom Market Research Services
TMR offers custom market research services that help clients to get information on their business scenario required where syndicated solutions are not enough.
REQUEST CUSTOMIZATION

Hydrogen Generator Market