Global Hybrid Cars Market: Snapshot
The alarming increase in the levels of air pollution has raised concerns of people regarding carbon emissions, leading to their shift towards carbon-free products. Hybrid cars, which are eco-friendly vehicles that use electricity for their functioning, meet their demand perfectly. The increasing awareness about these eco-friendly vehicles among consumers is driving the global market for hybrid cars exponentially.
The governments in various countries are also encouraging the adoption of hybrid cars by mandating stringent emission standards and providing various incentives and subsidies to buyers, which is likely to reflect positively on the sales of these vehicles in the near future. However, the high prices of hybrid cars and the easy availability of electric cars may restrain the overall growth of this market to some extent over the years to come.
The global market for hybrid cars, which stood at US$102.88 bn in 2015, is anticipated to touch US$398.90 bn by 2024, rising at a CAGR of 16.50% between 2016 and 2024.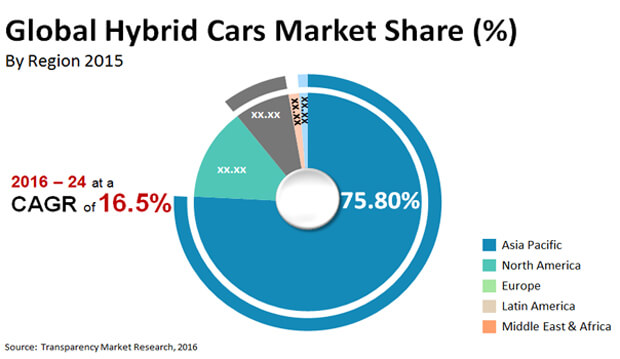 Demand for Series Parallel Hybrid Cars to Remain Strong
The main types of hybrid cars available in the global hybrid market are the series hybrid, parallel hybrid, plug-in hybrid, and series parallel hybrid cars. Among these, the demand for series parallel hybrid cars is higher than others at present. The scenario is expected to remain so over the forthcoming years, thanks to the superiority of series parallel hybrid cars in terms of efficiency.
However, over the next few years, plug-in hybrid cars are likely to steal the limelight and witness the demand at a higher cumulative average growth rate, i.e. of more than 15% between 2016 and 2024. The increase in government initiatives providing tax incentives and subsidies for the purchase of plug-in cars, together with a surge in the installation of electric charging stations are predicted to fuel the demand for plug-in hybrid cars in the years to come.
Asia Pacific to Continue as Global Leader
North America, Asia Pacific, the Middle East and Africa, Europe, and Latin America are considered as the key regional market for hybrid cars. In 2015, Asia Pacific dominated the global market with a share of more than 70%. Over the forthcoming years, the increasing awareness among consumers regarding the benefits of eco-friendly vehicles, especially in China and Japan, coupled with various governments' initiatives to promote their usage, is likely to ensure the dominance of Asia Pacific hybrid cars market.
On the other hand, the hybrid car markets in North America and Europe are expected to progress at a moderate rate in the near future due to their mature states. However, the rising number of charging units may boost both the markets to some extent over the next few years.
Toyota Motor Corp., General Motors Co., Hyundai Motor Co., Ford Motor Co., Nissan Motor Co. Ltd., BMW, Volkswagen AG, FCA N.V., and Honda Motor Co. Ltd. are the key manufacturers of hybrid cars across the world.
Global Hybrid Cars Market: Overview
Hybrid car is an eco-friendly vehicle which consists of combination of gasoline fuel and electric motor with battery pack as energy source. Conventional IC engine is main power source in hybrid car and it is also used to charge the batteries which can be used as an alternative energy source. Asia Pacific dominated the hybrid car market in terms of demand and is anticipated to grow at highest CAGR during the forecast period. High price and availability of electric car as strong is anticipated to hinder the growth of hybrid car.
Increase in government support by providing various incentives on purchase of hybrid car and implementation of stringent emission norms across all region to control the air pollution is estimated to offer major opportunities to the hybrid car market during the forecast period. Series-parallel is expected to be major hybrid type during the forecast period, however plug-in hybrid is anticipated to grow at highest CAGR in terms of demand compare to other hybrid types. ICE hybrid contributed the largest share of the energy source type and it is likely to dominate the market in next eight years. In terms of vehicle type, passenger car segment dominated the hybrid car market and is continue to dominate the market during the forecast period with highest CAGR.
Global Hybrid Cars Market: Scope of the Study
This report analyzes and forecasts the market for hybrid car market at the global and regional level. The market has been forecast based on volume (Units) and revenue (US$ Mn) from 2016 to 2024, considering 2015 as the base year. The study includes drivers and restraints of the global hybrid cars market. It also covers impact of these drivers and restraints on demand for hybrid cars market during the forecast period. The report also highlights opportunities in the hybrid cars market at the global and regional level.
The report includes detailed value chain analysis, which provides a comprehensive view of the global hybrid cars market. Porter's Five Forces model for the hybrid cars market has also been included to help understand the competitive landscape in the market. The study encompasses market attractiveness analysis, where in hybrid types, energy source and vehicle types are benchmarked based on their market size, growth rate, and general attractiveness.
The study provides a decisive view of the global hybrid cars market by segmenting it in terms of type, energy source and vehicle type. In terms of type, hybrid cars is classified as series, parallel, plug-in, series-parallel. In terms of energy source, it is segmented into ICE hybrid, fuel cell hybrid, solar hybrid, natural gas hybrid and by vehicle type it is classified as passenger cars and commercial cars. These segments have been analyzed based on present and future trends. Regional segmentation includes current and forecast demand for hybrid cars in North America, Europe, Asia Pacific, Latin America, and Middle East & Africa.
Global Hybrid Cars Market: Research Methodology
The report provides the actual market size of hybrid cars for 2015 and estimated market size for 2016 with forecast for the next eight years. The global market of hybrid cars has been provided in terms volume and revenue. Market volume has been defined in units and revenue in US$ Mn. Market numbers have been estimated based on type, energy-source and vehicle type of hybrid cars. Market volume and size have been provided in terms of global, regional and country level markets.
In order to compile the research report, we conducted in-depth interviews and discussions with a number of key industry participants and opinion leaders. Primary research represented the bulk of research efforts, supplemented by extensive secondary research. We reviewed key players' product literature, annual reports, press releases, and relevant documents for competitive analysis and market understanding. Secondary research includes a search of recent trade, technical writing, Internet sources, magazines and statistical data from government websites, trade associations, and agencies. This has proven to be the most reliable, effective, and successful approach for obtaining precise market data, capturing industry participants' insights, and recognizing business opportunities.
Secondary research sources that are typically referred to include, but are not limited to company websites, annual reports, financial reports, broker reports, investor presentations, SEC filings, and external proprietary databases, and relevant patent and regulatory databases such as ICIS, Hoover's, oneSOURCE, Factiva and Bloomberg, national government documents, statistical databases, trade journals, market reports, news articles, press releases, and webcasts specific to companies operating in the market. We conduct primary interviews on an ongoing basis with industry participants and commentators to validate data and analysis. These help validate and strengthen secondary research findings. These also help develop the analysis team's expertise and market understanding.
Companies Mentioned in the Report
The report comprises profiles of major companies operating in the global hybrid cars market. Key players in the hybrid cars market are Toyota Motor Corporation, General Motors Company, Hyundai Motor Company, Ford Motor Company, Nissan Motor Company Ltd, Volkswagen AG, BMW, Honda Motor Co., Ltd., and FCA N.V.Market players have been profiled in terms of attributes such as company overview, financial overview, business strategies, and recent developments.
The global hybrid cars market has been segmented as follows:
By Type
Series hybrid
Parallel hybrid
Plug-in hybrid
Series-Parallel hybrid
By Energy Source
ICE hybrids
Fuel cell hybrids
Solar hybrid
Natural gas hybrid
By Vehicle Type
Passenger Cars
Commercial Car
By Region
North America
Europe

Germany
Italy
U.K.
France
Spain
Rest of Europe

Asia Pacific

China
India
Japan
ASEAN
Rest of Asia Pacific

Latin America

Brazil
Mexico
Rest of South America

Middle East & Africa (MEA)

GCC
South Africa
Rest of MEA