Hotels Market
Hotels Market (Hotel Type: Business/Commercial Hotels, Boutique Hotels, Resort Hotels, Casino Hotels, Transit Hotels, Bed & Breakfast Hotels, and Others; Price Level: Luxury, Upscale, Midscale, and Economy; Room Capacity: Small, Medium, Large, and Mega; and Business Model: Independent and Chain) - Global Industry Analysis, Value, Share, Growth, Trends, and Forecast, 2019 - 2027
Category :

Consumer Goods & Services

Format :
Hotel Companies Focusing on Technological Innovations to Gain Competitive Edge
The hotels market is one of the most-highly competitive markets on a global level. Market leaders are competing on various aspects to gain an edge over their competitors. As such, stakeholders in the hotels market are devising world-class pricing and revenue management strategies to generate high revenue. They are introducing dynamic pricing techniques that are backed by advanced machine learning and artificial intelligence (AI) tools to achieve best outcomes for customers as well as hotel owners.
The business of chain hotels is estimated to transition from ~US$ 74 billion in 2018 to ~US$ 178.6 billion by 2027. This transition shows a shift from investing in independent hotels to increasing investments in chain hotels in the hotels market. Since the trend of chains/franchises is gaining prominence in upscale and midscale-level hotels, hotel owners are creating end-to-end solutions for hotel managers. Hotel owners are streamlining operational procedures for managers by implementing predictable and affordable tariffs for customers with the help of advanced software technology.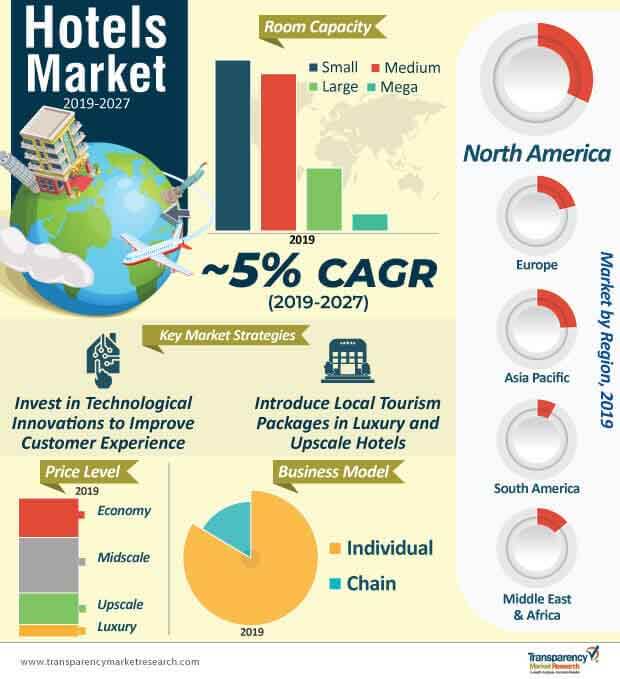 Request a sample to get extensive insights into the Hotels Market
Micro Hotels Gain Popularity amongst Millennial Travelers
Developments in the hospitality industry are mainly dominated by the launches of new hotels in high-demand urban locations. The trend of micro hotels is catching up in North America, which works as a favorable investment option for stakeholders in the hotels market. These micro hotels are increasingly meeting the demands of millennial travelers for short-stay requirements with high-quality furnishings and amenities.
North America currently dominates the hotels market in term of value, and will continue to dominate the market with an estimated revenue of ~US$ 253 billion by 2027. That is why, branded hotel giants and independent hotels are likely to invest in micro hotels in the urban cities of North America, followed by Asia the Pacific and European regions, due to evident demand. For instance, in January 2019, Marriott International - a leading American multinational smart hospitality company, announced the launch of its chain of Moxy hotels in Southeastern U.S., with the Moxy Chattanooga in Nashville. Hotel companies are also gaining popularity as 'airport hotels', and are expanding their services to offer guest rooms in central locations of urban cities.
To understand how our report can bring difference to your business strategy, Ask for a brochure
Legacy Hotels Face Tough Competition from Online Start-ups
Stakeholders in the hotels market are currently experiencing stiff competition from start-ups such as OYO Homes and Hotels - the world's third-largest Indian hotel chain, and Airbnb - an online marketplace for arranging and offering lodging.
Since customers prefer staying in hotels that offer them a comfortable experience of staying in a home, start-ups are onboarding asset owners that provide homestays to customers at much competitive prices. These start-ups are also introducing tourism packages that give customers the leisure of exploring the city surrounds.
To overcome this challenge, stakeholders in the hotels market are venturing to launch their own version of Airbnb. Legacy hotel companies aim to target their marketing strategies towards older millennial customers, as individuals with families opt for more traditional resources available at legacy hotels.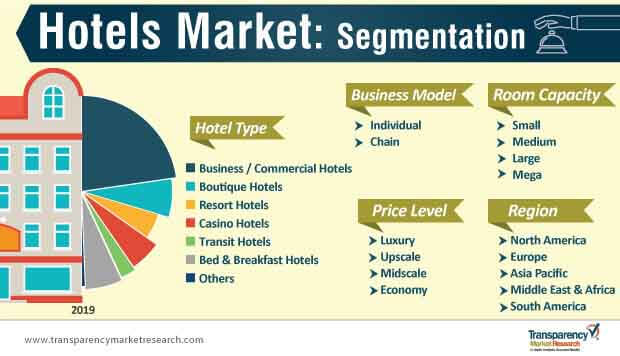 Stuck in a neck-to-neck competition with other brands? Request a custom report on "Hotels Market"
Analysts' Viewpoint on Hotels Market

Currently, the individual business model has a higher market share in the hotels market. However, the fast-growing chain business model's market share is projected to grow with a spike, from ~13% in 2018 to ~21% by 2027. Stakeholders in the hotels landscape are investing in revenue management apps that help managers efficiently audit the tariffs of customers and conveniently access payment-related information in one place. However, legacy hotels are experiencing tough competition from idea-driven start-ups. As such, hospitality giants are trying to develop new concepts by introducing hipper-looking hotel spaces to target older and younger millennial customers. Stakeholders in the hotels market should focus on expanding lifestyle-branded hotels, as their mainstream attributes account for a larger share of the global hotels market, and are increasingly gaining the attention of brand-conscious customers.
According to Transparency Market Research's latest report on the global hotels market for the period of 2019 - 2027 (wherein, the period from 2019 to 2027 is the forecast period and 2018 is the base year), business/commercial hotels are expected to increase in number due to rise in business-related travel.
In the report, revenue generated in the global hotels market is provided in terms of value (US$ Bn) for the forecast period.
Global Hotels Market: Exponential Growth of Travel & Tourism Industry a Key Driver
Rise in global consumer purchasing power, growth of economies, and digital innovation are cumulatively fueling the expansion of the travel and tourism industry, which is subsequently driving the global hotels market.
Since the past two decades, international travel departures around the world have grown two-fold, and over the next few years, this trend is projected to grow even more, thus elevating the booking frequency of business and commercial hotels, subsequently contributing to higher occupancy rates.
The U.S. is a major hotels market, globally. However, the China hotels market is estimated to grow at a rapid pace during the forecast period.
Consumer Preference for Hotel Chains over Independent Hotels: Key Hotels Market Trend
There has been growth in global consumer spending capability, which has dynamically transformed consumer preference for hotels. A majority of the traveling population, nowadays, opt for chain hotels over independent hotels. Owing to this, some of the major hotel chains across the globe have stepped up by enhancing their services and implementing a variety of strategies in order to gain more traction in the global hotels market.
In recent years, health and wellness resorts have received substantial attention, and therefore, some of the hotel chains across the world are including alternative medicine services, high-end spa, and others, knowing that certain travelers, these days, are willing to spend premium for accessing these services. This trend is projected to gain popularity in the near future.
Emergence of Shared Accommodation: A Key Restraining Factor
Rise in the trend of shared economy has empowered organizations such as Airbnb and Expedia predominantly, which, in response, is expected to adversely impact the hotels market.
These shared accommodation service providers have relatively lower overhead costs than chain hotels, which enables them to provide their customers with a personalized experience at relatively lower cost.
The low cost of shared accommodation services adversely impacts the RevPAR of hotels; however, the impact might vary across different fragments of the hotels market.
Furthermore, constant improvement in the quality of shared accommodation services is likely to negatively impact the RevPAR of chain hotels. Luxury hotels are estimated to be one of the most affected segments, in terms of depleting RevPAR.
Global Hotels Market: Competition Landscape
Detailed profiles of major hotels have been provided in the hotels market report to evaluate their financials, key product offerings, recent developments, and strategies.
Key players operating in the global hotels market include -

Accor SA
Marriott International
Hyatt Hotels Corporation
Hilton Worldwide Holdings Inc.
InterContinental Hotels Group PLC.
Best Western International, Inc.
Choice Hotels Internationals, Inc.
Wyndham Destinations, Inc.
Radisson Hospitality A.B.
Indian Hotels Company Limited, etc.
Global Hotels Market: Key Developments
Some of the key developments in the global hotels market are as follows:
In August 2019, Hyatt entered into a management agreement with CES Pirie Hotel (SA) Pty Ltd., which is a wholly-owned subsidiary of Chip Eng Seng Corporation Limited. The agreement is anticipated to enable the company to develop a new Hyatt Regency in Adelaide, Australia. Through this partnership, the company aims to strengthen its penetration in the Australia hotels market.
In April 2019, the Hiltons Worldwide Holdings Inc. signed a management agreement with the Construction Company and Umm Al Quara development in order to open the world's largest Hilton Garden Inn with 1,560 rooms and 392 suites by the Embassy Suits Hilton. The project is among the largest in the global hotels market.
In July 2019, the InterContinental Hotels Group PLC, in partnership with Maad International, signed the expansion of voco Makkah in Saudi Arabia, to expand its footprint in the Middle East hotels market.
In October 2018, the Best Western International, Inc. revealed three prototype aimed at modernizing its Best Western, Best Western Plus, and Best Western Premier brands. These new prototypes include Vīb, GLō, Sadie Hotel, and Aiden Hotel. Through this strategy, the company aims to enhance its brand visibility in the global hotels market.
In May 2019, Choice Hotels International, Inc. announced that it had entered into a strategic agreement with Apple Leisure Group's associated brand - AMResorts. The agreement aims to enhance the loyalty program of the company, and strengthen its footprint in the global hotels market.
In June 2019, Radisson Hospitality AB announced the launch of its first co-branded hotel of Jin – Jiang International, and the Radisson Blu Hotel in Frankfurt.
Global Hotels Market: Scope of the Report
A new study on the global hotels market was published by Transparency Market Research (TMR). It presents a wealth of information on key market dynamics, including the drivers, market trends, and challenges, as well as the structure of the global hotels market. TMR's study offers valuable information about the global hotels market to illustrate how the market would grow during the forecast period of 2019–2027.
Key indicators of market growth, which include value chain as well as supply chain analysis, and Compound Annual Growth Rate (CAGR) are elucidated in TMR's study in a comprehensive manner. This data can help readers interpret the quantitative growth aspects of the global hotels market for the forecast period.
An extensive analysis on the business strategies of leading market players is also featured in TMR's study on the global hotels market. This can help readers understand the principal factors to foresee growth in the global hotels market. In this study, readers can also find specific data on the qualitative and quantitative growth avenues for the hotels market, which is expected to guide market players in making apt decisions in the future.
Key Questions Answered in TMR's Hotels Market Study
What are the key factors influencing the global hotels market in each region?
What will be the CAGR of the global hotels market between 2019 and 2027?
What is the future scope and changing trends in technologies in the global hotels market?
Which factors will impede the growth of the global hotels market during the forecast period?
Which are the leading companies in the global hotels market?
Research Methodology – Global Hotels Market
A unique research methodology has been utilized by TMR to conduct a comprehensive research on the growth of the global hotels market, and arrive at conclusions on the future growth prospects of the market. This research methodology is a combination of primary and secondary research, which helps analysts warrant the accuracy and reliability of the drawn conclusions.
Secondary sources referred to by analysts during the production of the global hotels market report include statistics from company annual reports, SEC filings, company websites, World Bank database, investor presentations, regulatory databases, government publications, and industry white papers. Analysts have also interviewed senior managers, product portfolio managers, CEOs, VPs, and market intelligence managers, who contributed to the production of TMR's study on the global hotels market, as primary sources.
These primary and secondary sources provided exclusive information during interviews, which serves as a validation from industry leaders. Access to an extensive internal repository and external proprietary databases allows this report to address specific details and questions about the global hotels market with accuracy. The study also uses a top-down approach to assess the numbers for each segment, and a bottom-up approach to counter-validate them. This has helped in making TMR's estimates on future prospects of the global hotels market more reliable and accurate.
Segmentation of the Global Hotels Market
TMR's study on the hotels market includes information categorized into five sections - by hotel type, by price level, by room capacity, by business model, and by region. Changing industry trends and other crucial market dynamics associated with these sections of the global hotels market are discussed in detail.
Hotel Type

Business/ Commercial Hotels

Boutique Hotels

Resort Hotels

Casino Hotels

Transit Hotels

Bed & Breakfast Hotels

Others

Price Level

Luxury

Upscale

Midscale

Economy

Room Capacity

Small

Medium

Large

Mega

Business Model

Individual

Chain

Region

North America

U.S.
Canada
Rest of North America

Europe

Germany
France
Italy
U.K.
Rest of Europe

Asia Pacific

China
Japan
India
Rest of Asia Pacific

Middle East & Africa

GCC
South Africa
Rest of MEA

South America

Brazil
Rest of South America
Custom Market Research Services
TMR offers custom market research services that help clients to get information on their business scenario required where syndicated solutions are not enough.
REQUEST CUSTOMIZATION