Hernia Repair Devices
Hernia Repair Devices Market (Polymer and Prosthetic Mesh, Biologic Materials, Surgical Instruments and Endoscopy Equipments) - Global Industry Analysis, Size, Share, Growth, Trends and Forecast, 2013 - 2019
Category :

Healthcare

Format :
Occurrence of hernia results in chronic pain and is one of the most common conditions affecting large number of populations. Hernia is a condition often characterized by protrusions of organs mainly intestines via a weakened section of abdominal wall. If the condition is left untreated then it results in widening of the split in the muscles thereby increasing the number of organs and tissues being pushed through the openings or weakened muscles along with the formation of a sac like structure.The weakening of abdominal wall can be by birth or can be acquired later during the lifetime of a person. Hernia is further categorized into inguinal, femoral, umbilical, hiatal and others based on the anatomical location of the hernia. Hernia can be diagnosed with the help of physical examination and clinical laboratory tests; physical examination involves thorough scrutiny of the physical area of the bulge or lump and the clinical tests such as blood tests, urinalysis and imaging platforms especially in the case of cardiac patients.
Escalation in hernia prevalence is contributed by factors such as rise in geriatric population, high obesity epidemic and rapidly changing lifestyle habits. It is predicted that the population aged above 55 is more susceptible to develop hernia owing to the natural weakening of the muscles and high risk of acquiring health disorders. The global hernia repair devices market was valued at USD 3,578.2 million in the year 2012 and is expected to record a growth rate of 7.5% during the forecast period from 2013 to 2019, to reach an estimated value of USD 5,936.4 million by 2019.
The hernia repair devices market can be analyzed by the type of product and equipment employed in hernia repair and the type of hernia repair procedure adopted. The various products and equipment used extensively in hernia repair are polymer and prosthetic and biologic mesh systems, which aid in reconstruction of operated abdominal wall muscles. The synthetic mesh systems are widely adopted in complex hernia repair procedures and are composed of chemicals such as polyester and expanded polytetrafluoroethylene (ePTFE) and provide fast recovery along with negligible post-operative pain. However, chances of recurrence of hernia and rejection of the mesh thereby causing infections in the operated regions are high. On the other hand biologic mesh systems are more advantageous over prosthetic mesh as they render less chance of rejection and infection. With the increased preference for technologically advanced biologic and composite mesh systems, the need and demand for highly effective hernia repair devices also increased. Continuous evolution of endoscopic equipment employed in hernia repair procedures ensures high reliability and accuracy. Thus, continuous product modifications and technological advancements in developing efficient hernia repair devices will propel acceptance of the same.
With increasing preference for minimally invasive hernia repair procedures, there has been increased rate of adoption of tension free hernia repair procedures over the traditional incisional repair procedures. The rationale behind the increased adoption of tension free hernia repair procedures is that it provides fast recovery with negligible post-operative pains compared to the conventional means. Laparoscopic tension free and tension free mesh technique are the two most popular hernia repair procedures amongst others. Currently, robotics assisted surgeries are witnessing increased acceptance majorly due to high consistency, accuracy and less prone to human errors. Owing to this development, the strategic tie-ups of the medical device manufacturers with the developers of robotics surgical equipment provides a plethora of business opportunities in the field of medical devices.
Geographically, North America accounts for the largest percentage share of the global hernia repair devices market accounting for around 41.3% of the total market. This is justified by the presence of technologically updated infrastructure and well trained healthcare professionals in this region compared to other regions. In addition, consistent rise in awareness levels in patient population has further augmented growth and development of hernia repair devices market in this region. The region also provides well-defined reimbursements policies which further encourages adoption of hi-tech hernia repair products and procedures. Asia-Pacific region is anticipated to record high growth rate owing to increased participation of the respective governments in improving the overall healthcare sector and huge untapped potential in these regions. In addition, rise in disposable incomes and increased preference of the population to avail technologically advanced medical solutions further support growth of hernia repair devices market. Rest of the World (RoW) is also expected to exhibit considerable growth rate majorly due to increasing acceptance towards novel approaches and consistent improvements in healthcare facilities in Latin American markets of Brazil, Argentina and Mexico.
The overall hernia repair devices market is highly fragmented with the presence of both established and emerging companies which include Covidien Plc, C.R.Bard, Ethicon, Inc., Cook Medical, Inc. and Stryker Corporation. The factors which contribute in the growth of the overall hernia repair procedures are continuous product modifications followed by technological advances and increased preference for minimally invasive procedures. However, high cost of the products and procedures along with dicey reimbursement policies may limit the growth prospects for the development of hernia repair devices market.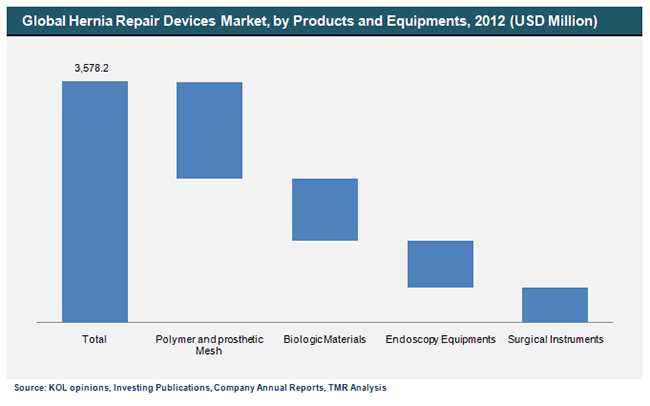 Hernia occurs as result of protrusion of tissue through an abnormal opening and is affected most commonly to the geriatric population. Hernia is one of the major health concern worldwide. The study analyzes two major segments of the hernia repair devices namely, products and equipments and procedures. Hernia repair products and equipments are segmented as biologic materials, polymer and prosthetic mesh, surgical instruments and endoscopy equipment. The market for procedures includes tension repair, open-tension repair, laproscopic tension-free repair and other tension-free methods. The report also explains various technological advancements taking place in the segment.
The report includes market estimations of the global hernia repair devices market in terms of value (USD million) for the period 2013 – 2019, considering 2012 as the base year. In addition, current market trends and recent developments are taken into consideration while determining the growth rate of the global hernia repair devices market. The report provides market size and forecasts for each segment, sub-segments and geographic region with CAGR % for the period from 2013 to 2019.
The market is also forecasted in terms of value (USD million) for the period 2013 – 2019 for four major geographic regions namely North America, Europe, Asia-Pacific and Rest of the World (RoW). A detailed qualitative analysis of the factors responsible for driving and restraining the growth of hernia repair devices market and future opportunities are provided in the report. A PESTLE analysis has also been done while estimating individual geographies in order to provide current as well as future status. A list of recommendations for existing as well as new entrants has also been discussed in the study that is supposed to help in decision making.
Some of the key market players of the global hernia repair devices market include Covidien Plc, C.R. Bard Inc., Ethicon, B. Braun Surgical, Stryker Corporation and others. Market players are profiled in this report on the basis of attributes such as company overview, financial overview, business strategies adopted by the companies to ensure sustainability and maximize profits, product portfolio and recent developments
.
The global hernia repair devicesmarket is segmented into the following categories:
Hernia Repair Devices Market, by Products and Equipments

Polymer and Prosthetic Mesh
Hernia Repair Devices Market, by Procedures
Hernia Repair Devices Market, by Geography
Custom Market Research Services
TMR offers custom market research services that help clients to get information on their business scenario required where syndicated solutions are not enough.
REQUEST CUSTOMIZATION