Herbicides Market
Herbicides Market (Product - Acetohlor, 2,4-D, Glyphosate, Atrazine; Application - Oilseeds & Pulses, Cereals & grains, Fruits & vegetables) - Global Industry Analysis, Size, Share, Growth, Trends, and Forecast, 2017 - 2025
Chemicals & Materials
TMRGL6994
2017-11-15
169

Pages
Global Herbicides Market: Acute Demand to Meet Soaring Food Inflation Bestows Growth
As precision farming becomes the norm in 21st century, techniques for plant protection, of which use of herbicides is significant, are becoming imminent. This stems as farmers vie for high acreage at affordable investments to feed the world's growing population. According to United Nations Food and Agriculture Organization (FAO), we will need 35% surplus food from today to meet the requirements of 8.5 billion people by 2030.
For long, experts and businesses across the world have mulled genetically modified crops (GM crops) as the solution to meet the ever-increasing food inflation. The need to curtail heribicide consumption was also forcing businesses to contemplate the introduction of GM crops. Contrary to proponents of GM crops, they only resulted in increased use of herbicides, at least for GMO corn and soybeans – the most popular crops in the U.S. This demonstrates sway of herbicides for some popular crop that the U.S. depends on.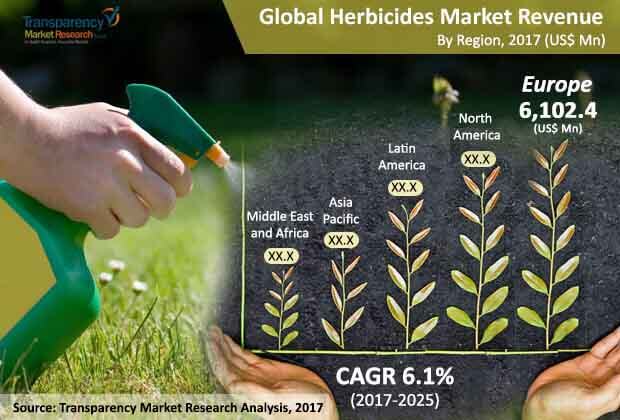 The growth in the agrochemical industry has helped development of new herbicides. TFor instance one of the top players Monsanto is concentrating on agrochemicals, including herbicides that complement genetically modified seeds. New constituent chemicals with improved properties, especially the ones that enable significantly reduced use, and often new mode of action have been discovered. Herbicide mixtures that involve application of multiple products in a single application is an example of this.
In such scenarios of transformation of the entire agrochemicals sector, agriculturists are keen to understand how constituent segments of the agrochemicals sector are likely to grow. This includes herbicides segment, which prompted Transparency Market Research (TMR) to publish a report on the herbicides market. The report is an attempt to delve into every vital aspect for opportunistic growth in the herbicides market. As per projections of the report, the global herbicides market is predicted to register a CAGR of 6.1% between 2016 and 2025.
Herbicides Market – Insights into Roadmap of Progression
While synthetic auxin herbicides have been in use since 1950s, consistent R&D for weed control in the last decade has led to notable findings for these herbicides. The unfolding of Transport Inhibitor Response (TIR1)- a class of protein, has concluded the mystery of long-sought auxin receptor, for significance of auxin in regulating almost every aspect of plant development. This important finding of auxin signals continued use of synthetic auxins such as 2,4-D for weed control.
High Consumer Demand for Bio-based Formulations Unlocks Growth Prospects
Increasing focus on R&D activities to innovate newer herbicide formulations is a trend that has come to the fore. This, mainly includes development of bio-based herbicides due to adverse implications of chemical-based products on environment and human health Besides this, impetus on product manufacturers to develop herbicides, for the ones resistant to weeds validates continued demand of herbicides. Thus herbicides market receives boost, in turn.
Quest for Precision Farming Underpins Growth in Developing Countries
Asia Pacific exhibits leading demand for herbicides. For example, in India, due to food inflation for the exploding population, and agriculture accounting for nearly 60% of the GDP, consumption of herbicides is poised to remain substantial. In doing so, voluminous use of chemical pesticides and herbicides has become the norm as conventional agricultural practices undergo swift change to maximize agricultural output.
On the contrary, the use of herbicides faces headwinds for changing food perspectives. Increasing demand for organic food, or food free of chemicals is slowing the use of herbicides in agricultural crop. Individuals are increasingly abstaining fromconsuming food grains or vegetables cultivated using chemical-based pesticides. . This has profound impact on the demand for herbicides.
Inadvertently though, Impact on Biodiversity hurdle for Growth
Besides this, herbicides have had serious implications on biodiversity. Overuse of herbicides to ensure plentiful yields has caused herbicide-resistant weeds and a massive decline in biodiversity. This is because prolonged use of herbicides impacts natural process of converting organic matter and disruption in balance of microorganism in the soil. For example, herbicides used to control grass can kill beneficial insects such as lady bugs and aphids. Hence, the aroused need to reduce use of herbicides for commercial agriculture.
Global Herbicides Market: Winning Imperatives
With R&D and Investments, Opportunities galore for Bio-based Products
Extensive R&D by product manufacturers to develop new herbicides is likely spurt market share for these players. In this direction, development of bio-based herbicides is a key focus of participants in the global herbicides market. Large players such as BASF, Dow Chemical Company, and Monsanto have been making huge investments to expand their product line. These players are especially focused to develop bio-based herbicides to cater to changing demand for organic and chemical-free agricultural produce.
Besides this, development of products that edge out competitor's products is a key growth strategy among top players in the herbicides market. In a recent move, Dow Chemical Company introduced a new herbicide for corn, and openly told farmers of superior results of their product. The release of the product was direct competition for Monsanto's herbicides claimed to be ineffective for certain crop weeds.
Scope of Educating Farmers in Developing Countries
Lack of knowledge of selective and non-selective herbicides among famers, mostly in developing countries provides space for growth for market players. Concentration of herbicides and persistence of herbicides in the soil are some areas where farmers need to be educated.
For some herbicides, there lies a thin line between controlling weeds for the complete growing season of the crop, before planting a sensitive crop in rotation. Persistence of herbicides is dependent on soil related factors, climatic conditions, and herbicidal properties.
Apart from this, lack of knowledge of usage of herbicides is another area that needs to be addressed. Farmers mostly in developing countries lack the required knowledge of selection of correct type of herbicides. Farmers in these countries mostly practice non-methodical selection of herbicide, usually leading to non-selective approach for herbicides.
Competitive Landscape – Herbicides Market
The global herbicides market features relatively high degree of consolidation in terms of competition. Gaining from their market position, large players hold leading share in the herbicides market. In 2016, top five players held more than 74% share of the herbicides market.
Factors such as wide product portfolio for plant protection products of top players and robust R&D along with expanded manufacturing facilities at several locations are cementing position of large players in the herbicide market.
In order to stay competitive, and to maintain their position, these players are adopting an array of growth strategies in potential areas of expansion.
Foray into crop management education services is one of the services top players in the market are striving for growth. For example, Agrium Inc. employs more than 2000 agronomists who directly work with farmers for healthy crop yield.
Mergers and acquisitions, including acquisition of retail outlets is a key growth strategy among prominent players in the herbicides market. Acquisition of 76 retail outlets for agrochemical products by Agrium Inc. in 2016 is a case in point. The move not only helped to expand its revenue, but also presence in the crop protection market.
Apart from this, mergers between large players is a strategic move for growth in the herbicides market. For example, in 2016, Agrium Inc. announced its merger with PotashCorp - a manufacturer of low cost chemicals such as phosphate and potash for herbicides. Following the merge, Agrium Inc. enjoys large workforce and production capacity of the latter, resulting in increased market share.
In the future, as a roadmap for success, players in the herbicides market are vying for internationally acclaimed license to develop novel herbicide formulations. Some companies strive to obtain joint licensing for added benefits of cost and terms of use. In this context, Monsanto and Dow AgroSciences announced a global licensing agreement for use of Dow AgroSciences' technology Exzact Precision Technology. This enables their access for a platform for innovative technology, for objectives of improved yield quality, productivity, and profitability.
Global Herbicides Market: Overview
Herbicides are the weed killers, employed to restrict the growth of weeds in the planted crop area. Herbicides interfere with the growth hormones, in the weeds, thereby blocking their growth, which eventually leads to the death of weeds. Some of the majorly consumed herbicides include glyphosate, atrazine, dicamba, 2,4-D etc. Europe dominated the herbicide market in terms of revenue, and is likely to do the same during the period of forecast. However, the preference of the users in Europe, has been shifting towards bio-based products, as a result of increasing awareness about health & environmental hazards of synthetic agrochemicals. Due to this, the region is anticipated to witness a decline in its market share during the forecast period. Usage of glyphosate was dominant in the market and is anticipated to remain dominant during the period of forecast.
Need to increase the agricultural productivity, is one of the major factors driving the growth of herbicide market. Glyphosate is the dominant segment majorly used in all the regions across the globe. The use of herbicides was widely witnessed in cereals & grains segment in most of the regions. Both, glyphosate and the cereals & grains segment are anticipated to continue their dominance during the forecast period with the highest CAGR.
Global Herbicides Market: Scope of Study
This report analyzes and forecasts the market for herbicides market at the global and regional level. The market has been forecast based on volume (in Kilo tons) and revenue (US$ Mn) from 2017 to 2025, considering 2016 as the base year. The study includes drivers and restraints of the global herbicides market. It also covers impact of these drivers and restraints on demand for herbicides market during the forecast period. The report also highlights opportunities in the herbicides market at the global and regional level.
The report includes detailed value chain analysis, which provides a comprehensive view of the global herbicides market. Porter's Five Forces model for the herbicides market has also been included to help understand the competitive landscape in the market. The study encompasses market attractiveness analysis, where in products, and application are benchmarked based on their market size, growth rate, and general attractiveness.
The report provides the actual market size of herbicides for 2016 and estimated market size for 2017 with forecast for the next eight years. The global market of herbicides has been provided in terms volume and revenue. Market volume has been defined in Kilo tons and revenue in US$ Mn. Market numbers have been estimated based on product, and application of herbicides. Market volume and size have been provided in terms of global, regional and country level markets.
Global Herbicides Market: Market Segmentation
The study provides a decisive view of the global herbicides market by segmenting it in terms of product, and application. In terms of product, herbicides are classified as acetochlor, 2,4-d, glyphosate, atrazine, and others. In terms of application, it is segmented into oilseeds & pulses, cereals & grains, fruits & vegetables, others (nursery, turf, etc.). These segments have been analyzed based on present and future trends. Regional segmentation includes current and forecast demand for herbicides in North America, Europe, Asia Pacific, Latin America, and Middle East & Africa.
In order to compile the research report, we conducted in-depth interviews and discussions with a number of key industry participants and opinion leaders. Primary research represented the bulk of research efforts, supplemented by extensive secondary research. We reviewed key players' product literature, annual reports, press releases, and relevant documents for competitive analysis and market understanding. Secondary research includes a search of recent trade, technical writing, Internet sources, magazines and statistical data from government websites, trade associations, and agencies. This has proven to be the most reliable, effective, and successful approach for obtaining precise market data, capturing industry participants' insights, and recognizing business opportunities.
Global Herbicides Market: Research Methodology
Secondary research sources that are typically referred to include, but are not limited to company websites, annual reports, financial reports, broker reports, investor presentations, SEC filings, and external proprietary databases, and relevant patent and regulatory databases such as ICIS, Hoover's, oneSOURCE, Factiva and Bloomberg, national government documents, statistical databases, trade journals, market reports, news articles, press releases, and webcasts specific to companies operating in the market.
We conduct primary interviews on an ongoing basis with industry participants and commentators to validate data and analysis. These help validate and strengthen secondary research findings. These also help develop the analysis team's expertise and market understanding.
Global Herbicides Market: Competitive Analysis
The report comprises profiles of major companies operating in the global herbicides market. Key players in the herbicides market are Agrium Inc., Syngenta International Ag, Bayer Ag, BASF SE, Israel Chemicals Ltd., Monsanto Company, FMC Corporation etc. Market players have been profiled in terms of attributes such as company overview, financial overview, business strategies, and recent developments.
The global Herbicides market has been segmented as follows:
By Product

Acetochlor
2,4-D
Glyphosate
Atrazine
Others

By application

Oilseeds & pulses
Cereals & grains
Fruits & vegetables
Others (Nurseries, Turf etc.)

Regional Analysis

North America
Europe

Germany
U.K.
France
Italy
Spain
Rest of Europe

Asia Pacific

China
India
Japan
ASEAN
Rest of Asia Pacific

Latin America

Brazil
Mexico
Rest of Latin America

Middle East & Africa (MEA)

GCC
South Africa
Rest of Middle East & Africa
Custom Market Research Services
TMR offers custom market research services that help clients to get information on their business scenario required where syndicated solutions are not enough.
REQUEST CUSTOMIZATION