Hacksaw Blades Market
Hacksaw Blades Market (Blade Type - Regular Hacksaw Blade, Raker Hacksaw Blade, and Wavy Hacksaw Blade; Teeth per Inch - 14 TPI, 18 TPI, 24 TPI, and 32 TPI; Material Type - Aluminium, Brass, and Mild Steel; Mechanism Type - Manual, and Electric) - Global Industry Analysis, Size, Share, Growth, Trends and Forecast 2017 - 2026
Factory Automation
TMRGL40481
2018-03-09
170

Pages
Global demand for hacksaw blades continues to be influenced by a range of broader and industry-specific factors. On a broader level, resurgence in the construction sector and steady recovery of industrial sector in major economies is creating growth opportunities. Affordability and easy availability of hacksaw blades continue to ramp up adoption in key industries, whereas highly fragmented nature of the marketplace continues to pose challenges for manufacturers.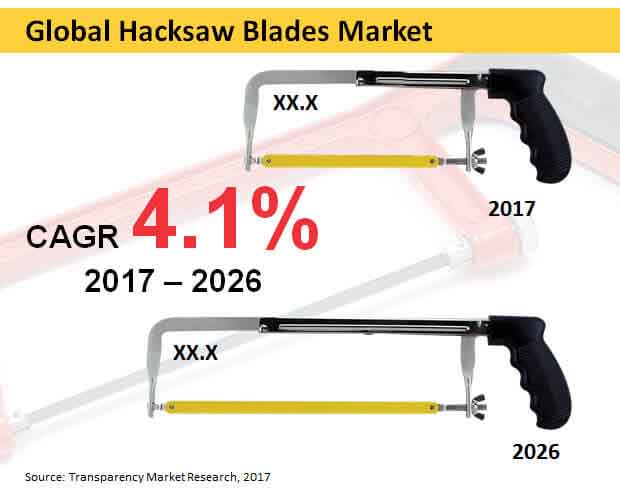 Overall, the outlook on global hacksaw blades market is positive, and it is projected that demand will continue to grow at a steady pace during the assessment period. Hacksaw blades have traditionally been used across a range of end-use industries, and steady demand from these sources is likely to provide an impetus to growth during the assessment period. Hacksaw blades remain an efficient tool for carrying out basic and slightly complex cutting tasks, and their affordability and cost-effectiveness make then an appealing option, especially in small- and medium-scale industries.
The broader trends pertaining to use of advanced equipment in end-use industries is also influencing the hacksaw blades industry. A significant percentage of end-users are making the transition from manual hacksaw blades to electric hacksaw blades. In a bid to cater to the evolving demand, manufacturers are focusing on broadening their product portfolio, and incorporating electric hacksaw blades in their offerings. It is highly likely that demand for electric hacksaw blades will grow at higher rate vis-à-vis manual hacksaw blades during the assessment period. In addition to rising preference for electric hacksaw blades, manufacturers are also focusing on reducing the limitations of manual blades, including fast blunting and teeth breaking.
Macroeconomic factors have a significant impact on the demand for hacksaw blades. Economic slowdown and sluggishness in industrial growth have a limiting impact on the growth of the market. In addition to macroeconomic factors, limitations of hacksaw blades, such as fast blunting and teeth breaking continue to pose challenges for both end-users and manufacturers. Manufacturers are focusing on addressing these challenges, however, the current demand is impacted due to these impediments.
Bimetal Hand Hacksaw Blades Likely To Gain Traction in the Forthcoming Years
Bimetal hand hacksaw blades are known mainly for their flexible features. Manufacturers are seen to increase the manufacturing of these tools due to its increasing demand especially amongst the residential sectors, due to their faster cutting quality. These blades are advancing with special variable TPIs. Apart from this, leading manufacturers are stepping up their efforts in offering highly acclaimed tools in order to experience accurate dimensions and superior cutting performance. However, the increasing demand for 18 TPI hacksaw blades will continue to remain dominant during the forecast period.
Manufacturing Insights
Hacksaw blades manufacturers, namely, Fein and Lenox, Apex Tool Group, Starrett, Disston, Dewalt, CooperTools, Milwaukee Hand Trucks, Klein Tools, Blackhawk Industries and Stanley are profiled as the significant players in global hacksaw blades market. These companies will be actively working in the global production of hacksaw blades during the forecast period. Considering the structure of customer needs and assessing the reason behind lack of performance of the tools will be the strategic factors impelling product development amongst these players.
On account of evolving end-user demand, power hacksaws are steadily gaining traction in the market. Manufacturers are focusing on advancing the performance of power hacksaw blades, and spending on innovation is likely to gain momentum during the assessment period.
Global Hacksaw Blades Market: Synopsis and Report Highlights
Increasing construction projects, wielding shops and automobile sectors have driven the demand for hacksaw blades. In every sector, the usage of hacksaw blades is mainly for the purpose of cutting materials such as rods, flat plates, channel and angle. Metal industry plays a very significant role in the rising demand for hacksaw blades. Leading manufacturers of hacksaw tools are contributing in global market for hacksaw blades and introducing improvements to the current product lines by taking into account the changing working aspects.
The increasing interest of investors, growing trend of automation and government funding are also anticipated to reflect supportively on hacksaw blades market in the forthcoming years. The manufacturers of hacksaw blades are stepping up their efforts in making competitive, sustainable and resource efficient tools. The market for hacksaw blades is rising at a rapid pace along with increasing technological innovation, M&A activities and competition in the industry and several regional as well as local vendors are providing particular application tools for different end-users.
Comprehensive Market Assessment & Holistic Research Approach
Transparency Market Research has worked out on a complete forecast study that takes into account a number of aspects in order to derive value assessments for the global hacksaw blades market. The research provides projected evaluations of the global hacksaw blades market for the anticipated period, 2017-2026. Significant findings offered in this study contribute unbiased information on how hacksaw tools companies in the global hacksaw blades market can expand their businesses in the forthcoming years. These outcomes have been created by a well-adjusted combination of quantitative valuations and qualitative insights.
The research approach taken up in the progress of this report has efficiently provided a holistic point of view on the future of hacksaw blades. Information gathered in the study produces a market consensus valuation with regards to the latest significant trends, direction of market growth and size of the market. Revenues acquired from prominent market players has been considered and the data has been adapted for different purposes in forming a standard for the market size forecasting. Several key benefits of this report comprises of:
A multidisciplinary method on market size estimating to cover each key aspect.
Industry specialist opinions that suggest a roadmap with regards to technology trends, improvements in working and developments in manufacturing of hacksaw blades.
In-depth study on the global hacksaw blades supply chain.
Keen assessment of key businesses manufacturing hacksaw blades.
Additionally, the report has evaluated multiple contributing factors inducing the growth of global hacksaw blades market. Macroeconomics influencing the development and adoption of hacksaw blades have been considered, while the report also offers an analysis of pricing and cost structure.
Market Taxonomy
Key sections in the report offer segmental analysis on the expansion of the global hacksaw blades market. The report has analyzed the global hacksaw blades market on the basis of region, blade type, teeth per inch, material type and mechanism type. Additional information on country specific market size forecast and cross-segmental analysis is also complied in the report.
Scope of the Report
By working out an all-inclusive research methodology, report has been developed by the experts of Transparency Market Research in order to meet the crucial matters of market players. By working constantly with regards to exchange of ideas with these businesses, information generated by experts have been accurately validated and the data provided through it intends to resolve the challenges encountered by market players. The purpose of this report is to support hacksaw blades manufacturers in organizing and making appropriate decisions and strategies towards progressive market direction.
Region

North America
Latin America
Europe
Japan
APEJ
MEA

Blade Type

Regular Hacksaw Blade
Raker Hacksaw Blade
Wavy Hacksaw Blade

Teeth Per Inch

14 TPI
18 TPI
24 TPI
32 TPI

Material Type

Aluminium
Brass
Mild Steel

Mechanism Type
Custom Market Research Services
TMR offers custom market research services that help clients to get information on their business scenario required where syndicated solutions are not enough.
REQUEST CUSTOMIZATION