Fusion Splicer Market: Need for Enlarged Bandwidth to Create Avenues of Growth
In today's day and age, our lives are highly dependent on 'hyperconnectivity', be it a person-to-person, person-to-machine, or machine to machine connection. With hyperconnectivity being the buzzword, there has been a surge in the adoption of cloud-based infrastructure, which essentially demands enlarged bandwidth of fiber optic cabling. Such strides towards data-intensive services have strengthened the roots of the fusion splicer market. To make a mark in the converging multibillion-dollar information industry, players in the telecommunication sector are beefing up their networks using fusion splicing techniques.
With the convergence of voice, video, and data networks, and high FTTH (fiber-to-the-home) deployments, there is an increasing amount of optical fiber being fusion spliced. Fusion-splicer is rapidly becoming the must-have tool for almost all industries, including, telecommunications, aerospace and defense, energy, medical, and others. The mounting demand for high-bandwidth network and optical fiber gaining center stage in almost every networked organization warrants the need for exhaustive research to understand the dynamics of the fusion splicer market. In its latest offering, Transparency Market Research (TMR) details out the trends and transitions in consumer behavior that will help stakeholders take well-informed business-related decisions.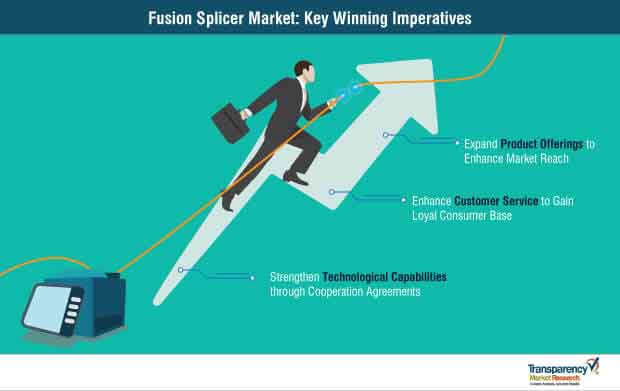 Planning to lay down future strategy? Perfect your plan with our report brochure here
Evolutionary Timeline of the Fusion Splicer Market
There has been incessant progression in optical fiber network construction. With innovations spawning in the arena of fiber optics, 'fusion splicing' gradually became the new business adage, being one of the most economical and fastest methods for field termination. The industry is graduating its way to progress with upgrades in optical communication technology and advancements in gaming-on-demand, video on demand, and digital video recorder networks.
The telecommunications industry, in particular, is a major revenue contributor for the fusion splicer market, with nations focusing on expanding their fiber-optics communications. This industry accounted for ~ 55% of the market share in 2018, and is anticipated to rise at a CAGR of ~ 6% during the forecast period.
Furthermore, shifts in consumer preferences from mechanical splicing to fusion splicing have transcended the industry's growth. However, the high costs associated with fusion splicing devices and the need for continuous power supply may drive consumers away. Although this is a long-standing challenge for the market, it opens new growth opportunities, especially for new market entrants, where they can proliferate the global market by launching competitively-priced products.
Want to know the obstructions to your company's growth in future? Request a PDF sample here
Compelling Trends Redefining the Market
Sensing the high demand for fusion splicers, numerous manufacturers are increasing their production capacities. However, to establish a strong foothold in the market, there is the need for players to launch products with advanced functions. Partakers are targeting specific consumer demands, such as the development of compact and lightweight fusion splicers for homes, and the development of wireless splicers to meet the need for continuous power supply. For instance, Fujikura Ltd., a Japanese company, recently announced the launch of the wireless smart splicer 41S, which is expected to provide exact core splice loss estimation.
Another overarching trend in the fusion splicer industry is the high adoption of core alignment splicers. This is mainly because they need to meet specific contract specifications for spice loss. Manufacturers are not only increasing the production of core alignment splicers but expanding the applications of core alignment splicers in the cable TV industry. This is mainly because this industry demands low splice loss of 0.05 decibel or even lower, which can only be achieved through core alignment splicers.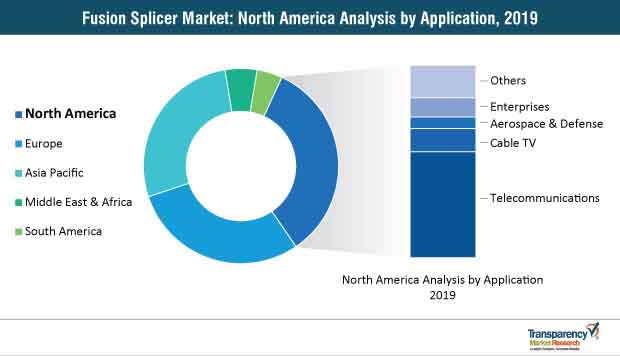 Looking for exclusive market insights from business experts? Request a Custom Report here
Key Winning Imperatives
Sensing the high demand for fusion splicers across various industry verticals, players are laying high focus on increasing their product offerings of innovative products to enhance their market reach and sales revenues. This aspect of the market has greatly encouraged the decision of NanJing DVP O.E.TECH. CO., LTD. to expand its product offerings. Similarly, in September 2018, Sumitomo Electric Industries, Ltd. released the splicer T-57, which is an updated version of the prior splicer, T-55. The new product offers enhanced features such as better portability, less heating time, large battery capacity, and smart user interface, besides others.
Furthermore, gauging the rising consumer inclination towards innovative and technologically-advanced products, companies are striving to strengthen their technological capabilities. They are doing so through cooperation agreements with leading enterprises, research institutes, and companies. For instance, China Electronics Technology Group Corporation signed a strategic cooperation agreement with Southeast University for cooperation in scientific researches and technological innovation.
Competition Landscape to Remain Fragmented
The global fusion splicer market features a highly fragmented vendor landscape, with the presence of numerous established companies and the emergence of new players. In 2018, emerging players accounted for ~ 52% of the market share, whereas, prominent and leading players held ~ 22% and ~ 25% of the market share, respectively. Leading companies in the fusion splicer market include Sumitomo Electric Industries, China Electronics Technology Group Corporation, Furukawa Electric, and Fujikura Ltd.
Key players are relying on strategies such as deployment of robust product promotion strategies, new product launches, and better customer service to expand their global frontiers. In a bid to enhance customer service, SIGNAL FIRE TECHNOLOGY CO., LTD offers various services such as lifetime warranty and free parts, and free replacement of the fusion splicer, when the splicing count reaches 50,000. On the other hand, Ilsintech Co., Ltd.is focusing on sales promotions to enhance its sales revenue.
Apart from these strategies, companies are also focusing on acquiring quality assurance certificates to instill faith in customers and enhance the credibility of their products. For instance, Nanjing Jilong Optical Communication Co. LTD has obtained quality assurance certificates such as Great Wall Quality Assurance Center ISO9001 quality system certification, OHS18001 occupational health and safety, and ISO14001 environmental management system certification.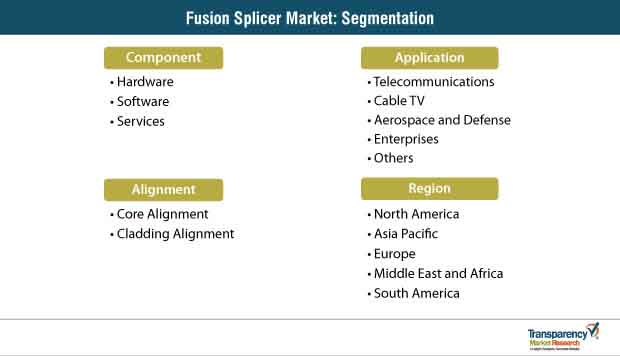 Analysts' Viewpoint on the Market

Authors of the report on the fusion splicer market are optimistic about its growth during the forecast period. The rising preference of fusion splicers over mechanical splicers and high demand across numerous industries are expected to bring good fortune to the market. Players who prioritize technological innovation are anticipated to gain the first-mover advantage. Additionally, players deploying robust product promotional strategies will stay high on the growth ladder. TMR analysts opine that, there is a low threat of new entrants in the market, since the industry needs significant capital expenditure for full-scale integration. However, new entrants offering technologically-advanced products at competitive rates will stand a chance to proliferate the global market. Overall, the market has a low threat of substitutes, since the industry is growing in sync with the rising demand for high bandwidth services, which can only be achieved through fusion splicing.
According to Transparency Market Research's latest research report on the global fusion splicer market for the historical period of 2017–2018 and the forecast period of 2019–2027, the rising demand for fiber optic cables from various applications is expected to boost the global fusion splicer market during the forecast period.
In terms of revenue, the global fusion splicer market is estimated to reach ~ US$ 686 Mn by 2027, expanding at a CAGR of ~ 5.5% throughout the forecast period.
Rising Demand for High Network Bandwidth Across the Globe: A Key Driver
The need for network bandwidth rises in line with the increase in public usage. Currently, consumers are largely opting for higher-bandwidth applications and services, with the emergence of advanced mobile telecommunications standards such as 4G and 5G.
Growing usage of Internet is the key factor driving the use of optical fibers in the telecommunications industry.
In line with this, service providers are increasingly deploying fiber-to-the-premises (FTTP) networks, as residential and business clients are increasingly demanding high bandwidths in order to benefit from recent voice, information, and video technologies
Key players operating in the global fusion splicer market are primarily focused on organic strategies such as worldwide expansion and new product launches in order to increase their revenues.
Thus, significant increase in the demand for high network bandwidths is estimated to promote the adoption of fusion splicers in the next few years. This factor is expected to have a high impact on the global fusion splicer market in the near future.
Advantages Offered by Fusion Splicing and Introduction of Advanced Fusion Splicer Solutions
Fusion splicing is the most commonly used method, as it offers a secure connection with reduced loss of insertions and virtually no back reflection. It is usually applied to single-mode fibers. However, in some special cases, it can also be used for multi-mode fibers.
The fusion splicing technology has gained popularity among enterprises, owing to its various advantages such as lower latency, reduced insertion loss, better efficiency, and improved performance. It also provides a better, more secure environment so that there are minimum cable failures and weak signals. Fusion splicing can withstand extremely high varying temperatures.
Key players operating in the global fusion splicer market are focused on organic strategies such as launches of advanced products and worldwide expansion. This move would help these companies in accelerating the adoption of fusion splicers for use in various applications.
These factors are expected to have a positive impact on the global fusion splicer market in the near future.
High Costs Associated with Fusion Splicers Pose a Major Challenge to the Market
The overall cost of fusion splicing is very high, primarily due to expensive fusion splicing equipment. Fusion splicing also requires a constant supply of power as well as certain special tools.
Furthermore, fusion splicing is a time-consuming technique that cannot be used for temporary links. It also requires regular maintenance, including frequent cleaning, alignment of electrodes, and occasional substitution.
These factors are likely to hinder the global fusion splicer market in the next few years.
Global Fusion Splicer Market: Competition Landscape
Detailed profiles of manufacturers of fusion splicers have been provided in the report to evaluate their financials, key product offerings, recent developments, and strategies.
Key players operating in the global fusion splicer market are

Fujikara Ltd.
Sumitomo
Precision Rated Optics
Inno Instrument Inc.
Corning Inc.
Fiberfox
Signal Fire technology
Furukawa Electric Co. Ltd.
China Electronics Technology Instruments Co Ltd.
Ilsintech Co., Ltd.
Global Fusion Splicer Market: Key Developments
Key manufacturers of fusion splicers, such as Fujikura Ltd. and Corning Inc., are strengthening their overseas sales structure by increasing their production capacities. Some other key developments in the global fusion splicer market are as follows:
In February 2019, the FITEL S185 series of fusion splicers was launched by Furukawa Electric Co., Ltd. This series is a line of more compact, cost-effective, and efficient splicers that are specifically designed for splicing special optical fibers used in optical components, fiber lasers, and optical sensors.
In September 2018, Sumitomo Electric Industries, Ltd. released its new core-alignment fusion splicer called T-57, which is built on the foundation of the previous model, i.e. T-55. T-57 features several improvements such as shorter heating time, higher battery capacity, better portability with smaller and lighter body, and smarter user interface with higher resolution and a smoother touch screen.
In March 2017, Fujikura Ltd. introduced two new RS02 and RS03 instruments used to remove optical ribbon fibers from telecommunications. These fiber removal instruments have been developed with focus on operability and usability, wherein, the removal method requires less force.
In the report on the global fusion splicer market, we have discussed individual strategies, followed by company profiles of manufacturers of fusion splicers. The 'Competition Landscape' section has been included in the report to provide readers with a dashboard view and company market share analysis of key players operating in the global fusion splicer market.
Fusion Splicer Market: Taxonomy
Information presented in the report on the fusion splicer market is divided into four broad categories - component, application, alignment, and region. Each segment has been analyzed in detail, and a brief overview of the demand and sales has been provided. Information provided in the report on the fusion splicer market includes cost structure, segment-specific trends, value chain analysis, supply chain analysis, and Y-o-Y growth analysis.
Component

Hardware

Software

Services

Application

Telecommunications

Cable TV

Aerospace and Defense

Enterprises

Others

Alignment

Core Alignment

Cladding Alignment

Region

North America

Asia Pacific

Europe

Middle East and Africa

South America