Animal Feed Additives Market
Animal Feed Additives Market (Additive Type: Antibiotics, Vitamins [Water Soluble, Vitamin A, Vitamin D, and Other Vitamins], Antioxidants, Amino Acids [Tryptophan, Lysine, Methionine, Threonine, and Others], Feed Enzymes [Phytase, Non-starch, Polysaccharides, and Others], Feed Acidifiers, and Minerals; Source: Plant, Animal, and Micro-organisms; and Livestock: Ruminants, Poultry, Swine, and Aquatic) - Global Industry Analysis, Size, Share, Growth, Trends, and Forecast, 2019 - 2029
Category :

Food & Beverages

Format :
Animal Feed Additives Market: Overview
The revenue generated from the global animal feed additives market was projected to be valued at ~US$ 15 Bn in 2019 and is expected to reach ~US$ 18 Bn by 2029. Overall, the market is likely to show a CAGR of ~2% during the forecast period of 2019-2029.
Animal feed additives play an increasingly important role in animal nutrition. Animal feed additives seek those livestock producers who are looking for a sustainable and natural way to optimize animal feed conversion, improve gut health and enhance performance of their livestock, as well as address consumer demand for sustainable and high quality animal products.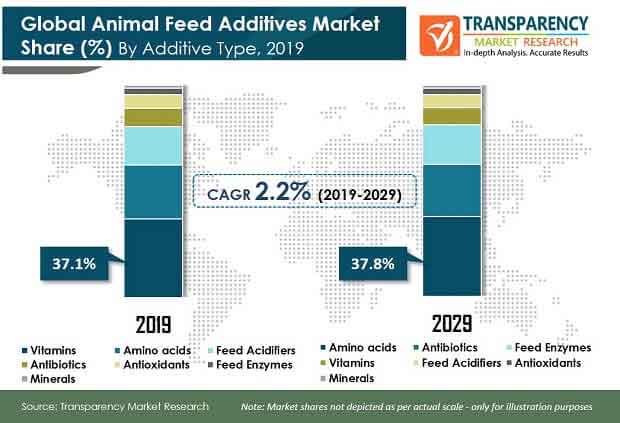 Request a sample to get extensive insights into the Animal Feed Additives Market
Animal Feed Additives: Market Frontrunners
Animal feed additives are a class of products added to enhance the effectiveness of the feed. The function of animal feed additives is to boost the nutrient content of the feed, provide essential trace elements to the animals, stimulate appetite, improve gut microbial flora, eliminate disease causing microbes, and provide enhanced immunity against harmful microbes.
In terms of livestock, the poultry segment accounts for a larger share than others and this trend is expected to continue in animal feed additives market. The aquatic segment is expected to gain traction with a high growth rate during the forecast period, and is expected to lead in terms of demand in Asia Pacific and Latin America.

Fish is considered to supply an average of 15% of proteins consumed per-capita yearly to ~4.5 billion people. Low carbon footprint, high per unit yield, and unique protein and fat content have resulted in an increase in the consumption of aquaculture products. Asia Pacific is estimated to serve 90% of the global aquaculture demand, with a major share consumed by its domestic market only, making it the largest aquaculture market. Hence, aquatic segment is anticipated to provide strong market opportunity for animal feed additives.

The animal feed additives market in Asia Pacific excluding Japan (APEJ) is the largest in the world, accounting for almost one third of the global animal feed additives market. The APEJ region has experienced an exponential rise in population. Majority of this population consumes meat and seafood as a part of their staple diet, which is expected to drive the growth of the animal feed additives market in this region. Urbanization and growing health consciousness among consumers has led to a rise in the demand for an improvement in the quality of meat for consumption. Animal feed additives play a key role in enhancing the quality of animal feed and hence, the quality of meat. Thus, these recent developments are expected to drive the growth of the animal feed additives market.
To understand how our report can bring difference to your business strategy, Ask for a brochure
Animal Feed Additives Market: Trends
Bio-Derived Animal Feed Additives to Gain Significant Traction
Due to the recent outbreaks of diseases such as avian flu, and mouth and foot diseases, consumers in North America, especially in the U.S., have become cautious about the quality and safety of meat. In 2009, the U.S. Government took initiatives such as imposing a complete ban on the use of feed antibiotics as growth promoters, and started campaigns for increasing awareness about product efficiency and its proper usage. In the backdrop of this stringent regulatory scenario, the market for natural animal feed additives has experienced significant growth.
Rising Demand for Organically-fed Poultry and Livestock Products
North America has increased its per-capita consumption of poultry as well as swine. Consumer demand for organic and natural foods has risen steadily. Respectively, the demand for technologies to improve animal performance through natural and organic solutions continues to increase. Direct-fed microbial feeds are gaining traction, as they play a vital role in improving nutrient absorption, feed digestibility, cost reduction, and offer better performance. Direct-fed microbial feed products are expected to gain popularity, as they are replacing antibiotics for improving health and performance of livestock, which creates immense potential for growth for the animal feed additives market in the future.
Increasing Usage of Alternative Additives to Prevent Feedstock Contamination
Majority of animal farms across the world are increasing the usage of alternative animal feed additives to avoid feedstock contamination. Alternative animal feed additive products include organic acids, antioxidants, toxin-binders, and palatability products. Furthermore, across the globe, usage of antibiotics in livestock is declining in order to reduce levels of anti-microbial drug resistance (AMR) from feed-to-food models. It is worth mentioning that AMR levels have reached alarming proportions globally, leading to human beings responding poorly to first and second-line treatments for various illnesses.
Stuck in a neck-to-neck competition with other brands? Request a custom report on Animal Feed Additives Market
Animal Feed Additives Market: Players
In a market characterized by limited supply and trade, companies engaged in the animal feed additives business rely on increasing consumer awareness for sales. The European nations are imposing bans on antibiotics due to the development of gene resistance to antibiotics in animals, which has led to consumers opting for effective and safer animal feed additives.
There is an emerging trend among animal husbandry owners to prefer natural animal feed ingredients over excessive use of antibiotics
Animal Feed additives such as enzymes, probiotics, acidifiers, and amino acids are increasingly being used to improve the digestive capacities of animals, reduce feed wastage, and to boost the feed to food value chain.

Few key players operating their business in the global animal feed additives market are

DSM (the Netherlands)
Archer Daniels Midland Company (U.S.)
Cargill, Inc. (U.S.)
Evonik (Germany)
BASF SE (Germany)
CHR Hansen A/S (Denmark)
Animal Feed Additives Market - Scope of the Report
Transparency Market Research (TMR) has recently published a study on the global animal feed additives market. The study provides a detailed assessment of key market dynamics, including drivers, trends, opportunities & restraints, and detailed information about the animal feed additives market structure. The market study presents exclusive information about how the animal feed additives market will grow during the forecast period starting from 2019 to 2029.
Key indicators of market growth, which include year-on-year (Y-o-Y) growth of the market, value chain, supply chain analysis, and compounded annual growth rate (CAGR) are explained in the TMR's study in a comprehensive manner. This information can help readers understand the quantitative growth prospects of the animal feed additives market during the forecast period.
The study is relevant for stakeholders in the animal feed additives market, including animal feed additives manufacturers, suppliers, distributors, and investors, and can help them in developing appropriate strategies to grow in the market. Stakeholders in the animal feed additives market, investors, industry experts, researchers, and journalists, as well as business researchers can gain valuable insights from the information and data presented in TMR's study.
The study also includes statistics and facts related to the macro and microeconomic factors that are impacting developments in the market. It also offers actionable insights into the market based on the future trends in the animal feed additives market. Furthermore, small businesses and new entrants in the animal feed additives market too can make use of the information presented in this study, based on which, they can make appropriate business decisions in order to gain momentum in the market.
Key Questions Answered in TMR's Animal Feed Additives Market Report
Which regions will continue to remain the most profitable regional markets for animal feed additives market players?
Which factors will induce a change in the demand for animal feed additives during the assessment period?
How will the changing trends impact the animal feed additives market?
How can market players capture the low-hanging opportunities in the animal feed additives market in developed regions?
Which companies are leading the animal feed additives market?
What are the winning strategies of stakeholders in the animal feed additives market to upscale their position in this landscape?
Animal Feed Additives Market: Research Methodology
The study uses a unique research methodology to conduct extensive research on the growth of the animal feed additives market and reach conclusions on the future growth parameters. This research methodology is a combination of primary and secondary research, which helps analysts ensure the accuracy and reliability of conclusions.
Secondary resources referred to by analysts during the production of the animal feed additives market study include statistics from governmental organizations, trade journals, white papers, and internal and external proprietary databases. Analysts have interviewed senior managers, product portfolio managers, CEOs, VPs, marketing/product managers, and market intelligence managers, who contributed to the development of this report as a primary resource.
Comprehensive information acquired from primary resources and secondary resources acts as a validation from companies in the animal feed additives market, and makes TMR's projections on the growth prospects of the animal feed additives market more accurate and reliable.
Animal Feed Additives Market - Segmentation
The report categorizes the animal feed additives in terms of various segments-additive type, source, livestock, and region. This report offers comprehensive data and information about the important market dynamics and growth parameters associated with these categories.
Additive Type

Antibiotics
Vitamins

Water Soluble
Vitamin A
Vitamin D
Other Vitamins

Antioxidants
Amino Acids

Tryptophan
Lysine
Methionine
Threonine
Others

Feed Enzymes

Phytase
Non-starch
Polysaccharides
Others

Source

Plant
Animal
Micro-organisms

Livestock

Ruminants
Poultry
Swine
Aquatic

Region

North America
Latin America
Europe
APEJ
Oceania
Japan
MEA
Custom Market Research Services
TMR offers custom market research services that help clients to get information on their business scenario required where syndicated solutions are not enough.
REQUEST CUSTOMIZATION

Global Animal Feed Additives Market