Gantry Crane Market
Gantry Crane Market (Type: Full Gantry Crane, Semi Gantry Crane, Truss Gantry Crane, and Portable Gantry Crane; Operation: Manual and Automatic; Lifting Capacity: <30 Tons, 30-50 Tons, and >50 Tons; and End Use: Automotive, Metal & Mining, Construction, Warehouses, Aerospace, Utility, Shipyards & Ports, and Others) - Global Industry Analysis, Size, Share, Growth, Trends, and Forecast, 2020-2030
Factory Automation
TMRGL56451
2021-01-28
165

Pages
Enhanced Payment Collection, Credit Control Keep Economies Running during COVID-19
The coronavirus outbreak has weakened global demand conditions and made the demand environment uncertain, which has had a negative impact on order intake. Companies in the gantry crane market are scrambling to stay productive during the COVID-19 outbreak and maintaining business continuity for critical mission projects. Crane providers have cast their focus on stakeholders in the essential goods sector such as medical supplies and food.
Physical restrictions at production facilities to limit the spread of novel coronavirus are impacting revenue growth of the gantry crane market. Businesses are witnessing low revenue recognition, since major orders received from clients at shipyards and aerospace automotive companies have either been cancelled or postponed. Thus, crane providers are focusing on enhanced payment collection and credit control to keep economies running during the ongoing COVID-19 era.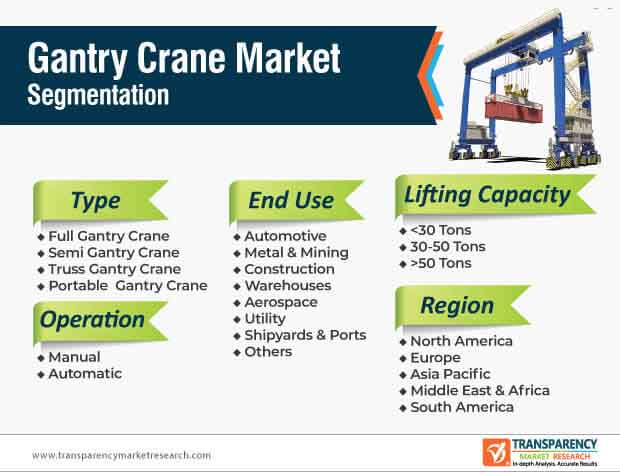 Request a sample to get extensive insights into the Gantry Crane Market
Limitations in Size, Lifting Capacities of Gantry Cranes Affect Market Growth
Companies in the gantry crane market are increasing making crane solutions affordable to key income generating sectors, such as automotive, aerospace, and ports & shipping industries. As such, the market is slated to clock a healthy CAGR of ~6% during the forecast period. However, gantry cranes have limitations in their size and lifting capacity, and are likely to affect the growth of the gantry crane market. Hence, crane providers are educating their clients about safety ratings and advising customers to have a standard or above average span length before entering a purchase decision.
To understand how our report can bring difference to your business strategy, Ask for a brochure
Turnkey Self-erecting Portable Overhead Cranes Eliminate Need for Skilled Personnel
The ever-increasing infrastructure development in emerging economies such as India and other developing countries is creating stable revenue streams for companies in the gantry crane market. The market is estimated to reach US$ 3.5 Bn by the end of 2030. As such, the revenue of automatic cranes is predicted for exponential growth during the assessment period.
Self-erecting portable overhead cranes are storming the gantry crane market. For instance, Air Technical Industries— a manufacturer of innovative specialty-type material handling equipment is gaining recognition for its revolutionary double or single girder gantry crane, which works on a push button and omits the need for skilled personnel.
Modular Designs in Gantry Cranes Establish Safe Manufacturing Processes for Clients
Companies in the gantry crane market are increasing the availability of high quality overhead cranes and hoists that are useful in construction, mining, and warehouse management applications. For instance, Loadmate— a crane dealer in Gujarat, India, is establishing robust supply chains for semi gantry cranes and rubber tired cranes to meet requirements of clients in utilities, metal, and mining sectors.
Innovations in semi gantry cranes and full gantry cranes involve the integration of vacuum beams, grapple attachments, and special hooks. Dealers in the gantry crane market are meeting demands for sustainable and safe manufacturing processes of customers. Modular designs in gantry cranes include a fuseless circuitry, which is making processes more safe and reliable for clients in various end markets.
High Tech Aluminum Gantry Cranes Facilitate Mobility, Operator Safety
Mobility and versatility of aluminum gantry cranes are being preferred by end customers. High tech aluminum construction of cranes are translating into revenue opportunities for dealers in the gantry crane market, owing to their operator-friendly handles for height adjustment. Equipment manufacturers are increasing the availability of compact and easily transportable aluminum gantry cranes that meet storage requirements of end users.
Lightweight, portable, and easy-to-use aluminum gantry cranes can be customized as per specific client requirements. In order to adhere to global industry standards, companies in the gantry crane market are conducting load tests before shipment of cranes. Operator safety, mobility, and simplicity in crane designs are translating into incremental opportunities for equipment manufacturers and dealers.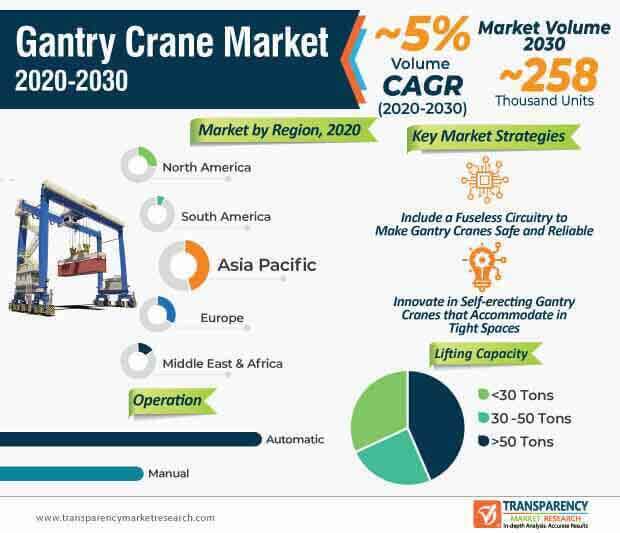 Stuck in a neck-to-neck competition with other brands? Request a custom report on Gantry Crane Market
Analysts' Viewpoint
Due to negative impacts, owing to delivery delays and factory shutdowns, companies in the gantry crane market are striving to boost their profitability during the COVID-19 pandemic by adopting cost-flexing actions. Apart from semi gantry cranes and full gantry cranes, manufacturers should explore business expansion opportunities with the help of hydraulic gantries. However, these gantries are difficult to accommodate in tight spaces. Hence, manufacturers should innovate in self-erecting gantry cranes that are capable of deploying flexibility in unusual environments. Crane manufacturers and dealers are increasing the availability of power-saving solutions to deploy high efficiency and safe manufacturing in end processes for clients.
Gantry Crane Market: Overview
According to Transparency Market Research's latest research report on the global gantry crane market for the historical period 2018–2019 and the forecast period 2020–2030, increased focus on production efficiency, processing time, and quality of food products are factors expected to boost the global gantry crane market during the forecast period
In terms of revenue, the global gantry crane market is estimated to reach value of US$ 3.5 Bn by 2030, expanding at a CAGR of ~6% during the forecast period. Full gantry crane systems are expected to dominate the global gantry crane market.
Development of Ports and Investments in Infrastructure Development: A Key Driver of Gantry Crane Market
Infrastructure development is important for both developed and developing nations. Infrastructure development has an impact on citizens and businesses. Building and upgrading infrastructure are key to economic growth. Building infrastructure helps in increasing GDP, ensuring increased production, competition, and cooperation. The global construction industry is likely to witness the launch of various overdue infrastructure upgrade initiatives, which, in the forthcoming years, is projected to drive energy and construction industries. Deteriorating infrastructures in developed nations and construction of new infrastructure in developing nations are likely to generate heavy demand for gantry cranes in the construction industry.
Growth of the construction industry worldwide is anticipated to boost the demand for gantry cranes. According to a report published by Global Construction Perspectives and Oxford Economics, by 2030, the volume of construction output globally is anticipated to grow by 85% to US$ 15.5 Trn. China, the U.S., and India are expected to lead the way, accounting for 57% of the global growth.
Gantry cranes are used for lifting extremely heavy objects and hence, are widely used in shipyards and ports. The shipbuilding industry deals with the production of vessels for merchant fleet, off shore industry, and military, and is linked to other important sectors such as transportation, research, security, and environment, which plays an important role in regional industrial infrastructure and national security interests. Various governments around the world are investing heavily in the development of this industry. Thus, the development of shipyards/shipbuilding industry is projected to fuel the growth of the gantry crane market during the forecast period.
Increased Focus on R&D, Technological Advancements, and Growth of End-use Industries
The gantry crane market in recent years has experienced noteworthy increase in expenditure by companies for the research and development of gantry cranes. The research is majorly focused on enhancing the reliability and ease of operating/handling gantry cranes. Rising complexities of building and infrastructure design have resulted in increased demand for cranes that are capable of delivering better performance. The rising adoption of advanced technologies in gantry cranes are projected to decrease the cycle time and increase productivity. Thus, the impact of this driver on the gantry crane market is anticipated to be high in the upcoming years.
Connected technologies have already permeated the material handling equipment industry, and recent years have witnessed the development of IoT-enabled and GPS-powered cranes. Higher fuel efficiency, smart operations, and lower cost of ownership are key features that have enhanced the effectiveness of smart gantry cranes in recent years.
Internet of Things is largely influencing the gantry crane industry where it helps in reducing maintenance and repair cost by enabling the equipment to self-detect the necessary faults for repair. The technology is primarily shifting toward software and data analytics, with major focus on reducing human interaction with machines. Crane manufacturers are working toward the integration of information technology with machine control circuits and using a two-way communication system to ensure that the operator gets alerts in case of any fault or emergency during operation.
Manufacturers of gantry cranes will also need to educate and train end users, along with product sales. Streamlined supply chain and high penetration in regional markets are expected to be key factors driving business during the forecast period. Overall, the gantry crane market is projected to showcase an upward/positive trend during the forecast period.
Gantry Crane Market: Competition Landscape
Detailed profiles of providers of gantry crane have been given in the report to evaluate their financials, key product offerings, recent developments, and strategies
Key players operating in the global gantry crane market are

JASO Industrial Cranes
Aicrane Machinery Group
Doosan Heavy Industries Vietnam Co.
Mi-Jack Products, Inc.
Mammoet Holding B.V.
TNT Crane & Rigging
Shanghai Zhenhua Heavy Industries Co., Ltd.
Konecranes Oyj
Sany Group
Liebherr
Gantry Crane Market: Key Developments & Strategies
Some other key developments in the global gantry crane market are highlighted below:

In January 2021, Sany Group held a service campaign across six islands in Indonesia. The purpose of the campaign was to inspect the machines purchased by clients, conduct training sessions, and receive suggestions from clients to improve product quality and customer service. The company at the end of the campaign received 23 suggestions and solved 246 problems.
In October 2020, Liebherr-International AG increased the capacity of its existing site in Newport News, Virginia. The new site will enhance the company's capability for expanded courses & in-house training, production, equipment preparation, product support, and parts distribution for the nine different product divisions that fall under Liebherr USA, Co.
In May 2020, Konecranes collaborated with Fluidmesh Networks to deliver fully wireless communication for automated RTG systems. This will eliminate the fiber or cable spools and help operators to run RTGs through remote control, thus saving cost and time. This collaboration was part of the company's "path to port automation," through which it aims to improve productivity and safety.
In January 2020, Konecranes completed the acquisition of MHE-Demag. This acquisition will help Konecranes to increase its presence and cater to the needs of consumers in Southeast Asia.
TNT Crane & Rigging in July 2018 announced its merger with Allison Crane & Rigging. This merger creates potential to penetrate new customers with expanded fleet, geographic footprint, and enhanced manpower. The transaction is expected to be a strong positive for customers and the combined employee groups with greater asset diversity and resource utilization.
Aicrane is focusing on enhancing its geographical presence by expanding its boundaries in new geographies in order to grow its consumer base. The company is planning to add two new branches in Bangladesh and Africa in 2021, and has plans to set up 20 overseas branches within the next three years.
Gantry Crane Market – Scope of the Report
Transparency Market Research's recent report on the gantry crane market, with the help of a comprehensive outlook, provides readers with an assessment of the global market landscape. This study on the global gantry crane market analyzes the scenario for the period 2020 to 2030, wherein 2019 is the base year and 2018 and earlier is historical data. The report enables readers to make important decisions regarding their business with the help of a wealth of information enclosed in the study.
TMR's study on the global gantry crane market provides data on the developments of important players and stakeholders in the market, along with a competitive analysis. The report also provides an understanding of strengths, weaknesses, threats, and opportunities, along with trends and restraints in the landscape. Presented in a clear, sanctioned manner, the report on the global gantry crane market gives readers an individual understanding of the market.
Key Questions Answered in This Report on Gantry Crane Market
How much revenue will the global gantry crane market generate by the end of the forecast period?
What type of gantry cranes are likely to hold the maximum market share by 2030?
What regions currently contribute the maximum share to the overall gantry crane market?
What are the indicators expected to drive the global gantry crane market?
Which region is likely to be a lucrative market during the forecast period?
What are the essential strategies incorporated by key stakeholders in the global gantry crane market to expand their geographical presence?
What are the major advancements witnessed in the global gantry crane market?
The report answers these questions and more about the global gantry crane market, aiding major stakeholders and key players in making the right decisions and strategizing for the advancement of their business.
Gantry Crane Market – Research Methodology
This TMR report on the global gantry crane market is based on a complete and comprehensive evaluation of the market, backed by secondary and primary sources. The competitive scenario of the global gantry crane market is supported by an assessment of different factors that influence the market on a minute and granular level. By thoroughly analyzing the historical data and current trends, researchers of the gantry crane market arrive at predictions and estimations, and calculate the forecast for the market.
The report uses an analytical triangulation method to estimate numbers and figures of the global gantry crane market, with both a bottom-up and top-down approach.
The detailed assessment of the global gantry crane market, along with an overview of the landscape, has been provided based on a careful examination of the avenues related to this market. Analysts' conclusions on how the global gantry crane market is set to grow are based on carefully vetted primary and secondary sources.
Gantry Crane Market – Segmentation
The report on the global gantry crane market provides information on the basis of type, operation, lifting capacity, end use, and region.
Type

Full Gantry Crane
Semi Gantry Crane
Truss Gantry Crane
Portable Gantry Crane

Operation

Lifting Capacity

<30 Tons
30-50 Tons
>50 Tons

End Use

Automotive
Metal & Mining
Construction
Warehouses
Aerospace
Utility
Shipyards & Ports
Others

Region

North America
Europe
Asia Pacific
Middle East & Africa
South America
The study discusses the underlying trends and the impact of various factors that are driving the global gantry crane market, along with their influence on the evolution of the market.
The study also offers Porter's Five Forces analysis, value chain analysis, technology analysis, price trend analysis, and SWOT analysis of the global gantry crane market in order to elaborate crucial growth tactics and opportunities for market players contributing to the market.
Custom Market Research Services
TMR offers custom market research services that help clients to get information on their business scenario required where syndicated solutions are not enough.
REQUEST CUSTOMIZATION