Fuel Dispenser Market
Fuel Dispenser Market (Type - Submersible Systems and Suction Systems; Flow Meter - Mechanical and Electronic; Fuel Type - Petrol, Diesel, CNG, and Compressed Hydrogen) - Global Industry Analysis, Size, Share, Growth, Trends, and Forecast 2016 - 2024
Category :

Energy & Natural Resources

Format :
Global Fuel Dispenser Market: Snapshot
The increasing urbanization across the world has been the motive power for the significant growth of the global fuel dispenser market over the past few years. The rising need for various types of fuels, such as petrol, diesel, and CNG, thanks to the growing demand for vehicles, fueled by the rising disposable income of consumers and the change in their living standard, acts as another important growth driver for this market. Over the coming years, the boom in the shale gas industry, new discoveries in oil, gas and other fuels, and the technological advancements in fuel dispensers are likely to propel this market substantially.
In 2015, the global fuel dispenser market stood at US$1.83 bn. Progressing at a CAGR of 2.40% between 2016 and 2024, the market's opportunity is likely to touch US$2.26 bn by the end of 2024. In terms of shipment volume, the worldwide market is estimated to cross 295,521 units over the same time period.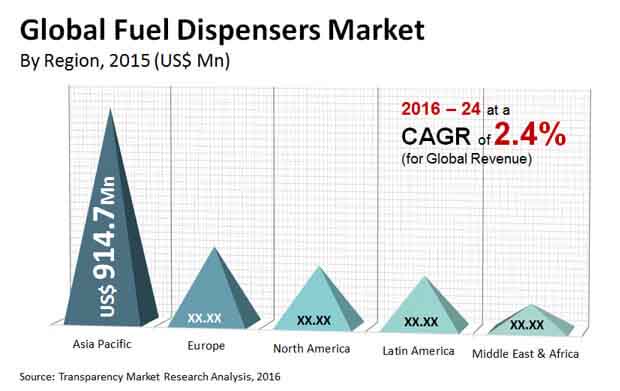 Asia Pacific to Carry on as Market Leader
Europe, North America, Latin America, the Middle East and Africa, Asia Pacific are considered as the key regional markets for fuel dispensers across the world. In 2015, Asia Pacific accounted for a share of more than 45% in the overall market, acquiring the lead. The increasing urbanization, together with infrastructural developments are the key drivers behind the rise of the market for fuel dispensers in this region.
China has been the leading domestic market in Asia Pacific, being a prominent producer as well as consumer of fuel dispensers in the world. The rising population and the increasing trend of owning a vehicle have been boosting the demand for fuel dispensers in China. Over the coming years, India and the ASEAN countries are projected to provide lucrative growth opportunities to the manufacturers of fuel dispensers in Asia Pacific, leading to a notable rise in this regional market. Europe, North America, and other regions are also anticipated to exhibit a steady rise in their respective fuel dispenser market in the years to come.
Demand for Electronic Flow Meter to Increase Remarkably
The two main types of flow meters available in the global fuel dispenser market are mechanical flow meter and electronic flow meter. The demand for electronic flow meter has been higher than the mechanical one, thanks to its accuracy, stability, and reliability. Analysts expect this demand to increase exponentially at a CAGR of 2.50% between 2016 and 2024, ensuring the dominance of electronic flow meters on this market in the near future.
Even in terms of volume, electronic flow meters have a greater share in this market, which is likely to remain high over the forthcoming years, expanding at a CAGR of 2.0% from 2016 to 2024.
Some of the leading vendors in fuel dispenser market across the world are Zhejiang Lanfeng Machine Co. Ltd., Wayne Fueling Systems LLC, Tominaga Mfg. Co., Tokheim Group S.A.S, Tatsuno Corp., Scheidt & Bachmann GmbH, Piusi S.p.A., Neotec, Korea EnE Co. Ltd., Gilbarco Inc., Bennett Pump Co., and Beijing Sanki Petroleum Technology Co. Ltd.
Global Fuel Dispenser Market: Overview
Fuel dispenser also known as a petrol pump or gas pump, is a machinery that pumps gasoline, petrol, diesel, CNG, LPG, and other fuel types into vehicles at the filling station. Filling station is a service station where fuel dispensers are found. Here the fuel dispenser pumps the fuel from underground storage. Fuel dispensers are mainly of two types suction fuel dispensers and submersible fuel dispensers.
These are the different systems based on which fuel dispenser works. In suction type, the dispenser consists of motor and suction system included in their case so that the dispenser works independently. In submersible type, the dispenser do not consist of motor and suction system included in their case so the dispenser cannot work independently.
Global Fuel Dispensers Market: Scope of the Study
The report estimates and forecasts the fuel dispensers market on the global, regional, and country levels. The study provides forecast between 2016 and 2024 based on volume (Units) and revenue (US$ Mn) with 2015 as the base year. The report comprises an exhaustive value chain analysis for each of the product segments. It provides a comprehensive view of the market. Value chain analysis also offers detailed information about value addition at each stage. The study includes drivers and restraints for the fuel dispensers market along with their impact on demand during the forecast period. The study also provides key market indicators affecting the growth of the market. The report analyzes opportunities in the fuel dispensers market on the global and regional level. Drivers, restraints, and opportunities mentioned in the report are justified through quantitative and qualitative data. These have been verified through primary and secondary resources.
The report includes Porter's Five Forces Model to determine the degree of competition in the fuel dispenser market. The report comprises a qualitative write-up on market attractiveness analysis, wherein applications and countries have been analyzed based on attractiveness for each region. Growth rate, market size, raw material availability, profit margin, impact strength, technology, competition, and other factors (such as environmental and legal) have been evaluated in order to derive the general attractiveness of the market. The report comprises price trend analysis for fuel dispenser between 2016 and 2024.
Global Fuel Dispensers Market: Segmentation ?
The study provides a comprehensive view of the fuel dispenser market by dividing it on the basis of fuel types and geography segments. The fuel dispensers market has been segmented into petrol, diesel, CNG, compressed hydrogen and others based on fuel type. Fuel type segment have been analyzed based on historic, present, and future trends.
Regional segmentation includes the current and forecast demand for fuel dispensers in North America, Europe, Asia Pacific, Latin America, and Middle East & Africa (MEA). Additionally, the report comprises country-level analysis in terms of volume and revenue for fuel type segments. Key countries such as the U.S., Germany, France, the U.K., Spain, Italy, India, China, South Africa, Mexico, and Brazil have been included in the study. Market segmentation includes demand for individual fuel types in all the regions and countries.
Global Fuel Dispensers Market: Competitive Analysis
The report covers detailed competitive outlook that includes market share and profiles of key players operating in the global market. Key players profiled in the report includes Tokheim Group S.A.S, Piusi S.p.A., Wayne Fueling Systems LLC, Gilbarco Inc. and others. Company profiles include attributes such as company overview, number of employees, brand overview, key competitors, business overview, business strategies, recent/key developments, acquisitions, and financial overview (wherever applicable).
Secondary research sources that were typically referred to include, but were not limited to company websites, financial reports, annual reports, investor presentations, broker reports, and SEC filings. Other sources such as internal and external proprietary databases, statistical databases and market reports, news articles, national government documents, and webcasts specific to companies operating in the market have also been referred for the report.
In-depth interviews and discussions with a wide range of key opinion leaders and industry participants were conducted to compile this research report. Primary research represents the bulk of research efforts, supplemented by extensive secondary research. Key players' product literature, annual reports, press releases, and relevant documents were reviewed for competitive analysis and market understanding. This helped in validating and strengthening secondary research findings. Primary research further helped in developing the analysis team's expertise and market understanding.
The global fuel dispensers market has been segmented as follows:
By Type

Submersible System
Suction System

By Flow Meter

By Fuel Type

Petrol
Diesel
CNG
Compressed Hydrogen
Others

By Region

North America
Europe

Germany
France
U.K.
Italy
Spain
Rest of Europe

Asia Pacific

China
India
Japan
ASEAN
Rest of Asia Pacific

Middle East & Africa

GCC
Egypt
South Africa
Rest of Middle East & Africa

Latin America

Brazil
Mexico
Rest of Latin America
Custom Market Research Services
TMR offers custom market research services that help clients to get information on their business scenario required where syndicated solutions are not enough.
REQUEST CUSTOMIZATION