Frozen Fruits Market
Frozen Fruits Market (Nature: Organic and Conventional; Form: Diced, Whole, and Sliced; Fruit Type: Raisins, Apples, Apricots, Peaches, Mangoes, Papaya, Strawberry, Raspberry, Blueberry, Cranberry, Cherry, and Others; End Use: Food Processing Industry, Food Service Providers, and Retail/Household; and Distribution Channel: B2B and B2C [Store-based Retailing and Online Retail]) - Global Industry Analysis, Size, Share, Growth, Trends, and Forecast, 2020 - 2030
Food & Beverages
TMRGL77619
2020-06-16
200

Pages
Growing Consumer Affinity toward Natural Food Products to Boost Market Growth
The influence of the younger population on the food & beverages industry is evident, as market trends continue to evolve at a rapid pace. Modern-day consumerism largely constitutes of health-conscious consumers that are increasingly shying away from consuming processed or food products made from synthetic ingredients. The demand for natural and organic food products is on the rise due to which, the frozen fruits market is expected to witness significant growth during the forecast period (2020-2030). In addition, as consumer awareness pertaining to the potential benefits of consuming natural food products continues to grow, the demand is likely to move in the upward direction. The rise in the vegan population around the world is another factor that is expected to provide an impetus for growth of the global frozen fruits market over the next few years.
Players operating in the current frozen fruits market are largely focusing on developing impactful value prepositions for the millennial population. Although the frozen food sector has not yet attracted a sizeable number of consumers around the world, the trend is gradually changing. In their bid to increase sales and establish a solid foothold in the frozen fruits market landscape, several players are primarily focusing on the quality and packaging of their products. Moreover, branding and marketing strategies are being continually reviewed to attract a larger consumer base due to which, the sale of frozen fruits is estimated to grow consistently in the near future. At the back of these factors, the global frozen fruits market is projected to reach a market value of ~US$ 21 Bn by the end of 2030.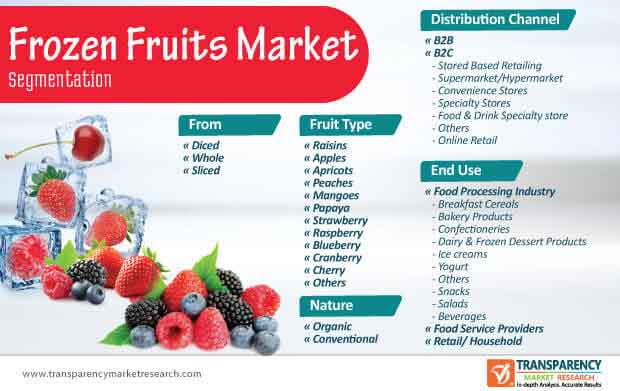 Request a sample to get extensive insights into the Frozen Fruits Market
Widening Applications of Frozen Fruit Pulps to Drive Global Market
As modern-day consumers are increasingly shifting toward healthier food products, the demand for frozen fruits has witnessed considerable growth. Furthermore, due to the high nutritional value of frozen fruits, they are increasingly being used in a host of industrial applications. As research and development activities gain momentum, along with developments in the food science sector, frozen fruits offer immense promise in several industrial applications.
To understand how our report can bring difference to your business strategy, Ask for a brochure
Apart from the food sector, the frozen fruit pulp is predominantly used as a value-added product in cosmetic and pharmaceutical sectors. The export of frozen fruit pulp to both, developed as well as developing regions of the world has increased at an impressive pace over the past few years. The frozen fruit pulp is utilized in various ways in different regions of the world. For instance, in Latin America, Camu-Camu is primarily used in food, pharmaceutical, and cosmetic industries. In the food industry, the frozen fruit pulp is used to increase the vitamin C content. As the application of frozen fruit pulp continue to widen, it directly impacts the demand for frozen fruits. The frozen fruit pulp is also used to produce a host of products, including juice, jams, nectar, candies, and alcoholic drinks.
Innovations in Packaging and Adoption of Marketing Strategies to Increase Demand
In their bid to enhance their share of the global frozen fruits market, market participants are increasingly focusing on the packaging of their products to attract more consumers. Several market players are also investing resources to develop environment-friendly packaging solutions amid mounting environmental concerns. While several companies are prioritizing packaging, a number of organizations are reviewing their marketing strategies to increase their consumer base. Digital marketing strategies coupled with informative and interactive video advertisements are likely to create a substantial demand for frozen food products and items during the assessment period.
Supply Chain Bottlenecks amid COVID-19 Pandemic to Hamper Market
The ongoing COVID-19 crisis has largely affected the supply chain of major industrial sectors, including the food & beverages sector. As governments across the world continue to impose stringent restrictions on cross-border trade and transportation, barriers within the supply chain are likely to remain a major challenge for players in the frozen fruits market. The demand for frozen food products has witnessed a decline around the world, as consumers are largely opting for unfrozen fruits and vegetables over frozen counterparts. However, in several regions of the world such as the U.S., Australia, and more, due to speculation of a lockdown, the sale of frozen fruit pulps and syrups witnessed a spike in the first two quarters of 2020.
Although the market is expected to witness modest growth in 2020, the demand for frozen fruits is projected to grow toward the end of 2020.
Stuck in a neck-to-neck competition with other brands? Request a custom report on Frozen Fruits Market
Analysts' Viewpoint
The global frozen fruits market is expected to grow at a healthy CAGR of 5.6% during the forecast period. The market growth can be attributed to the growing demand for frozen fruit pulps from multiple industrial sectors, including pharmaceutical, food, and cosmetics. In addition, as brands continue to invest in innovative packaging solutions and marketing strategies, sales will grow during the forecast period. The growth in the number of vegans around the world coupled with the growing demand for natural food products will play a key role in boosting the growth of the global frozen fruits market in the near future.
Frozen Fruits Market: Overview
The global value of the frozen fruits market stood at ~US$ 11 Bn in 2020, finds Transparency Market Research (TMR) in a recent study. According to the report, the market is expected to reach ~US$ 21 Bn by 2030, at a CAGR of 5.6% during the forecast period.
Rising demand for seasonal fruits and consumer awareness about clean label products with a longer shelf life is expected to support the growth of the frozen fruits market. Furthermore, the use of freezing technology in long-term food preservation is fueling the frozen fruits market. The frozen fruits market has gained significant importance, owing to their several benefits such as ease of affordability and accessibility.
Frozen Fruits: Market Frontrunners
Organic and conventional frozen fruits are the key segments in terms of nature among which, the conventional segment is leading in terms of market share; however, the organic segment accounts for a larger share, owing to increasing health and wellness conscious population demanding for organic and clean label ingredients and products
Based on fruit type, the frozen fruits market is classified into raisins, apples, apricots, peaches, mangoes, papaya, strawberry, raspberry, blueberry, cranberry, cherry, and others. The strawberry segment holds the leading market share of 37.2% followed by blueberry, as it accounts for 22.9% in 2020 of the market in terms of value. Strawberry is used as a raw material in a variety of products such as ice creams, jellies, and jams.
Food processing industry end use segment holds a dominant market, as manufacturers & consumers are incorporating and adopting various fruits flavors, owing to their freshness and authenticity, especially in confectioneries and bakery products
Frozen Fruits Market: Trends
Increasing application of frozen fruits in bakery industry propelling global market

Manufacturers are focusing on advanced methods and technologies to improve the quality and shelf life of bakery products. The manufacturers are incorporating frozen fruits in their bakery products to give freshness and natural look to their products so as to increase profitability. Modern bakery products, especially cakes, muffins, tarts, rolls, jams, and jellies are widely used in frozen fruits. There is a rising demand for frozen berry fruits, especially in desserts, fruit snacks, frozen fruit salads, yogurts, and smoothies.

Rising demand for frozen fruits in vegan population

Veganism is one of the key drivers for the frozen fruits market; companies are targeting on vegan and vegetarian populations, owing to consumer demand for healthy products. Adding fruits such as fresh peaches, bananas, strawberries pineapples, blueberries, cherries, and grapes are gaining traction in non-dairy plant-based products. The leading factor for the rising demand for frozen fruits from the vegan population is health benefits, environmental, and ethical concerns relating to dairy products.
Frozen Fruits Market: Strategies
Manufacturers are using freezing technique to prevent fruits from spoilage and maintain quality standard. Manufacturers are focusing on the expansion of new sales channels with growing investments in innovation for frozen fruits products. Manufacturers are producing top quality, non-GMO, 100% natural, no preservatives or additives, halal, kosher, and allergen-free FR frozen fruits products. Key players are also offering frozen fruits with various labels, and claim to meet the special dietary requirement of modern day health conscious consumers.
In 2019, Paradise Fruits launched new range of fruit inclusion for bakery and snack. These range come in a number of various formats, which include juice drops and fruit pastes, standard and cut granulates and ready for incorporation snacks, cereals, and baked goods. In addition, Paradise Fruits also introduced a chocolate-coated frozen fruit, which is specially adapted in onsite kitchens.
In 2020, Aussie Frozen Fruit launches frozen berry and mango frozen fruits. The product range includes three initial products of 400g packs of frozen mangoes, blueberries, and mixed berries.
Target Regions for Market
North America is expected to have a major market for frozen fruits, followed by Europe. The rise in the use of tropical fruits is anticipated to significantly support the growth of the frozen fruits market in North America during the forecast period. Consumers are demanding 'All Natural' fruits and shifting toward preserved fruits to avoid spoilage and increase the shelf life of products.
Frozen Fruits: Market Players
Some of the leading companies operating in the global frozen fruit market, as profiled in the study, include

SunOpta Inc
Diafrost Frozen Fruit Industry N.V.
Nestlé
Inventure Foods, Inc.
Dairy Farmers of America
Fruitex Australia
Danone
Arla Foods
Dean Foods
Capricorn Food Products India Ltd.
Cal Pacific Specialty Foods
Ravifruit (Kerry Group)
Uren Food Group Limited.
Venus Processing and Packaging Limited (Sympli)
Rosemary and Thyme Limited
Brecon Foods
Dole Packaged Foods LLC
Rosemary and Thyme Limited
Milne Fruit Pty Ltd.
Shimla Hills Offerings Pvt. Ltd.
Stahlbush Island Farms Inc.
SILOCY Cooperative
DMH Ingredients
Coloma Frozen Foods
Cherry Central Inc.
Frozen Fruits Market - Scope of the Report
Transparency Market Research (TMR) has recently published a market study on the frozen fruits market. It provides a detailed assessment of key market dynamics, including drivers, trends, opportunities & restraints, and detailed information about the frozen fruits market structure. The market study presents exclusive information about how the frozen fruits market will grow during the forecast period of 2020-2030.
Key indicators of market growth, which include year-on-year (Y-o-Y) growth of the market, value chain, supply chain analysis, and compounded annual growth rate (CAGR) are elaborated in the study in a comprehensive manner. This information is intended to help readers understand the quantitative growth prospects of the frozen Fruits market during the forecast period.
The study is intended to offer a holistic market overview to stakeholders in the frozen fruits, including manufacturers, suppliers, distributors, and investors, and to help them develop winning growth strategies. Stakeholders in the frozen fruits market, which include investors, industry experts, researchers, and journalists, and business researchers can leverage the information and data presented in TMR's study.
The study also includes statistics and facts related to the macro as well as microeconomic factors that are impacting expansion of the market. It also offers actionable insights into the future trends in the frozen fruits market. Furthermore, small businesses and new entrants in the frozen fruits market can make use of the information presented in this study based on which, they can make appropriate business decisions in order to gain momentum in the market.
Key Questions Answered in TMR's Frozen Fruits Market Report
Which region will continue to remain the most profitable regional market for frozen fruits market players?
Which factors will induce a change in the demand for frozen fruits during the assessment period?
How will the changing trends impact the frozen fruits market?
How can market players capitalize on the low-hanging opportunities in the frozen fruits market in developed regions?
Which companies are leading the frozen fruits market?
What are the winning strategies of stakeholders in the frozen fruits market to catapult their position in the forefront?
Frozen Fruits Market – Research Methodology
In TMR's study, a unique research methodology is used to conduct extensive research on the growth of the frozen fruits market and identify future growth parameters. This research methodology is a combination of primary and secondary research to help analysts ensure the accuracy and reliability of the conclusions.
Secondary resources referred to by analysts for compiling the frozen fruits market study include statistics from governmental organizations, trade journals, white papers, and internal and external proprietary databases. Analysts have interviewed senior managers, product portfolio managers, CEOs, VPs, marketing/product managers, and market intelligence managers who contributed to the development of this report as a primary resource.
Information acquired from primary resources and secondary resources has been compiled in a comprehensive manner. This also acts as a validation from companies in the frozen fruits market, which makes TMR's projections more accurate and reliable.
Frozen Fruits Market – Segmentation
TMR's study on the frozen fruits market offers information divided into important segments - nature, form, fruit type, end use, distribution channel, and region. This report offers comprehensive data and information about the important market dynamics and growth parameters associated with these categories.
Nature

Form

Fruit Type

Raisins
Apples
Apricots
Peaches
Mangoes
Papaya
Strawberry
Raspberry
Blueberry
Cranberry
Cherry
Others

End Use

Food Processing Industry

Breakfast Cereals
Bakery Products
Confectioneries
Dairy & Frozen Dessert Products
Ice creams
Yogurt
Others
Snacks
Salads
Beverages

Food Service Providers
Retail/ Household

Distribution Channel

Store-based Retailing

Supermarkets/Hypermarkets
Convenience Stores
Specialty Stores
Food & Drink Specialty Stores
Others

Region

North America
Latin America
Europe
Asia Pacific Excl. Japan
Japan
Middle East & Africa (MEA)
Oceania
Custom Market Research Services
TMR offers custom market research services that help clients to get information on their business scenario required where syndicated solutions are not enough.
REQUEST CUSTOMIZATION