Raisins Market
Raisins Market (Product Type - Natural Seedless, Golden Seedless, Black Currant, Sultana, Muscat, Monukka; Nature - Organic, Conventional; End User - Food Industry, Food Service Providers, Households; Distribution Channel – B2B, B2C) - Global Industry Analysis, Size, Share, Growth, Trends, and Forecast 2018 - 2026
Food & Beverages
TMRGL60213
2019-02-14
175

Pages
Raisins: A Credible Ingredient for Functional Foods
As raisins continue to become an integral part of the daily food intake, production has been moving away from traditional labor-intensive operations that begin with hand picking of grapes. Sensing an exponential rise in consumption of raisins, in a view of a cloud swirling around functional foods and health consciousness, growers are rapidly mechanizing their production process. Emergence of various raisin varieties and drying methods has also led to broader expansion of the industry from California, which accounts for nearly 40% of the world's raisin production.
Transparency Market Research (TMR), in its new offering, analyzes how a move from manual to mechanical harvesting of raisins will unfold potential business opportunities for growers. The study also brings to fore credible insights of various aspects and nuances of the raisins market that can arm key stakeholders with vital information to arrive at decisions with clarity.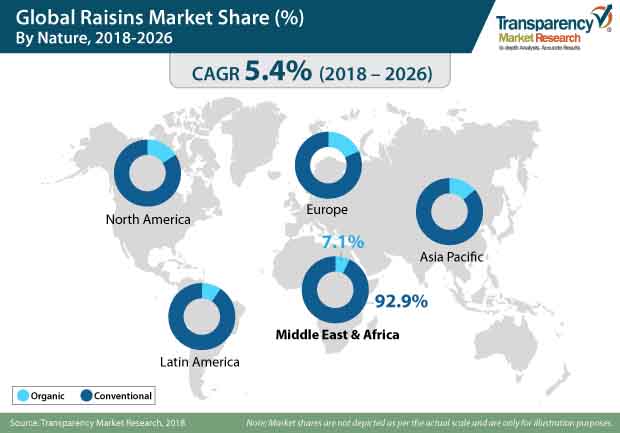 The Rise and Race of Raisins Market
Fluctuations in economic conditions accompanied by decreased availability of farm labor have brought a sea change in raisins industry. As consumer demand rises and mechanization makes inroads into the production process, raisins market continues to swell. In 2018, worldwide sales of raisins closed in on US$ 2,100 million. More number of players in the market are focusing on capturing the lucrative opportunities arising from global food & beverage sector.
Although a radical shift to healthy diet and lifestyle has been influencing food manufacturers to incorporate raisins and other dried fruits into their products, uncertainty of weather conditions continues to affect production volumes of grapes – thereby creating a considerable manufacturing pressure. This factor is further intensified by decreased availability of agricultural land, prompting manufactures to innovate their harvesting techniques and production processes.
Health Conscious Generation Impacts Raisins Consumption
As the wave of health consciousness has inundated the food & beverages industry with highly nutritious products, raisins market is acquiring a unique position in this space. While raisin consumption remains robust in households, sprung in the number of working individuals has especially spawned innovative offerings with raisins as essential ingredient, across different sectors of the food industry. In addition, natural and functional food ingredients have captured significant consumer attention in the recent past, leading to increased inclusion of raisins in various processed food products, such as breakfast cereals and ready-to-eat meals, which is strongly backed by their high nutritional profile.
Considering these raisin attributes and the subsequent progress of the market, raisin manufacturers are focusing on strengthening the sales of their products through direct distribution channels. Apart from adopting product innovation strategies, key players in the raisins market are emphasizing their participation in various food fairs and conferences as a branding strategy to improve relations with other key stakeholders and solidify their position in the market.
Raisins as Snacks to Align with 'Let's Eat Healthy' Trend
Raisins continue to grow in popularity as health snacks; however, particularly among baby boomers and geriatric population. While the snack trend in raisins market seems to have skipped the millennial generation, leading raisins market players are reinforcing their advertorial strategies to win over this specific consumer cluster. This has been important factor in Sun-Maid's decision to launch its first ad in over a decade, to draw attention of millennials obsessed with nostalgia. Such a strategic move is likely to set the ball rolling, and influence other stakeholders to invest and up their advertisement game.
Success Strategies to Strengthen Position in Raisins Market
Focus on E-commerce Intensifies
Expansion of customer base continues to be an influencing growth factor of the raisins market, and further stay competitive. Several manufactures are concentrating on adopting alternative distribution channels, especially E-commerce stores. Perpetual rise in the number of online shoppers, favored by the availability of wide-ranging products and ease of selection, has increased the product penetration and led to realignment of the strategies.
Organic Raisins on the Go
As 'organic' rapidly emerges as a new norm in health and wellness space, key manufacturers are focused on increasing 'organic' production of raisins. Underlying that raisins are gaining popularity in health food sector on account of the recent shift away from products with high saccharine profile, and towards products with natural ingredients, manufactures are redirecting their investments in organic farming of grapes.
The Competitive Landscape
The global raisins market shows a fair level of consolidation. Leading players such as Fruits of Turkey, Anatolia A.S., Lion Raisins, Inc., Sun-Maid Growers of California, and Kiantama Oy collectively account for 51% share of the raisins market.
Considering the nature of the product along with government regulations regarding clean labels, adoption of cleaner practices to deliver best quality products continue to be an influencing factor. Therefore, to stay competitive, many of the raisins market players are focusing on ensuring customer satisfying by offering quality products. In addition to following strict quality management procedures, manufactures have been making greater efforts to widen their product portfolio and strengthen their distribution networks to further accelerate the sales of raisins and other dried fruits.
The business strategies adopted by other key players in the raisins market are closely aligned with the prevailing status-quo in the landscape. With steady expansion of the market, a number of players are showing a duality in their approach – in addition to investing on R&D technologies to maintain the high quality of products, these companies are adopting effective advertisement methods to pave their way into different regions and establish a strong presence. It is highly likely that small-scale companies will continue to make significant investment in R&D and work on low-cost production to raise their revenue share.
The Analyst Viewpoint

Report authors maintain a positive outlook of the raisins market, which is projected to exhibit a CAGR of over 5% during the period, 2018-2026. As functional foods as well as premium products continue to gain substantial demand, manufactures will need to adopt advanced drying methods that not only increase the production but also ensure quality and safety. It is also imperative to note that organic and natural products are gradually penetrating the food and beverage market. Therefore, those market players show a higher-risk appetite and invest to align their business strategies with new trends are likely to be rewarded in the long run.
Transparency Market Research (TMR) recently published a study that analyzes and identifies the growth aspects of global raisins market. The new business intelligence report offers detailed insights on latest trends and opportunities that will impact the development of raisins market during the period, 2018-2026.
The report helps readers discover wide-ranging dynamics of the raisins market, and offers in-depth insights to assist the key stakeholders with data-driven and well-informed decision making. Following a thorough analysis of the historical and present market growth parameters, the report provides forecast statistics for the development of raisins market in terms of value (US$ million) and volume (million tons).
In the report, readers can find a detailed taxonomy of the market, along with an exclusive data on sales of raisins and their potential across different geographic regions. The report also details comprehensive insights of the competitive landscape of raisins market, wherein, product innovation and business development strategies adopted by the key market players have been analyzed in detail.
What are the Key Questions Answered in the Raisins Market Report?
The raisins market report provides qualitative and quantitative breakdown of the market, and addresses various questions that will help readers get a closer view of raisins market through to 2026. Some of the important question answered in the TMR's report include:
Which raisins market players are investing significantly in product innovations?
What are the key outcomes of the five forces analysis of the global raisins market?
What are the latest trends that influence the raisins market shares of top regions across the globe?
How are different segments of raisins market developing?
What types of raisins will witness the largest sales growth over the next five years?
How is the raisins market predicted to develop in the future?
What are the business development strategies adopted by leading players to consolidate their position in the raisins market?
Research Methodology
The research methodology followed during the compilation of raisins market report includes both primary and secondary research. With the help of industry-validated information gathered through and verified by primary and secondary resources, analysts could come up with exhaustive insights on how market will grow and expand during the forecast period.
Analysts have contacted and interviewed C-level executives, presidents, vice presidents, brand managers, marketing managers and chief regional officers of companies operating in production and sales of raisins, along with global manufacturers, distributors, industry experts and key investors. The acquired data have been contributed to the development of raisins market report.
Secondary research for the compilation of the raisins market report involves studying annual report publications, industry association publications, and other related sites that help indicate the growth potential of the raisins market. Secondary resources such as Food and Agricultural Organization (FAO), Journal of Agricultural and Food Chemistry, International Nut and Dried Fruit Council (INC), the United States Department of Agriculture (USDA), and Agricultural and Processed Food Products Export Development Authority (APEDA) have been referred by the analysts.
Raisins Market: Segmentation
The report on raisins market delivers a detailed segmentation, enabling an in-depth exploration of the market. TMR's study analyses the raisins market on the basis of product type, nature, end user, distribution channel, and region. In addition to historical and current analysis of the market segments, the report provides various information, ranging from Y-o-Y growth assessment to value chain analysis of each segment.
Product Type

Natural Seedless

Golden Seedless

Black Currant

Sultana

Muscat

Monukka

Nature

Organic

Conventional

End User

Food Industry

Bakery
Snacks
Dairy
Ready Meals
Confectionaries

Food Service Providers

Households

Distribution Channel

Direct

Indirect

Store Based Retailing
Hypermarket/Supermarket
Specialty Stores
Convenience Stores
Online Retailing

Region

North America

Europe

Asia Pacific

Latin America

Middle East & Africa
Custom Market Research Services
TMR offers custom market research services that help clients to get information on their business scenario required where syndicated solutions are not enough.
REQUEST CUSTOMIZATION