Fresh Cherries Market
Fresh Cherries Market (Type: Sour Cherry and Sweet Cherry; Nature: Organic and Conventional; Application: Direct Consumption, Bakery, Tarts, Jams, Jellies, Ice Cream, Salads, Dairy Beverages, Alcoholic Beverages, and Others; and Distribution Channel: Modern Trade, Traditional Grocery Stores, Convenience Stores, Online Channels, Other Retail Formats, and Direct Sales) - Global Industry Analysis, Size, Share, Growth, Trends, and Forecast, 2019 - 2029
Food & Beverages
TMRGL33035
2020-01-23
162

Pages
Full Airfreight Access to China Proves Fruitful for Producers in Australia
Companies in the fresh cherries market are endorsing various strategies to push their profit margins. Apart from the Middle East, Africa, and Europe, companies are now marching toward countries in Asia Pacific, such as China, to make availability of fresh cherries. For instance, stakeholders in Australia have sealed full airfreight access to China, in order to bring fresh products faster to the market. This deal has been well received by Chinese buyers.
Various surveys are being conducted in China to examine whether the deal of airfreight has benefitted stakeholders in the value chain. Thus, companies in the fresh cherries market are taking clues from these surveys to strategically create availability of cherries. Chinese traders are increasingly benefitting after gaining access to Australia's full season of cherry availability. Due to increased variety of choices in cherries, the supply opportunities for high-quality imported fruits has expanded in China.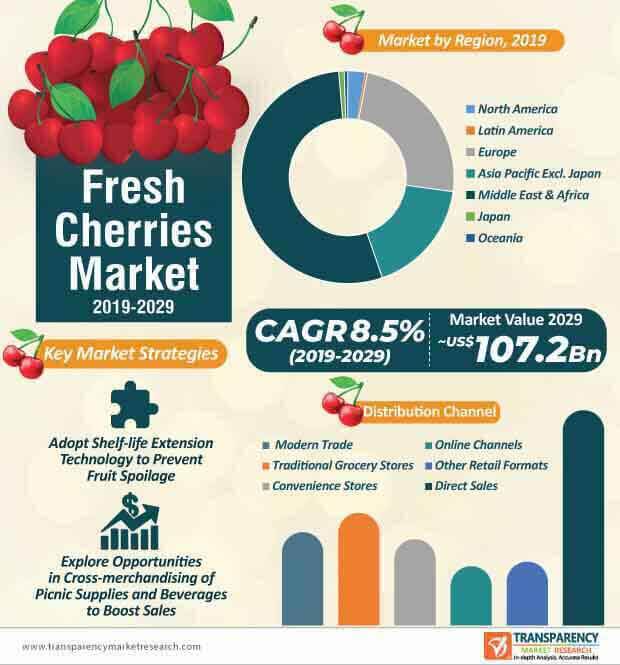 Request a sample to get extensive insights into the Fresh Cherries Market
Government-funded Initiatives Lead to Innovations in Shelf-life Extension Technologies
Improvements in shelf-life of fruits have always been a major concern for cherry producers. Hence, companies are investing in shelf-life extension technologies to reduce the probability of decay in fresh cherry varieties. Introduction of shelf-life extension technology is boosting the uptake of fresh cherries. For instance, food sustainability solutions provider Hazel Technologies, announced the launch of Hazel® Cherry - their novel post-harvest technology for fresh cherries.
To understand how our report can bring difference to your business strategy, Ask for a brochure
Government funded initiatives to innovate in shelf-life extension technologies is one of the key drivers contributing toward the growth of the fresh cherries market. Growing awareness about food wastage has fueled the demand for packaging films.
Direct consumption application segment of the fresh cherries market is estimated to reach a volume of ~2,188,000 metric tons by the end of 2027. Hence, companies are experimenting with active packaging materials to test their compatibility with fresh produce.
Cherry producers are also investing in antimicrobial films that significantly extend the shelf life of fresh cherries. These packaging films are combined with low concentration of natural essential oils to extend shelf life of fruits.
New Flavors Fuel Uptake of Cherry-based Concoctions
The combination of nostalgia and novelty is being witnessed prominently in dairy product development. As such, the dairy beverages application segment of the fresh cherries market is estimated to reach an output of ~453,700 metric tons in 2019. Thus, the demand for premium indulgent flavor profiles has caught the attention of cherry producers.
On the other hand, premiumization is gaining prominence in the non-dairy items segment. For instance, Häagen-Dazs - a popular American ice cream brand, is expanding its product portfolio for Spirits Collection by introducing non-dairy amaretto black cherry almond toffee frozen dessert. Thus, the fresh cherries market is witnessing a change with the introduction of non-dairy items for lactose-intolerant individuals.
Companies are collaborating to launch limited-edition flavors in yogurt varieties to cater to changing consumer preferences. Fresh cherries are becoming a popular choice in plant-based products. The trend of specialty food and beverages is another focal point for cherry producers.
Producers Achieve Brand Recognition through Marketing and Cross-merchandising of Fresh Cherries
Growing popularity of dark cherries with high sugar and firmness are working as an advantage for cherry producers. Companies in the fresh cherries market are adopting various marketing strategies to bolster the uptake of cherries. For instance, producers are creating a brand and a logo to promote the district from where it sources high quality and incredibly large cherries to partnered retailers.
Since greater quality cherries have a greater brand recognition, producers in the fresh cherries market are increasing efforts for branding so that customers develop a sense of loyalty with retailers. However, one challenge that cherry producers counter is that cherry is not a year-round fruit. Thus, to sustain its demand and achieve profits during peak season, producers in the market for fresh cherries are tapping opportunities of cross merchandising.
With the help of cross merchandizing, producers are associating cherries with picnic supplies, summer beverages, and watermelons to boost the uptake among customers. Producers are gaining stability, since fresh cherries dominate the snack food domain.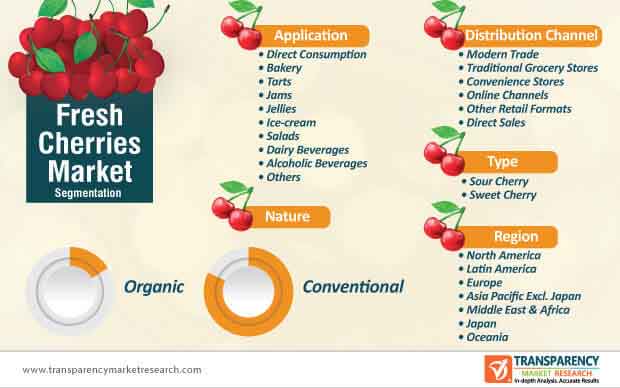 Stuck in a neck-to-neck competition with other brands? Request a custom report on Fresh Cherries Market
Analysts' Viewpoint
Fresh cherries are growing popular in outdoor eating domain and as a healthy snack food. Since the direct consumption application segment is leading the of the fresh cherries market in terms of value and volume, it is evident that fancy DIY (Do-It-Yourself) recipes are catching the attention of consumers.

Cherries have a strong prominence in several bakery items. However, stringent FDA regulations regarding cherry pies have received a lot of criticism from F&B manufacturers in America. Hence, F&B manufacturers are requesting for pro-consumer regulations to efficiently protect and meet consumer demands. Producers are exploring opportunities in China due to promising scope for product expansions, owing to the pre-requisite that fresh produce be met with optimal and palatable condition.
Fresh Cherries Market: Overview
The global fresh cherries market value was estimated to reach ~ US$ 47.3 Bn in 2019, finds Transparency Market Research (TMR) in a recent study. According to the report, the market is anticipated to reach US$ 107.2 Bn by 2029, at a CAGR of 8.5%.
The rising consciousness about health and wellness among consumers is expected to fuel the demand for healthy diet. This, coupled with the rising consumption of bakery products, is anticipated to fuel the demand for fresh cherries.
Fresh Cherries: Market Frontrunners
In terms of type, sweet cherry is the leading segment in 2019 accounting for ~96%. Meanwhile, the sour cherry segment accounts for ~4 % of the market in terms of value.
Conventional cherry is the leading segment in the global market in terms of nature followed by organic cherry
Conventional cherry and organic cherry accounted for 93.5% and 6.5% of the market, respectively in 2019, on the basis of value
Asia Pacific leads the global market followed by Europe, and North America. Based on application, the direct consumption segment and bakery segment account for approximately 50% of the market, while the tarts, jams, jellies, ice-cream, salads, dairy beverages, alcoholic beverages and other applications account for the remaining share in the market.
"Fruit- in Beer" a New Trend in Beverages Sector
Against the backdrop of the expanding brewing industry and rapidly rising trend of "Fruit- in Beer," the fresh cherries market is expected to witness lucrative growth opportunities across the world. Alcoholic beverages such as beer, breezer and others, especially the flavored ones such as cranberry, blueberry, cherry, are high in demand. This is driving the market of fresh cherries. Furthermore, "Fruit- in Beer" is supplementary to other strong alcoholic beverages. It is mostly preferred by consumers who are conscious about long term effects of liquor. This is one of the major factors driving the fresh cherries market. Likewise, to avoid headaches and drowsiness, consumers may prefer fruit beer. Moreover, steadily rising demand from millennial for fruit beer due to stringent laws imposed on drinking alcohol is one of the leading factors driving the fresh cherries market.
Cosmetology Applications Gain Significance in Fresh Cherries Market
Globally there is a high demand for cosmetics and skincare products. Fresh cherries are often used as an ingredient in skincare products and cosmetics. Cherries have anti-inflammatory properties that are good for skin. They also are an excellent source of beta carotene, which in turn, is fuelling the demand of fresh cherries. Against this backdrop, the market is likely to gain from the expansion of the personal and cosmetic industry. Also, the demand for personal care & beauty products is rising among male consumers. This is expected to bode well for the overall market.
According to the U.S. Commercial Service Industry & Analysis (I&A), consumers in the US spend approximately US$ 139 Mn on personal and beauty care products; of which the male consumers spent approximately US$ 1.3 Mn on personal and beauty care product in 2018. The increasing sales of personal care & beauty products will in turn create growth opportunities for the fresh cherries market players in the industry.
Fresh Cherries Market: Strategies
Key players operating in the global fresh cherries market are introducing their online distributional channels, where customers are offered discount on the products listed and meet their end products easily.
Product Launches and Innovation: Key companies are increasing their investments in research and development activities to offer organic cherry products in order to satisfy the ever rising demand from customers.
Rainier Fruit Co. is focusing on healthy lifestyle and offers a wide variety of organic fruits which also include cherries such as organic bing cherries and organic rainier cherries
Target Region for Fresh Cherries Market
In terms of value, countries in APEJ are likely to represent the largest share in the market by 2019 end, and are expected to remain strong, retaining the second position in the market over the forecast period following Europe
Fresh Cherries Market: Players
Key players operating in the market, as profiled in the study, include

Diva Agro Ltd
SICA SAS SICODIS
CherryHill Orchards
Alara Agri
Perfecta Produce
Leelanau Fruit Co.
Northstar Organics
Vitin Fruits
Hood River Cherry Co.
Smelterz Orchard Co.
Alacam Tarim
The Global Green Co. Ltd.
Rainier Fruit Co.
Dell's Marachino Cherries
Reid Fruits, and others
Fresh Cherries Market - Scope of the Report
Transparency Market Research (TMR) has recently published a market study on the fresh cherries market. It provides a detailed assessment of key market dynamics, including the drivers, trends, opportunities & restraints, and detailed information about the fresh cherries market structure. The market study presents exclusive information about how the fresh cherries market will grow during the forecast period of 2019-2027.
Key indicators of market growth, which include year-on-year (Y-o-Y) growth of the market, value chain, supply chain analysis, and compounded annual growth rate (CAGR) are elaborated in the study in a comprehensive manner. This information is intended to help readers understand the quantitative growth prospects of the fresh cherries market during the forecast period.
The study is intended to offer a holistic market overview to stakeholders in the fresh cherries manufacturers, suppliers, distributors, and investors, and to help them develop winning growth strategies. Stakeholders in the fresh cherries market, which include investors, industry experts, researchers, and journalists, and business researchers, can leverage the information and data presented in TMR's study.
The study also includes statistics and facts related to the macro as well as microeconomic factors that are impacting expansion of the market. It also offers actionable insights into the future trends in the fresh cherries market. Furthermore, small businesses and new entrants in the fresh cherries market can make use of the information presented in this study, based on which, they can make appropriate business decisions in order to gain momentum in the market.
Key Questions Answered in TMR's Fresh Cherries Market Report
Which region will continue to remain the most profitable regional market for fresh cherries market players?
Which factors will induce a change in the demand for fresh cherries during the assessment period?
How will the changing trends impact the fresh cherries market?
How can market players capitalize on the low-hanging opportunities in the fresh cherries market in developed regions?
Which companies are leading the fresh cherries market?
What are the winning strategies of stakeholders in the fresh cherries market to catapult their position in the forefront?
Fresh Cherries Market: Research Methodology
In TMR's study, a unique research methodology is used to conduct extensive research on the growth of the fresh cherries market and identify future growth parameters. This research methodology is a combination of primary and secondary research, to help analysts ensure the accuracy and reliability of the conclusions.
Secondary resources referred to by analysts for compiling the fresh cherries market study include statistics from governmental organizations, trade journals, white papers, and internal and external proprietary databases. Analysts have interviewed senior managers, product portfolio managers, CEOs, VPs, marketing/product managers, and market intelligence managers, who contributed to the development of this report as a primary resource.
Information acquired from primary resources and secondary resources is compiled in a comprehensive manner. This also acts as a validation from companies in the fresh cherries market, which makes TMR's projections more accurate and reliable.
Key Segments of Fresh Cherries Market
TMR's studies the fresh cherries market in terms of a few important segments. These are type, nature, application, distribution channel, and region. This report offers comprehensive data and information about the important market dynamics and growth parameters associated with these categories.
Type

Nature

Application

Direct Consumption
Bakery
Tarts
Jams
Jellies
Ice Cream
Salads
Dairy Beverages
Alcoholic Beverages
Others

Distribution Channel

Modern Trade
Traditional Grocery Stores
Convenience Stores
Online Channels
Other Retail Formats
Direct Sales

Region

North America
Latin America
Europe
APEJ
Middle East & Africa
Japan
Oceania
Custom Market Research Services
TMR offers custom market research services that help clients to get information on their business scenario required where syndicated solutions are not enough.
REQUEST CUSTOMIZATION