Fortified Rice Market
Fortified Rice Market (Micronutrients - Vitamins, Minerals, and Other Fortifying Nutrients; Technology - Drying, Extrusion, Coating & Encapsulation, and Others; End-Users - Commercial, and Residential; Sales Channel - Modern Trade, Convenience Stores, Departmental Stores, Drug Stores, Online Stores, and Other Sales Channel) - Global Industry Analysis, Size, Share, Growth, Trends, and Forecast 2017 - 2026
Food & Beverages
TMRGL38504
2018-02-02
170

Pages
Micronutrient deficiencies threaten productivity, development and health of millions of people worldwide. For example, approximately half of the child population in India is affected from chronic malnutrition, and vitamin & mineral deficiencies. Along with micronutrients supplementation and diversification in diets, enriching the regularly consumed food such as rice with minerals & vitamins is an effective solution for alleviating the issue. This has led toward the fortification of rice, which is emerging as a sustainable & cost-effective measure for providing nutrition to people globally.
Fortified Rice has emerged as Key to Reduce Nutrition Deficiencies among People Globally
Nearly 2 Bn people across the globe currently suffer from mineral and vitamin deficiencies, posing devastating impact on these people as a result. Impaired motor and cognitive development among children, reduced immune response, lower capacity in performing physical work, high morbidity and mortality among newborns, adults, & mothers, and growth retardation are some of the major impacts of nutrition deficiencies. As rice is a globally consumed food, and staple for in several emerging countries such as China and India, fortified rice has emerged as the key to reduce the burden of malnutrition. Several demographic experiments and studies across the globe have imparted effectiveness and safety of consuming extruded fortified rice, and have depicted significant improvements in the vitamin and mineral status of people.
Over the past few years, many initiatives have been spearheaded by the rice industry and development partners for providing fortified rice with the help of safety net programs and the open market. For example, government of India in coordination with WFP and PATH has distributed fortified rice through several welfare schemes, particularly via Mid-Day Meal across some of its states. In line with this, the U.S. Food Assistance Agencies have sought diversification of their portfolio regarding value-added nutritional food produced within the region's origin commodities for the global nutritional and food aid. Fortified rice has remained a key component of the programs carried out by these agencies. These instances have led to high production of fortified rice across the globe.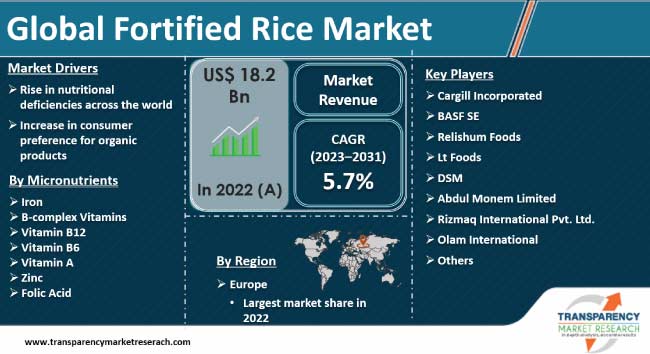 According to Transparency Market Research's report, the global fortified rice market will register a splendid growth during 2017 to 2026. Revenues from global sales of fortified rice will exceed US$ 25,000 Mn by 2026-end.
APEJ to Remain Largest Market for Fortified Rice
Countries of Asia-Pacific excluding Japan (APEJ) comprise a large & centralized rice milling industry, which facilitates implementation of rice fortification. These countries have large safety nets, which supply subsidized fortified rice to population under poverty line as they have a good channel to reach people in dire need for nutrition. APEJ will therefore continue to be the largest market for fortified rice in the near future, in terms of revenues. North America and Latin America will also remain leading revenue contributors to the global fortified rice market.
Fixed costs such as initial capital investment for facilities and equipment, are basically influenced by the selection of technology for fortified rice production. Coating & Encapsulation technology, among various technologies, requires relatively lower capital investment. This technology is therefore projected to witness a relatively faster adoption in the fortified rice market through 2026. However, in terms of revenues, drying technology will continue to lead the global fortified rice market.
Key Research Findings from the Report
Vitamins to remain leading revenue contributor to the global fortified market, based on micronutrients
By end-users, residential segment will remain dominant in the market in terms of revenues, closely followed by the commercial segment
Modern trade is expected to be the leading sales channel for fortified rice across the globe, in terms of revenues
Competition Tracking
Leading players in the global fortified rice market from the private as well as the public sectors are focusing on establishing a coalition for underpinning the utilization of fortified rice and addressing growth barriers to its implementation across the globe. Key market players identified by the report include Cargill Incorporated, Bunge Limited, Bühler AG, BASF SE, General Mills, Inc., and Wilmar International Ltd.
Fortified rice has gained traction as one of the simple means of providing nutrition solutions with essential micronutrients in a cost-effective and sustainable way. This has further helped communities most parts of the world in acquiring greater nutritional value from their daily rice consumption. Rice is considered to be one of the most difficult food to fortify. However, several innovative fortification technologies for rice are being introduced in the market that help in retaining the nutritional integrity of rice post-fortification during its transport, storage, cooking and rinsing.
Transparency market research has compiled a report recently on the global fortified rice market. The report examines the fortified rice market at the global scale, and engulfs the market dynamics extensively, providing key trends influencing the market expansion. This report on the global market for fortified rice gives a precise knowledge base for key market players seeking global expansion. Analysis delivered in this report is key for the market players as well as the investors, in order to gauge growth potential of the global fortified rice market in the foreseeable future.
Structure of Report
Commencing with the chapter on executive summary, the report on the global fortified rice market delivers key prospects of the product, end-user, and regional segments included, along with the most significant market numbers associated with these segments. The historical CAGR for 2012 to 2016, and the forecast CAGR for 2017 to 2026 have been comprised in the market numbers. Intelligence on remunerative regions for growth of the global fortified rice market has also been delivered in the report on the basis of sales growth, and the revenue shares through the forecast period.
A chapter titled overview proceeds the executive summary, and provides an incisive market introduction that trails a formal definition of the "fortified rice". This is mainly to convey report readers about its wide scope. Subsequent chapters of the report deliver information about the market dynamics including the driving factors, restraining factors, opportunities, and trends affecting expansion of the market.
Competitive Landscape
The report also offers an intensity map, which tracks the occupancy of key companies actively contributing to the global fortified rice market's growth. This last chapter of the report delivers insights on key market players, and gives information with regard to the market's competitive landscape. The market players have been profiled in detail, and intelligence associated with key financials, SWOT analysis, company overview, key developments, and product is offered in this chapter. The chapter on the competition landscape is priceless for the report readers, mainly because it comprises necessary insights to analyse contribution of leading players to growth of the market. The competition landscape also enables studying the methods of strategy implementation by the market players, coupled with their aims to stay at the global fortified rice market's forefront.
Market Taxonomy
The report offers a segmentation-wise analysis on the global market for fortified rice. Segmentation of the market is done in terms of sales channel, end-users, technology, micronutrients, and region. Chapters delivering the segmentation analysis incorporate imperative market numbers concerning the revenue comparison, market share comparison, and Y-o-Y growth comparison. Regionally, the report has branched the global market for fortified rice into Middle East & Africa (MEA), North America, Asia-Pacific excluding Japan (APEJ), Europe, Latin America, and Japan.
Region

North America
Latin America
Europe
Japan
APEJ
MEA

Micronutrients

Vitamins
Minerals
Other Fortifying Nutrients

Technology

Drying
Extrusion
Coating & Encapsulation
Others

End Users

Sales Channel

Modern Trade
Convenience Stores
Departmental Stores
Drug Stores
Online Stores
Other Sales Channel
Custom Market Research Services
TMR offers custom market research services that help clients to get information on their business scenario required where syndicated solutions are not enough.
REQUEST CUSTOMIZATION