Facilities Management Market: Overview
Facilities management aims to achieve effective and efficient delivery of various support facilities for different firms. It basically coordinates between supply and demand services among public and private companies. In today's cutthroat environment, reduction in cost has become necessary in various sectors such as corporate, manufacturing, educational, or residential. Facilities management helps to achieve just that with their services ofmaintenance, cleaning, and security. This helps organizations cut down on operations and maintenance costs Rising government controls on waste management have constrained companies to incline in the direction of facilities management in a hope to better the long term supportability of environment and their organizations.
The worldwide market for facilities management is anticipated to witness a robust CAGR of 13.6% within the forecast period from 2016 to 2024. Rising at this pace, the market which was valued at US$606.4 bn in year 2015, is expected to become worth US$1,887 bn by the end of 2024.
The different end-use segments in facilities management market are manufacturing, public and government, retail and commercial, healthcare, corporate, and educational, and private. The corporate domain is a major contributor to the global revenue in the facilities management market and is expected to rise at a maximum pace of 15.1% CAGR from 2016 to 2024. This segment represented a 21.3% share in the facilities management market in 2015, fueled by the needs of the flourishing IT and BFSI (banking, financial services, and insurance) sectors.
While Europe and North America are anticipated to witness large scale adoption of facilities management in the corporate segment, the Asia Pacific and the Middle East and Africa region are relied upon to pick up pace because of the surging adoption of outsourced facilities management administrations.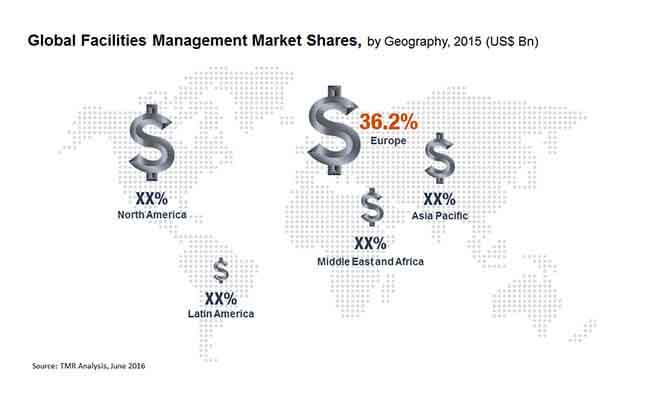 Europe Register to be Most Dominant Region among others in global Market
Geographically, the worldwide facilities management market includes Europe, North America, Asia Pacific, the Middle East and Africa, and Latin America. Europe, among them, leads the market with a wide margin. It is estimated to be worth US$624.9 bn by the end of 2024. The Europe market, which was worth US$219.5 bn in year 2015, will likely attain the value by rising at a 12.5% CAGR. This is mainly because of the increasing demand for maintenance and support by manufacturing enterprises in the region, along with the rising demand for various types of specialized services, for example, fabrication, plant maintenance, and HVAC. While the U.K. is the biggest generator of revenue in this facilities management market, Germany is also anticipated to enlist the most astounding development over the coming years. Moreover, Asia Pacific is another key market which is expected to rise speedily by registering a strong 15.5% CAGR over the course of the forecast period. Its facilities management market is assessed to achieve a value of U$437.1 bn by the end of 2024, owing to the fast advancement in educational and private sectors.
Oracle Corporation (U.S.), IBM Corporation (U.S.), SAP SE (Germany), Trimble Navigation Ltd. (U.S.), Archibus, Inc. (U.S.), CA Technologies (U.S.), FM System Inc., (U.S.), Planon Corporation (Netherlands), and iOffice Corporation (U.S.) are some of the major firms leading global facilities management market.
Global Facilities Management Market: Overview
Persistent efforts undertaken by small, medium, and large enterprises to reduce their operational costs by the means of improved efficiency of each utility will ensure the facilities management market to continue to flourish during the forecast period of 2016 to 2024. This report on the global facilities management market takes 2015 as base year and provides historical data from 2014 to showcase how the demand has evolved in the recent past and what will be its scenario going forward. Facility management includes the maintenance of support services and helps in enhancing the quality of basic business procedures. These systems integrate customers and employees, places, systems, technology, and processes to achieve the desired results. During the forecast period of 2016 to 2024, the market for facilities management is projected to expand at a robust CAGR of 13.6%.
This report on the global facilities management market provides analysis for the period 2016–2024, wherein 2015 is the base year and the period from 2016 to 2024 is the forecast period. Data for 2015 has been included as historical information. The report covers market dynamics including drivers, restraints opportunities, and trends expected to influence the facilities management market growth during the said period. Increasing demand of outsourcing services are playing a major role in driving the global facilities management market The study provides a comprehensive analysis on market growth throughout the above forecast period in terms of revenue estimates (in US$ Bn), across different geographies.
Some of the targeted audiences of this market are facility management providers, managed service providers, clod service providers, integration service providers, professional service providers such as consultancy and training, end use verticals, facilities management service providers, and application developers.
Global Facilities Management Market: Drivers and Restraints
Some of the key factors augmenting the demand in the global facilities management market are: rising levels of outsourcing in building management, growth in infrastructure development, value proposition offered to building owners, growing real estate and property management market in emerging economies in Asia Pacific, changing working culture in a number of organizations, growing emphasis on environmental and regulatory compliances, and the emergence of cloud-based solutions. On the other hand, factors such as lack of managerial awareness, lack of adequate technological skillset, responsiveness to technology evolution, rising labor cost, and high market saturation will obstruct the market from attaining its true potential.
Nevertheless, the vendors operating in this market will gain new opportunities from growing influence of technology in managing building facilities, integrated service contracts in FM, convergence of IoT and smart buildings, and increasing demand for outsourcing of services.
Based on service type, the global facilities management market has been segmented into hard service and soft service, whereas on the basis of industry, the market has been bifurcated into government and public sector, corporate, healthcare, residential and education institutions, manufacturing, retail and commercial, and others including food and sport.
Global Facilities Management Market: Regional Outlook
Geographically, the report classifies the global facilities management market into North America, Europe, Asia Pacific (APAC), Middle East & Africa (MEA), and Latin America; the regions are analyzed in terms of revenue generation. Furthermore, region wise prominent countries covered in the report include the following - U.S, Canada, U.K., Germany, France, China , India, Japan, UAE, Saudi Arabia, Africa, Brazil, South Africa, and Italy.
Companies mentioned in the research report
ISS World Services A/S, Sodexo, Inc., Bilfinger HSG Facility Management GmbH, and Broadspectrum (Australia) Pty Limited are some of the key companies profiled in the report.
Key segments of the Global Facilities Management Market
Facilities Management Market, By Service Type
Hard Services
Soft Services
Facilities Management Market, By Industry
Corporate
Government and Public Sector
Healthcare
Manufacturing
Residential and Education Institutions
Retail and Commercial
Others (Food, Sport, etc.)
Major regions analyzed under this research report are:
Europe
North America
Asia Pacific
Latin America
Middle East and Africa (MEA)
Rest of the World