Facilities Management Market: Snapshot
Cost reduction has become imperative in almost all sectors, be it manufacturing, corporate, educational, or residential. Facilities management has emerged as the ideal tool to offer high-quality services such as cleaning, maintenance, and security at a low cost. The economical pressure that most companies have been under is owing to consistently rising maintenance and operation costs, which impacts the performance of the firm in the long run. The improvement of business activities is also dependent on the effective control of harmful gas emissions. Rising government regulations on waste management and energy have compelled organizations to turn to facilities management in a bid to improve the long-term sustainability of their businesses and the environment.
Fueled by these current and emerging trends, the global market for facilities management is expected to report a 13.6% CAGR during the forecast period. This market is expected to witness an upward growth in value from US$606.4 bn in 2015 to US$1,887 bn by 2024.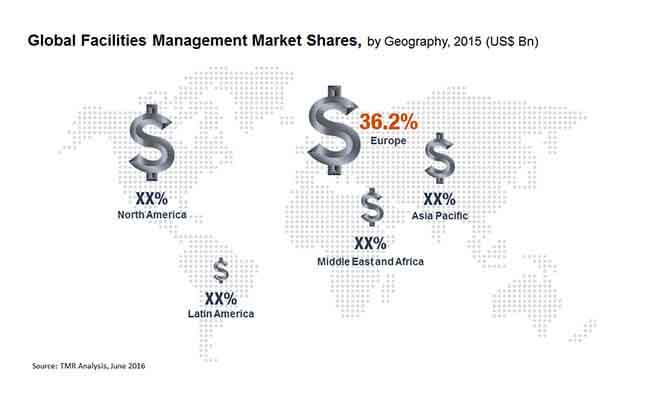 Growing Europe FM Market Looks to Demand from Manufacturing Industries
The global facilities management market comprises North America, Europe, Asia Pacific, Latin America, and the Middle East and Africa. Europe is by far the most prominent regional market for facilities management, with the opportunity to be worth US$624.9 bn by 2024. Rising from a US$219.5 bn worth in 2015, the Europe market is projected to expand at a 12.5% CAGR therein. This can be attributed to the growing demand for support and maintenance services by manufacturing industries in the region and the surging demand for a variety of technical services such as plant maintenance, fabrication, and HVAC. While the U.K. is the largest revenue generator in this regional facilities management market, Germany is expected to register the highest growth over the coming years.
Asia Pacific is poised to witness the fastest growth by 2024, clocking in a 15.5% CAGR during the forecast period. This FM market is estimated to reach a worth of U$437.1 bn by 2024, fueled by the rapid development of education and residential sectors and their demand for soft services, such as catering, mailroom, pest control, cleaning, waste management, and security. India and China are anticipated to witness flourishing growth in the facilities management market thanks to the rise in soft service and technical outsourcing in several industries.
Corporate Sector Stands Out in Adoption of Facilities Management Services
The facilities management market caters to several end-use industries, namely government and public, manufacturing, retail and commercial, corporate, healthcare, and educational and residential. The corporate sector is the largest contributor to the overall revenue of the facilities management market and also the fastest developing industry segment, registering an impressive 15.1% CAGR from 2016 to 2024. This segment accounted for a 21.3% share in the FM market by industry in 2015, propelled by the growing need to support and maintain core services in corporate sectors such as IT and BFSI (banking, financial services, and insurance). While North America and Europe have been witnessing large-scale adoption of facilities management services in the corporate sector, the MEA and APAC regions are expected to gain traction thanks to the increasing adoption of outsourced FM services.
Global Facilities Management Market: Overview
Persistent efforts undertaken by small, medium, and large enterprises to reduce their operational costs by the means of improved efficiency of each utility will ensure the facilities management market to continue to flourish during the forecast period of 2016 to 2024. This report on the global facilities management market takes 2015 as base year and provides historical data from 2014 to showcase how the demand has evolved in the recent past and what will be its scenario going forward. Facility management includes the maintenance of support services and helps in enhancing the quality of basic business procedures. These systems integrate customers and employees, places, systems, technology, and processes to achieve the desired results. During the forecast period of 2016 to 2024, the market for facilities management is projected to expand at a robust CAGR of 13.6%.
This report on the global facilities management market provides analysis for the period 2016–2024, wherein 2015 is the base year and the period from 2016 to 2024 is the forecast period. Data for 2015 has been included as historical information. The report covers market dynamics including drivers, restraints opportunities, and trends expected to influence the facilities management market growth during the said period. Increasing demand of outsourcing services are playing a major role in driving the global facilities management market The study provides a comprehensive analysis on market growth throughout the above forecast period in terms of revenue estimates (in US$ Bn), across different geographies.
Some of the targeted audiences of this market are facility management providers, managed service providers, clod service providers, integration service providers, professional service providers such as consultancy and training, end use verticals, facilities management service providers, and application developers.
Global Facilities Management Market: Drivers and Restraints
Some of the key factors augmenting the demand in the global facilities management market are: rising levels of outsourcing in building management, growth in infrastructure development, value proposition offered to building owners, growing real estate and property management market in emerging economies in Asia Pacific, changing working culture in a number of organizations, growing emphasis on environmental and regulatory compliances, and the emergence of cloud-based solutions. On the other hand, factors such as lack of managerial awareness, lack of adequate technological skillset, responsiveness to technology evolution, rising labor cost, and high market saturation will obstruct the market from attaining its true potential.
Nevertheless, the vendors operating in this market will gain new opportunities from growing influence of technology in managing building facilities, integrated service contracts in FM, convergence of IoT and smart buildings, and increasing demand for outsourcing of services.
Based on service type, the global facilities management market has been segmented into hard service and soft service, whereas on the basis of industry, the market has been bifurcated into government and public sector, corporate, healthcare, residential and education institutions, manufacturing, retail and commercial, and others including food and sport.
Global Facilities Management Market: Regional Outlook
Geographically, the report classifies the global facilities management market into North America, Europe, Asia Pacific (APAC), Middle East & Africa (MEA), and Latin America; the regions are analyzed in terms of revenue generation. Furthermore, region wise prominent countries covered in the report include the following - U.S, Canada, U.K., Germany, France, China , India, Japan, UAE, Saudi Arabia, Africa, Brazil, South Africa, and Italy.
Companies mentioned in the research report
ISS World Services A/S, Sodexo, Inc., Bilfinger HSG Facility Management GmbH, and Broadspectrum (Australia) Pty Limited are some of the key companies profiled in the report.
Key segments of the Global Facilities Management Market
Facilities Management Market, By Service Type
Hard Services
Soft Services
Facilities Management Market, By Industry
Corporate
Government and Public Sector
Healthcare
Manufacturing
Residential and Education Institutions
Retail and Commercial
Others (Food, Sport, etc.)
Major regions analyzed under this research report are:
Europe
North America
Asia Pacific
Latin America
Middle East and Africa (MEA)
Rest of the World