Facilities Management Market
Facilities Management Market (Service Type - Hard Services, Soft Services; Industry - Corporate, Government and Public Sector, Health Care, Manufacturing, Residential and Education Institutions, Retail and Commercial, and Others (Food, Sport)) - Global Industry Analysis, Size, Share, Growth, Trends, and Forecast 2017 - 2025
Category :

IT & Telecom

Format :
Global Facilities Management Market: Snapshot
Facilities management services are widely used to support business activities. Facilities management involves management and maintenance of business processes for the effective and efficient delivery of services across all applications, creating and sustaining a safe environment for industry. Furthermore, facilities management helps companies focus on their core services and offers support which helps them in enhancing the quality of services. The market for facilities management is anticipated to clock a CAGR of 13.8% between 2017 and 2024.
Facilities management involves using management techniques and methods for infrastructure management and building management of a company. It also means the overall equity of the work environment of a company. Use of this system helps in standardizing the services and streamline overall processes for a company. The growing spending on the infrastructural development can be touted as a key factor for the overall development of facilities management market in the coming years of the forecast period. In addition to this, the growing focus on the optimization procedures and energy efficacy improvements are the other important growth factors for the global market in recent years.
Based on the geographical segmentation, the global facilities management market is segmented into five key regions. These regions are North America, Latin America, Europe, Asia Pacific, and the Middle East and Africa. Of these, the global market is being dominate by regional segment of North America. The region has helped the advancement of the facility management solutions which make procedures highly effective and considerably improve the overall accuracy in several applications.
There have a wide range of solutions in the North America market. Key players resorting to aggressive growth strategies such as mergers, takeovers, and acquisitions to take advantage of the rising applications in the industry.
Some key developments in the global facilities management market are:
June 2018 - SAP SE announced plans to collaborate with Accenture, Capgemini, and Deloitte to accelerate customer adoption of SAP S/4HANA Cloud in the process manufacturing, discrete manufacturing, and service industries.
June 2018 - SAP SE announced that it has more than doubled the number of digital innovation solutions and significantly expanded design-led engagement services with the launch of the SAP Leonardo Partner Medallion Initiative. SAP Leonardo technologies empower enterprises with intelligent technologies for every business process, to create better outcomes.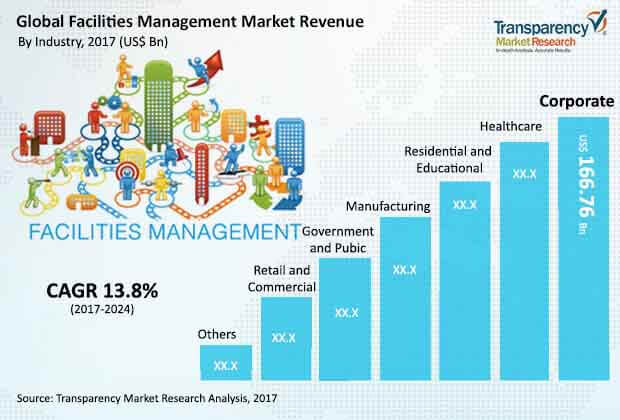 Need for Businesses to Reduce Operational Costs Boosts Uptake
Demand for reduced operational costs is driving the growth of the facilities management market worldwide, as is the increasing adoption of outsourced services by industrial applications. Delivery systems such as bundled facility management services and total facilities management services are adopted by companies to reduce costs and maintain centralized control through a complete service cycle. Adoption of facilities management services is expected to grow in the near term due to increasing awareness of facilities management services, and increasing cross-border presence of facility management service providers. Thus, cross-border mergers and acquisitions along with increased customer network and regional coverage can be foreseen as significant market opportunities for facilities management service providers. Economic pressure on companies is increasing due to operation and maintenance costs. In addition, companies strive to achieve reduction of capital expenditure and increased investments in core services which help drive demand for facilities management services. The increasing use of renewable energy sources to reduce the emission of greenhouse gases in manufacturing, corporate, and residential industries are driving the adoption of facilities management services across the world. As a result of the large-scale adoption of outsourced services, the facilities management market is expected to see flourishing growth.
Increasing cost of labor and the growing presence of unorganized players in the facilities management market and low-cost delivery provided by such players are hindering the growth of the facilities management market. This factor is expected to have a high impact in the short and medium term of the forecast period. Lack of availability of skilled manpower and increasing price competition are anticipated to restrict the market growth during the forecast period.
Increasing collaboration of local facilities management companies with international service providers is offering new opportunities for the facilities management market globally. Moreover, the adoption of a strategy of mergers and acquisition by key players in the facilities management market is helping facilities management service providers to understand the demand and requirements in the regions. For instance, in February 2017, Broadspectrum signed an eight-year contract with Chorus for the rollout of the Ultra-Fast Broadband Extension (UFB2) in New Zealand. In addition, these partnerships are allowing facilities management service providers extend their service portfolio and deliver customized services.
Partnerships and Business Alliances help Companies Deliver Value-added Services
Rising need for safety, comfort, and healthy environment of the employees as well as the increase in awareness about outsourced services among customers is responsible for the growth of the market. Service providers are focusing on expanding facility services in different industry applications around the globe. In addition, companies are providing different delivery systems such as total facilities management services and bundled facilities services through entire service applications. However, with competition from established players such as ISS World Services A/S, Broadspectrum (Australia) Pty Ltd, and others, already having a strong network in the market, new entrants may find it challenging to establish themselves without a unique value proposition.
Some of the prominent players identified in the facilities management market and profiled in the study include - Arthur McKay & Co Ltd., Bellrock Property& Facilities Management Ltd., Bilfinger HSG Facility Management GmbH, Broadspectrum (Australia) Pty Ltd., ISS World Services A/S, Knight Facilities Management, Quess Corp Ltd., Sodexo, Inc., and Spotless Group Ltd.
Global Facilities Management Market: Overview
Transparency Market Research's new publication on the global facilities management market is a veritable tool to comprehend the growth of the said market for the 7-year forecast between 2017 and 2024. For the study, 2016 has been considered as the base year and 2015 values provided for reference.
To present the study, analysts carried out an in-depth and unbiased assessment of the market to serve as a valuable business instrument for its target audiences. The report looks into key trends and technological developments playing a role in the growth of facilities management market between 2017 and 2024. In addition, it also looks into vital market indicators such as growth drivers, challenges, and opportunities that could have a bearing on the growth of the said market between 2017 and 2024. This analysis has been used to gather a complete perspective about the growth of facilities management market and present revenue estimations of the overall market in US$ Bn.
Global Facilities Management Market: Report Highlights
The market study includes a detailed value chain analysis to serve to provide an all-inclusive view of the global facilities management market. Included in the report is Porter's five forces analysis for insights into the competitive dynamics of this market. The study includes market attractiveness analysis, wherein key market segments under different category are benchmarked based on their market size and revenue estimate over the forecast period. Moreover, market attractiveness of every geographic region is presented for complete insights into the competitive dynamics of this market.
The market overview section of the report examines market trends and opportunities prevailing in the facilities management market. Insights into future growth trends and opportunities have been provided as well. In addition, the report also provides insights into business strategies adopted by market leaders in the facilities management market.
Employing industry-best analytical tools and proven assumptions, the study provides a decisive view of the facilities management market over 2017-2024.
Global Facilities Management Market: Research Methodology
The report is the result of a perfect combination of primary research, secondary research, and in-house expert inputs. Secondary sources reached out include company websites, SEC filings, annual reports, and investor presentations. Some other sources reached out in the secondary research phase are national government documents, statistical databases, market reports, internal and external proprietary databases, government publications, relevant patent and proprietary databases, World Bank databases, and industry white papers.
Primary research involves reaching out industry experts and opinion leaders via e-mail, telephonic interviews, and face to face interviews. Primary interviews are carried out on an ongoing basis to obtain latest market insights and endorse data and analysis. Insights obtained from industry experts during primary interviews offer new and fresh information on important aspects such as market size, market trends, competitive dynamics etc.
The market study includes profiles of key players in the global facilities management market. Key companies have been profiled on the basis of company overview, business strategies, financial overview, and recent developments.
Custom Market Research Services
TMR offers custom market research services that help clients to get information on their business scenario required where syndicated solutions are not enough.
REQUEST CUSTOMIZATION

Facilities Management Market