Wheat Starch Market
Wheat Starch Market (Type: Native, Modified, and Clean Label; and End Use: Food Processing Industry, Textile & Paper, Cosmetics, Animal Feed, and Others) - Europe Industry Analysis, Size, Share, Growth, Trends, and Forecast, 2020-2030
Food & Beverages
TMRGL81990
2021-04-08
146

Pages
Wheat Production to Surge despite Ongoing COVID-19 Pandemic
During the coronavirus pandemic process, individuals have comprehended the value of food and food production. This is benefitting companies in the Europe wheat starch market, as wheat production is anticipated to increase despite the ongoing COVID-19 pandemic. However, trade challenges including the ones experienced in Moscow are surfacing where the Government imposed taxes on exports of many agricultural products to fight against inflation and involved taxes on wheat with a further export limitation.
Wheat being one of the most essential food grains is anticipated to keep economies running in the Europe wheat starch market. The International Grains Council is expecting a surge in wheat production during 2021 - 2022. France and the U.K. are emerging as key wheat producing countries that are anticipated to create future growth opportunities for producers.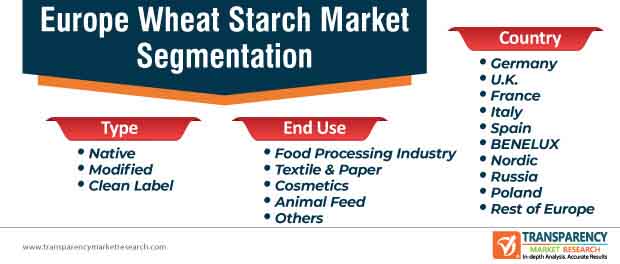 Request a sample to get extensive insights into the Wheat Starch Market
Stringent Production Measures for Brews Affect Market Growth
The Europe wheat starch market is projected to cross US$ 3.7 Bn by 2030. However, manufacturers are facing similar conveying and handling problems for wheat starch, which share similarities with refined corn starch. Hence, manufacturers are improving their production capabilities by taking measures such as not exceeding the cooker temperature after a certain degree to establish revenue streams in breweries.
Since modified wheat starch is gaining popularity in bakery products, manufacturers are capitalizing on this opportunity. They are gaining a strong research base in enzymatic, physical, and chemical processes to develop modified wheat starch.
To understand how our report can bring difference to your business strategy, Ask for a brochure
Pharma, Food, Paper Applications Attract Wheat Starch
Apart from bakery products and food additives, companies in the Europe wheat starch market are unlocking business opportunities in a variety of pharmaceutical and nutraceutical dosages involving hard capsules, pellet premix, swallowable tablets, and granules, among others.
Moreover, Starch Europe that represents the European Starch Industry is gaining recognition for offering high-quality plant-based ingredients that are being used in the dynamic food & beverage (F&B) processing industries. Companies in the Europe wheat starch market are achieving sustainability goals by valorizing entire wheat crops that serve food, feed, and industrial customers. Since native starch is predicted to dominate the highest revenue share among all wheat starch types, it is evident that manufacturers are increasing their production for the same to expand revenue streams in food and paper industries, primarily for binding and thickening purposes.
Baked Goods, Animal Feed, Technical Applications Create Revenue Opportunities
Wheat starch is gaining popularity as a binding agent, texture provider, and flavor carrier in food and animal feed applications. Crespel & Deiters - a food manufacturer based in Germany is boosting its output capacity for wheat starch, which is being used in baked goods, liquid feed for animals, and in adhesives for corrugated board. Paper and technical applications are also generating incremental opportunities for manufacturers in the Europe wheat starch market.
In order to bolster their credibility credentials, manufacturers in the Europe wheat starch market are adopting efficient and sustainable production practices to advance in non-food and animal feed industries.
Scientists to Discover Advantages of Dry Heating Treatment for Wheat Starch
Scientists from the University of São Paulo and the Atlantic National College of Veterinary Medicine, Food Science and Engineering are collaborating to discover a dry heating treatment that converts wheat starch to hydrogel form. Companies in the Europe wheat starch market are taking cues from such discoveries to innovate in additive manufacturing for food products. When wheat starch is transformed into the hydrogel form, it can be used to improve the printed wheat product's ability to retain shape, which holds great importance in large scale additive food production.
Companies in the Europe wheat starch market are gaining awareness that printing food products is a growing segment in the additive manufacturing space.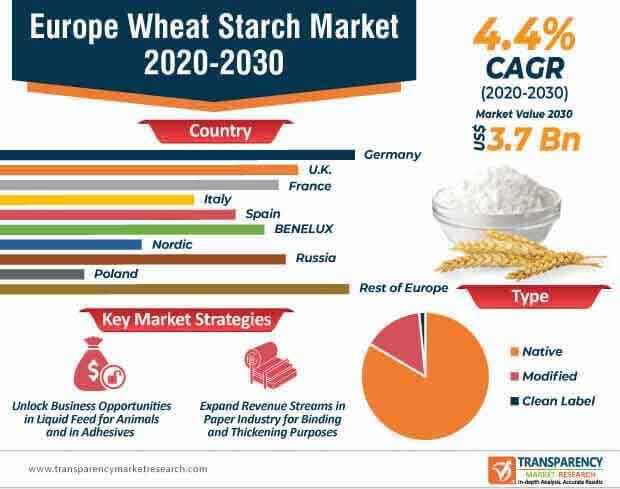 Stuck in a neck-to-neck competition with other brands? Request a custom report on Wheat Starch Market
Analysts' Viewpoint

Since conventional exhibitions, international travels, and trade delegations have become potentially impracticable during the coronavirus outbreak, companies have been swift to adopt digital marketing strategies to boost product uptake. The Europe wheat starch market is slated to register a modest CAGR of 4.4% during the assessment period. This is evident as refined wheat starch is losing its importance in most breweries, owing to its high price. Thus, manufacturers should increase awareness that wheat starch helps to achieve higher yields compared to refined cornstarch. Printing food products by converting wheat starch to hydrogel form are emerging as one of the new revenue generating sectors for manufacturers.
Europe Wheat Starch Market: Overview
Wheat starch market value in Europe stood over US$ 2.3 Bn in 2020, finds Transparency Market Research (TMR) in a recent study. According to the report, the market is expected to cross US$ 3.7 Bn by 2030, at a CAGR of 4.4% during the forecast period. The revenue from the Germany wheat starch market is estimated to be valued at ~US$ 365 Mn in 2020 and is expected to reach ~US$ 555 by the end of 2030.
In established markets such as Germany, the U.K., and others, consumers are more inclined toward buying value-added products, preferably with clean labels, natural ingredients, organic, plant-based, and other alternatives that are increasingly part of a healthy diet. With increasing health consciousness among consumers, the demand for clean label starch is increased in the region.
Manufacturers are more focused on innovating ways to source raw material and produce products with a sustainable way to ensure the safety and quality of the products. This will help to attract more consumers and maintain a consumer base in the market. Manufacturers are also focusing on clean label starch production, which is expected to drive the wheat starch market in the upcoming years.
Consumers are increasingly looking at ingredient lists to assure themselves that the products they are purchasing are good for their consumption or that of their pets. Consumers are consciously choosing natural and healthy food products to support their health and well-being. Thus, transparency and comprehensibility of ingredients are becoming increasingly significant in the food and animal feed sector.
Europe Wheat Starch: Market Frontrunners
Based on type, native starch accounts for the highest market value share in 2020, owing to increased application in the food & beverages industry and consumer preference native compared to the modified
Germany, among the other European countries, is expected to exhibit the highest incremental opportunity attributable to the demand for native and clean label wheat starch from the food & beverages industry
With increasing awareness regarding health consciousness, consumers inclining toward the clean label ingredients as well as natural ingredients, which significantly contribute to the increasing demand for clean label starch in the region. With growing health consciousness among consumers, the clean label starch is projected to witness high value CAGR during the forecast period.
Europe Wheat Starch Market: Dynamics
Application-specific wheat starch gaining traction: Starch is widely used in various end-use industries for different functions. Key players in the wheat starch market offer native, modified, and clean label starch, which is mainly used in the food industry, followed by the paper and textile industries, cosmetics, and animal feed. The wheat starch is used as a thickening agent, stabilizer, Viscosifier, binding agent, texturizer, and others. Thus, manufacturers in the starch industry are offering application-specific starch products by increasing functionally according to the requirement of the particular sector. The development of application-specific starch for industrial purposes is expected to propel the growth of the European wheat starch market.

Sedamyl offers wheat starch in the food industry for its binding, thickening, emulsification, and stabilizing properties, and in the paper industry for binding functions. The company provides wheat starch in animal nutrition for specialized feed, and in industrial applications for its adhesive and binding functionality.
Rapid Growth of Food Additive Industry Benefiting Wheat Starch Market
The global food additives market is fragmented with a large number of players. Top manufacturers such as Archer Daniels Midland Company, Cargill Inc., Tereos Starch & Sweeteners, and others are focused on developing label-friendly food additives. Increasing use of additives in food products to enhance the texture and taste is expected to boost the growth of the wheat starch market. Wheat starch also helps increase the shelf life of products such as processed meats, soups and sauces, dairy desserts, and various others. Thus, the growth of the food additive industry is directly impacting the sales of wheat starch. Food manufacturers are continuously looking for food additives that fit their requirements for enhancing texture, binding, emulsification, and others, thus benefiting the wheat starch market.
Europe Wheat Starch Market: Strategies
Manufacturers in the wheat starch market are investing in the research and development to the enhancement and mandatory alteration in the wheat starch and produce superior quality starch. Manufacturers are also focusing on product development to ensure that the company product portfolio remains innovative with ongoing market trends and end-use feedback. Manufacturers in the European wheat starch market are more focusing on clean label starch production, owing to the increasing number of consumers inclining toward clean label ingredients. The manufacturers are also entering a strategic partnership with key players in same scope to increase production capacity as well as strengthen the presence in the market.
Europe Wheat Starch Market: Key Players
Some of the prominent key players operating in the Europe wheat starch market are

Archer Daniels Midland Company
Sacchetto S.p.A
Cargill Incorporated
AGRANA Beteiligungs AG
Crespel & Deiters GmbH & Co. KG
Royal Ingredients Group
Tereos Starch & Sweeteners
Roquette Frères S. A
Aminola B.V.
Amylon, a.s
Sedamyl
viresol
Škrobárny Pelhřimov, as
Lantmännen Reppe
Solam GmbH, etc.
Europe Wheat Starch Market – Scope of the Report
Transparency Market Research (TMR) has recently published a market study on the Europe wheat starch market. It provides a detailed assessment of key market dynamics, including drivers, trends, opportunities & restraints, and detailed information about the wheat starch market structure. The market study presents exclusive information about how the wheat starch market will grow during the forecast period of 2020-2030.
Key indicators of market growth, which include year-on-year (Y-o-Y) growth of the market, value chain, supply chain analysis, and compounded annual growth rate (CAGR) are elaborated in the study in a comprehensive manner. This information is intended to help readers understand the quantitative growth prospects of the wheat starch market during the forecast period.
The study is intended to offer a holistic market overview to stakeholders in the wheat starch market, including manufacturers, suppliers, distributors, cultivators, brands and investors, and to help them develop winning growth strategies. Stakeholders in the wheat starch market, which include investors, industry experts, researchers, and journalists, and business researchers can leverage the information and data presented in TMR's study.
The study also includes statistics and facts related to the macro as well as microeconomic factors that are impacting expansion of the market. It also offers actionable insights into the future trends in the wheat starch market. Furthermore, small businesses and new entrants in the wheat starch market can make use of the information presented in this study, based on which, they can make appropriate business decisions in order to gain momentum in the market.
Key Questions Answered in TMR's Europe Wheat Starch Market Report
Which country will continue to remain the most profitable regional market for wheat starch market players?
Which factors will induce a change in the demand for wheat starch during the assessment period?
How will the changing trends impact the wheat starch market?
Which companies are leading the wheat starch market?
What are the winning strategies of stakeholders in the wheat starch market to catapult their position at the forefront?
Wheat Starch Market – Research Methodology
In TMR's study, a unique research methodology is used to conduct extensive research on the growth of the wheat starch market and identify future growth parameters. This research methodology is a combination of primary and secondary research, to help analysts ensure the accuracy and reliability of the conclusions.
Secondary sources referred to by analysts for compiling the wheat starch market study include statistics from governmental organizations, trade journals, white papers, and internal and external proprietary databases. Analysts have interviewed senior managers, product portfolio managers, CEOs, VPs, marketing/product managers, and market intelligence managers, who contributed to the development of this report as a primary source.
Information acquired from primary resources and secondary sources is compiled in a comprehensive manner. This also acts as a validation from companies in the wheat starch market, which makes TMR's projections more accurate and reliable
Europe Wheat Starch Market – Segmentation
TMR's study on the wheat starch market offers information divided into important segments — type, end use, and country. This report offers comprehensive data and information about the important market dynamics and growth parameters associated with these categories.
Type

Native
Modified
Clean Label

End Use

Food Processing Industry
Textile & Paper
Cosmetics
Animal Feed
Others

Country

Germany
U.K.
France
Italy
Spain
BENELUX
Nordic
Russia
Poland
Rest of Europe
Custom Market Research Services
TMR offers custom market research services that help clients to get information on their business scenario required where syndicated solutions are not enough.
REQUEST CUSTOMIZATION

Europe Wheat Starch Market