Energy Supplements Market
Energy Supplements Market (Product Type: Energy Drinks, Energy Gels, and Gummies; Flavor: Fruit, Vanilla, Chocolate, and Others; and Sales Channel: Hypermarkets/Supermarkets, Specialty Stores, Drug & Pharmacy Stores, and Online Retail) - U.S., Australia, South Korea, and Hong Kong Industry Analysis, Size, Share, Growth, Trends, and Forecast, 2020-2030
Category :

Food & Beverages

Format :
Vitamin C-rich Energy Drinks, Gummies Grow Popular in Fight against Coronavirus
Consumers are turning toward vitamin rich supplements to protect themselves from the novel coronavirus infection. Vitamin D, vitamin C, and zinc supplements are considered to boost the immune system. High-risk patients with vitamin D deficiency tend to increase their chances of contracting the COVID-19 virus. Companies in the energy supplements market are capitalizing on this opportunity to increase their production capabilities and establish long-term growth opportunities with energy gummies in the field of pediatrics.
Inexpensive and over-the-counter availability of energy supplements are translating into revenue streams. However, there is a lack of clinical evidence whether supplements help in full arsenal against COVID-19. Vitamin C-rich energy drinks are growing popular in the energy supplements market.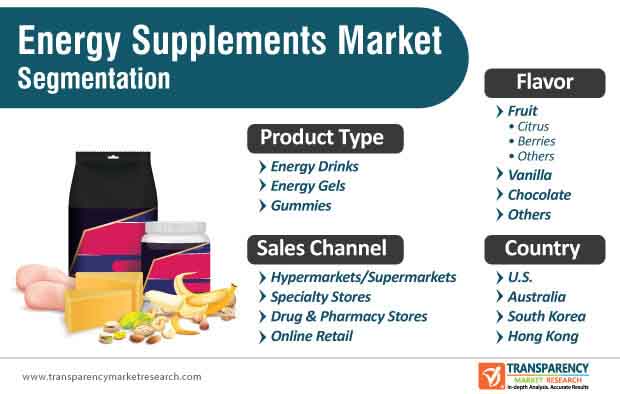 Request a sample to get extensive insights into the Energy Supplements Market
Energy Gummies Help Uplift Mood, Prevent Fatigue in Consumers
The energy supplements market is estimated to grow two-fold, since energy gummies are being highly publicized for weight management. Manufacturers are experimenting with different blends of elements such as green coffee beans, L-carnitine, and vitamin C to create gummies that are rich in antioxidants. The popular trend of the beach body weight management is creating business opportunities for manufacturers.
Antioxidants are associated with reducing weight by burning body fat at an accelerated rate. Health conscious consumers who exercise daily are turning toward energy gummies produced by manufacturers in the energy supplements market in order to uplift the mood and prevent fatigue in consumers.
To understand how our report can bring difference to your business strategy, Ask for a brochure
Sugar-free Energy Drinks in Recycled Aluminum Cans Bolstering Brand Credibility
Digital only initiatives and expansion of the eCommerce are acting as key drivers for the growth of the energy supplements market. Sugar-free energy drinks compounded with B-group vitamins, caffeine, and taurine are in high demand. Due to the issue of metal wastage, brands are now utilizing 100% recycled aluminum cans, which are bolstering the credibility credentials of environmentally conscious brands in the energy supplements market. Energy drink brands are using storage coolers and refrigerators that deliver energy and cost savings.
Top athletes, college students, business professionals, and travelers are emerging as key consumers of energy drinks. Companies are innovating in formulas that contain high quality ingredients and real sugars since consumers are becoming aware about clean labels.
Gut-friendly Natural Ingredients in Energy Gels Cater to Sports Nutrition
Anti-GI (Gastrointestinal) formulas and a list of no preservatives, concentrates, and artificial flavors, among others, have become a prerequisite for energy gel innovations. The U.S.-based company Spring Energy is expanding its product portfolio in energy gels and energy drinks that are gut-friendly and offer optimum nutrition for running, swimming, and other sports activities.
Natural ingredients such as cassava, honey, and pea protein are gaining prominence in energy gels and energy drinks. Companies in the energy supplements market are focusing on improving their packaging to boost product uptake and visibility in retail stores. They are gaining a strong research base in extended energy release concepts to strike the right balance between the composition of carbohydrates and sugars.
Convenience Stores in South Korea Hold Lucrative Business Potentials for Startups
Functional and botanical infusions in energy drinks are being preferred by consumers. Australia-based functional energy drink Kanguru has been launched in South Korea in order to replace conventional local tonic drinks that taste bitter and contain ginseng. Brands in the energy supplements market are going beyond just sugar and caffeine boost, and are exploring botanicals compounded with essential B-vitamins. Botanicals such as yerba mate, Schisandra, and green tea in energy drinks aid in reducing fatigue, improve endurance, and boost immunity.
Convenience stores are emerging as a starting point for startups in the energy supplements market to gauge consumer preferences and retail trends. These stores have high penetration in South Korea, thus creating lucrative business opportunities for energy drink manufacturers.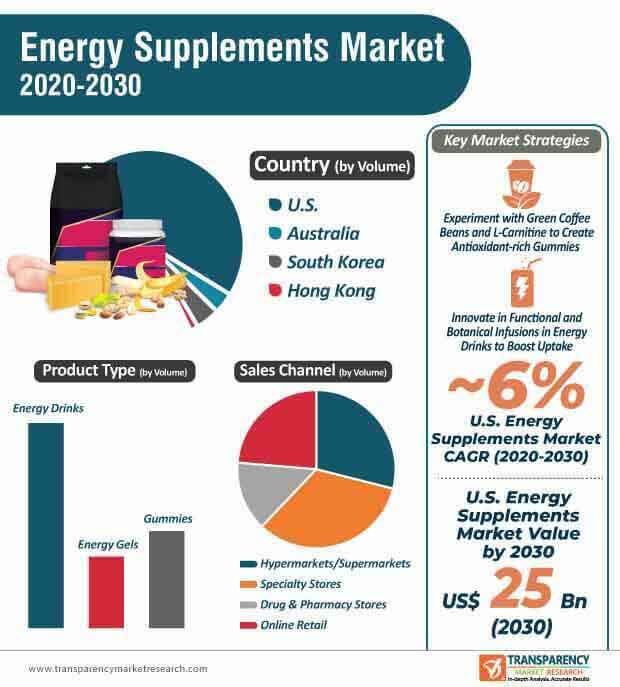 Stuck in a neck-to-neck competition with other brands? Request a custom report on Energy Supplements Market
Analysts' Viewpoint

Red Bull witnessed an increase in both retail value and volume sales in Hong Kong during the COVID-19 outbreak in 2020. Brands are catering to niche requirements of consumers, and are introducing energy gels and drinks rich in electrolytes. However, changing consumer preferences and market trends are creating production challenges for startups and manufacturers. Hence, companies in the energy supplements market should invest in long-term R&D activities to establish a sustained business model that adapts according to changing consumer demands with very little adjustments. Young business people, sports enthusiasts, and university students are key target customers for companies in the energy supplements market.
Energy Supplements Market: Overview
The energy supplements market value in the U.S. stood was valued over ~US$ 13.8 Bn in 2020, finds Transparency Market Research (TMR) in a recent study. According to the report, the market is expected to reach ~US$ 25 Bn by 2030, at a CAGR of ~6% in the U.S. The revenue from the Australian energy supplements market is estimated to be valued at ~US$ 800 Mn in 2020 and is expected to reach US$ 1.9 Bn by the end of 2030.
The use of herbal or botanical ingredients in energy supplement products including drink, gels, and gummies are fueling the growth of the energy supplements market. As herbal ingredients provide multiple health benefits compared to any synthetic or chemical-based ingredients, and are the most natural source of nutrients.
The demand for energy supplements is rising from the younger population to fulfill the nutritional need of the body. Fitness has become the new fashion among youngsters and students. Besides, to maintain good health and fitness, they are more focused on exercise, gym, yoga, cycling, etc., which is why the need for energy supplement is more among the younger population.
Changing climate, busy lifestyle, and changing food habits are affecting human health as well as food, water, air, and weather. Due to these factors, people are becoming health conscious, and focusing on exercises, nutritional consumption, and healthy food and supplements to strengthen energy levels and for balanced health.
Energy Supplements: Market Frontrunners
Based on product type, the energy drink segment dominates the energy supplements market share in the U.S., Australia, South Korea, and Hong Kong in the year 2020. However, energy gels and energy gummies segments of the energy supplements market are gaining massive traction among end users, and the segments are expected to grow at CAGRs 6.7% and 8.9%, respectively, during the forecast period.
In terms of flavor, the fruit flavor segment accounts for the largest share of 76.8% of the U.S. energy supplements market, as the demand for nutritional content and sensory flavor is high in the U.S.
Based on sales channel, hypermarkets/supermarkets segment dominates the South Korea energy supplement market, as large store-based retail chains are contributing to the sales of the energy supplements market in South Korea
The online retail segment is expected to witness the highest CAGR of 8.1% in the Hong Kong for energy supplements market, owing to the increasing penetration of the Internet and eCommerce sector
Energy Supplements Market: Trends
Unique fruit flavors: an emerging trend
The flavor is the key component in food and beverage products, as it influences the taste, texture, and appearance of products. Energy supplements, including drinks, gummies, and gels are mostly made with plant-based and herbal ingredients such as caffeine, taurine, vitamins, etc. Thus, the flavor is the most important ingredient that affects the taste, color, and appearance of the final product. In recent years, consumer demand for natural and healthy flavors have increased. Additionally, fruit flavors contain many health beneficial nutrients, which is the key factor behind the increasing demand for fruit flavors in energy supplement products.
Sugar-free and fitness-focused energy drinks in high demand: Sugar-free and fitness-focused energy drinks are thriving, as consumers want beverages that provide a big boost without the sugar. Consumers are highly aware of health and wellness. Thus, the consumer demand for sugar-free and label-friendly energy drinks and supplement products is increasing to maintain health and fitness. Besides, energy-boosting properties, the additional requirement of functional properties such as fitness-focused, weight loss, balanced fiber, etc. are at the peak by the consumer. Thus, the demand for a multifunctional energy drink and energy supplement is increasing across the world.
Energy Supplements Market: Strategies
Key players in the global energy supplements market are focused on providing personalized solutions to the consumer as differentiating strategy. Manufacturers are developing different products for kids, men, women, athletes, sportsmen, etc. according to the need for nutrients of individuals. The nutritional content and flavor of products vary according to the end user of the product, which is becoming a key factor behind the growth of the global energy supplement market.

Herbaland, a Canada-based manufacturer of energy gummies offers various flavored energy gummies for kids, men, and women
Energy Supplements Market: Players
Some of the key actors, including producers, cultivators, and brands operating in the energy supplements market, as profiled in the study are

PepsiCo, Inc.
Glanbia plc
GNC Holdings Inc.
Monster Beverage Corporation
Herbalife Nutrition Ltd.
Amway Melaleuca Inc.
Forever Living
AdvoCare
USANA Health Sciences, Inc.
Young Living Essential Oils
Vitaco Health Limited
DoTerra International, LLC
Nature's Sunshine Products, Inc.
Red Bull
Herbaland
Seattle Gummy Company
GU Energy Labs, etc.
Energy Supplements Market – Scope of the Report
Transparency Market Research (TMR) has recently published a market study on the energy supplements market. It provides a detailed assessment of key market dynamics, including the drivers, trends, opportunities & restraints, and detailed information about the energy supplements market structure. The market study presents exclusive information about how the energy supplements market will grow during the forecast period of 2020-2030.
Key indicators of market growth, which include year-on-year (Y-o-Y) growth of the market, value chain, supply chain analysis, and compounded annual growth rate (CAGR) are elaborated in the study in a comprehensive manner. This information is intended to help readers understand the quantitative growth prospects of the energy supplements market during the forecast period.
The study is intended to offer a holistic market overview to stakeholders in the energy supplements market, including manufacturers, suppliers, distributors, cultivators, brands and investors, and to help them develop winning growth strategies. Stakeholders in the energy supplements market, which include investors, industry experts, researchers, and journalists, and business researchers, can leverage the information and data presented in TMR's study.
The study also includes statistics and facts related to the macro as well as microeconomic factors that are impacting the expansion of the market. It also offers actionable insights into the future trends in the energy supplements market. Furthermore, small businesses and new entrants in the energy supplements market can make use of the information presented in this study, based on which, they can make appropriate business decisions in order to gain momentum in the market.
Key Questions Answered in TMR's Energy Supplements Market Report
Which country will continue to remain the most profitable regional market for energy supplements market players?
Which factors will induce a change in the demand for energy supplements during the assessment period?
How will the changing trends impact the energy supplements market?
How can market players capitalize on the low-hanging opportunities in the energy supplements market in developed regions?
Which companies are leading the energy supplements market?
What are the winning strategies of stakeholders in the energy supplements market to catapult their position at the forefront?
Energy Supplements Market: Research Methodology
In TMR's study, a unique research methodology is used to conduct extensive research on the growth of the energy supplements market and identify future growth parameters. This research methodology is a combination of primary and secondary research, to help analysts ensure the accuracy and reliability of the conclusions.
Secondary sources referred to by analysts for compiling the energy supplements market study include statistics from governmental organizations, trade journals, white papers, and internal and external proprietary databases. Analysts have interviewed senior managers, product portfolio managers, CEOs, VPs, marketing/product managers, and market intelligence managers, who contributed to the development of this report as a primary source.
Information acquired from primary sources and secondary sources is compiled in a comprehensive manner. This also acts as a validation from companies in the energy supplements market, which makes TMR's projections more accurate and reliable.
Energy Supplements Market – Segmentation
TMR's study on the energy supplements market offers information divided into important segments - product type, flavor, sales channel, and country. This report offers comprehensive data and information about the important market dynamics and growth parameters associated with these categories.
Product Type

Energy Drinks
Energy Gels
Gummies

Flavor

Fruit
Vanilla
Chocolate
Others

Sales Channel

Hypermarkets/Supermarkets
Specialty Stores
Drug & Pharmacy Stores
Online Retail

Country

U.S.
Australia
South Korea
Hong Kong
Custom Market Research Services
TMR offers custom market research services that help clients to get information on their business scenario required where syndicated solutions are not enough.
REQUEST CUSTOMIZATION

Energy Supplements Market