Docking Station Market
Docking Station Market (Product: Laptops, Mobiles, Tablets, Hard Drives, and Others (Power Banks, Smart Watches, etc.); Connectivity: Wired and Wireless; Port: Single, Double, and Multiple; Distribution Channel: Online (Company-owned Portals and e-Commerce Portals) and Offline (Multi-brand Electronic Stores and Specialty Stores) - Global Industry Analysis, Size, Share, Growth, Trends, and Forecast, 2019 - 2027
Category :

Consumer Goods & Services

Format :
Docking Station Market – Setting Paradigms for Data Accuracy & Data Integrity
Autonomous robots, currently mostly used for the surveillance or surveying of commercial establishments, mostly experience limited serviceable duration due to stunted power supply. A robot docking station for battery exchange plays a key role in such a scenario.
For direction purposes, autonomous robots use navigation techniques based on sensors to automatically dock to a docking station. For example, some Roombas – robotic vacuum cleaners, are equipped with intelligent infrared sensors. At the docking station end, the device emits two infra-red rays, and whenever the Roomba discovers one of these rays, it navigates accordingly and wiggles itself so as to attach to the docking station. Thereafter, the battery exchange happens automatically within 45 seconds.
Docking stations find use for other industrial and commercial applications too. They find wide use for material handling in supply chains and logistics. Growth of the manufacturing sector and intensifying competition in e-Commerce necessitates improvements in warehouse management Systems.
In such environments, computing devices are essential for multiple tasks, including data collection, merchandising, inventory management, communication, and vehicle tracking. For functioning, warehouse staff needs to collect and update supply chain data instantaneously, securely, and accurately from multiple devices and process the same. Docking stations play an important role here for connecting multiple devices.
Collectively, these uses account for economic importance of docking stations, serving to fuel the growth of the docking station market. For a know-how of opportunities in this space, Transparency Market Research (TMR) released a market intelligence study on the docking station market. Prepared by a team of seasoned analysts employing industry-centric research methodologies, and extensive primary and secondary research, TMR predicts that the docking station market will expand at a notable ~5% CAGR between the period of 2019 to 2027.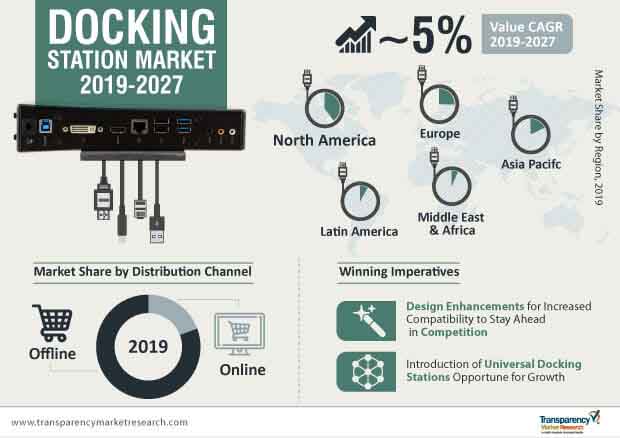 Looking for Customized Insights to build your business for future, ask for a sample report here
Universal Docking Stations' Compatibility with Laptops Strengthen Demand
Docking stations are primarily used for connecting laptops, PCs, or tablets with various peripherals such as keyboards, mice, and printers. Among all, vis-à-vis revenue, laptops held a leading share of ~50% in the docking station market in 2018. Going ahead, the laptops product segment is predicted to continue to dominate the other segments over the 2019–2027 forecast period, adds TMR.
The availability of universal docking stations compatible with different models of laptops and notebooks strengthens the demand for these devices.
Powered by the U.S., Canada & North America to Remain at the Forefront
From a regional perspective, North America is at the forefront in terms of key regions in the docking station market. Powered by the U.S. and Canada, the excessive use of computing devices for commercial and industrial operations is the key behind the high demand for docking stations. Massive amounts of data handling in the service industry, including hospitality and healthcare, fuels the demand for docking stations to attach core computing devices with peripherals.
To get glimpse of what our report offers, ask for a report brochure here
Introduction of Universal Docking Stations Opportune for Growth
The expansion of port compatibility to be used for proprietary and non-proprietary devices serves to provide opportunities for the manufacturers of docking stations. For example, at present, HP docks are compatible only with HP laptops and notebooks, which limits their use only to proprietary HP devices. This leaves ample white spaces for product manufacturers to capitalize on.
In this scenario, the development of universal docking stations is a solution to a considerable extent. USB ports of computers convert into docking station connectors. Besides, this allows the IT administrators to standardize the docking stations for their entire organization, to be compatible with all types of devices, be it laptops, ultra books, or tablets, among others.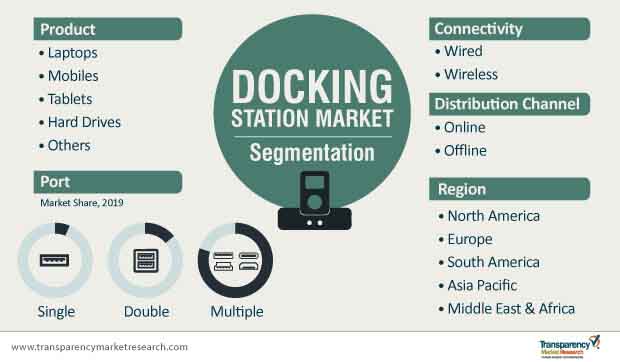 To get a bird's eye view of Docking Station Market's forecasts, ask for a Custom Report
Design Enhancements to Address Shortcomings of Predecessor Products - Focus of Market Players
The scope of design enhancements of docking stations also provides ample opportunities for the manufacturers of these devices. To address this, product manufacturers are focused on ease of use and the supporting of additional functionalities. For instance, tablet docking stations mostly used are prone to damage. This is because of snap-on-cover and an electrical connector exposed outside the docking case.
Besides this, most docking stations display capability for docking tablets only in one direction, resulting in operational inconvenience. This further provides white space for product manufacturers to develop innovative and efficient products.
Price-point and Technological Advantages of USB Hubs Impact Demand
The availability of cheaper alternatives, such as USBs, supersedes the demand for docking stations to a considerable extent. Whilst docking stations are highly useful for connecting peripherals with core devices, the high cost of these devices limits their use. Docking stations for laptops are usually priced between US$ 70 to US$ 300.
Conversely, USB ports, which mostly satisfy the requirements of electronic gadget users for charging and data transfer, are typically priced between US$ 3 to US$ 25 only.
USB hubs extend further competition for the adoption of docking stations. Most new USB hubs are equipped with in-built Qualcomm's Quick Charge 3.0 technology for the higher efficiency of devices. Also, the development of newer USB-C ports allows the fast charging of devices and fast data transfer technologies. Among a slew, Anker 3-Port USB 3.0 and ALLFU B-in-1 USB C-hub are examples of USB-C hubs. By function, USB-C hubs fulfill most of the uses of docking stations at notably less cost.
This provides enormous scope for savvy product manufacturers vying to fill in the gaps in the docking station market.
Docking Station Market – Competitive Landscape
From a competitive standpoint, the docking station market is largely consolidated, with key shares held by the top five companies -
Targus Corporation
StarTech.com Ltd
ACCO Brands
Hewlett Packard Company
Dell Technologies Inc.
Product innovation and product expansion are the key growth strategies of players in the docking station market, according to TMR's analysis. For example, in October 2018, ASUSTeK Computer Inc. announced the launch of the ROG phone and mobile desktop dock. This allows gamers to connect an ROG phone to an external 4K UHD monitor, keyboard, and mouse.
Further, strategic collaborations and partnerships are what players in the docking station market are banking on for growth. The acquisition of Esselte Group Holdings AB by Acco Brands Corporation, in January 2017, is a case in point.
The expansion of production capacity and geographical expansion are also focus areas of keen players in the docking station market. For example, Dell Technologies Inc., having a strong presence in North America, aims to expand in Europe and Asia Pacific.
According to Transparency Market Research's latest report on the docking station market for the period of 2017–2027, wherein, 2019 to 2027 is the forecast period, 2018 is the base year, and 2017 is the historic year), the increasing number of handheld devices has been one of the impacting factors for the growth of the docking station market.
In the report, revenue generated by the docking station market is given in terms of value and volume throughout the forecast period.
Advantages of Docking Stations for Electronic Device Users with Rising Disposable Income: A Key Driver
Increasing disposable income has catalyzed the growth of the mobile accessories market over the last few years. Moreover, increasing population is projected to support growth of the electronics device market, which is set to drive the sales of docking stations over the forecast period.
Docking stations help connect external devices with various electronic devices such as smartphones, notebooks, and PCs. Docking stations enable users to attach extra peripherals to such electronic devices, making them more convenient and useful for professional work. This is one of the most significant advantages of docking stations for mobile device users.
Most laptops are designed with 2-3 USB ports. This limits the usability of a laptop if the user intends to connect more than three devices to the laptop. By using a docking station, the user is required to make only one connection, as other devices such as a scanner, printer, or mouse are connected through the docking station, converting the laptop into a desktop computer. This helps users maintain the portability of such devices between their office and home.
Furthermore, docking stations provide access to devices that are usually incompatible with mobile devices. For instance, laptops and smartphones are not always compatible with external devices such as digital cameras or large flat-panel monitors. Docking stations enable the connection between such incompatible devices, thereby increasing their usability. This is another factor boosting the demand for docking stations in the market.
Availability of Cheaper Substitutes and Counterfeit Docking Stations a Major Challenge to the Growth of the Market
Docking stations are highly useful devices for connecting different external peripherals to mobile gadgets. However, most mobile devices require USB connections to connect to devices such as printers, scanners, and keyboards. The demand for docking stations may get significantly impacted due to the availability of cheaper alternatives such as USB hubs.
The industry has been facing a threat from counterfeit products since long, and it is still likely to be a threat in the near future. Many reports have suggested that, counterfeit and third-party docking stations are not designed appropriately, and could lead to safety issues, which may hinder the growth of the docking station market in the future.
Docking Station Market: Competition Landscape
Detailed profiles of players active in the docking station market have been provided in the report to evaluate their financials, key product offerings, recent developments, and strategies.
Key players operating in the global docking station market include -

Acco Brands Corporation
ASUSTeK Computer Inc.
Dell Technologies Inc.
Hewlett-Packard Company
Lenovo Group Limited
Samsung Group
Sony Corporation
StarTech.Com Ltd
Targus Corporation
Toshiba Corporation.
Docking Station Market: Key Developments
Key manufacturers in the docking station market such as Acco Brands Corporation are focusing on acquisitions for their business expansion. In line with this, in July 2018, the company acquired Mexico-based GOBA Internacional to expand its presence in Mexico. Similarly, in January 2017, the company acquired Europe-based Esselte Group Holdings AB. This acquisition helped Acco Brands Corporation enhance its position in the Europe market and extend its global network of consumer products across Europe.
Some other key developments in the docking station market are as follows:
In July 2019, StarTech.com has launched the revolutionary hybrid Thunderbolt 3 and USB-C docking station.
In June2019, Kanex launched a new portable docking station for the 2018 iPad Pro model, designed to add a range of additional ports to the device using a built-in USB-C port.
In June 2019, Microsoft announced its upcoming launch of a new surface pen docking station in 2020
In June 2019, Targus launched a quad 4K docking station. It is a cost-effective and rapid-deployment signage solution.
In February 2018, Kensington launched the SD4700P Universal USB-C and USB 3.0 docking stations.
TMR's recent publication on the docking station market provides valuable insights on the trends, opportunities, and competitive dynamics of the docking station market for the forecast period of 2019 and 2027. The report looks into the current trends influencing the demand for docking stations, along with factors that will fuel or stunt the growth of the docking station market over this period.
The docking station market report employs industry-centric tools and research methodologies to provide quantitative and qualitative insights into the progression roadmap of the docking station market over this forecast period. The predictions of seasoned analysts combined with prolific research will serve to unravel winning growth strategies. Such research pursuits are carried out under primary and secondary phases of report making, wherein, gaps between primary and secondary findings are overcome by expert opinions.
As a result, the report provides a succinct analysis of the demand drivers, restraints, opportunities, and threats that are likely to influence the docking station market over the 2019-2027 forecast period. These market indicators are valuable for market stakeholders for business planning, financial modeling, scope of expansion, investment proposition, and to understand competitive dynamics in the docking station market over the aforementioned forecast period.
The report provides in-depth details of the competitive landscape of the docking station market. Key players operating in the docking station market are identified and each one of them is profiled for their distinguishing business attributes. Company overview, recent developments, business strategies, financials, product portfolios, and SWOTs are parameters that key companies in this market are evaluated for. This enables existing market participants and prospective market participants to understand the ranking and position facets of top players in the docking station market.
Key Questions Answered in the Docking Station Market Report
How is the need for data accuracy and data security for commercial and industrial operations making an impact on the demand for docking stations?
How can expanding product compatibility turn the tide for players in the docking station market?
Which are the winning strategies that keen players are banking on for a competitive edge in the docking station market?
How is expanding the product line influencing the uptake of docking stations?
How is the evolution of e-Commerce setting new distribution trends in the docking station market?
How are companies redefining their growth strategies to compete with economical and technological advantageous products?
Docking Station Market – Research Objectives and Research Methodology
The 17-section TMR report on the docking station market begins with a preface, and talks about the scope and research objectives. The section continues with a brief explanation of the reasons behind publishing this report, and provides details of certifications needed and regulations laid down in the scope of electronic components and electronic peripherals.
For reading comprehensibility, the report is prepared in a chapter-wise layout, wherein, each chapter is further divide into sections. The entire report comprises necessary graphs and tables for various segments that are interspersed appropriately in the entire compilation. Each depiction includes the actual value of each and every segment calculated for the base year of 2018 for comparison. Such visually-appealing depictions serve to be useful for business decision makers.
The report studies the docking station market on the basis of product, port, connectivity, distribution channel, and region. Each and every segment under each criteria is delved at length, and its market share at the end of the forecast period presented herein. This helps market stakeholders understand the changing growth behavior of each and every segment in the docking station market. Further, this helps them gauge investment opportunities in the segments that are likely to stay at the forefront over the forecast period.
Docking Station Market: Segmentation
Product

Laptops

Mobiles

Tablets

Hard Drives

Others

Connectivity

Wired

Wireless

Port

Single

Double

Multiple

Distribution Channel

Online

Offline

Region

North America

Europe

Asia Pacific

South America

Asia Pacific

Middle East & Africa
Custom Market Research Services
TMR offers custom market research services that help clients to get information on their business scenario required where syndicated solutions are not enough.
REQUEST CUSTOMIZATION