Dimethyl Ether Market
Dimethyl Ether Market (Raw Material - Coal, Methanol, and Natural Gas; Application - Aerosol Propellants, LPG Blending, Transportation Fuel, Power Plant Fuel, and Chemical Feedstock) - Global Industry Analysis, Size, Share, Growth, Trends, and Forecast 2017 - 2025
Chemicals & Materials
TMRGL1650
2018-01-23
171

Pages
Global Dimethyl Ether Market: Overview
The market for dimethyl ether (DME) has been flourishing on the back of incremented efforts across the world to reduce carbon footprint. Dimethyl ether, which can be derived from renewable materials such as municipal waste and biomass as well as natural resources including coal and natural gas, is uncannily similar to LPG and is found in a gaseous state at room temperature. It can be easily liquefied and transported. The favorable characteristics of DME have resulted in creation of significant growth opportunities for the chemical in energy applications over the last decade. According to the projections of this report, the demand in the global dimethyl ether market will increment at a formidable CAGR of 9.6% during the forecast period of 2017 to 2025. The analysts of the report have estimated that the opportunities in the dimethyl ether market, worldwide, will translate into a revenue of US$9,868.1 mn by the end of 2025, considerably up from its evaluated worth of US$4,371.1 mn in 2016.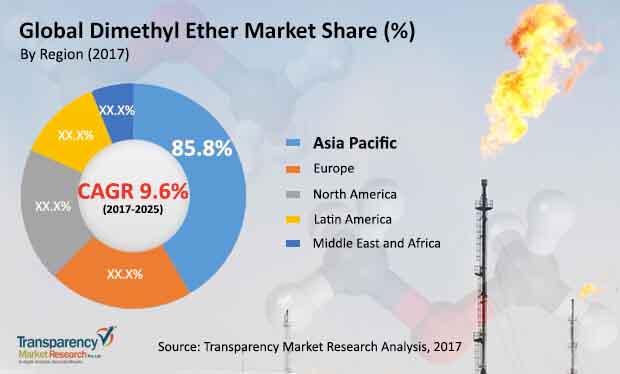 Methanol Primary Raw Material Segment
On the basis of raw material type, the dimethyl ether market has been segmented into natural gas, coal, methanol, and others such as bio-based ingredients. In 2016, the methanol segment accounted for nearly 90% of total demand in the dimethyl ether market in 2016. This strong demand is a reflection of the ease with which DME can be produced using methanol as a raw material. In addition to that, production of DME from methanol is a cost-efficient and easy process. Coal held the next major share of the dimethyl ether market in 2016. The usage of coal as a raw material for the manufacturing of DME leads to pollution, and therefore the segment is losing ground. Production of DME using natural gas is a costly process.
LPG Blending Most Prominent Application
Application-wise, the market for dimethyl ether has been bifurcated into LPG blending, aerosol propellants, power plant fuel, transportation fuel, chemical feedstock, and others such as refrigerants and production processes that require heat. Currently, LPG blending is the most prominent application of DME, accounting for over three-quarters of the total demand in 2016. Dimethyl ether is an economical fuel type, which is used to deliver energy to remote areas without large capital investment. Increasing threat of shortage of oil and other fuel types across the globe along with possible efficiency of dimethyl ether is projected to boost the demand in the dimethyl ether market. As the gap widens between the refined petroleum products and gas/biomass/coal, which are the raw materials for DME, the economics of DME market is anticipated to improve. A significant rise in the demand for energy has fueled the exploration, production, and recovery of oil and petroleum on a large scale. Dimethyl ether is extensively utilized in the oil industry to enhance the oil recovery and is prominently employed as a drilling and fracturing fluid. Dimethyl ether is also utilized as a substitute for propane in LPG. The blended fuel is used for cooking and other applications in households and industry
Moderately Competitive Vendor Landscape Intensifying
Akzo Nobel NV, Toyo Engineering Corporation, China Energy Limited, Guangdong JOVO Group Co., Ltd, Royal Dutch Shell plc, TOTAL S.A., Ferrostaal GmbH, Oberon Fuels Inc., Praxair, Inc., and Grillo-Werke AG are some of the most prominent companies currently operating in the global dimethyl ether market. While the zest for pole position is moderate among these vendors, there is slender rivalry coming from new entrants. That being said, as several governments are favoring the adoption of cleaner resources of energy and offering subsidies for it, the market is poised to witness entrance of newer players and intensify the competition.
Rise in Demand for Alternative Fuel to Propel Growth of Dimethyl Ether Market
There is a high demand for dimethyl ether from the automotive industry for use on hybrid models. This is likely to augment growth of the global dimethyl ether market. A few vehicle producers across the world are investigating alternatives of crossover models that sudden spike in demand for both diesel and bio-diesel. As endeavors to support energy necessities from sustainable sources assemble impure quality and get support from various national governments, the interest for dimethyl ether to make biofuels develop. It is will be reasonable for major parts in the worldwide dimethyl ether market to gain by each huge chance in the biofuels market.
While the dimethyl ether market acquires conspicuousness from the new chances opened in the biodiesel market, it is drug industry and the logical crew that has supported the interest for quite a long time. With mindfulness, speculations, and improving exploration foundation, it is clear that the volume of examination zeroed in on medical services and drug items will increment in the coming years. Simultaneously, as biotechnology and partnered fields acquire significance and examination exercises in these fields too become conspicuous, the interest in the worldwide dimethyl ether market will improve.
Geographically, the global market for dimethyl ether is dominated by Asia Pacific on account of the availability of raw materials at efficient prices. China is the leading nation operating in this market with the highest revenue. The increasing adoption of dimethyl ether in multiple applications such as transportation fuel, aerosol propellant, LPG blending, and others are likely to help this region generate significant revenues in the coming years. Dimethyl ether is a great alternative used as energy fuel and this is expected to create lucrative growth opportunities for the market in the coming years. This market is likely to witness significant growth opportunities from stringent environment regulations imposed on transportation and power industries.
Global Dimethyl Ether Market: Overview

Dimethyl ether is a colourless gas with a faint ethereal odour. It is shipped as a liquefied gas under its vapour pressure. Dimethyl ether is the simplest ether in the ether group. Di-methyl ether can either be derived from renewable materials such as biomass, municipal waste, and agricultural waste, or from fossil fuels such as coal and natural gas. Presently, a vast majority of commercial DME is derived from fossil fuels. LPG blending is one of the major application of dimethyl ether market across the globe.
The report estimates and forecasts the market on the global, regional, and country levels. The study provides forecast between 2017 and 2025 based on volume (Kilo Tons) and revenue (US$ Mn) with 2016 as the base year. The report comprises an exhaustive value chain analysis for each of the product segments. It provides a comprehensive view of the market. Value chain analysis also offers detailed information about value addition at each stage. The study includes drivers and restraints for the dimethyl ether market along with their impact on demand during the forecast period. The study also provides key market indicators affecting the growth of the market. The report analyzes opportunities in the dimethyl ether market on the global and regional level. Drivers, restraints, and opportunities mentioned in the report are justified through quantitative and qualitative data. These have been verified through primary and secondary resources.
Global Dimethyl Ether Market: Key Research Aspects

The report includes Porter's Five Forces Model to determine the degree of competition in the dimethyl ether market. The report comprises a qualitative write-up on market attractiveness analysis, wherein application type and countries have been analyzed based on attractiveness for each region. Growth rate, market size, raw material availability, profit margin, impact strength, technology, competition, and other factors (such as environmental and legal) have been evaluated in order to derive the general attractiveness of the market. The report comprises price trend analysis for dimethyl ether between 2017 and 2025.

Secondary research sources that were typically referred to during the study, but were not limited to are company websites, financial reports, annual reports, investor presentations, broker reports, and SEC filings. Other sources such as internal and external proprietary databases, statistical databases and market reports, news articles, national government documents, and webcasts specific to companies operating in the market have also been referred for the report.
In-depth interviews and discussions with a wide range of key opinion leaders and industry participants were conducted to compile this research report. Primary research represents the bulk of research efforts, supplemented by extensive secondary research. Key players' product literature, annual reports, press releases, and relevant documents were reviewed for competitive analysis and market understanding. This helped in validating and strengthening secondary research findings. Primary research further helped in developing the analysis team's expertise and market understanding.
Global Dimethyl Ether Market: Regional Analysis

Regional segmentation includes the current and forecast demand for dimethyl ether in North America, Europe, Asia Pacific, Latin America, and Middle East & Africa (MEA). Additionally, the report comprises country-level analysis in terms of volume and revenue for various segments. Key countries such as the U.S., Canada, Germany, France, the U.K., Spain, Italy, India, China, Japan, South Africa, Mexico, and Brazil have been included in the study. Market segmentation includes demand for individual raw material type in all the regions and countries.
Global Dimethyl Ether Market: Segmentations

The study provides a comprehensive view of the dimethyl ether market by dividing it on the basis of application, raw materials and geography segments. The dimethyl ether market has been segmented into coal, methanol, natural gas and others based on raw materials type. Raw material type segment have been analyzed based on historic, present, and future trends.
Global Dimethyl Ether Market: Competitive Landscape

The report covers detailed competitive outlook that includes market share and profiles of key players operating in the global market. Key players profiled in the report includes Toyo Engineering Corporation, China Energy Ltd., Guangdong JOVO Group Co. Ltd., and others. Company profiles include attributes such as company overview, number of employees, brand overview, key competitors, business overview, business strategies, recent/key developments, acquisitions, and financial overview (wherever applicable).
The global dimethyl ether market has been segmented as follows:
Raw Material Type Analysis

Coal
Natural Gas
Methanol
Others

Application Type Analysis

Aerosol Propellants
LPG Blending
Transportation Fuel
Power Plant Fuel
Chemical Feedstock
Others

Regional

North America
Europe

Germany
France
U.K.
Italy
Spain
Rest of Europe

Asia Pacific

China
India
Japan
ASEAN
Rest of Asia Pacific

Middle East & Africa

GCC
South Africa
Rest of Middle East & Africa

Latin America

Brazil
Mexico
Rest of Latin America
Custom Market Research Services
TMR offers custom market research services that help clients to get information on their business scenario required where syndicated solutions are not enough.
REQUEST CUSTOMIZATION