Database Security - Introduction
Database security is a set of protocols which helps to protect data of organizations from unauthorised access and protects the confidential data from assaults and threats.
A database security solution helps to ensure the security of data included in databases, database management systems, and database servers.
Increase in digitization and adoption of cloud-based database monitoring and data loss services in different industries to ensure the security of operational and confidential data of an enterprise is expected to fuel the adoption of database security solutions in various industries during the forecast period.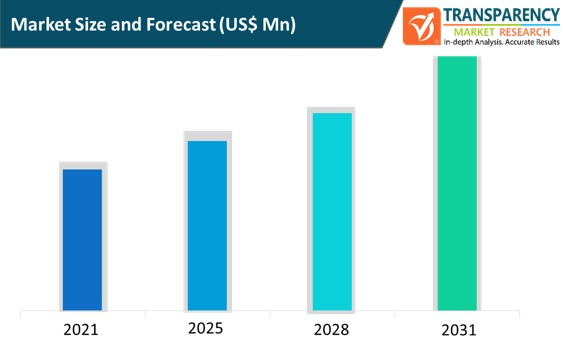 Global Database Security Market: Dynamics
Global Database Security Market: Key Drivers
Adoption of sophisticated database security solutions in various industries is increasing consistently to improve the security of confidential and private data of organizations from cyber-attacks. By exploring AI and ML technologies, hackers initiate sophisticated cyber-attacks, which remains undetected sometimes. The need to protect the personal information of staff, users, and subscribers from these type of cyber-attacks is estimated to boost the database security market.
Growing demand for database security tools in enterprises can be attributed to the need to protect legacy database of old software and hardware which cannot be refurbished. A company cannot secure the server database due to continuous changes made in the server. Hence, database security tools are a prominent option for database security. This factor is projected to fuel the demand for database security during the forecast period
Rise in demand for datasecurity solutions from governments and the e-commerce sector to ensure the security of data from cyber-attacks and threats is anticipated to boost the demand for database security during the forecast period
However, high installation cost of database security solutions in IT security operations in various organizations is expected to hamper the database security market.
Lack of awareness about multi-layered security solutions among enterprises further hinders the database security market
Nevertheless, increasing acquisitions in the database security market generates significant opportunities for the growth of the market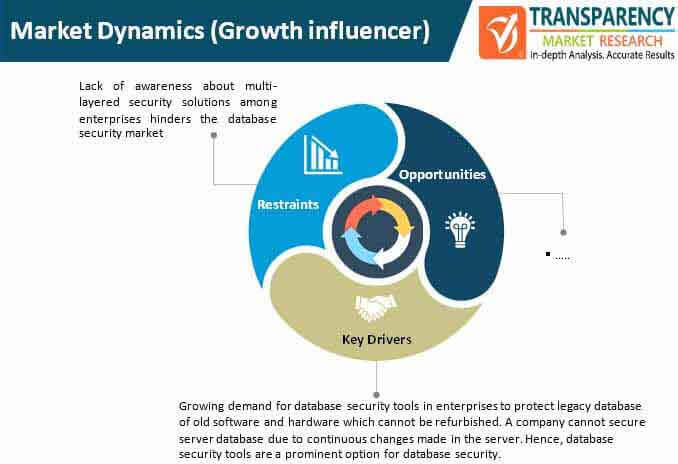 Impact of COVID-19 on the Global Database Security Market
The COVID-19 pandemic has had a severe impact on various industries across the globe, which has resulted in economic slowdown in most countries. Thus, it also has had a high impact on governments and corporate firms, which resulted in temporary and permanent closure of enterprises during the pandemic situation.
Most companies have adopted the work from home culture due to the pandemic, for which companies need to provide a more secure way of communication to every employee working from a different location. Most companies are facing issues and struggling to deliver data in a secure manner due to the work from home trend.
Hence, it is essential to adopt database security solutions in a company, for secure transmission of data.
Therefore, COVID-19 has advanced the database security market during the lockdown situation
North America to Hold Major Share of Global Database Security Market
In terms of region, the global database security market can be divided into North America, Europe, Asia Pacific, Middle East & Africa, and South America
North America is a prominent region of the global market due to the extensive presence of database security solution providers, and rise in investments by well-established IT firms in the U.S. and Canada in research and development which is expected to fuel the demand for database security in the region
Growing penetration of e-commerce companies in Asia Pacific which rapidly expands internet-based services along with real-time access is anticipated to boost the demand for database security in the region
Rising number of cybercrimes and data breach activities in Europe is expected to drive the demand for database security in the region
Rise in adoption of Bring your own Device (BYOD) services in Middle East & Africa is expected to boost the demand for database security in the region during the forecast period
Increase in adoption of advanced technologies such as AI, ML, and analytics in South America is leading to focus on database security, which is projected to boost the demand for database security in the region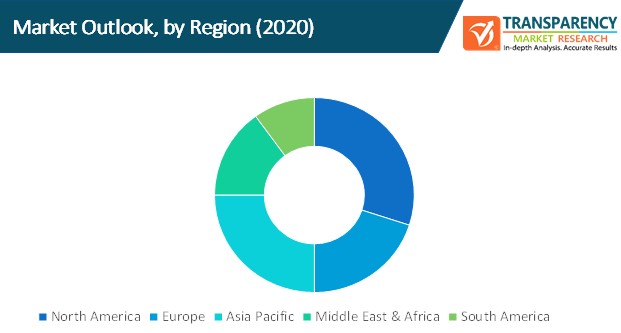 Global Database Security Market: Competition Landscape
Several prominent players operating in the database security market have strong presence in the market and are witnessing rapid technological development
In March 2021, Fortinet, Inc., a key player of the database security market, acquired ShieldX, a network and cloud security provider to strengthen the portfolio of the network security sector.
In June 2020, Microsoft Corporation, a key player of the database security market, entered into partnership with SAS to provide SAS industry security solutions to clients via cloud
Key Players Operating in Global Database Security Market Include:
Alibaba Cloud International
Cylance Inc.
Cloudera, Inc.
Huawei Technologies Co., Ltd.
International Business Machines Corporation
Intel Corporation
Fortinet, Inc.
Oracle Corporation
OneNeck IT Solutions LLC
Microsoft Corporation
Micro Focus International plc
McAfee, LLC
Sophos Ltd.
Symantec Corporation
Thales Group
Global Database Security Market: Research Scope
Global Database Security Market, by Component
Software

Database Auditing and Reporting
Encryption and Tokenization
Data Masking and Redaction
Access Control Management
Others

Services

Managed Services

Database Activity Monitoring
Database Encryption
Database Vulnerability Assessments
Data Loss Prevention

Professional Services
Consulting Services
Training and Education
Support and Maintenance
Global Database Security Market, by Business Function
Marketing
Sales
Finance
Operations
Others
Global Database Security Market, by Deployment
Global Database Security Market, by Enterprise Size
Small and Medium Enterprise
Large Enterprises
Global Database Security Market, by Industry Vertical
BFSI
Telecommunication and IT
Government and Defense
Manufacturing
Healthcare and life sciences
Retail and E-commerce
Energy and Utilities
Media and Entertainments
Others
Global Database Security Market, by Region
North America

U.S.
Canada
Rest of North America

Europe

Germany
France
U.K.
Italy
Rest of Europe

Asia Pacific

China
Japan
India
South Korea
Rest of Asia Pacific

Middle East & Africa

GCC
South Africa
Rest of Middle East & Africa

South America

Brazil
Rest of South America
This intelligence report by TMR is the outcome of intense study and rigorous assessment of various dynamics shaping the growth of the market. TMR nurtures a close-knit team of analysts, strategists, and industry experts who offer clients tools, methodologies, and frameworks to make smarter decisions. Our objective, insights, and actionable analytics provide CXOs and executives to advance their mission-critical priorities with confidence.
The scrutiny of the various forces impacting the dynamics of the market, and key and associated industries, guides enterprises in understanding various consumer propositions. Our clients leverage these insights and perspectives to enhance customer experience in the fast-paced business environment.
All our insights and perspectives are broadly based on 4 Pillars or Stages: ASBC-S, which offer an elaborate and customizable framework for the success of an organization. The essence and the roles of these in organizational successes are highlighted below:
Agenda for CXOs: TMR, through the study, sets the tone for agendas that are pertinent to CEOs, CFOs, CIOs, and other CXO executives of businesses operating in the market. The perspectives help our clients to bridge the gap between agenda and action plan. TMR strives to offer guidance to CXOs to undertake mission-critical activities empowered by various business analysis tools, and boost the performance of the organizations. The perspectives guide you to decide on your own marketing mix that align well with the policies, visions, and mission.
Strategic Frameworks: The study offers how organizations are setting both short-term and long-term strategic plans. Our team of experts collaborate and communicate with you to understand these to make your organizations sustainable and resilient during tough times. The insights help them decide sustainable competitive advantage for each business units.
Benchmarking for Deciding Target Markets and Brand Positioning: The assessments in the study provides a scrutiny of marketing channels and marketing mix. Our various teams work synergistically with you to help identify your actual and potential direct, indirect, and budget competition areas. Additionally, the study helps you decide most effective budgets for various processes and promotional activities. Furthermore, the study guides you to set benchmarks for integrating people and processes with the 4Ps of marketing. Eventually, this will empower you to find out unique propositioning strategies and niches.
Business Composability for Sustainability (C-S): Constant strategy planning for sustainability characterizing our C-S framework in the report has become more relevant than before in the face of disruptions caused by pandemics, recessions, boom and bust cycles, and changing geopolitical scenario. The TMR study offers a high level of customization to help you achieve business composability. Composable enterprises are increasingly gaining the attention of CXOs in order to help them combat market volatility. Our analysts and industry experts help you wade through such uncertainties and guide you to become a smart sustainable business in entirety.
The study presents scrutiny of region-specific consumer and technology trends, including the most recent industry dynamics. These broadly cover but not limited to
North America, South America, and the Americas
Asia Pacific and Japan
Europe
Latin America
Middle East and Africa
The study offers data-driven insights and guidance of several aspects. Some of the more notable questions are:
What are the major recent trends that can influence the product life cycle and the RoI?
Which regulatory trends shape corporate-level, business-level, and functional-level strategies?
Which micromarketing initiatives of leading players will bring in investments?
What can be the best framework and tools for PESTLE analysis?
Which regions will witness rise in new opportunities?
Which are the game-changing technologies being used to capture new revenue streams in the near future?
Which operational and tactical frameworks are being adopted by various players in gaining customer loyalty?
What is the current and expected intensity of competition the market in the near future?
Disclaimer: This market research study is an ongoing effort and extreme care has been taken to maintain the highest levels of accuracy at all stages. However, in the light of the rapidly evolving business dynamics, some region-specific or other segment-specific changes may take time to be part of the study.