Contract Packaging Market
Contract Packaging Market (Product: Bottles, Bags & Pouches, Sachets & Stick Packs, Boxes & Cartons, Blisters & Clamshells, Vials & Ampoules, Flow Wraps, Others; Service: Bottling & Filling, Bagging/Pouching, Lot/Batch & Date Coding, Boxing & Cartoning, Wrapping & Bundling, Labelling, Clamshells & Blisters, Others; End User: Food & Beverages, Pharmaceuticals, Cosmetics, Agriculture, Personal Care, Others) - Global Industry Analysis, Size, Share, Growth, Trends, and Forecast, 2019 - 2027
Category :

Packaging

Format :
Time-efficiency and Customization - Key Aspects to Distinguish Brand Image
In recent times, the success rate of e-Commerce channels has become the yardstick to determine the growth potential of the contract packaging market. Numerous industries - food, cosmetics, pharmaceuticals, and agriculture - are progressively switching to online distribution channels to broaden their exposure in other parts of the world.
At the same time, co-packers, or market players, are hard-pressed to work on their time-efficiency and customization approach to improve the brand images of their clientele. However, the environmental implications of materials used for packaging could derail the contract packaging market from realizing its true revenue potential.
Analyzing the various growth determinants and impeders at a microscopic level, analysts at Transparency Market Research (TMR) foresee an above-average expansion pace of the contract packaging market, at an estimated CAGR of ~7% during 2019-2027.
Bottling to Remain Leading Service in Contract Packaging Market
The TMR study finds that, in 2019, revenue from bottling services will account for ~32% of the market share, while the prominence of labelling will grow at a significant rate during the forecast period. Bottles remain the preferred choice of consumers, on account of the greater transparency offered by them, which implies that, players in the contract packaging market need to intensify their focus on bottling services. However, as labelling becomes a crucial marketing instrument, end users demand specific labelling on their products to disseminate proper brand information to consumers.
Besides this, as consumers begin to read the labels on food products and beverages, the food industry turns into a lucrative end user to target labelling and bottling services. While, the recent uptake in the online sales of cosmetics is projected to augur sustainable growth opportunities for the labelling segment.
Request a sample to get extensive insights into the Contract Packaging Market
Acquisition-oriented Growth Strategies - Pursuit of Scope and Quest for Scale
Co-packers rely on the horizontal growth strategy to strengthen their vertical market movements. Among the other horizontal growth tactics that include partnerships and collaborations, strategic acquisitions are found to have a profound influence on the growth of market players. At a granular level, acquisition is further segmented on the basis of scope and scale, and co-packers in the contract packaging market illustrates both these strategies.
To understand how our report can bring difference to your business strategy, Ask for a brochure
The merger of Cloud Packaging Solutions LLC and Ryt-way Industries represents a scale-oriented acquisition strategy since both companies offer contract packaging services. This acquisition resulted in a better market position for these companies. On the other hand, scope-based acquisition involves two or more companies with different purviews and application areas. While the scale-based strategy offers broad geographical exposure, a scope-oriented strategy bundles the packaging services, which widens the application areas of these companies.
Other effective strategies to compete in the contract packaging market include the integration of automated processes and investments in packaging equipment, in order to optimize uptime by avoiding frequent maintenance and breakdown costs. In addition, efforts expended towards the development of customized and new design packaging models will help achieve higher retention of the clientele base.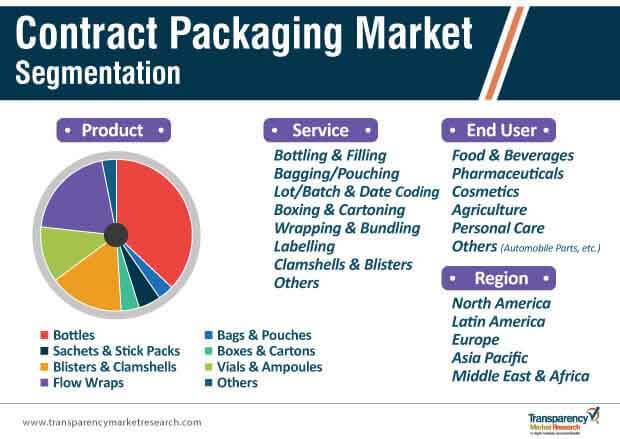 Stuck in a neck-to-neck competition with other brands? Request a custom report on Contract Packaging Market
Analysts' Outlook on Contract Packaging Market Growth
Authors of the report foresee prodigious growth prospects for the contract packaging market during the forecast period, despite the influence of extended time on deliverables. Other than the instance of delay in the fulfillment of orders, partnering with co-packers could turn cost-intensive, given the additional logistics cost. However, partnerships with multiple end users, with each user offering bulk consignments, will lead to bigger lots, which will significantly reduce operational costs in the long run.

The dominant trend found in developed countries of consuming ready-to-eat food products and carbonated beverages is projected to drive the contract packaging market in North America and Europe; however, growth in the food & beverage sector, coupled with rising consciousness regarding healthcare, is projected to gather strength in the Asia Pacific market.

While catering to chemical-intensive industries, such as pharmaceuticals, cosmetics, and food & beverages, co-packers need to take ample care in ensuring the legibility of printed codes to avoid product recalls.
Continuous Regulatory Changes in Packaging Industry to Escalate Market Growth
According to Transparency Market Research's latest market report on the contract packaging market for the historical period of 2014-2018 and forecast period of 2019-2027, increased complexity of package requirements is expected to drive market growth.
Globally, revenue generated by the contract packaging market is anticipated to reach ~US$ 34 Bn in 2019 and is projected to expand at a CAGR of ~ 7% in terms of value during the forecast period.
The global contract packaging market is projected to reach a value of ~US$ 56 Bn by the end of 2027.
One of the key drivers pushing the growth of the contract packaging market is the increased complexity of package requirements. Changes in regulations in pharmaceutical companies, such as new serialization requirements, demand huge amount of expertise to effectively and efficiently package pharma products. Pharma companies usually don't have this kind of expertise internally, which is driving them to approach contract packers.
Innovations and Technological Advancements in Packaging to Spur Market Growth
Changes in the way of packaging and new customizations are driving the growth of the contract packaging market. For instance, postponement packaging and late-stage customization are becoming more popular, particularly for small volumes. However, packaging in this way can be expansive when carried out internally, and requires expertise that can be fulfilled by co-packers.
Furthermore, brand owners are realizing that, there is significant rise in costs, both, indirectly and directly, in managing their supply chain. Hence, they are opting for contract packaging companies to manage those complexities at a relatively fixed cost. Additionally, it also helps speed the process into the market, as most contract packagers have manufacturing and warehousing facilities, which offers a big advantage in speed to market as compared to internal alternatives.
Time is the biggest challenge when it comes to contract packaging. When a company relies on a partner company to produce a similar packaged product in a specified timeframe, the process demands the ability to adapt to fulfil rush orders. Strict deadlines can sometimes mean a rush to get prerequisite materials on time from a number of different suppliers. However, third-party logistics in contract packaging reduce the total delivery cycle-time with cost-effective solutions.
Moreover, technological advancements in the pharma industry have resulted in the introduction of new drugs with improved performance. Pharma drug manufacturers are focusing on product development rather than packaging, which drives the emergence for contract packaging in the market.
Food and Beverages Segment to Dominate Contract Packaging Market
Increased demand for ready-to-eat and processed food is anticipated to drive the contract packaging market during 2019-27. Growing population and increased demand from the food and beverages sector are compelling manufacturers to go in for contract packaging. However, stringent regulations imposed by government organizations in Europe and the Americas, aiming to meet high standards, are challenging for the contract packaging market. Further, postponement in production or early production schedules are anticipated to remain as a challenge for packaging contractors.
Global Contract Packaging Market - Key Research Findings
The United States is projected to account for ~ 30% of the total contract packaging market by the end of 2027. This is accredited to developed pharmaceutical industry in the region. Stability and changing preferences of manufacturers are factors expected to drive market growth.
Services such as bottling & filling are expected to grow nearly 1.5 times of their current market value by the end of 2027, in the contract packaging market. Rising demand from the food and beverages industry tends to drive the contract packaging market. Labelling and coding services are anticipated to gain ground during the forecast period. Most co-packers offer labelling services to cater to the demand from end users.
Global Contract Packaging Market – Competition Landscape
Illustrated company profiles of key players in the contract packaging market are incorporated in the contract packaging report to analyze their product offerings, recent developments, financials, and strategies adopted to sustain in the contract packaging market.
Some of the key players operating in the global contract packaging market are

AmeriPac
Aaron Thomas Company
UniCep Packaging
Reed-Lane, Inc.
Jones Packaging
Stamar Packaging Inc.
Multi-Pack Solutions LLC.
Pharma tech industries
Sonoco Products Company.
Global Contract Packaging Market – Key Developments
Key manufacturers in the global contract packaging market are mainly concentrating on various services that can be provided under contract, such as bottling, filling, labelling, coding, etc.
Strategies such as mergers & acquisitions are also anticipated to help expand their production facilities for contract packaging.
Key participants in the contract packaging market are involved in strategic supply chain decisions, such as vendor selection & qualification, product development, and formulation and quality assurance.

In 2017, Aaron Thomas Company, a contract packaging company, expanded its Jurupa Valley, California plant by adding a new building. The company also acquired a new production facility in Memphis, Tennessee.
Contract Packaging Market - Scope of the Report
Transparency Market Research (TMR) started a new study on the global contract packaging market, providing forecasts for the period of 2019-2027. Growth opportunity for the contract packaging market is being witnessed. The report provides valuable insights, which enable readers to make winning business decisions for the future growth of their businesses. The report highlights significant factors that are constantly determining the growth of the contract packaging market, untapped opportunities for manufacturers, trends and developments, and other insights across various key segments. Macroeconomic factors that are directly or indirectly affecting the growth of the contract packaging market are also incorporated in the report.
Key Questions Answered in TMR's Contract Packaging Market Report
What will be the market size for contract packaging by the end of 2027?
Which product type would be most preferred for contract packaging? What was its market size in 2018?
Which service is mostly provided for contract packaging?
Which region will remain the most lucrative for the growth of the global contract packaging market?
Who are the major customers for contract packaging?
Key indicators associated with the contract packaging market have been calculated thoroughly in the report. The study enumerates vital market dynamics, such as the key drivers, challenges, and trends, along with opportunities in the global contract packaging market. A comprehensive study on the supply chain, which includes raw material suppliers, packaging convertors, and end users has been incorporated in the global contract packaging market report. Other key aspects laid down in the market include pricing strategy of leading market players, and comparative analysis of raw materials. Furthermore, forecast factors and forecast scenario of the contract packaging market have been covered in the report to understand the future prospects of the market.
Y-o-Y growth comparison, volume and revenue comparison, and market share comparison of various market segments are provided in the report. The contract packaging market is analyzed at both, regional and country levels.
The contract packaging market report delivers an exhaustive assessment on the structure of the contract packaging market, in tandem with a dashboard view of all the leading company profiles in the report. Every company's share analysis has also been presented in the report, apart from the footprint matrix of the profiled market players. The report depicts the presence of contract packaging manufacturers by leveraging an intensity map. The report also highlights the key end users for contract packaging.
Research Methodology
A realistic methodology, along with a holistic approach, makes the base for the sharp insights that are provided in the contract packaging market for the study evaluation period. The TMR report comprises detailed information on the growth prospects of the contract packaging industry, along with riveting insights into the forecast assessment of the market.
Extensive primary and secondary research has been employed to garner key insights into the forecast study of the contract packaging market. The report on the market has further gone through cross-validation by in-house professionals, to make the contract packaging market report one-of-its-kind, with the highest credibility.
Contract Packaging Market: Segmentation
The global contract packaging market has been bifurcated on the basis of product, service, end user, and region. Each of these segments have been analyzed to provide readers a holistic view of the industry.
Product

Bottles
Bags & Pouches
Sachets & Stick Packs
Boxes & Cartons
Blisters & Clamshells
Vials & Ampoules
Flow Wraps
Others

Service

Bottling & Filling
Bagging/Pouching
Lot/Batch & Date Coding
Boxing & Cartoning
Wrapping & Bundling
Labelling
Clamshells & Blisters
Others

End User

Food & Beverages
Pharmaceuticals
Cosmetics
Agriculture
Personal Care
Others (Automobile Parts, etc.)

Region

North America
Latin America
Europe
Asia Pacific (APAC)
Middle East & Africa (MEA)
Custom Market Research Services
TMR offers custom market research services that help clients to get information on their business scenario required where syndicated solutions are not enough.
REQUEST CUSTOMIZATION

Contract Packaging Market