Cone Beam Computed Tomography (CBCT) Market
Cone Beam Computed Tomography (CBCT) Market - Global Industry Analysis, Size, Share, Growth, Trends, and Forecast 2015 - 2023
Category :

Healthcare

Format :
Efficiency of CBCT Technologies Increases their Adoption
The rising geriatric population and their slew of medical needs will be the undercurrent defining the trajectory of the global cone beam computed tomography market. The unmet dental needs of the gaining population across the globe will play a crucial part in steering this market to its warranted revenues. The ability to offer three-dimensional visuals of teeth, roots, and other important parts of a jawline will prove to exceptionally useful in managing several dental conditions and diseases amongst the elderly population spread in the world. According to the research report published by Transparency Market Research (TMR), the opportunity in the global CBCT market was worth US$407.5 mn in 2014. However, analysts predict that the valuation of this market will be worth US$960.8 mn by 2023 as it expands at a steady CAGR of 10.0% between 2015 and 2023.
In recent years, the demand for CBCT technology has skyrocketed due to increasing affordability of advanced computers equipped with CBCT units. Several dentists and imaging specialists are not only using but also advising the use of CBCT technologies to determine the problem with absolute clarity. Thus, the effectiveness and the efficiency brought in by CBCT technologies in medical interventions is driving the overall market in top gear.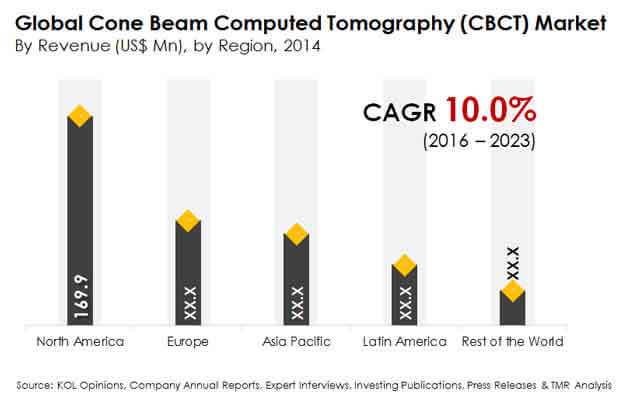 Excise Norms Could Dissuade Market Growth in Key Regions
Despite the promising market drivers, the applications of CBCT technologies in dental implants, orthodontics, endodontics, oral surgeries, and general dental surgeries is being overshadowed by stringent excise norms. This restraint is predominant in the U.S. market where the excise duty on import makes dental treatment and usage of CBCT technology largely unaffordable. This constraint is further aggravated by low adoption rate of digitalized technologies by old school medical practitioners who are still resorting to old-fashioned diagnostics.
Currently, the oral surgery segment is making the maximum usage of CBCT technologies. As of 2015, the oral surgery segment accounted for a share of 26.4% in the overall market. This segment is estimated to rise at a phenomenal pace in the forecast period as CBCT scanners have brought a remarkable advancement in maxillofacial and oral imaging.
Asia Pacific CBCT Market to Grow Phenomenally
Research suggests that Asia Pacific has been progressing at an unprecedented pace due to an ever-increasing pool of geriatrics and thus a high prevalence of dental issues. However, North America was reported to the largest geographical segment in the overall market due to its well-established infrastructure for healthcare, high adoption of dental imaging technologies, and a developed market.
The important players operating in the global CBCT market are Sirona Dental Systems, Cefla Group, Carestream Health, QR s.r.l., VATECH Global Co. Ltd., Danaher Corporation, Planmeca OY, and Prexion, Inc. The majority of the players will focus on increasing their product portfolio and expanding their reach to the consumers to grab bigger market shares in the foreseeable future. Furthermore, analysts also predict strategic business partnerships and expanding product portfolio will be integral to the growth of these individual players in the near future.
Cone beam computed tomography (CBCT) is widely used in dentistry and maxillofacial surgery due to its benefits over traditional techniques. Cone beam CT (CBCT) systems have many advantages over conventional CT for dental treatment and planning, such as lower radiation dose to patients in most cases, smaller acquisition times for the resolution needed in dentistry, a reasonable alternative to CT in terms of cost, and improved resolution with more details. A CBCT scanner extracts high-resolution images for one-tenth of the cost and an element of the radiation compared to conventional CT scanner.
Based on application, the global cone beam computed tomography (CBCT) market has been segmented into dental implants, orthodontics, oral surgery, endodontics, and general dental surgery. CBCT has more applications in dental implant procedures compared to others. The implant dentistry market has grown at a fast pace, driven by technological advances. Apart from substituting teeth lost due to injury, increased life expectancy and aesthetic concerns have enhanced the extensive acceptance of implantology. CBCT provides increased accuracy, higher resolution, reduced scan time, low radiation dose, and reduced cost for patients compared to conventional CT.
Geographically, the market has been studied and estimated for five regions: North America, Europe, Asia Pacific, Latin America, and Rest of the World. The CBCT market is driven by increasing demand for applications in dentistry across the globe. North America held the largest share of the CBCT market in 2014, followed by Europe. Asia Pacific was identified as the third largest market for CBCT in 2014. Demand has grown significantly in Asia due to rise in health care expenditures as well as disposable income of the population. Moreover, the market is driven by increase in population and aging couples with oral diseases and disorders opting for advanced dental imaging techniques such as CBCT.
The market overview section of the report demonstrates market dynamics such as drivers, restraints, and opportunities that influence the current and future status of the industry. The market overview section includes market attractiveness analysis, by geography, to provide a thorough analysis of the overall competitive scenario in the global CBCT market. The market overview section of the report also includes the qualitative and quantitative analysis of the competitive landscape.
Market share analysis for the CBCT market has been provided in the market overview section of the report for 2015 in terms of value (%) for global and China markets. The report also provides important recommendations for market players and new entrants. These recommendations would enable existing market players to expand their market shares and help new companies to establish their presence in the CBCT market across the world. The report concludes with the company profiles section, which includes key information about major players in the market such as financial overview, business strategies, and recent developments. Major players in this market include Cefla Group (Italy), Carestream Health (U.S.), Danaher Corporation (U.S.), QR s.r.l. (Newtom) (Italy), Planmeca OY (Finland), Prexion, Inc. (U.S.), VATECH Global Co. Ltd. (South Korea), and Sirona Dental Systems (Germany).
The global CBCT market has been segmented as follows:
Global CBCT Market, by Application

CBCT in Dental Implant
CBCT in Orthodontics
CBCT in Oral Surgery
CBCT in Endodontics
CBCT in General Dental Surgery
Global CBCT Market, by Geography

Introduction
North America
Europe

Germany
France
U.K.
Rest of Europe

Asia Pacific

China
Japan
Australia
Turkey
Iran
Indonesia
Rest of Asia Pacific

Latin America

Brazil
Mexico
Columbia
Argentina
Rest of Latin America

Rest of the World

Russia
Middle East & Africa
Custom Market Research Services
TMR offers custom market research services that help clients to get information on their business scenario required where syndicated solutions are not enough.
REQUEST CUSTOMIZATION

Cone Beam Computed Tomography Market