Cloud PBX Market
Cloud PBX Market (Service: Managed Services, Professional Services, Network Services, and IT & Cloud Services; Enterprise Size: Small & Medium Enterprises and Large Enterprises; and End User: BFSI, Retail, Healthcare, Government, Real Estate, and Others) - Global Industry Analysis, Size, Share, Growth, Trends, and Forecast, 2020-2030
Category :

IT & Telecom

Format :
Hoteliers Adopt Cloud PBX to Enable Clear Communication amid COVID-19 Recovery
Companies in the cloud PBX market have been at a profitable position during and post the COVID-19 outbreak. Since most businesses have been working remotely due to work from home protocols, the demand for cloud PBX (Private Branch Exchange) has witnessed a spike in 2020. Even as offices in countries such as India and the U.S. are reopening, countries including Saudi Arabia, France, Germany, and Spain are still facing challenges in controlling the pandemic.
Nomadix Inc. - a California-based developer of network gateway equipment is acquiring recognition for its new cloud PBX service meant for reliable and clear communications in hotels. Since the hospitality industry is navigating through the challenges imposed by the coronavirus pandemic, hoteliers are adopting cloud PBX solutions to cut costs without compromising on quality and safety. This is expected to drive the cloud PBX market during the forecast period.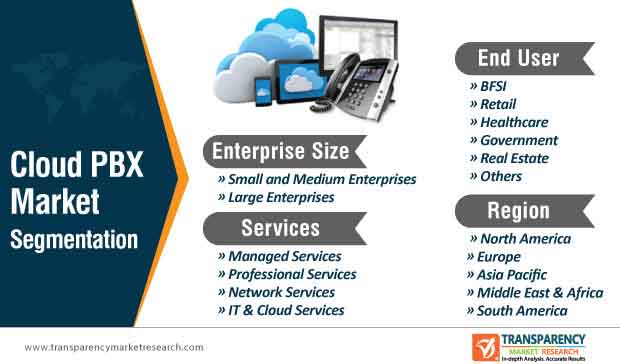 Request a sample to get extensive insights into the Cloud PBX Market
In-house Knowledge, Right Support Partner Help Ease Transition toward Cloud
The cloud PBX market is estimated to reach a revenue of US$ 68.3 Bn by the end of 2030. However, the transition from traditional PBX to cloud poses common challenges such as recognizing proper resource collaboration and limitations in bandwidth may affect market growth. Hence, there is a need for training of employees to increase in-house knowledge of users and collaborating with the right support partner to ensure high quality connection in corporate networks.
Defending against the constant threat of cyber-attacks has become a top priority for stakeholders in the BFSI, retail, and government sectors. Companies in the cloud PBX market are capitalizing on this issue and increasing the availability of software solutions.
To understand how our report can bring difference to your business strategy, Ask for a brochure
Integrated Communication Platforms to be Next Step for Cloud PBX
The cloud PBX market is projected to advance at a striking CAGR of ~14% during the forecast period. Software developers are creating new integrated platforms to combine different communication tools within a single package. Companies such as Nextiva, RingCentral, Avaya, and GotoConnect are gaining recognition for their integrated cloud PBX platforms.
The proliferation of artificial intelligence (AI) and learning algorithms in the cloud PBX market is creating long-term business opportunities for companies. Modern chat-bots hold promising capabilities for speech to text, sentiment analysis, and natural language processing. These technologies are being used to transcript conversations, identify what a caller is asking, and understand the intent behind those requests.
UCaaS Gaining Prominence in India's Small Businesses Due to Cost Efficiency
India holds lucrative growth opportunities for companies in the cloud PBX market. Servetel— a cloud telephony service provider in India is gaining popularity for its economical, innovative, and handy cloud solutions. Since the IT sector in India is growing at a rapid pace, startups in the cloud PBX market can explore revenue opportunities by creating new cloud PBX platforms.
The decrease in costs is one of the major advantages of cloud PBX solutions over traditional phone systems. Software innovations for video and messaging in the cloud and the Voice over Internet Protocol (VoIP) technology for calls & communications are being preferred by users. The trend of Unified Communications as a Service (UCaaS) is gaining prominence even in small businesses, owing to its cost efficiency. Small businesses are adapting toward cloud-based call centers for more accessibility and flexibility in communications.
Improvements in QOS Schemes, VoIP Technology Translate into Growth Opportunities
High quality voice calls and scalability are now at the top of the mind for every business. Companies in the cloud PBX market are becoming cognizant about consumer needs, and are improving their quality of service (QOS) schemes to offer better compression rates and high Internet speeds. They are investing in R&D to enhance voice communication via the Internet.
Businesses frequently grow and contract over a period of time. This has fueled the need for scalable cloud PBX platforms that adapt with the proportion of business requirements. With the help of in-house PBX, users are able to reserve resources and pre-allocate space for future business expansion plans. Companies in the cloud PBX market are innovating in cloud hosted VoIP systems to offer real-time access toward statistics and business activities to track ongoing and missed calls and active or available agents.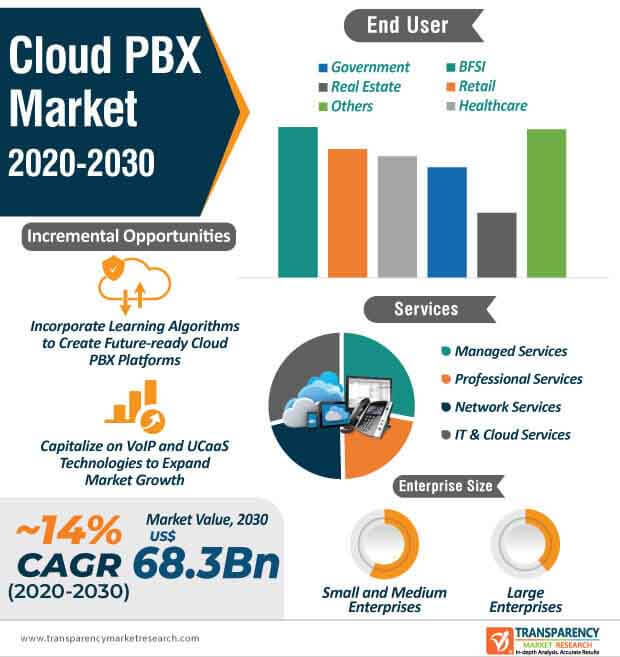 Stuck in a neck-to-neck competition with other brands? Request a custom report on Cloud PBX Market
Analysts' Viewpoint

The COVID-19 pandemic has led to a dramatic acceleration in interest and adoption of cloud PBX. Cloud PBX is being associated with solving business challenges of clients such as limited business reach and low brand image. This is being achieved by providing interactive voice response (IVR) in platforms and the VoIP technology in systems. However, the transition of traditional phone systems toward cloud is being met with the hurdle of staff training and acceptance toward new technology. Hence, companies in the cloud PBX market should increase the availability of economical and easy-to-use cloud PBX platforms to convert more clients in cloud-based telephone systems.
Cloud PBX Market: Overview
According to Transparency Market Research's latest research report on the global cloud PBX market for the historical period 2018–2019 and the forecast period 2020–2030, the market is anticipated to reach the value of US$ 68.3 Bn by 2030, expanding at a CAGR of ~14% during the forecast period. Increasing adoption of unified communications (UC) solutions among end users will boost the demand for cloud PBX. Most organizations are expected to increase cost-cutting measures, thus, preferring remote location work environments, resulting in high demand for cloud PBX.
IT expenditure for cloud services is expected to rise in the long-term, as telecommuting is expected to account for a large share of business activity. Hence, demand for cloud PBX is expected to increase during the forecast period, as cloud PBX services manage telecommunication systems of an entire office remotely using Voice over Internet Protocol (VoIP) technology.
North America is anticipated to emerge as the leading cloud PBX market, followed by Asia Pacific and Europe
Focus on Disaster Proof Technology for Communication: Key Driver of Cloud PBX Market
Cloud PBX solution is normally unaffected by disasters. Hardware is not deployed on site. Hence, in the event of a natural disaster, users can access and activate their service from a different location as all the calls and numbers are forwarded/directed to the new location. Even if users are unable to make this move quickly, the hosted solution helps to send calls to the voicemail system, where users can access messages at a later date/ time.
Key Challenges Faced by Cloud PBX Market Players
Incompatible hardware and equipment, and data security concerns may restrain the growth of the cloud PBX market
Increase in Adoption of Cloud PBX across Emerging Markets
In the year 2010, cloud PBX accounted for only 4% of the total PBX sales, whereas by the end of year 2019, the share of cloud PBX in global PBX increased to 18%. In 2019, the U.S. accounted for almost two-thirds of hosted PBX shipments.
Businesses with 11 to 50 employees accounted for the most significant percentage of 2019 hosted PBX sales. This small business segment is expected to remain dominant by the end of the forecast period.
Major factors driving the global cloud PBX market are lower hardware/service costs, unlimited scalability, advanced calling features, voice quality, mobile integration, control over long-distance costs, etc.
North America is expected to reach cloud adoption of more than 50% in the global PBX market by the end of 2025. In the current market scenario, the average global cloud penetration in the PBX market is only around 20%; North America has penetration of more than 30%.
Asia Pacific is expected to surpass the Europe by the end of the forecast period, as adoption of cloud-based technologies is projected to be the highest in the region
Cloud PBX Market: Competition Landscape
Detailed profiles of providers of cloud PBX have been provided in the report to evaluate their financials, key product offerings, recent developments, and strategies
Key players operating in the global cloud PBX market are

Allworx Corporations
AT&T, Inc.
Avaya Inc.
Barracuda Networks Inc.
T Group
BullsEye Telecom Inc.
Centurylink
Cisco Systems Inc.
D-Link System Inc.
MegaPath Inc.
Microsoft Corporation
Mitel Networks Corporation
NEC Corporation
Nextiva Inc.
Panasonic Corporation
Polycom
RingCentral Inc.
VirtualPBX.com, Inc.
Vonage America Inc.
Cloud PBX Market: Key Developments
Key providers of cloud PBX, such as Cisco Systems Inc., 8x8, Inc., RingCentral Inc., Microsoft Corporation, NEC Corporation, and Avaya Inc. are focusing on the development of cloud PBX to attract more customers
Some of the key developments in the global cloud PBX market are highlighted below:

In June 2020, Allworx Corporation introduced Allworx Interact Softphone to support work from home or remote working culture. This new softphone provides easy access to internal and external contacts, Microsoft Outlook, etc., to its customers.
In April 2020, NEC Corporation and Intermedia.net, Inc. entered into partnership to launch NEC UNIVERGE BLUE(R) ENGAGE, a CCaaS solution, and NEC UNIVERGE BLUE(R) CONNECT, a fully integrated and born-in-the-cloud UCaaS solution for their customer.
In March 2020, 8x8 Inc. introduced the 8x8 X Series and 8x8 Contact Center solution in Canada. 8x8 collaborated with CallFire, Inc. with a target to increase its SMBs and enterprise customers, and also encourage innovation in cloud telephony services.
In February 2020, Avaya Inc. launched Avaya Cloud Office, a solution that provides team messaging, video meetings, and cloud PBX, in collaboration with RingCentral Inc., to make cloud communications easier
In May 2019, BullsEye Telecom Inc. entered into partnership with RedShift Networks, a provider of unified communications solutions to offer scalable, secure enterprise VoIP services. In September 2019, AVANT Communications, a platform for IT decision-making and master agent added BullsEye Telecom to its channel partner network to provide a full suite of communication solutions.

In the global cloud PBX market report, we have discussed individual strategies, followed by company profiles of cloud PBX providers. The 'Competition Landscape' section has been included in the report to provide readers with a dashboard view and company market share analysis of key players operating in the global cloud PBX market.
Cloud PBX Market – Scope of the Report
A latest study collated and published by Transparency Market Research (TMR) analyzes the historical and present day scenario of the global cloud PBX market to accurately gauge its potential future development. The study presents detailed information about the important growth factors, restraints, and key trends that are creating the landscape for the future growth of the cloud PBX market to identify the opportunistic avenues of the business potential for stakeholders. The report also provides insightful information about how the cloud PBX market will progress during the forecast period of 2020 - 2030.
The report offers intricate dynamics about the different aspects of the cloud PBX market, which aids companies operating in the market in making strategic development decisions. TMR's study also elaborates on the significant changes that are highly anticipated to configure the growth of the cloud PBX market during the forecast period. It also includes impact analysis of COVID-19 on the cloud PBX market. The global cloud PBX market report helps to estimate statistics related to the market progress in terms of value (US$ Mn).

The study covers a detailed segmentation of the cloud PBX market, along with key information and a competitive outlook. The report mentions the company profiles of key players currently dominating the cloud PBX market, wherein various developments, expansions, and winning strategies practiced and executed by leading players have been presented in detail.
Key Questions Answered in TMR's Report on Cloud PBX Market
The report provides detailed information about the cloud PBX market on the basis of a comprehensive research on various factors that play a key role in accelerating the growth potential of the market. Information mentioned in the report answers path-breaking questions for companies that are currently functioning in the market, and are looking for innovative ways to create a unique benchmark in the cloud PBX market so as to help them formulate successful strategies and take target-driven decisions.
How are key market players successfully earning revenue out of cloud PBX?
What will be the Y-o-Y growth of the cloud PBX market between 2020 and 2030?
What are the winning imperatives of market frontrunners in the cloud PBX market?
What are the major drivers and restraints of the market?
What will be the size of the cloud PBX market from 2020 to 2030?
Which will be the fastest growing segment in the cloud PBX market?
Which are the leading companies in the cloud PBX market?
What are the strategies of companies operating in the market?
Research Methodology – Cloud PBX Market
The research methodology adopted by analysts to compile the cloud PBX market report is based on detailed primary as well as secondary research. With the help of in-depth insights of industry-affiliated information that is obtained and legitimated by market-admissible resources, analysts have offered riveting observations and authentic forecasts of the cloud PBX market. During the primary research phase, analysts interviewed industry stakeholders, investors, brand managers, vice presidents, and sales and marketing managers. On the basis of data obtained through the interviews of genuine resources, analysts have emphasized the changing scenario of the cloud PBX market. For secondary research, analysts scrutinized numerous annual report publications, white papers, and data of major countries of the world, industry association publications, and company websites to obtain the necessary understanding of the cloud PBX market.
Cloud PBX Market – Segmentation
TMR's research study assesses the cloud PBX market on the basis of service, enterprise size, end user, and region. The report presents extensive market dynamics and progressive trends associated with different segments, and how they influence the growth prospects of the cloud PBX market.
Service

Managed Services
Professional Services
Network Services
IT & Cloud Services

Enterprise Size

Small & Medium Enterprises
Large Enterprises

End User

BFSI
Retail
Healthcare
Government
Real Estate
Others

Region

North America
Europe
Asia Pacific
Middle East & Africa
South America
Custom Market Research Services
TMR offers custom market research services that help clients to get information on their business scenario required where syndicated solutions are not enough.
REQUEST CUSTOMIZATION