Clinical Trials Market
Clinical Trials Market (Phase: Phase I, Phase II, Phase III, and Phase IV; Study Design: Interventional Trials, Observational Trials, and Expanded Access Trials; and Indication: Autoimmune/Inflammation, Pain Management, Cardiovascular, CNS Condition, Oncology, Diabetes, Obesity, and Others) - Global Industry Analysis, Size, Share, Growth, Trends, and Forecast, 2020-2030
Category :

Pharmaceutical

Format :
Success of Clinical Trials for COVID-19 Vaccines Boosts Market Growth
The coronavirus pandemic has brought research labs and healthcare institutions under great scrutiny for accelerating the clinical trials for COVID-19 vaccines. As such, the success in these clinical trials has led to global recognition of India for supplying several lack of free doses to Brazil, Bangladesh, Algeria, and South Africa. Countries such as Sri Lanka are following suit whilst creating incremental opportunities for stakeholders in the clinical trials market.
The Food & Drug Administration (FDA) is creating awareness about Coronavirus Treatment Acceleration Program (CTAP) in order to bring economies to normal. Companies in the clinical trials market are taking advantage of this program to make new treatments available to patients as quickly as possible.
To know the scope of our report Get a Sample on Clinical Trials Market
Clinical Trial Recruitment Companies Essential for Matching Patients with Right Trial
The clinical trials market is estimated to cross US$ 83.5 Bn by the end of 2030. However, finding the right patients is one of the most important pieces of the puzzle with respect to conducting clinical trials. Hence, stakeholders are working with experts at clinical trial recruitment companies to match patients with the right trials.
Slow recruitment is another challenge faced by companies in the clinical trials market. Hence, companies are becoming aware about scrutinizing existing patient data to anticipate potential recruitment challenges in the long run. Clinical trial innovations are anticipated to bolster participation from volunteers.
Get a glimpse of the in-depth analysis through our Report Brochure
FDA Guidelines Pave Way for Innovations for At-home, At-clinic Clinical Trials
Companies in the clinical trials market are following guidelines of the FDA to advance in processes. They are referring to FDA guidance about Severely Debilitating or Life-Threatening Hematologic Disorders (SDLTHDs) in patients. Companies are increasing efforts to fill in the gap between scientific and technical complexities of clinical trials. Thus, companies are investing in improving the academia and are developing new incentives that reward collaboration from volunteers.
Companies in the clinical trials market are taking additional efforts to develop networks that enable procedures at a patient's home or at their private doctor's clinic. This has led to innovations in sensor devices, patient reported outcomes on their computers, and flash pictures of their lesions from their cellphones that contribute toward processes.
Coronavirus Pandemic Pushes Sponsors, Patients to Adopt Virtual Clinical Trials
Compliance with protocols is one of the key trends followed by stakeholders in the clinical trials market. Clinical trials supervised by Principal Investigators are gaining prominence in the market landscape. Continued positive cases for coronavirus have increased relevancy and role of stakeholders in the clinical trials market. This shift has pushed clinical trials to go virtual.
Stakeholders in the clinical trials market are teaming up with virtual clinical trial experts to capitalize on business opportunities during the ongoing pandemic. Even regulatory authorities have released guidelines to assist sponsors and patients via telemedicine and virtual trial tools to create viable solutions for current operational problems.
Digital Health Innovations Give Impetus to IoMT for Enhancing Clinical Development Programs
The proliferation of digital innovations with the help of wearables and sensors is translating into value grab opportunities for companies in the clinical trials market. ICON plc— a clinical research organization company is researching how digital endpoints, including digital biomarkers can improve trial outcomes. This has led to the adoption of digital health technologies that enable appropriate device selection and data strategies.
Digital health innovations hold promising potentials to better manage chronic diseases and improve patient access to healthcare services. Stakeholders and sponsors are taking efforts to improve adherence to medications and prevent its complications in patients. The Internet of Medical Things (IoMT) has the potential to enhance clinical development programs involving med-tech and pharmaceutical companies.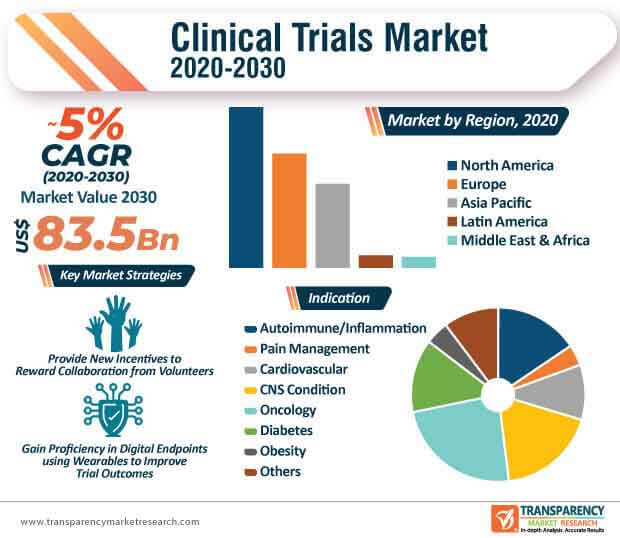 Expanding operations in future? To get the perfect launch ask for a custom report
Analysts' Viewpoint

There is a need for trial innovations since recently several volunteers were given wrong dose of the late stage clinical trial of the Oxford/AstraZeneca Covid-19 vaccine. The clinical trials market is predicted to advance at a modest CAGR of ~5% during the forecast period. This is evident since stakeholders need to address challenges pertaining to site management and compliance in order to improve trial outcomes. Hence, companies are developing clinical trial timelines to avoid delays, and are increasing transparency with their sponsors to offer them a 360 degree view of the processes happening at development centers. IoMT is acting as a key driver for the market.
Clinical Trials Market: Overview
According to Transparency Market Research's latest report on the global clinical trials market for the historical period 2018–2019 and forecast period 2020–2030, high prevalence and increase in incidence rate of chronic diseases and rise in R&D activities in biotechnology & pharmaceuticals industries are projected to drive the global clinical trials market during the forecast period
According to the report, the global clinical trials market was valued over US$ 46.7 Bn in 2019 and is anticipated to expand at a CAGR of ~5% from 2020 to 2030
High Prevalence and Increase in Incidence Rate of Chronic Diseases to Drive Demand for Clinical Trials: Key Drivers
Chronic diseases such as chronic respiratory diseases (CRD), diabetes, chronic kidney diseases (CKD), cancer, cardiac stroke, and neurological disorders are the leading causes of disability and mortality across the globe
The emergence and outbreak of various infectious and chronic diseases have created challenges and new opportunities for researchers to develop new diagnostic tools, tests, drugs, and vaccines for early diagnosis, prevention, and cure of such diseases
Hepatitis and HIV are the other major infectious diseases. According to the World Health Organization (WHO), as of October 2017, around 71 million people across the world were estimated to have hepatitis C infection. The WHO also stated that 36.7 million people were affected with HIV across the globe.
An article published by Columbia, Mailman School of Public Health on infectious disease epidemiology stated that infectious diseases continue to have a substantial impact on the health of communities across the world. Various seasonal outbreaks of diseases in certain parts of the world, global epidemics, the threat of resistant bacteria, and the challenge of emerging and newly identified pathogens increase the need of new methods to detect such pathogens, to understand their pathogenesis, and to devise effective interventions for their prevention and control.
These factors have led to an increase in demand for clinical trials, and are expected to drive the clinical trials market from 2020 to 2030
Rise in R&D Activities in Biotechnology and Pharmaceuticals Industries Boosts Market Growth
Clinical research organizations, diagnostic laboratories, and biotechnology players are engaged in the development of newer diagnostic tests to address the unmet needs in the healthcare industry. The life science industry's R&D spending is driven primarily by the mass and research intensity of the biopharmaceutical sector, which accounts for nearly 85% of all expenditure.
Additionally, laboratories strive to improve equipment cost and performance. UHPLC and ultra-fast mass spectrometers are more reliable, faster, and more sensitive as a result of research initiatives by major players.
Acceleration in biopharmaceutical R&D innovation, buoyed by several contributing factors such as precision medicine getting into gear in rare diseases, cancer, and autoimmune diseases; immunotherapy, expansion of therapeutic modalities exploiting natural and synthetic biology innovation, and expedited regulatory pathways boost the growth of the clinical trials market
Patient Recruitment and Retention to Hamper Global Market
Shift in focus toward genetic and rare diseases has made recruitment of relevant patient population a challenging task. Moreover, lack of awareness among patients of clinical trials presents a challenging environment for CROs.
Lack of appropriate patient recruitment could have an impact on the scientific and financial viability. According to the Tufts Center for the Study of Drug Development, in 2013, 11% of the sites failed to recruit even a single patient for clinical trial.
Other factors responsible for poor patient recruitment are patient's fear of side effects, illiteracy, language barrier for region-specific clinical trials, and recording of the consent process
Factors affecting the retention of patients for clinical trials include serious adverse events, fear of complex medical procedures, poor compliance of protocol, lack of dedication toward patient safety, and lack of support from family. This significantly affects the advancement of clinical trial process and product development.
Clinical Trials Market: Competition Landscape
This report profiles major players in the global clinical trials market based on various attributes such as company overview, financial overview, product portfolio, business strategies, and recent developments
Leading players operating in the global clinical trials market are

Laboratory Corporation of America Holdings
IQVIA, Inc.
Syneos Health
Parexel International Corporation
PRA Health Sciences, Inc.
PPD, Inc.
Icon plc
Charles River Laboratories, Inc.
WuXi AppTec
Medpace Holdings, Inc.
Clinical Trials Market: Key Developments
Key players in the global clinical trials market are engaged in regulatory approvals, launch of new products, and acquisition & collaborative agreements with other companies. These strategies are likely to fuel the growth of the global clinical trials market. Few expansion strategies adopted by players operating in the global clinical trials market are:

In February 2020, Charles River Laboratories International, Inc. signed an agreement to acquire Citoxlab for US$ 510 Mn. Citoxlab is a non-clinical CRO specialized in regulated safety assessment services, non-regulated discovery services, and medical device testing.
In November 2019, PPD, Inc. launched site coach where doctors and healthcare centers will receive clinical research at new sites, which will provide sufficient training for physicians and other academic institutions through online for the new clinical researchers
In October 2019, Icon plc acquired Symphony Clinical Research to enhance the ability in offering customers hybrid trial solutions and site support services. This acquisition affected the clinical trials directly and improved the services in the research centers.
In June 2019, Laboratory Corporation's Covance Drug Development segment completed the acquisition of Envigo's nonclinical contract research services business. This acquisition enabled the company to increase its global nonclinical drug development capabilities. As part of this move, Envigo acquired Covance's research models & services business, leading to the establishment of an organization dedicated to offering a complete range of research models.
In October 2018, Parexel International Corporation announced that it would launch new wearable, mobile tech for clinical trials, which will expand the services in clinical research. Microsoft's Azure App Services is one of the mobile tech services, which alerts a healthcare team when there is a patient safety threat.
In February 2018, PPD, Inc. and Acurian introduced an innovative clinical trial patient concierge service that provides personalized patient support and improves customer retention. PPD's Site Coach Service addresses this by providing specialized clinical research education, coaching, and support to new clinical research physicians, hospitals, and academic institutions.
In April 2018, ICON plc, a global biopharmaceutical company, announced that it recently agreed with the Intel Pharma Analytics platform in clinical trials, which will help to reduce costs in clinical trials and delivers an excellent patient experience
In August 2017, LabCorp, a leading company in life sciences, acquired Chiltren for around US$ 1.2 Bn. The company enhanced end-to-end drug development services and engaged patient care more effectively in the next few years.
In May 2017, WuXi AppTec Co., Ltd. announced completion of the acquisition of HD Biosciences (HDB), a leading biology-focused preclinical drug discovery contract research organization (CRO). The acquisition would further strengthen WuXi's R&D capability from target validation to lead discovery and optimization, improving and expanding WuXi's open-access enabling service platform.
In June 2016, IQVIA, the most significant research organization, launched a continuous glucose monitoring device, which is helpful to record a person's glucose levels throughout the day. Medical device CGM is combined with the consumer wearable devices to record the readings.
In June 2015, IQVIA and PRA Health Sciences, two leading companies in pharmaceuticals, announced that with new predictive and advanced analytics technology they plan to improve the performance in clinical trials and improve safety issues
In October 2014, Laboratory Corporation of America Holdings acquired Covance, Inc. for US$ 5.6 Bn and became world's leading health care diagnostic company and leading end-to-end solutions provider for drug development and commercialization

The report on the global clinical trials market discussed individual strategies, followed by company profiles of service providers of clinical trials. The competition landscape section has been included in the report to provide readers with a dashboard view and a company market share analysis of key players operating in the global clinical trials market.
Clinical Trials Market – Scope of the Report
TMR's report on the global clinical trials market studies the past as well as the current growth trends and opportunities to gain valuable insights of these indicators for the market during the forecast period from 2020 to 2030. The report provides the overall revenue of the global clinical trials market for the period 2018–2030, considering 2019 as the base year and 2030 as the forecast year. The report also provides the compound annual growth rate (CAGR) of the global clinical trials market for the forecast period from 2020–2030.
The report has been prepared after an extensive research. Primary research involved bulk of the research efforts, wherein analysts carried out interviews with industry leaders and opinion makers. Secondary research involved referring to key players' product literature, annual reports, press releases, and relevant documents to understand the clinical trials market.
Secondary research also included Internet sources, statistical data from government agencies, websites, and trade associations. Analysts employed a combination of top-down and bottom-up approaches to study various phenomena in the global clinical trials market.
The report includes an elaborate executive summary, along with a snapshot of the growth behavior of various segments in the scope of the study. Moreover, the report sheds light on the changing competitive dynamics in the clinical trials market. These indices serve as valuable tools for existing market players as well as for entities interested in participating in the clinical trials market.
The report delves into the competition landscape of the global clinical trials market. Key players operating in the clinical trials market have been identified and each one of these has been profiled for distinguishing business attributes. Company overview, financial standings, recent developments, and SWOT are some of the attributes of players in the clinical trials market profiled in this report.
Key Questions Answered in Clinical trials Market Report
How does the development of clinical trials provide scope of growth in the global clinical trials market?
How alliances and partnerships between players are widening the scope of new line of technologies for clinical trials?
What are the revenue share projections of key segments under various criteria in the clinical trials market during the forecast period?
Which segment is likely to register leading revenue until the end of the forecast period in 2030?
Clinical Trials Market – Research Objectives and Research Approach
The comprehensive report on the global clinical trials market begins with an overview of the market, followed by the scope and objectives of this study. Following this, the report provides detailed explanation of the objectives behind this study and healthcare compliances laid down by accredited agencies in the purview of line of procedure for clinical trials.
For reading comprehensibility, the report is compiled in a chapter-wise layout, with each section further divided into smaller ones. The entire report comprises an exhaustive collection of graphs and tables that are appropriately interspersed in the entire compilation. Pictorial representation of actual and projected values of key segments is visually appealing to readers. This also allows comparison of the market shares of key segments in the past and at the end of the forecast period.
The report analyzes the clinical trials market in terms of phase, study design, indication, and region. Key segments under each criteria are studied at length, and the market share for each of these at the end of 2030 has been provided. Such valuable insights enable market stakeholders in making informed business decisions for investment in the global clinical trials market.
Clinical Trials Market – Segmentation
Phase

Phase I
Phase II
Phase III
Phase IV

Study Design

Interventional Trials
Observational Trials
Expanded Access Trials

Indication

Autoimmune/Inflammation
Pain Management
Cardiovascular
CNS Condition
Oncology
Diabetes
Obesity
Others

Region

North America
Europe
Asia Pacific
Latin America
Middle East & Africa
Custom Market Research Services
TMR offers custom market research services that help clients to get information on their business scenario required where syndicated solutions are not enough.
REQUEST CUSTOMIZATION