Citrus Fibre Market
Citrus Fibre Market (Function - Water Binder and Fat Replacer, Thickening Gums, and Gelling Gums; Grade - Food Citrus Fibre and Pharma Citrus Fibre; Application - Bakery, Desserts and Ice-Creams, Sauces and Seasonings, Meat and Egg Replacement, Beverages, Flavorings and Coatings, Snacks and Meals, Personal Care, and Pharmaceuticals) - Global Industry Analysis, Size, Share, Growth, Trends and Forecast 2017 - 2022
Category :

Food & Beverages

Format :
The worldwide citrus fibers market is projected to expand at an impressive pace from 2017 to 2022. The vast nutritional benefits and functional properties possessed by citrus fibers is a key factor propelling their demand among end-consumers. The rising awareness about the benefits of dietary fiber in preventing breast cancer and improving bowel movements is a key factor boosting the consumption of citrus fiber-added food products.
Among other food grades, the food grade citrus fiber is projected to rise at the leading annual growth, in terms of revenue, over the forecast period. Regionally, the Asia Pacific Excluding Japan (APEJ) market for citrus fiber is projected to rise at the leading CAGR of 5.1% during the forecast period.
The opportunities in the global citrus fiber market is predicted to be worth US$ 382.3 Mn by the end of the forecast period. The market is estimated to rise at a CAGR of 4.6% from 2017 to 2022.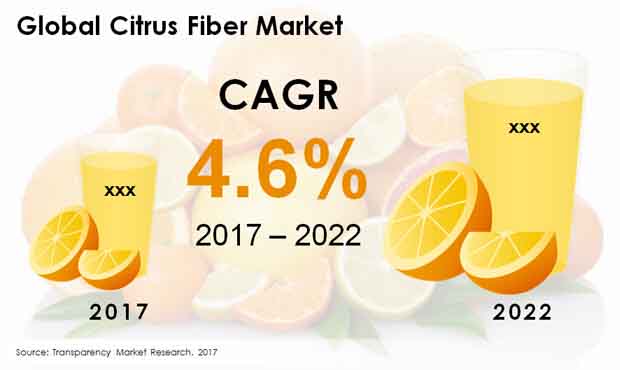 Nutritional Benefits of Naturally-Sourced Dietary Fiber Boost Uptake
The intensifying need for naturally sourced dietary fiber for preventing various diseases is a key factor boosting the demand for citrus fiber. The insoluble dietary fibers obtained using citrus peel is witnessing extensive demand due to the presence of bioactive compounds, notably flavonoids, carotene, and polyphenols. Citrus-fiber added food products are increasingly being consumed owing to the preference of consumers toward consuming foods that are nutritionally enhanced with the addition of all-natural fiber. Sourced from non-allergen ingredients, their demand is attributed to their substantial health-benefits in digestion and in preventing breast, colon, and gastric cancers.
Vast Functional Properties Coupled with Neutral Taste and Odor Bolster Demand
Citrus fiber is gaining popularity among processed food manufacturers on account of several functional benefits they impact to the final products. Citrus fibers are neutral in taste, flavor, and odor and their addition improves the texture and taste of final products. In many cases, the addition of citrus fiber to foods such as meat and cheese is cost effective, possible by reducing the formulation cost with the replacement of costly ingredients with citrus fibers. In addition, they substantially enhance the nutritional benefits by improving the fat metabolism, and in many cases reduce the fat content. Furthermore, the citrus fiber-added processed food are easier to cook.
Functional Clean Label Boost Demand among Natural Takers
The demand for natural food ingredients in processed food products in recent years has also boosted the demand for citrus fiber. An increasing number of producers prefer to include citrus fibers in various food items as it enables them to go for a clean label, without being concerned about the E-number.
Food Grade Projected to be Leading Segment
The vast functional properties that citrus fiber can impart to a variety of food products, including meat and bakery products, is a primary factor accounting for the major share hold by the food grade citrus fiber, among other grades. The market is anticipated to account for a market share of 64.4% by 2022 end.
The major regional markets for citrus fibers are North America, Latin America, Europe, Japan, Asia Pacific Excluding Japan (APEJ) and MEA. Of these, the APEJ market is anticipated to expand at CAGR of 5.1% from 2017 to 2022 and will be worth US$ 99 Mn by the end of 2022.
Meanwhile, the Middle East and Africa (MEA) citrus fiber market is forecast to create an opportunity of US$ 3.3 Mn between 2017 and 2022.
Competitive Tracking
Key players operating in the global citrus fiber market include Ceamsa, Fiberstar, Inc., Quadra Chemicals Ltd., Cargill, Inc., and Florida Food Products. Leading players are developing cost-effective formulations for citrus fiber-added food products. In addition, they are spending on research and development on processing technologies to consolidate their presence in major regions.
Global Citrus Fibre Market: An Overview
The global citrus fibre market is gaining increased attention from food product manufacturers, thanks to growing demand for natural flavoring and ingredients. Citrus fibre replaces widely used starch and flour due to its natural properties as a thickening agent. Additionally, citrus fibre also provides stability to foams and froths. Citrus fibre also empowers manufacturers to produce sauces and dressings without eggs. Its neutrality in tastes also leads to its application in both sweet and savoury dishes and warm and cold dishes alike.
Citrus fibre can also hold up to 13 times its weight in water. This makes it pretty useful in various food applications. Additionally, citrus fibre helps consumer reduce fat levels in food through reduced calories. Hence, it is prominent in bakery applications, wherein it provides a free hand for natural or organic texture, taste along with cost-efficiency.
It is estimated that citrus fibre can replace 30-50% oils/fats/shortening in muffins, bread, cakes, and tortillas. Citrus fibre products also come equipped with added moisture which tightly binds existing molecules. Hence, it is useful in burritos, salsa for sauce emulsification and thickening.
Citrus fibre market is expected to witness steady growth, thanks to applications such reducing crust breakage in pies.
Global Citrus Fibre Market: Notable Developments
Ukraine Doubles Citrus Fibre Imports
Thanks to a growing demand among Ukrainian consumers, and stability in the prices, Ukraine imported 1.8 times more citrus products in March 2019. According to the latest report by Ukraine's state fiscal service, Ukraine imported 64,000 tons of citrus fruits. The exotic nature of the fruit is leading to its growing appeal, despite cheaper prices of home-grown alternatives such as Apples. The growth in imports is the highest in the last three years. In comparison, Ukraine imported 39,000 tons of citrus fruit in March 2018.
Rising Demand for Natural Products Shifts Dynamics in the Citrus Fibre Market
Pepsi, a major global soft drink manufacturer has launched a lime flavor. Along with berry and mango, the lime pepsi product is one of the first to be made with real juice. The product is expected to hit retail stores like Walmart and Target on June 14.
Krispe Kreme, famous for coffee and donuts worldwide has announced the launch of 3 fruit-based donuts. Among these is a popular lemon-glazed donut.
Global Citrus Fibre Market: Key Trends
Nutritional Benefits of Citrus Fruits to Boost Growth
Growing population, rising congestion in urban areas, and sedentary lifestyle are leading to many adverse effects on health. Some prominent effects such as obesity also point finger straight towards unhealthy fast foods, and increasing sugary intake. Additionally, growing privatization worldwide is shifting the responsibility of healthcare onto individuals, which is realistically unbearable to many. Hence, there is a growing awareness about healthy living, natural foods, and nutrition in general. This is expected to drive significant growth for the citrus fibre market in the near future.
Emergence of Citrus Peel as a Product to Propel the Citrus Fibre Market
Citrus peel is gaining increased attention as a product on its own. Citrus peel contains many insoluble dietary fibers, flavonoids, polyphenols, and carotene. Citrus peels are often thrown in waste. However, recently published scientific studies indicate that citrus peels can provide an inexpensive, efficient, and environment friendly platform for the production of new nutraceuticals. The growing demand for natural medicines and FDA's classification of neutraceuticals as dietary supplements can provide a major impetus for growth for the citrus fibre market.
Custom Market Research Services
TMR offers custom market research services that help clients to get information on their business scenario required where syndicated solutions are not enough.
REQUEST CUSTOMIZATION