Chromium Market
Chromium Market (Grade - Metallurgical Grade, Refractory & Foundry Grade, and Chemical Intermediary Grade; Application - Stainless Steel Production, Alloyed Steel Production, Non-ferrous Alloy Production, Refractory Additives, and Others) - Global Industry Analysis, Size, Share, Growth, Trends, and Forecast 2017 - 2026
Category :

Chemicals & Materials

Format :
Chromium seeks robust adoption in metallurgical applications, and is considered to be an essential alloying element in stainless steel. Mounting demand for stainless steel is therefore a major determinant for adoption of chromium worldwide. The high-strength stainless steel has sought extensive employment across a wide variety of industrial sectors including manufacturing, transport, construction & infrastructure, and automotive. Properties such as rust resistance and easy sterilization of stainless have made it ideal for application in daily use products. With chromium being essential raw material for manufacturing ferrochrome, expansion in the steel industry will create high demand for chromium in the foreseeable future.
Decorative plating is a key trend that prevails in the automotive sector for coating a variety of vehicle components, which include interior & exterior trims, wheel covers, mirror housings, emblems & logos, and door handles. Utilization of metals, such as steel, which contains chromium as an essential element, for decorative plating has gained tremendous traction over the past decade. Additionally, robust demand for functional chromium has been witnessed in piston rings and piston rods. These factors coupled with robust sales of vehicles across the globe are expected to create high demand for chromium.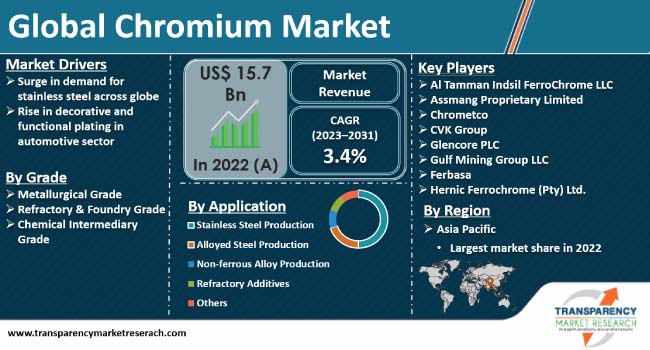 According to Transparency Market Research' new report, the global market for chromium will record a moderate growth between the period 2017 and 2026. Chromium sales across the globe are expected to close in on roughly US$ 18,000 Mn by 2026-end.
APEJ to Remain Largest Market for Chromium
Asia-Pacific excluding Japan (APEJ) is anticipated to stick to its position of being the largest market for chromium. This region is likely to pave several avenues for the market, with robust presence of prominent stainless steel manufacturing facilities in its emerging countries such as China and India. Among these countries, India accounts for a majority share of chromium ore production & export, whereas China stands as the largest exporter of chromium in the region.
With an evaluated market revenue share of over 80% during 2017 to 2026, metallurgical grade chromium will continue to be dominant among chromium grades in the market. This dominance can be attributed to the fact that metallurgical grade chromium is the most eminent among all the existing chromium ore grades. Additionally production of non-met chromium for use in foundry is likely to surge with growing inclination of several manufacturers toward production of foundry products. As, non-met chromium is a common by-product of metallurgical grade chromium, growing demand for foundry products will influence adoption of this chromium grade segment in the upcoming years.
Stainless Steel Production to Remain Leading Application of Chromium
In terms of revenues, chromium will continue to seek the largest application in stainless steel production, as stainless steel manufacturers have and will endure as major consumers of chromium. Chromium has been extensively utilized in the form of metals, scrape, and ferroalloys of stainless steel in the metallurgical applications. Chromium is also a crucial alloy element employed in the production of high strength steel, as it exerts excellent corrosion resistance, hardness, and mechanical properties.
Intense competition and highly fragmented nature of the global chromium market has led the players to concentrate on the product quality differentiation and affordable pricing structure. In a bid to retain their shares in the market, the market players are making robust investments in research & development activities associated with production processes of chromium. Key market participants contributing to growth of global chromium market include Al Tamman Indsil FerroChrome LLC, Assmang Proprietary Limited, Chrometco, CVK Group, Glencore PLC, Gulf Mining Group LLC, Ferbasa, and Hernic Ferrochrome (Pty) Ltd.
Demand in Chromium Market to Thrive Increasingly from Rise in Applications of Stainless Steel
Chromium is used popularly in stainless steel manufacturing, where its rust-resistance properties are utilized. It is mined as chromite ore, and the chromium market has evolved on the back of the numerous uses it finds in industrial applications. Wide range of industrial markets include use in metal ceramics, chrome plating, dyes and paints industry, making several alloys, and in metallurgy. End-use industries utilize the mechanical, chemical, and physical properties of chromium. Strides made in stainless steel manufacturing can be ascribed to the rise in demand for stainless steel in numerous manufacturing industries.
Worldwide, the chromium ore mining and export volumes have risen in the past decade, especially in industrialized nations. Rise in demand in the steel industry in countries such as the U.S. and the U.K. have helped boost the valuation of the chromium market. In recent years, superalloys manufacturing have attracted massive research and development potential. The trend is also expanding the avenue in the chromium market. Further, advances in catalysts used in various industrial applications have also bolstered the prospective demand in these industries. The growing use of chromium in making several oxygen compounds that are of high commercial significance has also boosted the valuation of the market.
In recent months, due to wide-ranging repercussion of the still-evolving COVID-19 pandemic, several businesses across industries witnessed significant roadblocks. This has also redefined the contours of the demand and supply in the chromium market. Further, the aftermath of the pandemic has spurred the trend of adoption of automation in the chemical industry. This has had positively impacted the demand in the end-use industries. In addition, relentless search for new chromium chemistries to be used in making alloys for various architectural applications in the aerospace and the automotive industry has helped industry players new growth impetus. Furthermore, the chromium market is likely to benefit from the incessant focus of businesses in the chemical industry optimize the operational management.
Being a necessary alloying element in formulation of stainless steel, adoption of chromium is directly proportion to growing demand for stainless across various industrial sectors. Chromium accounts for nearly 20% of overall composition of stainless steel, which offers oxidation resistance and hardness, thereby preventing corrosion. Chromite consumption is robust among metallurgical applications, with stainless steel being the dominant segment. Trends is production of stainless steel are therefore main determinants of demand for chromium. Price volatility and carcinogenic properties of chromium are likely to prevail as major challenges impeding demand for chromium across the globe.
This analytical research report of Transparency Market Research (TMR) delivers valuable intelligence on the global chromium market by providing an all-inclusive forecast on the market growth between the period 2017 and 2026. Addressing key concerns of chromium producers, and reflecting impact of latest industry trends on demand for chromium, the report imparts precise analysis & forecast on the global chromium market. This report also acts as a credible business document for companies partaking in the chromium market globally.
Valuable Intelligence on Global Chromium Market
This research report contains an array of distinct chapters, which provide a detailed segmentation of the global chromium market, encompassing various aspects driving the market expansion. Research findings from the report depict potential for consumer base expansion and enhancing exposure of chromium across various industrial sectors worldwide. Impact of transforming directives related to production, transportation and storage of chromium has been directed toward estimating advancements in chromium in the foreseeable future. Technology trends, and industrial regulations have been unveiled by the report for increasing lucrativeness of chromium.
Referring to insights offered in this report, producers of chromium can formulate methods for expanding their businesses globally beyond conventional margins. As the identification of untapped opportunities in the global chromium market has prevailed as a major challenge for the market participants, this report offers analysis that discloses these opportunities. Intelligence provided in the report will enable chromium producers in making modified decisions for profitable and long-term business expansion.
Market Analysis & Research Methodology
Considering the lucrativeness of chromium and its fluctuating cost, data points have been rendered in the report, with which the market players will be able to minimize risks. Offering in-depth insights on regions and countries lucrative for the market growth, companies are enabled to re-strategize their global measures. Continuous discussions with leading industry experts along with references of authentic databases are key methods employed by TMR's analysts for harnessing baseline information to forecast the market size. Data obtained has been collated for creating a framework on demand evolution of chromium in the upcoming years. A tested & proven research methodology has been employed by the analysts for projecting growth prospects of the global market for chromium across multiple market parameters. Quantitative data has been combined with qualitative information in a bid to enhance accuracy of the market size evaluations forecast.
Competition Landscape Analysis
Leading companies in global chromium market are profiled in the report's concluding chapter. Companies can avail this report for assessing their current market standing, and understanding opportunities for enhancing their reputation. Supply chain complexities, manufacturing challenges, and pricing volatility are addressed and analyzed in this chapter for resolving key concerns of the market players. Competition landscape analysis issued in this chapter is priceless for emerging market players. Novel strategies employed by the market leaders are disclosed in this chapter, which provides the first-hand information on establishment strategies that can be leveraged by niche companies partaking in the global chromium market.
Market Taxonomy
Region

North America
Latin America
Europe
Japan
APEJ
MEA

Grade

Metallurgical Grade
Refractory & Foundry Grade
Chemical Intermediary Grade

Application

Stainless Steel Production
Alloyed Steel Production
Non-ferrous Alloy Production
Refractory Additives
Others
Custom Market Research Services
TMR offers custom market research services that help clients to get information on their business scenario required where syndicated solutions are not enough.
REQUEST CUSTOMIZATION