Cashew Milk Market
Cashew Milk Market (Formulation: Regular and Flavored; Nature: Organic and Conventional; Packaging Type: Glass Bottles, Plastic Bottles & Pouches, Carton Packaging, and Cans; and Sales Channel: Hypermarkets/Supermarkets, Convenience Stores, Independent Small Groceries, Specialty Stores, and Online Retailing) - Global Industry Analysis, Size, Share, Growth, Trends, and Forecast, 2019 - 2029
Category :

Food & Beverages

Format :
Cashew Milk-based Dairy and Bakery Items Cater to Niche Requirements of Consumers
Health advantages of veganism are increasingly catching the attention of pro-health consumers. Hence, stakeholders in the cashew milk market are tapping opportunities in dairy goods to meet consumer requirements. For instance, New York-based restaurant chain 16 Handles, announced the launch of their new line of vegan soft serve flavors, including their latest cashew milk-based flavor, made from proprietary recipes and natural ingredients. Stakeholders are increasing efforts to strike the right balance between health and indulgence to meet niche requirements of consumers.
As a result of collaborations, the cashew milk market is currently valued at ~US$ 91 Mn and is estimated to surpass the ~US$ 193 Mn by the end of 2029. Stakeholders are adopting strategies to create a demand for 'limited-time-only' cashew milk-based bakery items, such as vegan chocolate chip cookie dough toppings. Another driver that is triggering the growth of the cashew milk market is high prevalence of lactose-intolerant consumers.
Request a sample to get extensive insights into the Cashew Milk Market
Winning Imperatives: Plant-based and Non-dairy Products
Several drivers such as the emergence of plant-based foods is helping to contribute toward market growth. Likewise, cashew milk is being highly publicized as a plant-based beverage rich in calcium. Its low fat and low in sugar attributes are catching the attention of consumers. Companies in the cashew milk market are gaining prominence in the F&B sector, since cashew milk is gradually replacing conventional dairy milk among several consumers. Thus, companies are capitalizing on this trend and are developing cashew milk that is gluten free. For instance, Sanitarium-a health and wellbeing company, excels in the production of cashew milk, which is gluten and cholesterol free.
An alarming rate of deaths caused due to high cholesterol in patients has fueled the demand for low-fat milk such as cashew milk. Individuals with deficiencies of vitamin B2 and B12 are increasingly opting for cashew milk. Another trend engulfing the cashew milk market is the demand for frozen desserts. Stakeholders in the value chain are increasing their portfolio in non-dairy products such as cashew milk-, almond milk-, and coconut milk-based frozen desserts.
To understand how our report can bring difference to your business strategy, Ask for a brochure
High Demand for Soluble Cashew Milk Powder Due to Increased Shelf Life
Apart from leading players, even startups are capitalizing on the trend of plant-based and non-dairy food items. For instance, manufacturer of plant-based food products, Benni Alimentos, announced the launch of soluble cashew milk powder to meet consumer requirements for plant-based milk alternatives. Companies are increasing R&D to boost the shelf life of plant-based products. This research has helped companies to gain competitive edge over the others, since conventional plant-based products degrade in a short span of time, thus leading to issues of food wastage. Hence, startups in the cashew milk market are developing plant-based products with longer shelf life by introducing powdered milk.
Cashew milk is expensive on the pocket of consumers, as compared to conventional dairy milk. Hence, companies in the cashew milk market are increasing production capabilities to produce cashew nut milk powder so that consumers need not throw away cashew milk, since milk has a much shorter shelf life.
Companies Expand Product Portfolio of Vegan-friendly Items
Plant-based dairy and convenience foods are being highly publicized at various food events. For instance, plant-based cheese maker, Parmela Creamery, revealed its traditionally cultured and age-processed cheese made from cashew milk at the 2019 Natural Products Expo East event. Companies in the cashew milk market are expanding their product portfolio in smoky spreads and familiar flavors of cheddar and Havarti cheese.
The ever-increasing demand for vegan and dairy-free food has led to the adoption of cashew milk-based products. As such, the demand for cashew milk-based products is growing in Australia. Companies in the cashew milk market are increasing efforts to strengthen their export business for cashew-based non-dairy cream cheese and other vegan-friendly products. Cashewgurt is another addition in the product line of cashew milk-based products. Growing awareness about GMO-free products has contributed toward market growth. Companies are using nutritious ingredients such as inulin to enhance calcium absorption through cashew milk powders.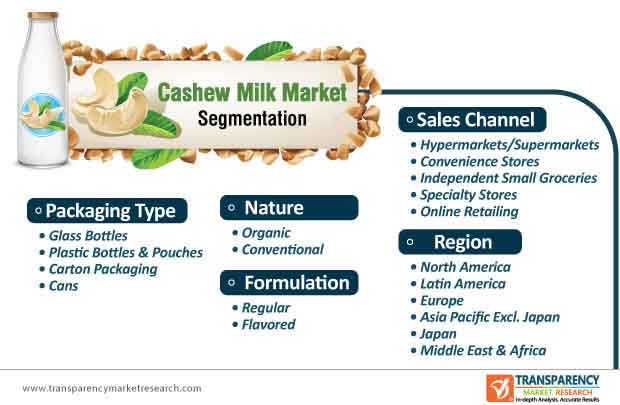 Stuck in a neck-to-neck competition with other brands? Request a custom report on Cashew Milk Market
Analysts' Viewpoint
The cashew milk market is projected to grow at a healthy CAGR of 7% during the forecast period. This indicates that consumers are inclining toward foods with cashew flavor. Likewise, companies are increasing production capabilities to produce cashew milk powders in vanilla and chocolate flavors. Nut milks are growing popular in Brazil.

Cashew milk is being highly publicized for its nutritional value such as high calcium and low fat attributes. However, cashew milk has a short shelf life. Hence, companies are increasing R&D and are producing soluble cashew milk powders with extended shelf life to cater to the needs of consumers and reduce issues of food wastage.
Cashew Milk Market: Overview
TMR has conducted a research on the cashew milk market. According to the report, the market was valued at approximately ~ US$ 91 Mn in 2019, and is anticipated to reach ~US$ 193 Mn by 2029, at a CAGR of 7% between 2019 and 2029.
The rising trend of drinking low calories drinks is expected to drive the market for cashew milk. Moreover, the rising health consciousness among consumers is also expected to boost the market for cashew milk.
Innovations key players in terms of new varieties and flavors in cashew ilk are projected to create growth opportunities for the market over the forecast period
An increasing number of consumers are opting for plant-based milk alternatives. Coffee-Mate has responded to changing consumer preference with the expansion of its Natural Bliss line that now includes the Original All Natural Cashew Milk coffee creamer.
Cashew Milk: Market Frontrunners
Cashew milk consists of low or no cholesterol, and it is also free from lactose and casein. In addition, cashew milk is a great alternative to diary-based products, especially for individuals who are lactose intolerant.
Cashew milk is unsweetened as it does not contain naturally occurring sugar and has a low calorie content compared to other plant-based milk such as soy and cow milk
Flexitarianism and veganism is getting more popular among consumers, which is boosting the sales of animal-free and plant-based products and cashew milk is such one of the vegan alternative to milk
Markets in Europe and Asia Pacific exhibits lucrative opportunities for growth. Cashew milk can be further used in various food & beverage applications accompanied by novel R&D improvisation in order to help manufacturers manage flavors with on-trend plant products.
Cashew Milk Market: Trends
The rising awareness regarding the various health benefits of cashew milk is impelling growth. For instance, cashew milk helps in weight loss; it is good for liver health and has antioxidant properties. It also helps in improving immunity and reduces the risk of heart diseases, improves digestive system, lowers cholesterol level, and helps in treating inflammation.
Cashew milk is loaded with nutrients, proteins, vitamins, minerals and unsaturated fats. Manufacturers are also providing cashew milk fortified with vitamin D and calcium.
Cashew milk is high in copper, which improves skin health and makes it an ideal ingredient for manufacturing cosmetics and personal care products
According to a few studies, the presence of anacardic acid in cashew restricts the spread of certain cancer cells and enhances the effects of anticancer medications. More research is required in this area, as it can be useful for manufacturing pharmaceuticals.
In the food & beverages sector, cashew milk finds diverse uses. For instance, it is used in making coffee, smoothies, bakery products, confectionery, and many other recipes and products.
The non-dairy milk is increasingly finding its place in the consumers' refrigerators. Therefore, an increasing number of brands are jumping into the bandwagon, introducing new range of cashew milk-based products. Few manufactures had the foresight to make an early entry into the industry.
In 2016, Danone expanded its product line by acquiring American Soy Milk producer, White Wave Foods for a whopping $10 Bn
The plant-based milk is a rapidly evolving category with exciting future prospects. The key is to get into the market sooner than later, with a number of plant-based milk players investing substantially in food products development to improve the quality of their offering.
Cashew Milk Market: Players
Some of the key players operating in the cashew milk market, as profiled in the study are,

WhiteWave Services, Inc.
Blue Diamond Growers
Provamel
Dream Blends
So Delicious Dairy Free
Forager Project
VITASOY
Cashew Dream
Alpro
Cashew Milk Market - Scope of the Report
Transparency Market Research (TMR) has recently published a study on the global cashew milk market. The study provides a detailed assessment of key market dynamics, including drivers, trends, opportunities & restraints, and detailed information about the cashew milk market structure. The market study presents exclusive information about how the cashew milk market will grow during the forecast period starting from 2019 to 2029.
Key indicators of market growth, which include year-on-year (Y-o-Y) growth of the market, value chain, supply chain analysis, and compounded annual growth rate (CAGR) are explained in the TMR's study in a comprehensive manner. This information can help readers understand the quantitative growth prospects of the cashew milk market during the forecast period.
The study is relevant for stakeholders in the cashew milk market, including cashew milk manufacturers, suppliers, distributors, and investors, and can help them in developing appropriate strategies to grow in the market. Stakeholders in the cashew milk market, investors, industry experts, researchers, and journalists, as well as business researchers can gain valuable insights from the information and data presented in TMR's study.
The study also includes statistics and facts related to the macro and microeconomic factors that are impacting developments in the market. It also offers actionable insights into the market based on the future trends in the cashew milk market. Furthermore, small businesses and new entrants in the cashew milk market too can make use of the information presented in this study, based on which, they can make appropriate business decisions in order to gain momentum in the market.

Key Questions Answered in TMR's Cashew Milk Market Report
Which regions will continue to remain the most profitable regional markets for cashew milk market players?
Which factors will induce a change in the demand for cashew milk during the assessment period?
How will the changing trends impact the cashew milk market?
How can market players capture the low-hanging opportunities in the cashew milk market in developed regions?
Which companies are leading the cashew milk market?
What are the winning strategies of stakeholders in the cashew milk market to upscale their position in this landscape?
Cashew Milk Market: Research Methodology
The study uses a unique research methodology to conduct extensive research on the growth of the cashew milk market and reach conclusions on the future growth parameters. This research methodology is a combination of primary and secondary research, which helps analysts ensure the accuracy and reliability of conclusions.
Secondary resources referred to by analysts during the production of the cashew milk market study include statistics from governmental organizations, trade journals, white papers, and internal and external proprietary databases. Analysts have interviewed senior managers, product portfolio managers, CEOs, VPs, marketing/product managers, and market intelligence managers, who contributed to the development of this report as a primary resource.
Comprehensive information acquired from primary resources and secondary resources acts as a validation from companies in the cashew milk market, and makes TMR's projections on the growth prospects of the cashew milk market more accurate and reliable.
Cashew Milk Market – Segmentation
The report categorizes the cashew milk in terms of various segments - formulation, nature, packaging type, sales channel, and region. This report offers comprehensive data and information about the important market dynamics and growth parameters associated with these categories.
Formulation

Nature

Packaging Type

Glass Bottles
Plastic Bottles & Pouches
Carton Packaging
Cans

Sales Channel

Hypermarkets/Supermarkets
Convenience Stores
Independent Small Groceries
Specialty Stores
Online Retailing

Region

North America
Latin America
Europe
Asia Pacific Excl. Japan
Japan
Custom Market Research Services
TMR offers custom market research services that help clients to get information on their business scenario required where syndicated solutions are not enough.
REQUEST CUSTOMIZATION