Carbon Nanotubes Market
Carbon Nanotubes Market – (Product – Single-wall, Multi-wall; Application – Polymers, Energy, Electrical and Electronics, and Others) - Global Industry Analysis, Size, Share, Growth, Trends and Forecast 2015 - 2023.
Chemicals & Materials
TMRGL239
2016-01-21
204

Pages
Global Carbon Nanotubes Market: Overview
Current uses of carbon nanotubes lie in the strengthening of material used for mechanical or protective functions. Carbon nanotube-based films are rapidly replacing indium tin oxide coatings as the optimum top layer for touchscreens as the former is superior in strength and thermal stress endurance. The high mechanical strength and lower weight of wind turbine blades that include carbon nanotubes is creating a major scope in the renewables sector.
Additionally, most key players are investing a lot into research and development efforts while simultaneously expanding production capacities. This is complemented by the growing demand for carbon nanotubes across major industry verticals owing to steady price reduction and increasing scope of applications.
Due to these reasons and other minor factors, the global carbon nanotube market is expected to progress at a CAGR of 22.1% within a forecast period from 2015 to 2023, in terms of revenue. This market is expected to be valued at US$1.6 bn by the end of 2016, and US$6.8 bn by 2023. By volume, this market is expected to expand at a CAGR of 20.1% from 2015 to 2023.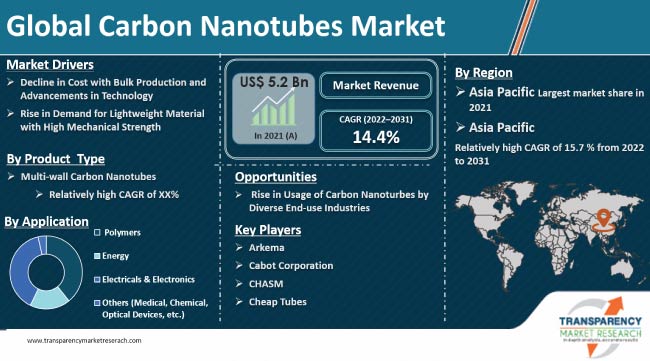 Carbon Nanotubes Players Attracted to Asia Pacific and its Rapid Industrial Development
By the end of 2016, the overall volume of carbon nanotubes is expected to reach 3.2 mn tons. This is expected to be the largest volume consumed by any of the major regions. Asia Pacific also shows the leading growth rate for carbon nanotube consumption and revenue till 2023.
Carbon nanotube demand in Asia Pacific is expected to receive a massive boost through an accelerated increase in demand from nations of India, Japan, South Korea, Taiwan, and China, in the industries of electronics and electrical components. The Asia Pacific polymers industry has found a large scope of use for carbon nanotubes, making it the largest application segment between 2015 and 2023.
Major Preference for Multi-wall Carbon Nanotube Shown by Application Industries
There is a major disparity in demand for single-wall and multi-wall carbon nanotubes, which arises due to the scope of use of each product type and the properties that they enhance. Multi-wall carbon nanotubes possess enhanced thermal conductivity and mechanical strength, allowing it to gain high demand from the manufacturers of super-capacitors, batteries, construction materials, and coatings.
Polymers Industry Absorbs Most of Global Carbon Nanotube Production
By 2023, the revenue generated by the global carbon nanotube player base will have crossed US$4.5 bn. The polymers industry has consistently held a high share in the overall demand for carbon nanotubes and will continue to do so for the foreseeable future. Most polymer producers see carbon nanotubes as excellent modern options to reinforce their current batches of polymers in terms of tensile strength, elasticity, and overall mechanical strength. These improved polymers are in high demand in most industries where the lightweight polymers can be used to replace traditional steel and glass while additionally increasing the strength of their product. Most of the reinforced polymers are currently being used in electronics, aerospace, defense, and construction.
Key manufacturers of carbon nanotubes include Showa Denko K.K., Cnano Technology Ltd., Nanocyl S.A., Bayer MaterialScience AG, Arkema Inc., and Hyperion Catalysis International Inc.
Global Carbon Nanotubes Market: Overview
The report analyzes and forecasts the carbon nanotubes market on the global and regional level. The study provides historical data of 2014 along with forecast from 2015 to 2023 based on volume (tons) and revenue (US$ Mn). The study includes drivers and restraints for the carbon nanotubes market along with their impact on demand during the forecast period. The report also analyzes opportunities in the carbon nanotubes market on the global and regional level. Drivers, restraints, and opportunities mentioned in the report are justified through quantitative and qualitative data. These have been verified through primary and secondary resources.
We have included a detailed analysis of the value chain to provide a comprehensive view of the carbon nanotubes market. Value chain analysis provides details such as integration in the market, distribution channels, product segments, and end-users. Analysis of Porter's Five Forces model has also been included to help understand the competitive landscape of the carbon nanotubes market. The study encompasses market attractiveness analysis, wherein application segments of the market are benchmarked based on market size, compound annual growth rate (CAGR), general attractiveness, and company market share. We have also incorporated company market share analysis to provide detailed analysis of the market.
The study provides a decisive view of the carbon nanotubes market by segmenting it on the basis of products and applications. Product and application segments have been analyzed based on current and future trends, and the market has been estimated from 2015 to 2023 in terms of volume (kilo tons) and revenue (US$ Mn). Regional segmentation includes current and forecast demand in North America, Europe, Asia Pacific, Latin America, and Middle East & Africa. It also includes demand for individual products and applications in major countries in the respective regions.
The report provides detailed competitive outlook that includes profiles of key players operating in the global carbon nanotubes market. Key players profiled in the report include Arkema SA, CNano Technology Limited, Carbon Solutions, Inc., Hanwha Nanotech Corporation, Showa Denko K.K., Future Carbon GmbH, CNT Co., Ltd., Continental Carbon Nanotechnologies, Inc., Klean Commodities, Raymor Industries Inc., Hyperion Catalysis International Inc., Nanothinx S.A., Korea Kumho Petrochemical Company Ltd., Nano-C Inc., Nanocyl S.A., Nanoshel LLC, Southwest Nanotechnologies Inc., and Thomas Swan & Co. Ltd. Company profiles include attributes such as company overview, brand/product portfolio, financial overview, business strategy, and key/recent developments related to the market.
Constant currency rates have been considered while forecasting the market. Prices of carbon nanotubes by products and applications vary in each region; hence, a similar volume-to-revenue ratio does not follow for each individual region. Regional average price has been considered while breaking down the market by product segment and application in each region. Models and estimates have been used to produce comprehensive data sets when hard data was not available. We have used the bottom-up approach by considering individual product and application segments and integrating them to arrive at the global market. Product segments and applications have been further divided using the top-down approach to derive the consumption of products in the regional market.
In order to compile the research report, we conducted in-depth interviews and discussions with a wide range of key industry participants and opinion leaders. Primary research represented the bulk of research efforts, supplemented by an extensive secondary research. We reviewed key players' product literature, annual reports, press releases, and relevant documents for competitive analysis and market understanding. Secondary research includes a search of recent trade, technical writing, Internet sources, and statistical data from government websites, trade associations, and agencies. This has proven to be the most reliable, effective, and successful approach for obtaining precise market data, capturing industry participants' insights, and recognizing business opportunities.
The carbon nanotubes market has been segmented as follows:
Carbon Nanotubes Market – Product Segment Analysis
Single-wall Carbon Nanotubes
Multi-wall Carbon Nanotubes
Carbon Nanotubes Market – Application Segment Analysis
Polymers
Energy
Electricals & Electronics
Others (Medical, Chemical, Optical Devices, etc.)
Carbon Nanotubes Market – Regional Analysis
North America

U.S.
Rest of North America

Europe

U.K.
Germany
France
Spain
Italy
Rest of Europe

Asia Pacific

China
Japan
ASEAN
Rest of Asia Pacific

Latin America

Brazil
Rest of Latin America

Middle East & Africa

GCC
South Africa
Rest of Middle East & Africa
Custom Market Research Services
TMR offers custom market research services that help clients to get information on their business scenario required where syndicated solutions are not enough.
REQUEST CUSTOMIZATION