Cacao Beans Market
Cacao Beans Market (Product Type: Forastero, Criollo, and Trinitario; End-use Application: Food & Beverages [Bakery & Confectionery, Beverages, Dairy Products, Syrup, Toppings, and Fillings, and Other Applications], Pharmaceuticals, Cosmetic & Personal Care, Pet Food, Household/Retail, and HoReCa/Foodservices; and Distribution Channel: B2B, B2C [Hypermarkets/Supermarkets, Convenience Stores, Independent Grocery Stores, and Specialty Stores], and Online Retail) - Global Industry Analysis, Size, Share, Growth, Trends, and Forecast, 2020 - 2030
Category :

Food & Beverages

Format :
Digital Innovations and Developmental Entrepreneurship Initiatives Improve Productivity of Farmers
Innovations and sustainable production techniques are the main focus in the cacao beans market. For instance, at the Chocoa 2020— a sustainable chocolate and cacao business event, it was acknowledged that the increasing use of smartphones has helped farmers understand that improved farming techniques can benefit their bottom line.
Digital innovations are gaining prominence in the cacao beans market. For instance, Farmerline— a company dedicated to create lasting wealth for smallholder farmers into successful entrepreneurs, is among the many initiatives that are bolstering market growth. Farm owners in the market for cacao beans are adopting pruning methods to increase their productivity and preserve the forests. Moreover, new product innovations in the confectionary category is one of the major key drivers contributing toward market growth. Plant-based chocolate innovations are at the forefront to meet needs of vegan consumers.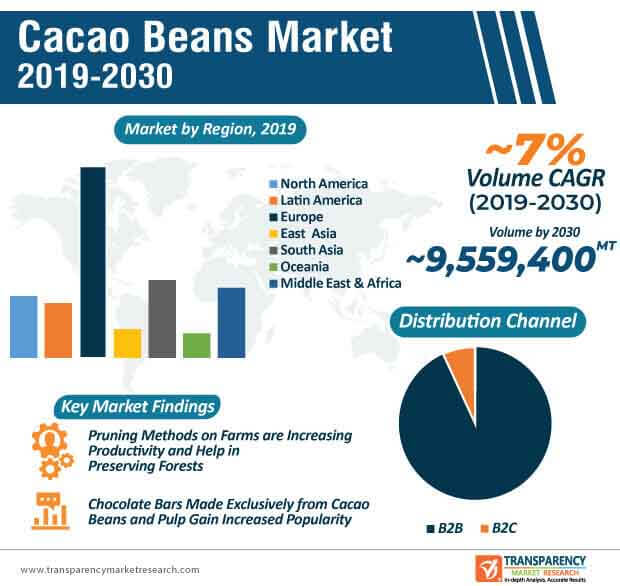 Request a sample to get extensive insights into the Cacao Beans Market
Ingenious Technical Innovations in Confectionaries Boosting Cacao Beans Market Growth
Plant based-chocolate innovations are increasingly grabbing the attention of consumers. For instance, Nestlé S.A.- a Swiss multinational food and drink processing conglomerate corporation, announced the launch of their one-of-its-kind Kitkat Chocolatory Cacao Fruit Chocolate in Japan, which is claimed to be made from cacao beans and pulp as its only ingredients. As such, companies in the cacao beans market are taking cues from leading market players to replace refined sugar in chocolate with dried fruit sugar sourced from cacao pulp.
Sugar reduction and sugar replacement are some of the megatrends observed in the domain of chocolate products in the market for cacao beans. Sugar obtained from cacao pulp is helping manufacturers to increase their customer base among vegan consumers. However, the calorie content of refined sugar and sugar obtained from cacao pulp is roughly the same. As such, sugar obtained from plant-based resources such as cacao are easy to break down in the body and hence, serve the purpose of health-conscious consumers.
Sustainable and Economical Initiatives Help Meet Excessive Demand for Cacao Beans
The cacao beans market is estimated to reach a value of ~US$ 20 Bn by the end of 2030. However, excessive demand for cacao beans has led to the destruction of tropical rainforests. The practice of using herbicides and pesticides for faster growth of cacao trees is nearly damaging the natural and authentic quality of forest covers as well as soil. Hence, companies in the cacao beans market are launching developmental initiatives such as offering free seeds, fertilizers, and training to farm owners in order to maintain steady supply chains. As such, there is a need for more sustainable and economic solutions to protect the environment.
To understand how our report can bring difference to your business strategy, Ask for a brochure
In order to reduce the amount of waste in the environment, manufacturers in the market for cacao beans are creating biomass from the waste generated after extracting cacao pulp. Such initiatives are boosting the credibility credentials of manufacturers in the market landscape.
Low Number of COVID-19 Cases in West Africa Reduces Stress on Supply Chains
The prices of cacao beans is anticipated to tumble due to the coronavirus (COVID-19) outbreak. Due to risk-off periods in markets, the prices of products tend to drop, thus creating challenges for companies in the cacao beans market. Moreover, the potential of supply disruptions is expected to be witnessed in the cacao beans market. As COVID-19 cases are surging worldwide, the situation in West Africa is under control as compared to other countries such as the U.S. and Italy, where there is a high prevalence of COVID-19 patients. This carries good news for manufacturers as large volumes of cacao beans are produced in Ghana and Côte d'Ivoire.
It has been found that Côte d'Ivoire cacao grinders have processed more seeds in February 2020 as compared to the last season. This is another good news for manufacturers and will help limit stress on supply chains.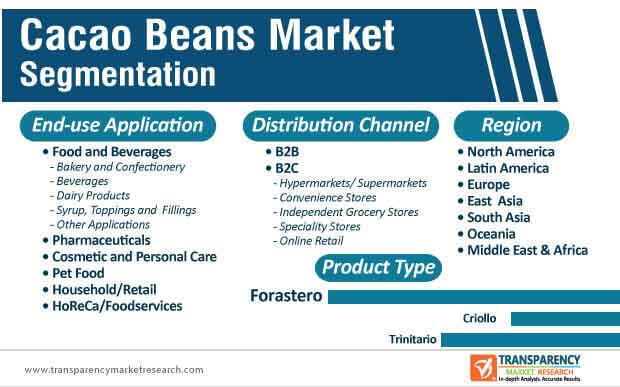 Stuck in a neck-to-neck competition with other brands? Request a custom report on Cacao Beans Market
Analysts' Viewpoint
As consumers are focused on buying essential commodities amidst the coronavirus crisis, the demand for cacao bean products is anticipated to take a hit and create concerns for the global cacao beans market. Unique production methods and post-harvest practices such as fermentation and drying help to source antioxidants from cacao beans and in the production of nutritional chocolate bars.

The market is estimated to progress at a favorable CAGR of ~7% during the forecast period. However, conventional processes such as the slash-and-burn approach are decimating tropical forests. Hence, companies should offer free training and other developmental initiatives with the help of digital innovations and smartphones to improve the yield of cacao beans and protect the environment.
Cocoa Beans Market: Overview
The global cocoa beans market value stood at ~ US$ 10 Bn in 2020, finds Transparency Market Research (TMR) in a recent study. According to the report, the market is expected to reach ~US$ 20 Bn by 2030, at a CAGR of ~7%.
The cocoa beans market is anticipated to witness lucrative prospects ahead due to increasing demand from various end-use industries
Some of the leading companies are launching new and innovative cocoa products to cater to health-conscious consumers. Rising awareness about health benefits achieved from cocoa beans will fuel their demand in the coming years.
The availability of diverse chocolate types and flavors has bolstered the number of consumers. Milk chocolate, cocoa powder, cocoa butter, dark chocolate, and brownies are in high demand, due to their availability in various flavors such as coffee, vanilla, and mint. In addition, manufacturers are launching innovative chocolates that include cereals, fruits, and nuts, especially in developed countries where consumers are seeking healthier options.
Cocoa Beans: Market Frontrunners
Forastero cocoa beans account for the largest share of 85% of the cocoa beans market, followed by Trinitario, which currently accounts for 11% of the market in terms of value
Among end-use applications, the food & beverages industry has the leading market share, which is approximately ~75% and is anticipated to expand at the rate of 6.8%during the forecast period. The increasing use of cocoa and cocoa products in most of the traditional dessert recipes, especially in the bakery and confectionery products, is expected to make chocolate and confectionery industry the most popular end user industry of the global cocoa liquor market in the future.
Europe holds the leading share of the global market that is approximately ~43%, followed by South Asia and MEA, which is 17% and ~16% of the total market share
Cocoa Beans Market: Trends
Special packaging in line with traditional customs or festivals lead to spike in demand
Premium chocolate-based products such as chocolate coated fruits, chocolate cookies, and assorted and caramelized chocolates are available in attractive baskets, cans, hampers, and special wrapping for occasions such as Christmas, New Year's Day, weddings, and birthdays. Gift giving on these days is predicted to be one of the biggest drivers in the cocoa market.
Innovations Aplenty In the Global Cocoa Market
Raw chocolate bars, quinoa vegan bars, and 'ruby' chocolate are just some of the offerings made by companies trying to retain their health-conscious consumers. Mainstream chocolate sales have stagnated in developed countries with customers increasingly worried about heart disease and obesity. This shift in taste has compelled chocolate manufacturers to reformulate or rebrand their mass-market chocolates to present a healthier image– at a premium price. Chocolate protein bars, single origin chocolate, and sugar-free chocolate are launched in response to consumer demand for higher quality. It is quite difficult to persuade consumers to purchase more chocolate but they might be open to purchasing better quality chocolate. Natural and locally sourced ingredients are in greater demand in the industry.
Cocoa Beans Market: Strategies
Cocoa industry has a relatively low number of market players who account for a larger share of the overall output/sales. The consolidation of the industry has put large scale industries, which control supply for a large part of the economy in an advantageous position.
Some of the leading manufacturers in the global market for cocoa are projected to launch innovative and healthier cocoa liquor products such as organic cocoa liquor, gluten-free chocolates, etc., with the motive of capturing the health-conscious consumer base in the world.

In January 2020, Häagen-Dazs, introduced two new ice creams, which contain ruby cacao. The ruby cacao beans used in these products have been sourced and processed by Barry Callebaut.
In the year 2017, the CÉMOI Group acquired Chris Candies, a Pittsburgh, Penn.-based private label and contract manufacturing company with premium, organic, and low-sugar offerings
Target Region for Cocoa Beans Market
In terms of value, Europe holds the dominant market share and it is anticipated to continue leading the global market during the forecast period. After Europe, Asia Pacific is at the second position, holding the major share of the global market.
Cocoa Beans Market: Players
Some of the key players operating in the cacao beans market are

Olam International Limited
Barry Callebaut AG
Theobroma B.V.
Cargill Inc.
Ciranda Inc.
Edna Group
Dutch Cocoa B.V.
Cocoa Processing Company
Kakao Berlin
Niche Cocoa Industry Ltd.
Nederland SA
PT. Danora Agro Prima
India Cocoa Pvt Ltd.
United Cocoa Processors Inc.
BT Cocoa,
Cacao Beans Market - Scope of the Report
Transparency Market Research (TMR) has recently published a market study on the cacao beans market. It provides a detailed assessment of key market dynamics, including drivers, trends, opportunities & restraints, and detailed information about the cacao beans market structure. The market study presents exclusive information about how the cacao beans market will grow during the forecast period of 2020-2030.
Key indicators of market growth, which include year-on-year (Y-o-Y) growth of the market, value chain, supply chain analysis, and compounded annual growth rate (CAGR) are elaborated in the study in a comprehensive manner. This information is intended to help readers understand the quantitative growth prospects of the cacao beans market during the forecast period.
The study is intended to offer a holistic market overview to stakeholders in the cacao beans, including manufacturers, suppliers, distributors, and investors, and to help them develop winning growth strategies. Stakeholders in the cacao beans market, which include investors, industry experts, researchers, and journalists, and business researchers, can leverage the information and data presented in TMR's study.
The study also includes statistics and facts related to the macro as well as microeconomic factors that are impacting expansion of the market. It also offers actionable insights into the future trends in the cacao beans market. Furthermore, small businesses and new entrants in the cacao beans market can make use of the information presented in this study, based on which, they can make appropriate business decisions in order to gain momentum in the market.
Key Questions Answered in TMR's Cacao Beans Market Report
Which region will continue to remain the most profitable regional market for cacao beans market players?
Which factors will induce a change in the demand for cacao beans during the assessment period?
How will the changing trends impact the cacao beans market?
How can market players capitalize on the low-hanging opportunities in the cacao beans market in developed regions?
Which companies are leading the cacao beans market?
What are the winning strategies of stakeholders in the cacao beans market to catapult their position in the forefront?
Cacao Beans Market: Research Methodology
In TMR's study, a unique research methodology is used to conduct extensive research on the growth of the cacao beans market and identify future growth parameters. This research methodology is a combination of primary and secondary research, to help analysts ensure the accuracy and reliability of the conclusions.
Secondary resources referred to by analysts for compiling the cacao beans market study includes statistics from governmental organizations, trade journals, white papers, and internal and external proprietary databases. Analysts have interviewed senior managers, product portfolio managers, CEOs, VPs, marketing/product managers, and market intelligence managers, who contributed to the development of this report as a primary resource.
Information acquired from primary resources and secondary resources is compiled in a comprehensive manner. This also acts as a validation from companies in the cacao beans market, which makes TMR's projections more accurate and reliable.
Key Segments of Cacao Beans Market
TMR's study on the cacao beans market offers information divided into important segments — product type, end-use application, distribution channel, and region. This report offers comprehensive data and information about the important market dynamics and growth parameters associated with these categories.
Product Type

Forastero
Criollo
Trinitario

End-use Application

Food & Beverages

Bakery & Confectionery
Beverages
Dairy Products
Syrup, Toppings, and Fillings
Other Applications

Pharmaceuticals
Cosmetic & Personal Care
Pet Food
Household/Retail
HoReCa/Foodservices

Distribution Channel

B2B
B2C

Hypermarkets/ Supermarkets
Convenience Stores
Independent Grocery Stores
Specialty Stores

Online Retail

Region

North America
Latin America
Europe
East Asia
South Asia
Oceania
MEA
Custom Market Research Services
TMR offers custom market research services that help clients to get information on their business scenario required where syndicated solutions are not enough.
REQUEST CUSTOMIZATION