Breast Imaging Market
Breast Imaging Market (Technology: Ionizing Breast Imaging [Mammography, Positron Emission Tomography-Computed Tomography {PET-CT}, and Molecular Breast Imaging {MBI}], Nonionizing Breast Imaging [Breast Ultrasound, Breast MRI, Breast Thermography, and Automated Whole-breast Ultrasound {AWBU}], and Others; and End User: Hospitals & Clinics, Diagnostic Centers, Ambulatory Surgical Centers, and Research Centers) - Global Industry Analysis, Size, Share, Growth, Trends, and Forecast, 2020 - 2028
Healthcare
TMRGL1371
2020-03-30
181

Pages
AI and ML Create Lucrative Opportunities for Early Detection of Lesions
AI (Artificial Intelligence) and ML (Machine Learning) are virtually penetrating almost all industries, including healthcare. These technologies are generating incremental opportunities for companies in the breast imaging market. The alarming rate of women in the U.S. that may be susceptible to breast cancer during their lifetime has led to the adoption of AI and ML to improve patient quality of life. The market in the U.S., one of the major economies of North America, is anticipated to generate the highest revenue and is predicted for exponential growth. There is a growing need for early detection and increased awareness among patients in the market for breast imaging.
Early detection of lesions with the help of AI and ML has helped to improve clinical numbers. This phenomena is being further leveraged with advanced screening mammography, whereas this technique is gaining global recognition as one of the most effective methods for detecting early breast cancer. This explains why ionizing breast imaging dictates the highest revenue among all technologies in the breast imaging market.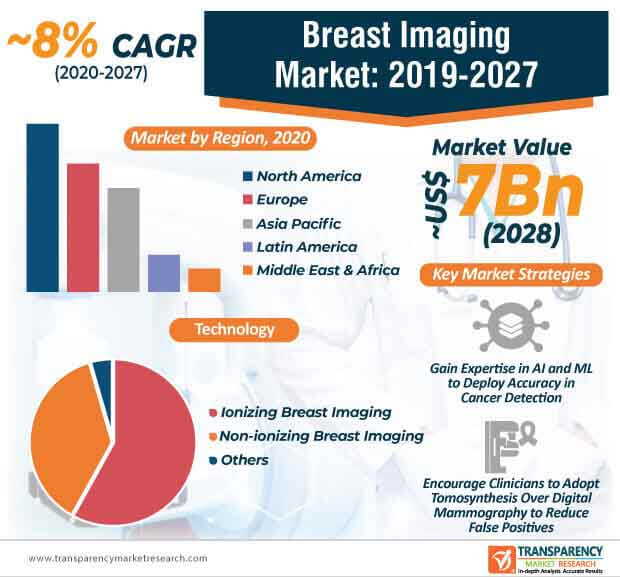 To know the scope of our report Get a Sample on Breast Imaging Market
Digital Breast Imaging and Patient Communication Improve Clinical Outcomes
Early cancer detection has become one of the important prerequisites for most women worldwide. Hence, healthcare companies are gaining expertise in digital breast imaging to improve cancer diagnosis. Such advancements are boosting the revenue of breast imaging market, which is estimated to be valued at ~US$ 7 Bn by the end of 2028. On the other hand, clinicians are building their credibility by gaining efficacy in FDA-approved technologies for breast imaging. Such technologies are supporting a wide range of clinical research studies and the development of innovative products related to breast cancer.
Get a glimpse of the in-depth analysis through our Report Brochure
Apart from innovations in the breast imaging market, clinicians are creating an awareness about radiologist-patient communication as the key to offer a more patient-centric atmosphere in hospitals and clinics. Thus, along with innovations in breast imaging, healthcare providers need to understand that patients are more willing to interact with their radiologist, while being educated about their individual circumstances.
DBT Outperforms DM in Detection of Poor Prognosis Cancers
Advantages offered by tomosynthesis are anticipated to outperform the offerings of digital mammography. However, in the current scenario, the rapidly evolving COVID-19 (Coronavirus) has forced stakeholders to cancel and reschedule important conferences associated with breast imaging. For instance, the 2020 Society of Breast Imaging/American College of Radiology (SBI/ACR) annual symposium has been cancelled and rescheduled for April 8 - April 11, 2021, in Savannah, Georgia, U.S. Such unwelcome pandemics are slowing down the pace of innovations in the breast imaging market. Hence, healthcare companies are taking cues from previous and ongoing research materials available at their disposal.
Newly published studies are offering important insights to technology companies that are shifting their focus to digital breast tomosynthesis (DBT) from digital mammography (DM). Thus, the breast imaging market is continuously growing due to largely consolidated players dominating ~45%-50% of the market share in 2018. The DBT is being highly publicized for effective breast imaging in order to reduce the incidences of false positives.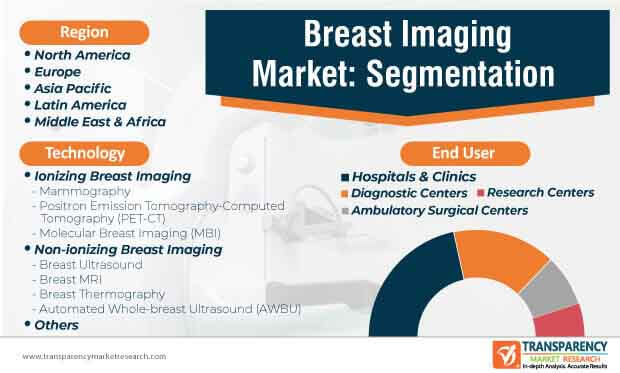 Expanding operations in future? To get the perfect launch ask for a custom report

Analysts' Viewpoint
The analysts of Transparency Market Research (TMR) anticipate that improved radiologist-patient communication is building the credibility of hospitals and clinics, thus making breast imaging widely accepted in developing economies of Asia Pacific. The breast imaging market is undergoing transformation with the introduction of AI and ML in early detection of lesions.

Moreover, DBT is gaining popularity over DM as a powerful tool for breast cancer screening. However, the volume of published data on DBT is limited to only first round of screening, thus creating ambiguity about the performance of the DBT over prolonged periods of time. Hence, companies should increase their efficacy in five-year research studies and more to create the availability of enough clinical data about DBT in order to establish its widespread application.
Breast Imaging Market: Overview
Breast imaging techniques involve capturing of images of breast tissues that assist in diagnosis and screening of breast cancer. Various technologies that are used to image breast tissues include mammography, breast MRI, breast ultrasound, and molecular imaging.
Mammography is considered as a standard technique to screen breast tissues. Breast MRI and breast ultrasound are used in combination with mammography for detailed and clear imaging of breast tissues.
The breast imaging market has experienced tremendous growth in the past decade, due to factors such as increased awareness about benefits of early breast cancer detection and high prevalence of breast cancer
Different types of technologies are used in breast imaging, including ionizing breast imaging and nonionizing breast imaging
Breast Imaging Market: Drivers
High Incidence of breast cancer and aging demographics are projected to boost the growth of the breast imaging market. According to the World Health Organization (WHO) statistics published in December 2018, 2.1 million new cases were diagnosed with breast cancer in 2018, which is 11.6% of the total cancer incidence burden. Breast cancer was the cause of death of 627,000 women globally in 2018. Out of 184 countries in the world, breast cancer is frequently diagnosed in 140 countries.
According to the World Cancer Research Fund, the number of breast cancer cases is likely to reach to 2.1 million by 2030
One of the major factors influencing the growth of this industry is increasing government initiative to increase awareness about breast cancer. Under the NBCCEDP, CDC offers mammograms and pap tests free of cost or at low price to those women who have low income and little or no insurance coverage. In order to encourage breast screening in the country, the U.S. Government passed the Breast and Cervical Cancer Mortality Prevention Act of 1990.
Market Segmentation: Breast Imaging Market
Based on technology, the global breast imaging market has been divided into ionizing breast imaging (mammography, positron emission tomography-computed tomography (PET-CT), and molecular breast imaging (MBI)); nonionizing breast imaging (breast ultrasound, breast MRI, breast thermography, and automated whole-breast ultrasound (AWBU)); and others
In terms of end user, the global market has been categorized into hospitals & clinics, diagnostic centers, ambulatory surgical centers, and research centers
Each of the segments has been analyzed in detail for market trends, recent trends, and developments, drivers, restraints, opportunities, and useful insights. The report provides current and future revenue (US$ Mn) for each of these segments from 2018 to 2028, considering 2019 as the base year. The compound annual growth rate (% CAGR) has been provided for each segment and market from 2020 to 2028 along with market size estimations.
Regional Overview: Breast Imaging Market
In terms of region, the global breast imaging market has been segmented into North America, Europe, Asia Pacific, Latin America, and Middle East & Africa. The regions have been divided into major countries and sub-regions.
The current and future market value in terms of revenue (US$ Mn) of these regional markets and their major countries have been provided in the report from 2018 to 2028, with their CAGRs from 2020 to 2028
The study also offers a list of recommendations, highlights, and useful insights of the market which would help new companies willing to enter the market and existing companies to increase market shares, and help in the decision-making process
Breast Imaging Market: Major Players
The report concludes with the company profiles section that includes key information about major players in the market
Leading players analyzed in the report include

GE Healthcare
Koninklijke Philips N.V.
Hologic, Inc.
Siemens Healthineers
Fujifilm Holding Corporation
Canon Medical Systems Corporation
Aurora Imaging Technologies, Inc.
Dilon Technologies, Inc.,
Leica Biosystems Nussloch GmbH (Danaher).

Each of these players has been profiled in the report based on parameters such as company overview, financial overview, business strategies, product portfolio, business segments, and recent developments.
Breast Imaging Market - Scope of the Report
TMR's report on the global breast imaging market studies the past as well as the current growth trends and opportunities to gain valuable insights of the indicators for the market during the forecast period from 2020 to 2028. The report provides revenue of the global breast imaging market for the period 2018–2028, considering 2019 as the base year and 2028 as the forecast year. The report also provides the compound annual growth rate (CAGR %) of the global breast imaging market from 2020 to 2028.
The report is prepared after an extensive research. Primary research involved bulk of the research efforts, wherein analysts carried out interviews with key opinion leaders, industry leaders, and opinion makers. Extensive secondary research involved reaching out to key players' product literature, annual reports, press releases, and relevant documents to understand the breast imaging market.
Secondary research also includes Internet sources, statistical data from government agencies, websites, and trade associations. Analysts employed a combination of top-down and bottom-up approaches to study various attributes of the breast imaging market.
The report includes an elaborate executive summary, along with a snapshot of the growth behavior of various segments and sub-segments included in the scope of the study. Moreover, the report throws light on the changing competitive dynamics in the global breast imaging market. These serve as valuable tools for existing market players as well as for entities interested in participating in the global breast imaging market.
The report delves into the competition landscape of the global breast imaging market. Key players operating in the global breast imaging market are identified and each one of these is profiled in terms of various attributes. Company overview, financial standings, recent developments, and SWOT are the attributes of players in the global breast imaging market that are profiled in this report.
Key Questions Answered in Breast Imaging Market Report
What is the sales/revenue generated by breast imaging products across all regions during the forecast period?
What are the opportunities in the breast imaging market?
What are the major drivers, restraints, opportunities, and threats in the market?
Which region is set to expand at the fastest CAGR during the forecast period?
Which product segment is expected to generate the highest revenue globally in 2028? Which segment is projected to expand at the highest CAGR during the forecast period?
What are the market positions of different companies operating in the global market?
Breast Imaging Market - Research Objectives and Research Approach
The comprehensive report on the global breast imaging market begins with an overview, followed by the scope and objectives of the study. Following this, the report provides detailed explanation of the objectives behind this study and key vendors and distributors operating in the market and regulatory scenario for approval of products.
For reading comprehensibility, the report has been compiled in a chapter-wise layout, with each section divided into smaller sections. The report comprises an exhaustive collection of graphs and tables that are appropriately interspersed. Pictorial representation of actual and projected values of key segments is visually appealing to readers. This also allows comparison of the market shares of key segments in the past and at the end of the forecast period.
The report analyzes the global breast imaging market in terms of technology, end user, and region. Key segments under each criteria are studied at length, and the market share for each of these at the end of 2028 has also been provided. Such valuable insights enable market stakeholders in making informed business decisions for investment in the breast imaging market.
Breast Imaging Market - Segmentation
TMR's study on the global breast imaging market includes information divided into: technology, end user, and region. Changing industry trends and other crucial market dynamics associated with these segments of the global breast imaging market are discussed in detail.
Technology

Ionizing Breast Imaging
Mammography

Analog Mammography
Digital Mammography

Positron Emission Tomography-Computed Tomography (PET-CT)
Molecular Breast Imaging (MBI)

Nonionizing Breast Imaging

Breast Ultrasound
Breast MRI
Breast Thermography
Automated Whole-breast Ultrasound (AWBU)
Others

End User

Hospitals & Clinics
Diagnostic Centers
Ambulatory Surgical Centers
Research Centers

Region

North America
Europe
Asia Pacific
Latin America
Middle East & Africa
Custom Market Research Services
TMR offers custom market research services that help clients to get information on their business scenario required where syndicated solutions are not enough.
REQUEST CUSTOMIZATION

Breast Imaging Technologies