Brake Pad Market
Brake Pad Market (Brake Pad Material: Metallic, Ceramic, and Organic; Vehicle Type: Two Wheeler Vehicle, Passenger Vehicle, Commercial Vehicle, and Off-road Vehicle; and Sales Channel: Aftermarket and OEM) - Global Industry Analysis, Size, Share, Growth, Trends, and Forecast, 2020-2030
Category :

Automotive & Transport

Format :
Potential Tax Implications to Dictate Revenue Growth amid Coronavirus Crisis
The COVID-19 crisis has led to disruptions in the automotive supply chains. Countries such as South Korea, China, and Japan have been worst hit due to the pandemic as a significant share of global auto manufacturing resides here. In order to tide over the challenges due to the coronavirus crisis, companies in the brake pad market are taking into account the potential tax and tariff implications of supplier changes to maintain business continuity. They are making considerations about vehicle design and materials to efficiently allocate budgets for production. This is expected to drive the brake pad market.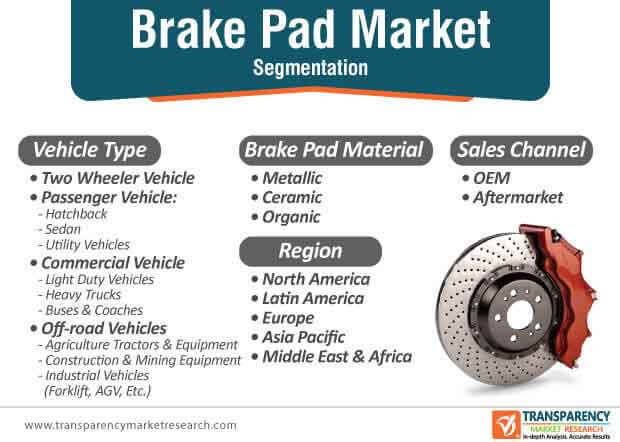 Request a sample to get extensive insights into the Brake Pad Market
Which is Better: Organic, Ceramic or Metallic Brake Pads?
The brake pad market is predicted to reach the valuation of US$ 5.6 Bn by 2030. Organic brake pads are found to produce less dust than metallic ones. However, heat-absorbing materials in organic brake pads lead to increased wear and tear of the brake pads. Low noise levels of ceramic brake pads are being highly publicized. However, high manufacturing costs of these brake pads are affecting market growth. Metallic brake pads deliver high performance in driving applications. However, they tend to create stress on the braking system. Such pros and cons help to balance out brake pad choices in the auto manufacturing sector, as per purchase decisions and budget of car owners.
To understand how our report can bring difference to your business strategy, Ask for a brochure
Heavy-duty Grade Brake Pads Gain Prominence in Off-road Vehicles
In order to gain a competitive edge in the brake pad market, manufacturers are engineering and testing brake pad materials to suit the driver's needs. Companies are increasing their output capacities in premium and heavy-duty grade brake pads to cater to niche requirements of OEMs manufacturing off-road vehicles such as tractors and mining vehicles. Friction materials and formulas are becoming deciding factors for innovations in brake pads.
Copper-free Friction Materials Capable of Minimizing Vehicle Emissions in Urban Areas
Companies in the brake pad market are becoming aware about vehicle emissions caused due to wearing out of disc brakes. Thus, manufacturers are increasing their R&D muscle to eliminate copper from brake pads to lower vehicle emissions. They are experimenting with copper-free friction materials to minimize vehicle emissions released in urban areas. This is found to benefit human and environment conditions. Apart from this, manufacturers are taking into consideration matched sets of rotors and brake pads to deliver durable and consistent performance in vehicles.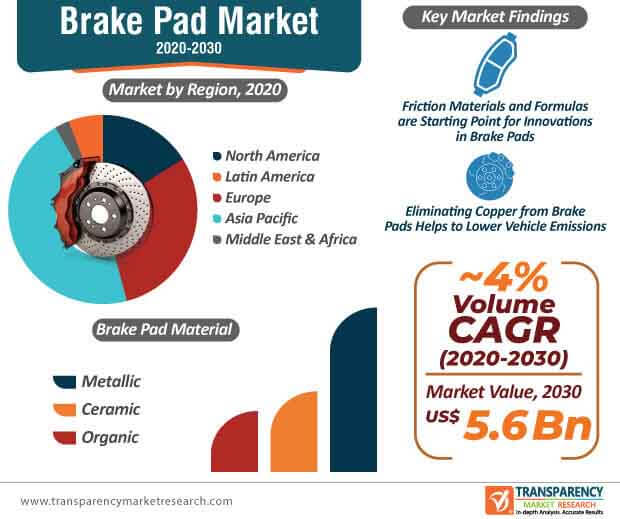 Stuck in a neck-to-neck competition with other brands? Request a custom report on Brake Pad Market
Analysts' Viewpoint
Companies in the brake pad market are taking steps to improve their supply chain visibility and lines of communication to advance in remediation plans amid the ongoing COVID-19 crisis. Manufacturers are boosting their output capacities in high quality ceramic and semi metallic blends in brake pads to offer superior performance in vehicles. The market is projected to register a modest CAGR of ~4% during the assessment period, as the unorganized sector of the market is producing nameless and substandard brake pads at cheap rates. Hence, manufacturers should run marketing campaigns about branded and ISO certified brake pads to create awareness about the safety and performance of vehicles with high quality brake pads.
Brake Pad Market: Overview
The global brake pad market is anticipated to expand at a CAGR of ~4% during the forecast period, owing to robust expansion witnessed by the automotive industry across the globe. Various initiatives by governments, such as that of India, Saudi Arabia, and several other countries to expand the automotive sector have heightened the demand for spare parts of vehicles, thus fueling the brake pad market.
The ownership of vehicles is anticipated to reduce over the next few years due to changing mobility trend coupled with growing popularity of shared mobility or mobility as a service concepts, thus hampering the demand for brake pads
Drivers of Brake Pad Market
Rise in GDP of the global population has inflated its disposable income, which, in turn, has driven the sales of vehicles. This rise in sales of vehicles around the globe has boosted the brake pad market.
Increase in awareness about safety among vehicle consumers as well as government authorities has prompted the integration of various technologies, such as ABS and EBD, as a standard feature in most new vehicles. These technologies accelerate the wear of brake pads, thus propelling the global brake pad market.
Growing industrialization across continents has fueled trade activities, thus increasing the miles driven by commercial transport vehicles. The rise in miles driven by transport vehicles results in high wear of brake pads and hence, boosts the brake pad market across the globe.
Challenges for Brake Pad Market
The recent outbreak of COVID-19 pandemic hampered majority of businesses across the globe, owing to forced shutdown of production and manufacturing activities. This caused the global economy to contract to its lowest growth rate. Disruption in supply chains of the automotive sector hampered the production of vehicles. Moreover, the demand for new vehicles has reduced, as people are restraining themselves from spending money on non-essential products and services.
Rise in popularity of electric vehicles equipped with regenerative braking systems reduce the usage of friction brakes, thus decreasing the wear of brake pads and subsequently lowering demand in the aftermarket
Segmentation of Brake Pad Market
The global brake pad market has been segmented based on brake pad material, sales channel, vehicle type, and region
Based on brake pad material, the organic segment is anticipated to gain high market share. Brake pad manufacturers have developed non-asbestos organic brake pads that contain high amount of reinforcement fibers as compared to that in fully organic brake pads, which increases the strength of brake pads. These developments in organic brake pad materials are expected to propel its share in global brake pad market.
Based on vehicle type, the passenger vehicle segment held a significant share of the global brake pad market. Disc brakes are becoming a standard feature in most passenger vehicles available around the globe and the number of brake pads required per vehicle is increasing, thus contributing toward the higher share of the passenger vehicle segment of the brake pad market.
Brake Pad Market: Regional Analysis
Based on region, the global brake pad market has been segregated into North America, Asia Pacific, Europe, Latin America, and Middle East & Africa
Asia Pacific and Europe are projected to be highly lucrative markets during the forecast period. Countries in Asia Pacific such as China, India, Japan, and South Korea contribute for more than 40% of the total automobile production worldwide, thus creating high demand for brake pads. Presence of major automakers in Europe is contributing toward the notable share held by the region in the global brake pad market.
Brake Pad Market: Competition Landscape
Key players operating in the global brake pad market include

AISIN SEIKI Co., Ltd.
ACDelco
Akebono Brake Corporation
ASIMCO
ASK Automotive Pvt. Ltd.
Brake Parts Inc. LLC
Brembo S.p.A.
EBC Brakes
Japan Brake Industrial Co., Ltd.
MACAS AUTOMOTIVE
Masu Brake
Nisshinbo Brake Inc.
Robert Bosch GmbH
Super Circle Auto Limited
Tenneco
TMD FRICTION HOLDINGS GMBH
Toughla Brakelinings
ZF Friedrichshafen AG
AVS BRAKE LININGS Private Limited
BSK Auto Industries

Key players operating at the global level are expanding their presence by engaging in mergers and acquisitions with several players in the industry. In October 2018, Tenneco Inc. completed the acquisition of Federal-Mogul LLC, a major supplier of brake pads and linings to automakers and aftermarket players. Similarly, other market players, including AISIN SEIKI Co., Ltd. and Brake Parts Inc. LLC. have also recently undertaken merger & acquisition activities to expand their global presence.
Brake Pad Market – Scope of the Report
Transparency Market Research's recent report on the brake pad market, with the help of a comprehensive outlook provides readers with an assessment of the global market landscape. This study on the brake pad market analyzes the scenario for the period of 2020 to 2030, wherein, 2019 is the base year and 2018 and before is historical data. This report enables readers to make important decisions with regard to their business, with the help of a wealth of information enclosed in the study.
This TMR study on the brake pad market also provides data on the developments made by important players and stakeholders in the market, along with a competitive analysis. The report also provides an understanding of the strengths, weaknesses, threats, and opportunities, along with the trends and restraints in the landscape. Presented in a clear sanctioned manner, this report on the brake pad market gives readers an individual understanding of the market.
Key Questions Answered in This Report on Brake Pad Market
How much value will the brake pad market generate by the end of the forecast period?
Which segment of the market is likely to have the maximum market share by 2030?
What are the impact factors and their effects on the market for brake pad market?
What regions currently contribute the maximum share to the overall brake pad market?
What are the indicators expected to drive the brake pad market?
What region is likely to be a lucrative market during the forecast period?
What are the essential strategies by key stakeholders in the brake pad market to expand their geographic presence?
What are the major advancements witnessed in the brake pad market?
How regulatory norms affected the market for brake pad market?
This report answers these questions and more about the brake pad market, aiding major stakeholders and key players in making the right decisions and strategizing for the advancement of their business.
Brake Pad Market – Research Methodology
This TMR report on the brake pad market is based on a complete and comprehensive evaluation of the market, backed by secondary and primary sources. Market volume is determined by country wise model mapping of vehicle through internal & external proprietary databases, and relevant patent and regulatory databases. The competitive scenario of the brake pad market is supported by an assessment of the different factors that influence the market on a minute and granular level. By thoroughly analyzing the historical data, current trends and announcement by key players, researchers of the brake pad market arrive at predictions and estimations, and calculate the forecast for the market.
This report uses an analytical triangulation method to estimate the numbers and figures of the brake pad market, with both a bottom-up and top-down approach.
This detailed assessment of the brake pad market, along with an overview of the landscape, is provided based on a careful examination of the avenues related to this industry. Analysts' conclusions on how the brake pad market is estimated to expand are based on carefully vetted primary and secondary sources.
Brake Pad Market – Segmentation
This report on the brake pad market provides information on the basis of brake pad material, vehicle type, sales channel, and region.
Brake Pad Material

Vehicle Type

Two Wheeler Vehicle
Passenger Vehicle

Hatchback
Sedan
Utility Vehicles

Commercial Vehicle

Light Duty Vehicles
Heavy Trucks
Buses & Coaches

Off-road Vehicle

Agriculture Tractors & Equipment
Construction & Mining Equipment
Industrial Vehicles (Forklift, AGV, etc.)

Sales Channel
Region

North America
Latin America
Europe
Asia Pacific
Middle East & Africa
This study also discusses the underlying trends and impact of various factors that are driving the brake pad market, along with their influence on the evolution of the market.
This study also offers Porter's Five Point Analysis, value chain analysis, regulatory scenario, and a SWOT analysis of the brake pad market, in order to elaborate the crucial growth tactics and opportunities for market players contributing to the market.
Custom Market Research Services
TMR offers custom market research services that help clients to get information on their business scenario required where syndicated solutions are not enough.
REQUEST CUSTOMIZATION