Bovine Colostrum Market
Bovine Colostrum Market (Nature: Organic and Conventional; Form: Liquid, Powder, Capsule, and Tablet; End Use: Dietary Supplements, Sports Nutrition, Functional Food, Animal Nutrition, Cosmetics, Infant Formula, and Pharmaceuticals; and Sales Channel: Direct/B2B, Hypermarkets/Supermarkets, Convenience Stores, Specialty Stores, Drug Stores, Health & Wellness Stores, Other Retailing Format, and Online Retailing) - Global Industry Analysis, Size, Share, Growth, Trends, and Forecast, 2019 - 2027
Category :

Food & Beverages

Format :
FDA-approved GRAS Regulatory Designation Bolster Credibility of Manufacturers
Due to growing awareness about the advantages of bovine colostrum, companies in the market landscape are strategizing ways to capitalize on this trend. For instance, PanTheryx— a U.S.-based pharmaceutical company, announced that the company's bovine colostrum products have received GRAS (Generally Recognized as Safe), a U.S.-specific FDA regulatory designation for ingredients in foods and beverages. Such developments are triggering the expansion of the bovine colostrum market, which is estimated to reach a revenue of ~US$ 4.3 Bn by the end of 2027.
The bovine colostrum market is continuously growing since consumers are becoming aware about the novel milk's immunity boosting attributes that deliver important health benefits. Hence, manufacturers are introducing the milk in functional foods, beverages, and nutrition bars, among others. This is evident since the functional food end use segment is estimated to lead the global market. Companies are increasing their production capacities to introduce bovine colostrum in yogurts and dietary supplements.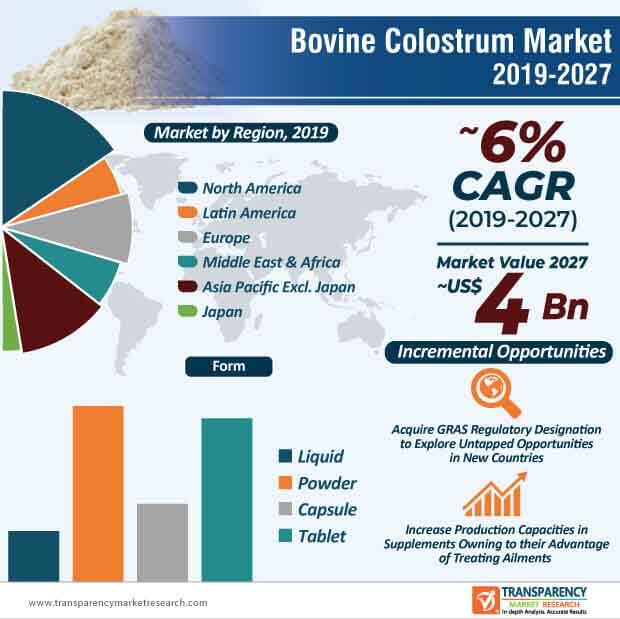 Request a sample to get extensive insights into the Bovine Colostrum Market?
Dietary Supplements and Infant Formula Supplementation Offer Incremental Opportunities
Bovine colostrum supplements are being highly publicized for the treatment of ailments and common diseases. Hence, companies in the market landscape are increasing their production capacities to produce dietary supplements. This explains why the dietary supplements end use segment is estimated to generate third-highest revenue in the bovine colostrum market. Hence, companies are increasing their research efforts to introduce sufficient amount of immunoglobulins in dietary supplements that are beneficial for improving the human digestive tract.
Apart from dietary supplements, companies in the bovine colostrum market are tapping opportunities in infant formula. Manufacturers are increasing efforts to boost the availability of bovine colostrum for extremely preterm infants in case material milk is insufficient. Healthcare providers are suggesting bovine colostrum supplementation in order to increase enteral protein intake in preterm infants without any apparent clinical adverse effects.
To understand how our report can bring difference to your business strategy, Ask for a brochure
Human versus Bovine Colostrum: Which is better?
The bovine colostrum market is anticipated to progress at a CAGR of ~6.4% during the forecast period. This indicates that companies in the market for bovine colostrum are expanding their business in sports and animal nutrition to generate new revenue streams.
Human colostrum plays a pivotal role in brain development of infants and extremely preterm infants. Human colostrum has the highest concentration of lactose, which is crucial for an infant's brain development. On the other hand, human colostrum also helps to repair intestinal permeability aka "leaky gut" in infants. However, in many cases, human colostrum is not sufficient to support the physiological growth of infants. In such cases, bovine colostrum plays an important role in brain development and fluid regulation of infants.
Though bovine colostrum is being introduced in dietary supplements, it is being argued that bovine colostrum is more beneficial for newborn calves, as compared to humans, especially adults. Hence, manufacturers in the bovine colostrum market are targeting bovine colostrum products in necessary applications to support the well-being of preterm infants.
Strategic Alliances Help Improve Public Health in Emerging Economies
Companies in the bovine colostrum market are entering into strategic alliances to innovate in bovine colostrum-based therapies. Renowned U.S. biotechnology companies are setting their collaboration wheels in motion by entering into multimillion-dollar agreements with nutritional dairy companies. For instance, APS Bio Group-a supplier of dietary nutraceuticals and vitamins, has joined forces with VitaDairy, a Vietnamese nutritional dairy company to become the exclusive producer and supplier of bovine colostrum ingredients for the dairy company.
The concept of proprietary colostrum has amplified competition in the bovine colostrum market. Integration of bovine colostrum in dairy goods is not only helping to boost the health of mothers and children, but also promote public health. Manufacturers are aiming to improve the health of consumers in emerging economies. This is evident since this market in Asia Pacific excluding Japan is estimated to generate the highest revenue.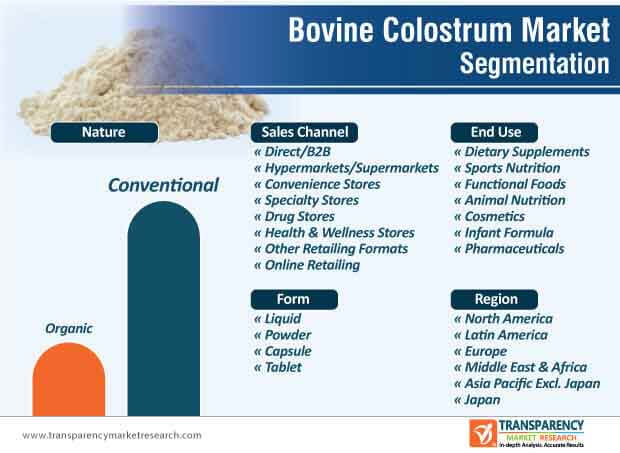 Stuck in a neck-to-neck competition with other brands? Request a custom report on Bovine Colostrum Market
Analysts' Viewpoint
Immune-boosting properties of bovine colostrum are increasingly catching the attention of consumers in the market landscape. Integration of bovine colostrum in dairy products is one of the most prominent trends in the bovine colostrum market.

Apart from dairy goods, bovine colostrum is acquiring popularity for the development of dietary supplements. However, the use of bovine colostrum in products is raising ethical issues in some regions of the world such as in Brazil, as the novel milk is crucial for the development of newborn calves. Hence, manufacturers should target their products in emerging economies such as Asia Pacific excluding Japan where stakeholders are aiming to better the health of consumers.
Bovine Colostrum Market: Overview
The global bovine colostrum market's value stood at ~US$ 2.6 Bn in 2019, finds Transparency Market Research (TMR) in a recent study. According to the report, the market is projected to reach ~US$ 4.3 Bn by 2027, at a CAGR of ~6.4%.
Increasing demand for functional food is driving the global bovine colostrum market. Colostrum-based functional foods promote growth of beneficial bacteria in the human body. With awareness about health benefits of colostrum spreading, its applications are increasing in functional foods and beverages. Functional foods with colostrum offer benefits such as they promote growth and are rich in proteins, carbohydrates, lipids, and immunoglobulin.
Increasing use of colostrum as an ingredient in animal nutraceutical products ensures protection from a wide range of infections caused by bacteria, viruses, and parasites present in the environment. The colostrum immunoglobulin binds and make the pathogens inactive, thus protecting animals from contracting infections.
Bovine Colostrum: Market Frontrunners
Powder and tablet, by form type, are dominant segments in 2019 accounting for the approximately 66.4% of the market. The other segment (liquid and capsule) accounts for ~14.8% and 18.7% of the market in terms of value.
Functional food is a key segment of the global bovine colostrum market, in terms of end use. It is followed by sports nutrition and pharmaceuticals. These segments account for 20.9%, and 10.0% of the market, respectively, based on the value in 2019.
Direct/B2B sales channel holds approximately ~33.6% of total bovine colostrum market as compared to hypermarkets/supermarkets, convenience stores, specialty stores, drug stores, health & wellness stores, online retailing, and other retailing formats in value terms.
Asia Pacific excluding Japan leads the global market followed by North America and Europe. Based on nature, the conventional segment holds around 87% of the total market, whereas the organic segment accounts for the remaining market share.
Bovine Colostrum Market: Trends
Demand for Sports Nutrition Propels Market Growth

The demand for bovine colostrum is increasing for use in sports nutrition products, as it prevents from upper respiratory and intestinal injury. Hence, athletes and fitness enthusiasts are including bovine colostrum in their diet. Use of colostrum-based products boosts an athlete's immunity during extreme physical workout and training and helps in reduction of stress. Such beneficial properties have made bovine colostrum a highly preferred ingredient in sports nutrition. Moreover, it is an important supplement for sportspersons. The rising demand for bovine colostrum, therefore, can be attributable to impressive health benefits of colostrum.
The demand for bovine colostrum-based infant formula is rising in developed as well as developing countries, due to high nutritional value of bovine colostrum as compared to human colostrum. Colostrum is easily digestible by infants, which is encouraging more colostrum manufacturers to produce colostrum-based infant formulations. Colostrum helps in protecting an infant's gastrointestinal tract by preventing pathogens from penetrating the gut. It contains higher amounts of IgG immunoglobulin, which helps in strengthening the infant's immune system.
Bovine Colostrum Market: Strategies
Key manufacturers in the global bovine colostrum market are introducing various products online. They are also offering attractive discounts on their listed products to boost online sales.
Product Innovation and Launches: Key players are offering free-from products such as hormones-free, antibiotics-free, and GMO-free

For instance, in 2018, Biochem Additives located in Germany launched a new product in its offerings-B.I.O.Ig Energy 15% Bovine Colostrum Powders. This product has 15% has much higher fat content as compared to the existing B.I.O.Ig products. The product has been formulated to feed newborn animals to boost their passive immunity and promotes the intestinal immunity of young animals.
Target Region for Bovine Colostrum Market
In terms of value, in 2019, countries in North America had the leading share of the market and are expected to remain strong. Asia Pacific excluding Japan is expected to retain the second position in the market during the forecast period.
Bovine Colostrum Market: Players
Some of the key players operating in the market, as profiled in the study, are

NOW Health Group, Inc.
APS Biogroup
Sovereign Laboratories
Genceutic Naturals
Biostrum Nutritech Pvt. Ltd.
Vivesa holding s.r.o.
Cure Nutraceutical PVT. LTD.
iodane Pharma A/S
Agati Healthcare Pvt Ltd
PuraLife, LLC.
Bionatin Bv
Farbest Brands
MIP Colostrum NZ
BIN Science LLC.
Jarrow Formulas Inc.,
Bovine Colostrum Market - Scope of the Report
Transparency Market Research (TMR) has recently published a market study on the bovine colostrum market. It provides a detailed assessment of key market dynamics, including drivers, trends, opportunities & restraints, and detailed information about the bovine colostrum market structure. The market study presents exclusive information about how the bovine colostrum market will grow during the forecast period of 2019-2027.
Key indicators of market growth, which include year-on-year (Y-o-Y) growth of the market, value chain, supply chain analysis, and compounded annual growth rate (CAGR) are elaborated in the study in a comprehensive manner. This information is intended to help readers understand the quantitative growth prospects of the bovine colostrum market during the forecast period.
The study is intended to offer a holistic market overview to stakeholders in the bovine colostrum, including manufacturers, suppliers, distributors, and investors, and to help them develop winning growth strategies. Stakeholders in the bovine colostrum market, which include investors, industry experts, researchers, and journalists, and business researchers, can leverage the information and data presented in TMR's study.
The study also includes statistics and facts related to the macro as well as microeconomic factors that are impacting the expansion of the market. It also offers actionable insights into the future trends in the bovine colostrum market. Furthermore, small businesses and new entrants in the bovine colostrum market can make use of the information presented in this study, based on which, they can make appropriate business decisions in order to gain momentum in the market.
Key Questions Answered in TMR's Bovine Colostrum Market Report
Which region will continue to remain the most profitable regional market for bovine colostrum market players?
Which factors will induce a change in the demand for bovine colostrum during the assessment period?
How will the changing trends impact the bovine colostrum market?
How can market players capitalize on the low-hanging opportunities in the bovine colostrum market in developed regions?
Which companies are leading the bovine colostrum market?
What are the winning strategies of stakeholders in the bovine colostrum market to catapult their position in the forefront?
Bovine Colostrum Market - Research Methodology
In TMR's study, a unique research methodology is used to conduct extensive research on the growth of the bovine colostrum market and identify future growth parameters. This research methodology is a combination of primary and secondary research, to help analysts ensure the accuracy and reliability of the conclusions.
Secondary resources referred to by analysts for compiling the bovine colostrum market study include statistics from governmental organizations, trade journals, white papers, and internal and external proprietary databases. Analysts have interviewed senior managers, product portfolio managers, CEOs, VPs, marketing/product managers, and market intelligence managers, who contributed to the development of this report as a primary resource.
Information acquired from primary resources and secondary resources is compiled in a comprehensive manner. This also acts as a validation from companies in the bovine colostrum market, which makes TMR's projections more accurate and reliable.
Bovine Colostrum Market – Segmentation
TMR's study on the bovine colostrum market offers information divided into important segments - nature, form, end use, sales channel, and region. This report offers comprehensive data and information about the important market dynamics and growth parameters associated with these categories.
Nature

Form

Liquid
Powder
Capsule
Tablet

End Use

Dietary Supplements
Sports Nutrition
Functional Food
Animal Nutrition
Cosmetics
Infant Formula
Pharmaceuticals

Sales Channel

Direct/B2B
Hypermarkets/Supermarkets
Convenience Stores
Specialty Stores
Drug Stores
Health & Wellness Stores
Other Retailing Format
Online Retailing

Region

North America
Latin America
Europe
Middle East & Africa
Asia Pacific Excl. Japan
Japan
Custom Market Research Services
TMR offers custom market research services that help clients to get information on their business scenario required where syndicated solutions are not enough.
REQUEST CUSTOMIZATION