Biogas Plant Market
Biogas Plant Market (Feedstock Type: Agricultural Waste, Energy Crops, Sewage Sludge, Industrial Waste, Food & Beverages Processing Residue, and Food & Beverages Waste) - Global Industry Analysis, Size, Share, Growth, Trends, and Forecast, 2019 - 2027
Category :

Energy & Natural Resources

Format :
Global Biogas Plant Market: Snapshot
The global biogas plant market is expected to be driven over the coming years, by an incrementally strengthening support shown by government and private bodies to biogas plant owners in terms of financial incentives and the favorable nature of regulations being set up. The market is also being driven by sheer positive air surrounding the establishment of successful biogas plants in terms of reducing the volume of disposed waste into landfills and thus becoming a strong eco-friendly alternative fuel source. However, the current rate of growth is being stifled by the lack of implementation of processes and equipment to create a feasible waste segregation system. This is restricting the overall supply of feedstock to biogas plants, deterring several new entrants from emerging into the competitive landscape.
The global biogas plant market stood at a total of 67,690 plants in 2018. The market is expected to remain reasonably positive within a forecast period from 2019 to 2027 with a CAGR of 6.3%. By the end of 2027, this market's volume is expected to reach 110,354 biogas plants, which means that over 40,000 are easily expected to be unveiled within the forecast period.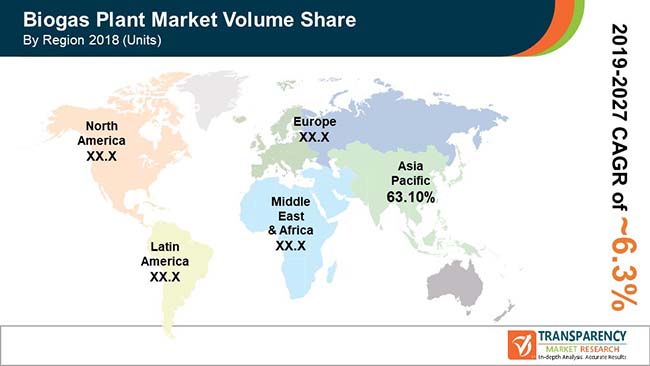 Request a sample to get extensive insights into the Biogas Plant Market
F&B and Agriculture Stay Strong Feedstock Providers to Biogas Plants
The global biogas plant market is segmented on the basis of feedstock, into agricultural waste, energy crops, sewage sludge, industrial waste, food and beverages processing residue, and food and beverages waste. Agricultural waste includes the organic waste matter generated in the agricultural industry. At the same time, there is also a growing scope of using energy crops; herbaceous plants that are grown specifically for producing bioenergy. Sewage sludge is the semi-solid residue in a wastewater treatment process. Waste and effluents generated from the leather industry, biofuels industry, and a few others can also be utilized as feedstock in biogas plants.
Food and beverages and agricultural waste dominated the global biogas plant market in 2018. Biogas plants need a regular supply of high-yield feedstock to generate sufficient volumes of biogas to make their operations profitable. The above two feedstock sources have so far provided consistent and large volumes of feedstock to the global biogas plant market, making them much more preferred than any other feedstock source.
To understand how our report can bring difference to your business strategy, Ask for a brochure
Asia Pacific Expected to Remain Dominant User of Biogas
Asia Pacific led the global biogas plant market in terms of biogas plant volume generation as well as consumption in 2018. This region's biogas market is projected to expand at a CAGR of 7.3% from 2019 to 2027. China, India, Japan, and Australia have so far been the leading nations in terms of generation of biogas in the Asia Pacific biogas plant market. Like the developed economies, the biogas plant market in APAC has also been led by agricultural waste and the F&B processing residue, and sewage sludge as core feedstock. The rate of investments are also rising greatly in this region for waste management processes. These factors, coupled with increasing pressure created by energy imports have compelled various APAC countries to focus on alternatives to fossil fuels, including ramping up the generation of biogas.
The key players in the global biogas plant market are present across all parts of the value chain. Some of the players that have led the global biogas plant market till 2018, include Wärtsilä, Air Liquide, EnviTec Biogas AG, Scandinavian Biogas, Swedish Biogas International,
Ameresco, Inc.
Agrinz Technologies GmbH
PlanET Biogas Global GmbH
SP Renewable Energy Sources Pvt. Ltd.
Beijing Sanyi Green Energy Development Co., Ltd.
Quadrogen
IES BIOGAS srl.
Biofuel USA Corporation
CH4 Biogas,
Biofrigas Sweden AB
Stuck in a neck-to-neck competition with other brands? Request a custom report on Biogas Plant Market
Expansions, Acquisitions, and New Contracts in Global Biogas Plant Market
In October 2018, India planned to start 5,000 compressed biogas plants over the next four years to curb oil imports and improve farm incomes.
In September 2018, EnviTec Biogas AG signed a cooperation agreement with a Chin-based partner company to further develop the emerging biogas industry in China. EnviTec Biogas is building a biogas plant in the province of Shanxi, China. The 1,570 m3 biogas plant is being built nearly 500 km southwest of Beijing, is the fifth successful construction project by the company in China.
In December 2017, the first biogas plant under a framework agreement between the government of Belarus and the EBRD in the municipal and environmental infrastructure sector has started operation in Baranovichi, a city in western Belarus with a population of more than 170,000 people.
In February 2017, EnviTec Biogas AG announced the signing of a co-operation agreement with PT Herfinta Farm & Plantation (Indonesia) and Calfield SDN BHD (Malaysia) for the construction of a biogas plant in North Sumatra, Indonesia. The plant is projected to contribute a total of 4 MW to the green energy transition in Indonesia.
Biogas Plant Market – Scope of Report
A latest study collated and published by Transparency Market Research (TMR) analyzes the historical and current scenario of the biogas plant market to accurately gauge its future growth. The study presents detailed information about important growth factors, restraints, and key trends that are creating a landscape for future growth of the biogas plant market. The report also provides insightful information about how the biogas plant market is expected to expand during the forecast period that is from 2019 to 2027.
The report offers intricate dynamics about different aspects of the biogas plant market, which aid companies operating in the market in making strategic decisions. TMR's study also elaborates on significant changes that are highly anticipated to configure the growth of the biogas plant market during the forecast period. It also includes key indicator assessment that highlights growth prospects for the biogas plant market and estimates statistics related to the market growth, in terms of volume (Units).
This study covers detailed segmentation of the biogas plant market along with key information and a competition outlook. The report provides company profiles of key players that are currently dominating the biogas plant market, wherein various developments, expansions, and winning strategies practiced and implemented by leading players have been presented in detail.
Key Questions Answered in TMR's Report on Biogas Plant Market
The report provides detailed information about the biogas plant market on the basis of comprehensive research on various factors that are playing a key role in promoting growth of the market. Information mentioned in the report answers path-breaking questions for companies that are currently operating in the market and are finding innovative methods to create a unique benchmark in the biogas plant market. This helps them in designing strategies and making target-driven decisions.
Which feedstock type segment would emerge as a revenue generator for the biogas plant market during the forecast period?
How are key market players successfully earning revenues in the competitive biogas plant market?
What would be the Y-o-Y growth trend of the biogas plant market between 2019 and 2027?
What are the winning imperatives of leading players operating in the biogas plant market?
Which regions are expected to provide growth opportunities to players operating in the biogas plant market during the forecast period?
Research Methodology – Biogas Plant Market
The research methodology adopted by analysts for compiling the report on the biogas plant market is based on detailed primary as well as secondary research. With the help of in-depth insights of market-affiliated information obtained and legitimated by market-admissible resources, analysts have offered riveting observations and authentic forecasts for the biogas plant market.
During the primary research phase, analysts have interviewed market stakeholders, investors, brand managers, vice presidents, and sales & marketing managers. On the basis of the data obtained through interviews, analysts have emphasized the changing scenario of the biogas plant market.
For secondary research, analysts have scrutinized numerous annual reports, publications, white papers, market association publications, and company websites to obtain the necessary understanding of the biogas plant market.
Biogas Plant Market – Segmentation
TMR's research study assesses the biogas plant market in terms of feedstock type and region. This report presents extensive market dynamics and trends associated with different segments and how they are influencing the growth prospects for the biogas plant market.
Feedstock Type

Agricultural Waste

Energy Crops

Sewage Sludge

Industrial Waste

Food & Beverages Processing Residue

Food & Beverages Waste

Region

North America

Europe

Asia Pacific

Latin America

Middle East & Africa
Custom Market Research Services
TMR offers custom market research services that help clients to get information on their business scenario required where syndicated solutions are not enough.
REQUEST CUSTOMIZATION