Succinic acid has prevailed as a precursor of several imperative industrial chemicals that are utilized in large volumes. Succinic acid is used as an intermediate in majority of the chemical processes, and find extensive utilization in various production processes. Bio-based succinic acid is an animal- and plant-derived substitute for succinic acid, which is petroleum based, which witnessed huge demand for applications such as plasticizers, polymers, coatings, solvents, and esters.
Bio-based Succinic Acid becoming A Key Building Block for Derivative Production of Commodity & High-value Chemicals
The United States Department of Energy (USDOE) has positioned succinic acid, derived from petroleum, among the top 12 chemical building blocks. However, use of petroleum-based succinic acid witnessed hindrances on the back of its carbon footprints and price volatility, which in turn led to the development of bio-based succinic acid. Bio-based succinic acid is on the verge of becoming an indispensable platform chemical, implying a key building block for derivative production of both high-value and commodity chemicals. This has made bio-succinic acid to be an attractive compound in bio-based economies. Increasing worldwide demand for green chemicals has triggered adoption of bio-based succinic acid in various applications, particularly in production of bioplastics, making it a financially rewarding platform chemical.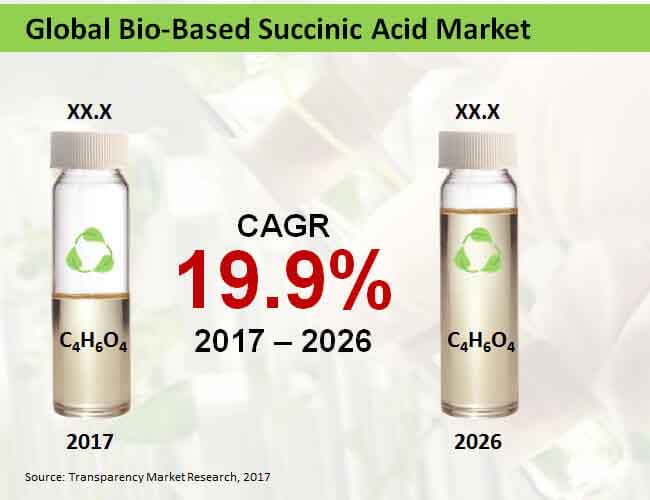 Growing need for replacing butane-based maleic anhydride, and making improvements in bio-refining processes has further created opportunities for use of bio-based succinic acid. Primarily, bio-succinic acid is being extensively used in production of cosmetic, food and pharmaceutical products, along with the preparation of de-icer solutions. In addition, newer applications including polyesters polyols, and 1,4 Butanediol (BDO) are likely to proliferate demand for bio-based succinic acid in the foreseeable future. Although bio-based succinic acid is gaining rapid momentum globally, obstacles such as its capital intensiveness, huge competition among regional vendors, and increasing raw material prices will impede adoption of bio-based succinic acid.
A new report by Transparency Market Research (TMR) projects the global bio-based succinic acid market to increase at a splendid CAGR through the forecast period (2017-2026). Revenues from sales of bio-based succinic acid across the globe are estimated to gauged to surpass US$ 900 Mn by 2026-end.
North America to Become Largest Market for Bio-based Succinic Acid by 2026-End
In North America, factors such as volatility in prices of C4 petroleum-based feedstock have driven development of bio-based chemicals such as bio-based succinic acid. Several industries in the region have commenced commercializing the production of bio-based succinic acid via fermentation of sugars. Numerous large-scale production facilities of bio-based succinic acid have been erected in the region, which in turn are proliferating their demand and supply among end-users. North America is anticipated to become the largest market for bio-based succinic acid by 2026-end.
Combining 1,4 Butanediol with bio-based succinic acid has created innovative application for green biopolymers. For example – adoption of polybutylene succinate in disposable cutlery and biodegradable packaging films. Bio-succinic acid is being largely used as an alternative to maleic anhydride for production of 1,4 Butanediol. 1,4 Butanediol is expected to remain the largest application of bio-based succinic acid. However, sales of bio-based succinic acid will register the fastest expansion for application in solvents & coatings.
Chemical Industry to Remain Largest End-User of Bio-based Succinic Acid
Chemical industry will remain the most lucrative end-user of bio-based succinic acid. New applications are being continuously sought for using bio-based succinic acid in the chemical sector. Adoption of bio-based succinic acid in the chemical industry will witness a tremendous surge owing to soaring requirements for sustainable solutions, and increasing focus on development of products with improved environmental footprints.
Based on process type, ammonium sulphate process will remain preferred for production of bio-based succinic acid, followed by direct crystallization process. However, revenues from the latter will increase at a relatively higher CAGR than that from the former through 2026.
Competition Tracking
Companies producing bio-based succinic acid have been employing various inorganic as well as organic expansion strategies, in a bid to reinforce their presence in the global market. TMR's report has outlined key proactive players supporting the market growth, which include Roquette Frères S.A., Corbion N.V, Koninklijke DSM N.V, Myriant Corporation, BioAmber Inc., and BASF SE. These market players are continuously pressing on product portfolio extension, positioning their R&D centers strategically, adoption of new development strategies, and advancements in technology for gaining a competitive edge.
Transparency Market Research (TMR) has recently published a comprehensive report, which delivers precision analysis and insightful forecasts on the global bio-based succinic acid market. The report studies the global bio-based succinic acid market in detail, enveloping key market dynamics exhaustively. Along with providing information restraining factors, propelling factors, and trends that affect the market expansion, the report also delivers analysis on data across different parameters to reach at significant market numbers for bio-based succinic acid.
Report Structure
The report's first chapter provides the executive summary of global bio-based succinic acid market. A précis of bio-based succinic acid market at a global level has been delivered in the report, coupled with relevant market numbers including the historical (2012-2016) and the forecast (2017-2026) compound annual growth rate (CAGR). Based on sales expansion and revenues reaped from bio-based succinic acid sales, the report offers information about remunerative regions for growth of the bio-based succinic acid market.
A chapter on the global bio-based succinic acid market's overview follows the executive summary. This chapter incorporates a formal definition of "bio-based succinic acid", which follows its market's introduction. The overview of the market depicts a clear picture of the global bio-based succinic acid market's broad scope to readers of the report. The chapters following the overview elucidate important dynamics impacting the global bio-based succinic acid market, engulfing key nodes such as the bottom line of enterprises, the fiscal stimulus, and the global economy. The report's succeeding chapters include information associated with the market's cost structure and pricing analysis.
Market Taxonomy
The report further examines the global market for bio-based succinic acid on the basis of a segmentation analysis. In this chapter, the market has been divided by the report in terms of four key segments viz. process type, end-user, application, and region. Market share comparison, along with Y-o-Y and revenue growth comparison of the market segments have been included in the report, for providing the most significant numbers corresponding to the segmentation analysis. Global bio-based succinic acid market has been categorized by the report into six key regions viz. Latin America, Japan, North America, Europe, Middle East & Africa (MEA), and Asia-Pacific excluding Japan (APEJ).
| | | | |
| --- | --- | --- | --- |
| Region | Process Type | End User | Application |
| North America | Ammonium Sulphate Process | Chemical Industry | 1,4-Butanediol |
| Latin America | Direct Crystallization Process | Food | Polybutylene Succinate |
| Europe | Electrodialysis Process | Pharmaceutical | Plasticizers |
| Japan | | Personal Care | Polyester Polyols |
| APEJ | | Agriculture | polymer and Esters |
| MEA | | Other End Users | Solvents & Coatings |
| | | | Other Applications |
Competition Landscape
The report offers a scrupulous analysis on the competitive landscape of global bio-based succinic acid market, which incorporates information about prominent industries that are performing well in the global bio-based succinic acid market. Occupancy of key players in the market has been portrayed by the report with the aid of an intensity map. This culminating chapter of the report emphasizes on profiling key market players rigorously. Insights about the market players has been offered based on the SWOT analysis, which illuminates the strengths, weaknesses, opportunities, and threats impact that specific player. Information on the key developments, product overview, key financials, and company overview of the market players are also contained in this chapter. This chapter is crucial for report readers, as it gives all necessary information pertaining to companies, and their novel strategies for staying at the front edge of market.
Research Methodology
A comprehensive research methodology is adhered to by TMR's analysts while developing market research reports, which help them in delivering precise & accurate forecasts and insights related to the intended product or process. The research methodology employed entirely relies upon primary and secondary researches, for further gaining necessary information on the global bio-based succinic acid market. The information aggregated is then validated by the analysts a couple of times, for ensuring it as an authoritative & authentic source of reference for clients while making their business decisions.