Beauty Facial Mask Market
Beauty Facial Mask Market (Mask Type: Clay Masks, Sheet Masks, Cream Masks, Thermal Masks, Peel-off Masks, Gel Masks, and Others; Ingredient: Organic and Synthetic; Packaging Type: Tube, Jar/Bottle, and Sachet; Brand Type: Mass and Prestige/Prestige; and Distribution Channel: Online and Offline) - Global Industry Analysis, Value, Share, Growth, Trends, and Forecast, 2020 - 2030
Category :

Consumer Goods & Services

Format :
Beauty Facial Mask Companies Capitalize on Growing Internet Traffic amidst COVID-19 Lockdown Period
Since most individuals and employees are practicing home isolation due to the rapidly advancing coronavirus (COVID-19), companies in the beauty facial mask market are experiencing a steady rise in the number of online orders. However, supply chains are affected due to transportation restrictions in certain provinces and states of different countries. As such, several companies are increasing efforts to keep their products in stock, while other companies are unable to process online orders since workplaces are prohibited from any business operations.
On the other hand, online sales are creating a unique set of challenges for companies in the beauty facial mask market. It has been observed that many individuals are dissatisfied with the beauty facial masks and are posting negative online reviews that are tarnishing the credibility of beauty companies. Hence, companies are playing an active role to address negative reviews with prompt replies and round-the-clock delivery of products in case of discrepancies. This trend is positively helping companies who tie up with social media influencers to capitalize on the Internet traffic, which is at its peak during the COVID-19 lockdown period.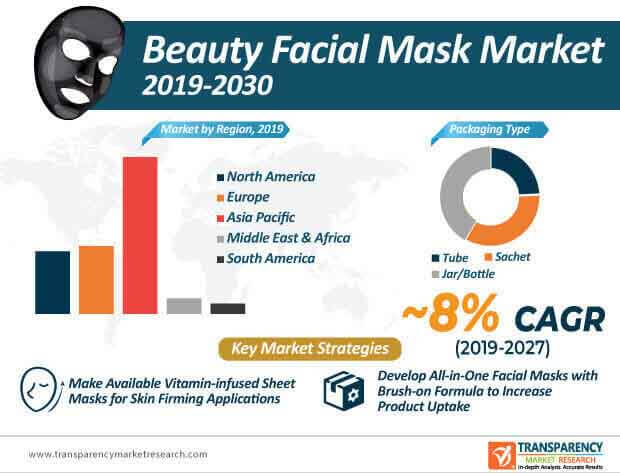 Request a sample to get extensive insights into the Beauty Facial Mask Market
Vitamin-enriched Beauty Facial Masks Boost Product Uptake through Online Sales
All-in-one facial masks are gaining increased preference by users, owing to its brush-on formula. Companies in the beauty facial mask market are innovating in masks that limit breakouts. For instance, Patchology— a specialist in targeted skincare solutions is broadening its online distribution chains by marketing its Patchology SmartMud Masque to help individuals reduce the incidences of breakouts. As such, Korean beauty facial masks are gradually becoming Internet sensation. They are increasing their research spending in developing masks made from mineral-rich volcanic ash sourced from South Korea's Jeju Island to boost product uptake.
To understand how our report can bring difference to your business strategy, Ask for a brochure
Companies are increasing the availability of masks that purify and decongest blemish-prone skin. Such innovations by companies are boosting the revenue of the beauty facial mask market, which is estimated to reach a value of ~US$ 14 Bn by the end of 2030. There is a growing demand for vitamin C-enriched skin brightening masks to fend off the day's pollutants.
Skintellectual Generation Z: Rising Demographic for Companies Innovating in Natural Blends
Companies in the beauty facial mask market are into tapping opportunities to meet specific needs of generation Z users. For instance, Givaudan— a Swiss manufacturer of flavors, fragrances, and active cosmetic ingredients announced the launch of their product, 'Sensory Crush', for specific needs of the skintellectual generation in the form of three different formulas. Companies in the beauty facial mask market are experimenting with natural exfoliating blends such as papaya extracts to capitalize on opportunities in the rising generation Z demographic that associate beauty with confidence and self-expression. This is evident since the revenue of organic ingredients is expected for exponential growth, where the market is estimated to expand at a favorable CAGR of ~8% during the forecast period.
Innovative night blend formulations are grabbing the attention of users. These new blends involve natural and organic ingredients such as yuzu extracts and dragon fruit blends that restore skin's moisture and suppleness.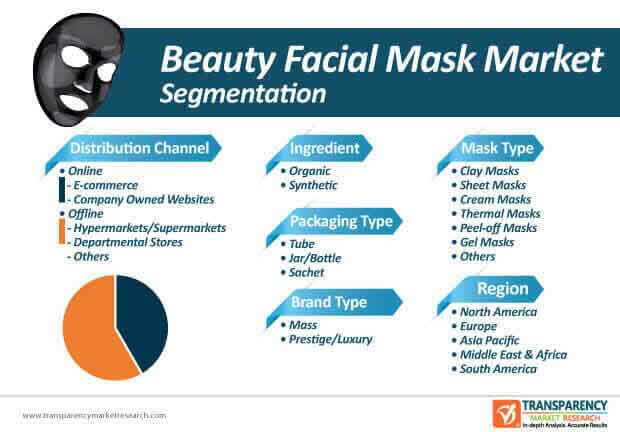 Stuck in a neck-to-neck competition with other brands? Request a custom report on Beauty Facial Mask Market
Analysts' Viewpoint
Companies in the beauty facial mask market are tapping into the needs of individuals who are home quarantined during the COVID-19 pandemic. However, transportation restrictions are affecting supply chains of users, causing delay in order deliveries. Hence, companies should seek special permission from government authorities to keep the supply chain going amidst the COVID-19 lockdown period.

Beauty companies are increasing focus on the specific needs of generation Z that associate beauty with self-expression and naturalness. Hence, companies are developing improved blends with natural fruit extracts, since Gen Z spend a significant amount of money on beauty products whilst associating with sustainability and emotional well-being through products.
Beauty Facial Mask Market: Overview
According to Transparency Market Research's latest report on the global beauty facial mask market for the period 2018–2030 (wherein 2020 to 2030 is the forecast period and 2018 is the base year), the sheet mask segment of the beauty facial mask market is expected to expand at the highest CAGR. This segment is significantly influenced by the growing demand for quick and organic recipes for skin care routine. Besides, availability of sheet masks for numerous skin concerns at relatively lower cost is also contributing to its global demand.
In the report, revenue generated in the global beauty facial mask market is provided in terms of volume (Million Units) and value (US$ Mn) for the forecast period
Rising Influence of Digital Platforms: Key Driver of Beauty Facial Mask Market
Over the years, the convenience of access and low cost delivery has become an increasingly important aspect for beauty brands. Nearly 80% of beauty/skincare consumers are referring to digital platforms throughout their shopping journey, owing to the weighted priority given to convenience over exclusivity. Digital platforms have embraced several convenience aspects such as intuitive website layouts and easy-to-navigate stores, and impromptu product recommendations, which in response have enabled simplified decision making. This ease of decision-making provided by digital platforms is having a substantial impact on the facial mask market.
Furthermore, technological advancements in the facial mask industry has enabled brands to gain a massive consumer base. The Introduction of technologies such as Artificial Intelligence (AI) and 3D printing has aided industry players to provide their customers with new experiences, which in response has significantly improved customer engagement, brand loyalty, and satisfaction.
Significant Growth Registered by Regional Beauty Brands: Key Trend in Beauty Facial Mask Market
South Korean brands, including Tony Moly and Too Cool for School, during recent years, have registered noteworthy global growth, owing to exponential innovations introduced by these brands for quick facial mask solutions. Not only in South Korea, in other countries such as China and India, local brands including Shanghai Jahwa and Godrej have showcased more prominent growth than their global peers.
Usage of Non-biodegradable Packaging of Products: Key Restraint of Global Market
Although marketers encourage the use of organic and natural products, they face major challenges in terms of designing and manufacturing sustainable and eco-friendly product packaging. Majority of beauty facial mask products available in the market come with single use plastic packaging. This presents the biggest challenge to beauty facial mask manufacturers. A study by one of the major beauty and personal care products brands found that more than 4 million people across the globe did not recycle their beauty products, as it was inconvenient for them.
Beauty Facial Mask Market: Competitive Landscape
Detailed profiles of manufacturers of facial masks have been provided in the beauty facial mask market report to evaluate their financials, key product offerings, recent developments, and strategies
Key players operating in the global beauty facial mask market include

The Estée Lauder Companies Inc.
Lancer Skincare
L'Oréal S.A.
Shiseido
Unilever
Procter & Gamble
Amorepacific Corporation, c.f.e.b. Sisley SAS
Johnson & Johnson
Elizabeth Arden, Inc.
Beauty Facial Mask Market: Key Developments
Some of the key developments in the global beauty facial mask market are as follows:

In August 2019, Neutrogena voluntarily recalled its popular Light Therapy Acne Mask, citing customer complaints of eye problems and "an abundance of caution"
In July 2019, a new K-Beauty brand Aloisa Marie launched its signature skin care collection, in partnership with one of Korea's most renowned skin care labs
In January 2019, Neutrogena introduced a 3D printable face mask, which offers a customized fit to varied face shapes and skin types. This was launched in order to overcome the issue of ill-fitting sheet face masks that aimed to be affordable for everyone.
Beauty Facial Mask Market – Scope of the Report
A new study on the global beauty facial mask market was published by Transparency Market Research (TMR). It presents a wealth of information on key market dynamics, including drivers, market trends, and challenges, as well as the structure of the global beauty facial mask market. TMR's study offers valuable information about the global beauty facial mask market to illustrate how the market would grow during the forecast period 2020–2030.
Key indicators of market growth, which include value chain as well as supply chain analyses, and Compound Annual Growth Rate (CAGR) are elucidated in TMR's study in a comprehensive manner. This data can help readers interpret the quantitative growth aspects of the global beauty facial mask market during the forecast period.
An extensive analysis on business strategies of leading market players has also been featured in TMR's study on the global beauty facial mask market. This can help readers understand the principal factors to foresee growth in the global beauty facial mask market. In this study, readers can also find specific data on the qualitative and quantitative growth avenues for the global beauty facial mask market, which is expected to guide market players in making apt decisions in the future.
Key Questions Answered in TMR's Beauty Facial Mask Market Study
What are the key factors influencing the global beauty facial mask market in each region?
What will be the CAGR of the global beauty facial mask market between 2020 and 2030?
What is the future scope and changing trends in technologies of the global beauty facial mask market?
Which factors will impede the growth of the global beauty facial mask market during the forecast period?
Which are the leading companies in the global beauty facial mask market?
Research Methodology – Beauty Facial Mask Market
A unique research methodology has been utilized by TMR to conduct a comprehensive research on the growth of the global beauty facial mask market and arrive at conclusions on the future growth prospects of the market. This research methodology is a combination of primary and secondary research, which helps analysts warrant the accuracy and reliability of the drawn conclusions.
Secondary sources referred to by analysts during the production of the global beauty facial mask market report include statistics from company annual reports, SEC filings, company websites, World Bank database, investor presentations, regulatory databases, government publications, and industry white papers. Analysts have also interviewed senior managers, product portfolio managers, CEOs, VPs, and market intelligence managers, who contributed to the production of TMR's study on the global beauty facial mask market, as primary sources.
These primary and secondary sources provided exclusive information during interviews, which serves as a validation from global beauty facial mask market leaders. Access to an extensive internal repository and external proprietary databases allows this report to address specific details and questions about the global beauty facial mask market with accuracy. The study also uses a top-down approach to assess the numbers for each segment and a bottom-up approach to counter-validate them. This has helped in making TMR's estimates on future prospects of the global beauty facial mask market more reliable and accurate.
Beauty Facial Mask Market – Segmentation
TMR's study on the global beauty facial mask market includes information categorized into six sections - mask type, ingredient, packaging type, brand type, distribution channel, and region. Changing industry trends and other crucial market dynamics associated with these sections of the global beauty facial mask market have been discussed in detail.
Mask Type

Clay Masks

Sheet Masks

Cream Masks

Thermal Masks

Peel-off Masks

Gel Masks

Others

Ingredient

Organic

Synthetic

Packaging Type

Tube

Jar/Bottle

Sachet

Brand Type

Mass

Prestige/Luxury

Distribution Channel

Online

Offline

Region

North America

U.S.
Canada
Rest of North America

Europe

Germany
France
Italy
U.K.
Rest of Europe

Asia Pacific

China
Japan
India
Rest of Asia Pacific

Middle East & Africa

GCC
South Africa
Rest of MEA

South America

Brazil
Rest of South America
Custom Market Research Services
TMR offers custom market research services that help clients to get information on their business scenario required where syndicated solutions are not enough.
REQUEST CUSTOMIZATION

Beauty Facial Mask Market