Bath Salts Market
Bath Salts Market (Product Type - Epsom Salt, Dead Sea Salt, Himalayan Salt, Bolivian Salt, Dendritic Salt, Other Product Types; Distribution Channel - Modern Trade, Drug Stores, Convenience Stores, E-Commerce, Other Distribution Channels; Application - Bath Care, Aromatherapy, Therapeutic, Home Care, Fertilizer, Other Applications; Grade - Fine, Medium, Coarse) - Global Industry Analysis, Share, Size, Growth, Trends and Forecast 2017 - 2022
Category :

Consumer Goods & Services

Format :
Bath salts are pulverized minerals soluble in water. They are generally added to water during bathing owing to several benefits they offer. They enhance the cleaning action, give good bathing experience and also act as carriers of cosmetic agents. Bath salts that imitate properties of hot springs or natural mineral baths are being developed. Some of these bath salts comprise glycerine owing to which the product can have the properties of a lubricant or they can act as humectant or emollient. Bath slats are also added with colors and fragrances. These are used to improve the user's experience while having bath. Also, other additives such as oil, effervescent agents and foaming agents are also added. They are available in boxes or well-packaged bags or also in transparent vessels. They are considered to have an appealing or attractive appearance.
The research report on global bath salts market by Transparency Market Research portrays global market scenario of bath salts along with key insights and future projections for five years. Also, new trends, developments, drivers and restraints influencing the growth of the bath salts market are assessed across important geographies.
According to the fact based research report on global bath salts market, it is anticipated to witness slow growth during the period of forecast. The global bath salts market is estimated to reach a market valuation of around US$ 2 Bn by the end of the forecasted year with a slow CAGR throughout the period of forecast.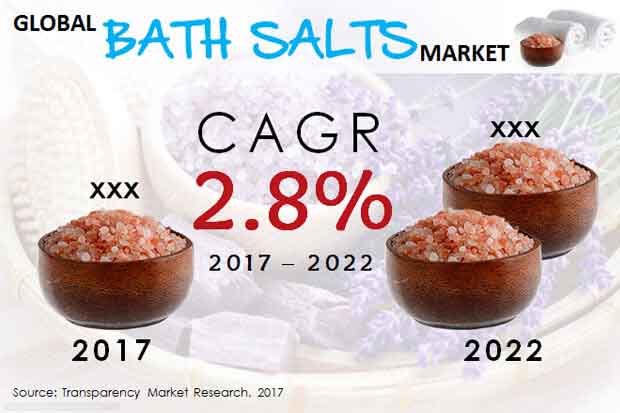 And Hence the Name Himalayan Salt
Himalayan salts are crystal salts that are mined from ocean beds beneath the Himalayas. Color of these salts is generally pink owing to presence of iron. The Himalayan salts segment is expected to grow at the highest pace to reflect a high CAGR of 4.4% throughout the period of forecast. This segment is also expected to gain a higher BPS during the 2017-2022 timeline. The main reason for the high growth of this segment is the increasing adoption of these salts in various applications owing to benefits it offers. Himalayan salts help in reducing blood pressure problems, they improve circulation of blood in the body and also assist in balancing the pH level in the body.
Epsom Salt segment reflects a higher market share but slow growth. This type of bath salt has been used since several years due to which it holds a significant portion in the market. This segment is estimated to reach a market valuation of more than US$ 500 Mn by the end of the forecasted year, thus leading the global market.
Therapeutics Demand for More Bath Salts
Bath salts are used in several applications such as aromatherapy, bath care, therapeutics, home care, fertilizers etc. The therapeutic segment in the application category is a lucrative and potential segment. Demand for bath salts in this application area has drastically increased since past few years. This segment is projected to reflect a high growth in the coming years to register a CAGR of 3.3% throughout the period of forecast, 2017-2022. However, the bath care segment in this category is the largest segment with respect to market share and value.
Competition Tracking
The comprehensive research study on global bath salts market covers a separate section on competition. In this section, the key players participating in the bath salts market are assessed and their specifics such as company overview, key developments, innovations, SWOT analysis, financials, and product portfolio are covered. Key players like Kao Corporation, The Unilever Group, Shiseido Company Limited, L'Occitane International SA, Bathclin Corporation, Dadakarides Salt SA, Kneipp GmbH and STENDERS SIA are included in this research publication.
The analytical research study on "Bath Salts Market (Product Type - Epsom Salt, Dead Sea Salt, Himalayan Salt, Bolivian Salt, Dendritic Salt, Other Product Types; Distribution Channel - Modern Trade, Drug Stores, Convenience Stores, E-Commerce, Other Distribution Channels; Application - Bath Care, Aromatherapy, Therapeutic, Home Care, Fertilizer, Other Applications; Grade- Fine, Medium, Coarse) - Global Industry Analysis, Share, Size, Growth, Trends and Forecast 2017-2022" by Transparency Market Research supports the reader by assisting him in planning and assembling key growth strategies with a view to maintain the correct rhythm along the changing dynamics of the bath salts market in the present timeline as well as few years down the line.
Weighted Analysis Delivered
The research report on global bath salts market gives a weighted analysis on the changing market scenario by studying different trends, opportunities, drivers and challenges that have an impact on the growth of the global market. These facets are studied across important regions of North America, Europe, Asia Pacific excluding Japan (APEJ), Japan, Latin America and Middle East and Africa (MEA). It delivers in-depth analysis with insights and recommendations with an unbiased view. This gives a realistic market scenario to the reader with the help of which he can direct his internal research and marketing teams to glean conclusions and execute key strategies based on the informed decisions. The global bath salts market has been segmented in such a way that the reader can identify key revenue pockets in the aforementioned regions. Strong data mining followed by deep diving in all market segments along with forecast projections enables the reader to get a glimpse of the future market scenario with which present steps can be decided accordingly.
Transparency Market Research Uses an Exquisite Research Process
Research methodology used in Transparency Market Research to gather statistical data is a robust, unique and a much effective research process. This process starts with a vast secondary research with the help of which vital facts of the market are studied. Based on this research, a clear market understanding is obtained and different market segments are identified. The primary research includes telephonic or face to face interview with various market players, market observers, domain experts and opinion leaders. This process ensures maximum accuracy as it includes a series of validation and evaluation funnels throughout the research process. The data gleaned through secondary research and each primary interview is cross verified in the next interview. This removes errors in data estimation and enhances the accuracy level of each data point of every segment. This research process is essential as every data point that the report presents reflects the credibility of the research study.
Market Nomenclature
The global bath salts market has been segmented in detail covering each facet of the market. This in-depth segmentation aids in getting a clear picture of the bath salts market.
Knowing Your Competition
The research study includes a comprehensive chapter on competitive analysis. This chapter focuses on various key companies participating in the global bath salts market. Their aspects such as company overview, key personnel, strategies, developments, innovations, SWOT analysis, product portfolio and financials are studied and presented in a systematic format. This supports the reader in achieving a complete market intelligence on bath salts with a global perspective to assist him gain competitive advantage in the coming years.
The market research study on global bath salts is a complete package of high level insights, key recommendations, and analysis on various market segments and their scenario in different regions in the globe. To give you a feel and flavor of the research report, it entails all essentials and facts in an efficient and orderly fashion making the research report on global bath salts a vital and user friendly study.
Region

North America
Latin America
Europe
Japan
APEJ
MEA


Product Type

Epsom Salt
Dead Sea Salt
Himalayan Salt
Bolivian Salt
Dendritic Salt
Other Product Types


Distribution Channel

Modern Trade
Drug Stores
Convenience Stores
E-Commerce
Other Distribution Channels

Application

Bath Care
Aromatherapy
Therapeutic
Home Care
Fertilizer
Other Applications


Grade
Custom Market Research Services
TMR offers custom market research services that help clients to get information on their business scenario required where syndicated solutions are not enough.
REQUEST CUSTOMIZATION