Global Barite Market: Snapshot
Of late, the global market for barite has been experiencing remarkable growth. The escalating need for energy has led to a phenomenal rise in oil and gas production. As barites are used as weighting agents in drilling fluids, on account of their high specific gravity, their demand has been augmenting tremendously across the world. In addition to this, the growing application of barite as a filler agent in rubber, paints, and plastics is also anticipated to influence their demand over the forthcoming years.
According to Transparency Market Research (TMR), the global market for barite presented an opportunity worth US$1.3 bn in 2015. Rising at a CAGR of 4.10% between 2016 and 2024, the market is estimated to attain a value of US$1.8 bn by the end of 2024. Alongside this, the production volume of barite, worldwide, is likely to cross 11,645.7 kilo tons by the same time period.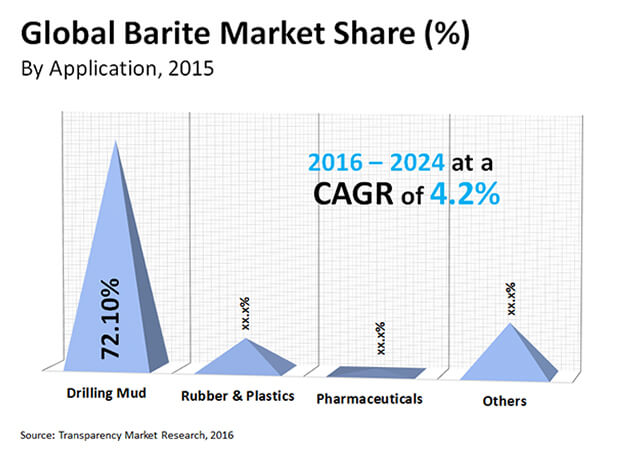 Demand for Barite to Remain High in Drilling Mud
Drilling mud, rubber and plastics, pharmaceuticals, pulp and paper, and paints and coatings have surfaced as the key application areas of barite across the world. The demand for barite has been higher in drilling mud when compared to other application areas as it is extensively utilized as a weighting agent in the manufacturing of drilling fluids for several drilling activities in the oil and gas industry.
The significant growth in the demand for oil and gas, fueled by the continual rise in the need for energy across the world, is likely to boost the requirement of drilling mud in the near future, leading to a considerable rise in the application of barite. This, as a result, is anticipated to ensure the position of drilling mud as the leading application area of barite over the forecast period.
Constant Increase in Oil and Gas Drilling Activities to Ensure North America's Lead
Europe, the Middle East and Africa, Asia Pacific, Latin America, and North America are the main regional markets for barite. In 2015, North America emerged as the market leader with a share of 30% in the overall market. The augmenting demand for barite drilling mud in the oil and gas industry has boosted this regional market significantly over the last few years. Analysts expect North America to retain its position throughout the forecast period and attributed the constant increase in oil and gas drilling activities for this. The U.S. is projected to lead the North America barite market over the forthcoming years.
Asia Pacific is also anticipated to surface as a promising market for barite in the years to come. The notable growth in the rubber and plastic industry in Asia Pacific can be accredited for the rising demand for barite in this region. On the other hand, Latin America and the Middle East and Africa are expected to witness stable growth in their respective markets for barite in the near future.
Andhra Pradesh Mineral Development Corp. Ltd., Excalibar Minerals LLC, Halliburton Co., P&S Barite Mining Co. Ltd., Anglo Pacific Minerals, and CIMBAR Performance Minerals are some of the prominent barite producers across the world.
Global Barite Market: Overview
Barite, also known as baryte, is a milky white crystalline mineral mostly composed of barium sulfate. It has one of the highest specific gravities among all weighting agents. Barite is widely used as a weighting agent, filler agent, and extenders. It is employed in oil & gas industry, rubber industry, plastics industry, etc. It is also used in pharmaceutical applications such as production of barium meals for body tissue radiography. Barite is processed in various grades based upon specific gravity, with each grade used for various purposes.
The report estimates and forecasts the barite market on the global, regional, and country levels. The study provides forecast between 2016 and 2024 based on volume (kilo tons) and revenue (US$ Mn) with 2015 as the base year. The report comprises an exhaustive value chain analysis for each of the product segments. It provides a comprehensive view of the market. Value chain analysis also offers detailed information about value addition at each stage. The study includes drivers and restraints for the barite market along with their impact on demand during the forecast period. The study also provides key market indicators affecting the growth of the market.
Global Barite Market: Scope of the Study
The report analyzes opportunities in the barite market on the global and regional level. Drivers, restraints, and opportunities mentioned in the report are justified through quantitative and qualitative data. These have been verified through primary and secondary resources. Furthermore, the report analyzes substitute analysis of barite and global average price trend analysis.
The report includes Porter's Five Forces Model to determine the degree of competition in the barite market. It comprises qualitative write-up on market attractiveness analysis, wherein end-users and countries have been analyzed based on attractiveness for each region. Growth rate, market size, raw material availability, profit margin, impact strength, technology, competition, and other factors (such as environmental and legal) have been evaluated in order to derive the general attractiveness of the market. The report comprises price trend analysis for barite between 2016 and 2024.
Global Barite Market: Segmentations
The study provides comprehensive view of the barite market by dividing it into grade, application and geography. The barite market has been segmented by grade into Up to Sp. Gr. 3.9, Sp. Gr. 4.0, Sp. Gr. 4.1, Sp. Gr. 4.2, and Sp. Gr. 4.3 and above. Based on application the market is segmented as Drilling Mud, Pharmaceuticals, Rubber & Plastics, and Others (Paints & coatings, Paper & Pulp, etc.).The segments have been analyzed based on historic, present, and future trends.
Regional segmentation includes the current and forecast demand for barite in North America, Europe, Asia Pacific, Latin America, and Middle East & Africa (MEA). Key countries such as the U.S., France, Germany, Norway, the U.K., China, India, ASEAN, South Africa, Mexico, and Brazil have been included in the study. Market segmentation includes demand for individual grade and application in all the regions and countries.
Global Barite Market: Competitive Analysis
The report covers detailed competitive outlook that includes market share and profiles of key players operating in the global market. Major players profiled in the report include Andhra Pradesh Mineral Development Corporation Limited, Halliburton Company, Excalibar Minerals LLC, P & S Barite Mining Co. Ltd., CIMBAR Performance Minerals, and Anglo Pacific Minerals. Company profiles include attributes such as company overview, number of employees, brand overview, key competitors, business overview, business strategies, recent/key developments, acquisitions, and financial overview (wherever applicable).
Secondary research sources that were typically referred to include, but were not limited to company websites, financial reports, annual reports, investor presentations, broker reports, and SEC filings. Other sources such as internal and external proprietary databases, statistical databases and market reports, news articles, national government documents, and webcasts specific to companies operating in the market have also been referred for the report.
In-depth interviews and discussions with wide range of key opinion leaders and industry participants were conducted to compile this research report. Primary research represents the bulk of research efforts, supplemented by extensive secondary research. Key players' product literature, annual reports, press releases, and relevant documents were reviewed for competitive analysis and market understanding. This helped in validating and strengthening secondary research findings. Primary research further helped in developing the analysis team's expertise and market understanding.
The global barite market has been segmented as follows:
Barite Market – Grade Analysis
Up to Sp. Gr. 3.9
Gr. 4.0
Gr. 4.1
Gr. 4.2
Gr. 4.3 and above
Barite Market – End User Analysis
Drilling Mud
Pharmaceuticals
Rubber & Plastics
Others (Paints, Coatings, Paper, Pulp. etc.)
Barite Market – Regional Analysis
North America
Europe

Germany
France
Russia
U.K.
Norway
Rest of Europe

Asia Pacific

China
India
Oceania
ASEAN
Rest of Asia Pacific

Middle East & Africa

GCC
Northern Africa
South Africa
Rest of Middle East & Africa

Latin America

Brazil
Mexico
Rest of Latin America