Astaxanthin Market
Astaxanthin Market(Source: Natural, Microalgae, and Synthetic; Grade: Cosmetic Grade, Feed Grade, and Food Grade; Application: Aquaculture & Animal Feed, Pharmaceuticals, Dietary Supplements, Food & Beverages, and Cosmetics; Form: Powder and Liquid, and Production Technology: Chemical Synthesis and Bacterial Fermentation) - Global Industry Analysis, Size, Share, Growth, Trends, and Forecast, 2020 - 2030
Category :

Food & Beverages

Format :
Research Activities Continue to Find New Techniques to Extract Astaxanthin Naturally
Over the past decade, the demand for astaxanthin, particularly from the skin biology sector, has witnessed considerable growth. Traditionally, astaxanthin is obtained by chemical synthesis and despite a spike in interest in other production technologies including bacterial fermentation. The global astaxanthin market is set to witness considerable growth during the forecast period, due to the surge in demand for astaxanthin from different end-use industries, including pharmaceutical, cosmetics, food & beverages, aquaculture & animal feed, and dietary, among others. As several research activities continue to offer more evidence pertaining to health benefits and potential nutraceutical applications of astaxanthin in the dermatology field, its demand is set to witness unprecedented growth in the coming years.
At present, the primary source of astaxanthin is microorganisms, including fungi and microalgae. However, seafood processing wastes have also emerged as an ideal source of astaxanthin, wherein waste shrimps have gained a great amount of popularity, particularly for astaxanthin extraction. At present, participants of the current market for astaxanthin are increasingly focusing on adopting environment-friendly extraction techniques and the commercial production of astaxanthin complexes. More recently, the aerospace sector has expressed interest in astaxanthin as research activities continue to single out the benefits of microalgae in space. At the back of these factors, the global astaxanthin market is reach the value of ~US$ 1.3 Bn by 2030.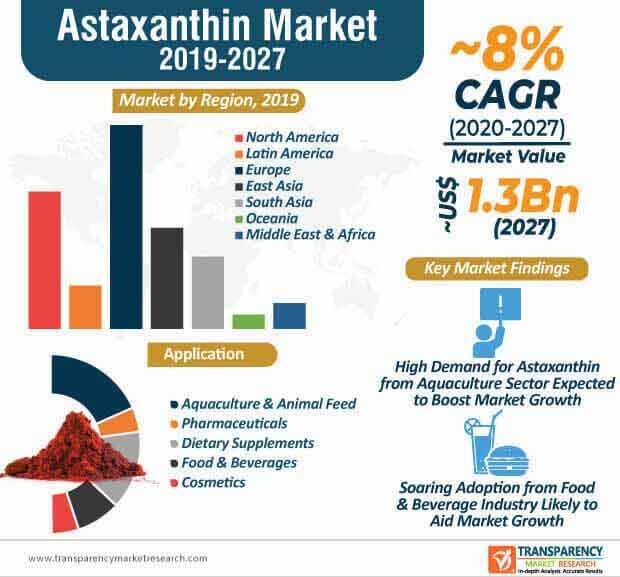 Request a sample to get extensive insights into the Astaxanthin Market
Growing Demand from Food Industry Set to Boost Market Growth
The consistent growth in the demand for astaxanthin particularly from the food industry is expected to boost the growth of the astaxanthin market during the forecast period. In the past few decades, astaxanthin is increasingly being used as a food additive, owing to health benefits, including anti-inflammatory effects, improved immunity, and prevention of cerebrovascular and cardiovascular diseases, among others. Over the past decade, several studies have revealed that astaxanthin can play an important role in preventing photoaging, improving sleep, minimizing obesity, protecting vocal cord, combating depression, and increase sperm motility, among others.
The demand for astaxanthin from the food industry is on the rise, as it is increasingly being used as a food-coloring agent, an antioxidant to preserve the taste, color, freshness, and quality of food items. Traditionally, astaxanthin was predominantly used to retain the nutrients of the food from damage, enhance sensory aspects, and improving the overall appeal of food products. Within Europe, astaxanthin has attained approval as an essential raw material to develop dietary supplements. However, due to the instability of astaxanthin, it is vulnerable to degradation by a host of environmental factors, research activities continue to focus on this area within the astaxanthin market.
High Adoption in Aquaculture to Propel Astaxanthin Market Growth
Within the astaxanthin market, the adoption levels from the aquaculture industry continue to move in the upward trajectory. The demand for astaxanthin from aquaculture is on the rise, as astaxanthin plays an essential role in improving the survivability and reproductivity of aquatic species. Moreover, another factor that is set to increase the demand for natural astaxanthin is the inability of marine animals and crustaceans to self-synthesize astaxanthin. The demand for natural astaxanthin that is largely sourced from yeast, bacteria, and algae is increasingly, particularly from the industrial sector.
Companies operating in the astaxanthin market landscape are also expected to launch innovative and eco-friendly bio-astaxanthin to gain an edge over competitors. Several companies are expected to allocate funds for research and development of new astaxanthin that is expected to find applications in the aquaculture space. For instance, KnipBio launched a new range of KnipBio Meal that contains bio-astaxanthin– an ingredient that plays a key role in improving the overall health of aquatic species, including shrimp, trout, and salmon, among others. Several researchers are also focused on finding new techniques to synthesize natural astaxanthin. For instance, in December 2019, a team of researchers from Japan revealed that they have discovered a novel way to synthesize natural astaxanthin by utilizing marine algae.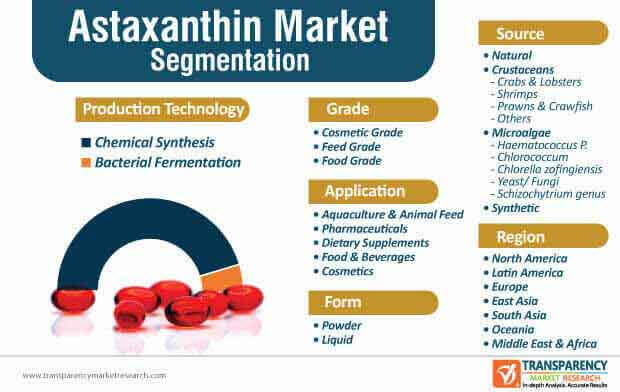 Analysts' Viewpoint
The global astaxanthin market is expected to grow at a healthy CAGR of ~8% during the forecast period. The market growth can be attributed to a host of factors of which, the soaring demand for astaxanthin from the aquaculture and the food & beverages industry will remain pivotal for market growth. Additionally, advancements in technology coupled with the rise in the number of research activities that focus on finding new techniques to source astaxanthin will play a crucial role in the expansion of the astaxanthin market during the forecast period. Companies operating in the current market landscape should focus on research and develop new sustainable astaxanthin during the forecast period to gain an advantage.
Astaxanthin Market: Overview
TMR has conducted a research on the astaxanthin market. According to the report, the market is likely to value ~ US$ 633 Mn in 2020 and is anticipated to reach ~US$ 1.3 Bn by 2030, at a CAGR of ~8% between 2020 and 2030.
Astaxanthin is primarily in demand in the aquaculture industry as the majority of the share is used for fish coloration such as salmon, lobster, and others
Astaxanthin is a naturally occurring dietary component and is used in supplements intended for humans, aquaculture, and animals
Astaxanthin: Market Frontrunners
North America is estimated to dominate the overall market with ~23% share, which is expected to increase at a CAGR of 9.7% by the end of 2030
The key players operating in the astaxanthin market are providing products for a variety of applications. The aquaculture and animal feed accounts for the majority of the share of the market. During the forecast period, food & beverages application segment is anticipated to expand positively at CAGR of 9.3%.
With increase in the demand for natural ingredients, the bacterial fermentation technology is implemented to produce astaxanthin
Producers and leading manufacturers of astaxanthin are launching various initiatives to spread awareness about the product and its use in treating various health concerns
Manufacturers are witnessing cut throat competition in the market. As a result, they are competing among themselves to cater to the growing demand for astaxanthin in different application industries.
Astaxanthin Market: Trends
Demand for natural food supplements and growing awareness about adverse effects of chemical products among consumers can be attributed to the anticipated production of natural astaxanthin in future
Astaxanthin is a potent antioxidant and complements other existing antioxidants in a formulation. It offers manufacturers the ability to differentiate their products and give their antioxidant cocktail an edge.
Consumer interest in dietary supplements with antioxidant claims is on the rise. Natural astaxanthin is preferred in dietary supplements in different forms such as soft gels, tablets, capsules, syrups, oils, and creams. These are gaining popularity due to the potent antioxidant and reactive oxygen scavenging effects of astaxanthin.
Astaxanthin as an oxidant is used to increase skin moisture, moisture retention, elasticity, as well as promote skin smoothness, decreasing fine lines and wrinkles
Astaxanthin demand is growing as consumers learn about the ingredient's high anti-inflammatory activity and studied health benefits for vision, brain health, heart health, and immune support
Around 27% of the world's population consists of millennial that push various segments within consumer markets towards quick development and growth. Millennial show inclination towards innovative products, and are attracted to new products introduced in the market.
Astaxanthin Market: Strategies
The growing personal care and self-grooming trends among consumers is leading to escalating demand for cosmetics and personal care products. The increasing need for self-grooming products is bolstering the demand for astaxanthin that is enriched with vital vitamins and minerals; that prevents from deformities of skin, including dryness, sunburn, and roughness among other. It also prevents from ageing.
Suppliers are entering into long-term contracts with astaxanthin-based product manufacturers to avoid increase in product prices, and astaxanthin suppliers/retailers also focus on entering into long-term contracts as it helps them sustain
Ensuring superior product quality, and adherence to good manufacturing and ethical distribution practices are followed diligently by manufacturers to maintain competitive edge in the market
Astaxanthin Market: Players
Key players operating in the astaxanthin market, as profiled in the study, include

Algatechnologies Ltd.
Algaecan Biotech Ltd.
Archer Daniels Midland Co. (ADM)
BASF SE
BGG (Beijing Gingko Group)
Cardax, Inc.
Cyanotech Corporation (BioAstin)
Divis Laboratories Ltd.
Fenchem Biotek Ltd
Fuji Chemical Industries Co., Ltd.
Igene BioProduction Technology, Inc.
Koninklijke DSM N.V.
Kunming biogenic
Supreme Biotechnologies NZ Ltd
Valensa International Global, PIVEG, Inc.
Parry Nutraceuticals
ATACAMA BIONATURAL
AstaReal Inc
JXTG Nippon Oil & Energy Corporation
Otsuka Pharmaceutical
INNOBIO Limited
Astaxanthin Market - Scope of the Report
Transparency Market Research (TMR) has recently published a market study on astaxanthin. The study provides a detailed assessment of key market dynamics, including drivers, trends, opportunities & restraints, and detailed information about the astaxanthin market structure. The market study presents exclusive information about how the astaxanthin market will grow during the forecast period of 2020-2030.
Key indicators of market growth, which include year-on-year (Y-o-Y) growth of the market, value chain, supply chain analysis, and compounded annual growth rate (CAGR) are explained in the TMR's study in a comprehensive manner. This information can help readers understand the quantitative growth prospects of the astaxanthin market during the forecast period.
The study is relevant for stakeholders in the astaxanthin market, including astaxanthin manufacturers, suppliers, distributors, and investors, and can help them in developing appropriate strategies to grow in the market. Stakeholders in the astaxanthin market, investors, industry experts, researchers, and journalists, as well as business researchers can gain valuable insights from the information and data presented in TMR's study.
The study also includes statistics and facts related to the macro as well as microeconomic factors that are impacting developments in the market. It also offers actionable insights into the market based on the future trends in the astaxanthin market. Furthermore, small businesses and new entrants in the astaxanthin market too can make use of the information presented in this study, based on which, they can make appropriate business decisions in order to gain momentum in the market.
Key Questions Answered in TMR's Astaxanthin Market Report
Which regions will continue to remain the most profitable regional markets for astaxanthin market players?
Which factors will induce a change in the demand for astaxanthin during the assessment period?
How will the changing trends impact the astaxanthin market?
How can market players capture the low-hanging opportunities in the astaxanthin market in developed regions?
Which companies are leading the astaxanthin market?
What are the winning strategies of stakeholders in the astaxanthin market to upscale their position in this landscape?
Astaxanthin Market: Research Methodology
The study uses a unique research methodology to conduct extensive research on the growth of the astaxanthin market and reach conclusions on the future growth parameters. This research methodology is a combination of primary and secondary research, which helps analysts ensure the accuracy and reliability of conclusions.
Secondary resources referred to by analysts during the production of the astaxanthin market study include statistics from governmental organizations, trade journals, white papers, and internal and external proprietary databases. Analysts have interviewed senior managers, product portfolio managers, CEOs, VPs, marketing/product managers, and market intelligence managers, who contributed to the development of this report as a primary resource.
Comprehensive information acquired from primary resources and secondary resources acts as a validation from companies in the astaxanthin market, and makes TMR's projections on the growth prospects of the astaxanthin market more accurate and reliable.
Astaxanthin Market – Segmentation
The report segments the astaxanthin into various segments - source, grade, application, form, production technology, and region. This report offers comprehensive data and information about the important market dynamics and growth parameters associated with these categories.
Source

Natural

Crustaceans
Crabs & Lobsters
Shrimps
Prawns & Crawfish
Others

Microalgae

Haematococcus P.
chlorococcum
Chlorella Zofingiensis
Yeast/Fungi
Schizochytrium Genus

Synthetic

Grade

Cosmetic Grade
Feed Grade
Food Grade

Application

Aquaculture & Animal Feed
Pharmaceuticals
Dietary Supplements
Food & Beverages
Cosmetics

Form

Production Technology

Chemical Synthesis
Bacterial Fermentation

Region

North America
Latin America
Europe
East Asia
South Asia
Oceania
MEA
Custom Market Research Services
TMR offers custom market research services that help clients to get information on their business scenario required where syndicated solutions are not enough.
REQUEST CUSTOMIZATION