Preimplantation Genetic Diagnosis Market
Preimplantation Genetic Diagnosis Market
Preimplantation Genetic Diagnosis Market - Asia Industry Analysis, Size, Share, Growth, Trends, and Forecast 2015 - 2023
Healthcare
TMRGL9989
114

Pages
Rising numbers of assisted reproductive procedures such as in vitro fertilization (IVF) is Asia is the most prominent factor driving the market for preimplantation genetic diagnosis. This is, in essence, the result of factors such as the delayed age of conception among Asian women, the rising rate of infertility among the population, and the significantly expanding medical tourism industry in the region. Rising disposable incomes and increased awareness regarding the rising prevalence of a number of genetic disorders are also encouraging the Asian population to undertake costly diagnostic procedures such as PGD.
TMR analysts project that these factors will enable the Asia preimplantation genetic diagnosis market expansion at a healthy 6.8% CAGR from 2015 to 2023. The market is expected to rise from a valuation of US$16.0 mn in 2014 to US$28.8 mn by 2023.
Rising Preference for Single Gene Disorder Screening over Prenatal Diagnostic Testing to Drive Market
Preimplantation genetic diagnosis for the screening of aneuploidy held the largest share of 34.7% in the Asia PGD market in 2014. Liberal regulations pertaining to this area of diagnosis in most Asian countries is the major factor behind the high numbers of aneuploidy screening tests undertaken every year in the region. However, PGD for single gene disorder is projected to expand at the faster CAGR of 8.4% from the period between 2015 and 2023.
Increased preference of this diagnostic modality is encouraged by technological advancements and relatively high accuracy of results. Moreover, single gene disorder screening is more beneficial compared to conventional prenatal diagnostic testing in embryo, driving the market for PGD for single gene disorder.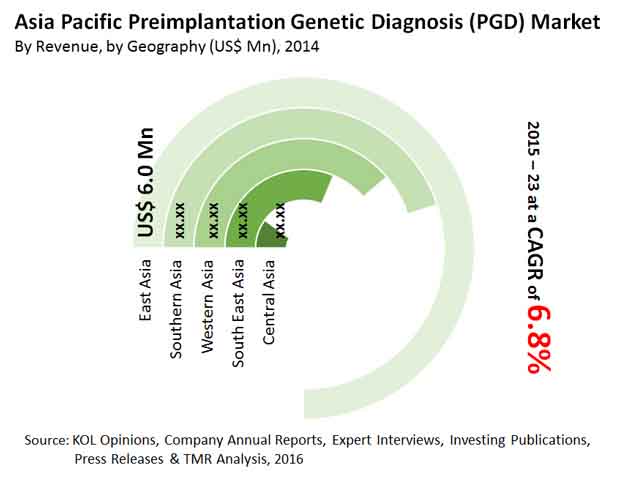 Rising Numbers of Healthcare Facilities to Boost Asia PGD Market
Known to provide excellent medical services at highly economical rates as compared to developed regions, the healthcare industry in Asia has invited patients from world over. With continuous advancements in healthcare infrastructure, rising numbers of healthcare experts, and constantly improving diagnostic facilities, Asia is expected to be a major hub for the PGD market in the future. Many global vendors in the healthcare and diagnostics industry are extending their businesses in the region and the number of fertility clinics, hospitals, and diagnostic centers are constantly rising in the region.
Fertility clinics held a major share in the overall Asia PGD market in 2014, and are expected to exhibit a 5.9% CAGR from the period between 2015 and 2023. However, the segment of healthcare facilities is expected to expand at a much better 7.8% CAGR over the same period. The flourishing tourism industry in the region is leading to the establishment of an increasing number of IVF centers and healthcare facilities such as hospitals and diagnostic centers in the region.
Asia PGD Market to Witness Highest Traction in Southern Countries
In the next few years, the Asia PGD market is expected to witness the highest growth in Southern countries such as India and China. The high and rising rate of infertility in South Asian countries, rising disposable incomes, high percentage of women in the workforce, and availability of technologically advanced healthcare infrastructure will enable the region in presenting the most attractive growth opportunities for the Asia PGD market. Countries in Southern Asia will also benefit from the flourishing medical tourism industry during the period between 2015 and 2023.

Chapter 1 Introduction
1.1 Report Description
1.2 Research Methodology
1.3 Market Segmentation
Chapter 2 Executive Summary
Chapter 3 Asia Preimplantation Genetic Diagnosis (PGD): Market Overview
3.1 Introduction
3.2 Market Dynamics
3.2.1 Drivers
3.2.2 Restraints
3.2.3 Opportunities
3.3 Porter's Five Forces Analysis
3.3.1 Bargaining Power of Suppliers
3.3.2 Bargaining Power of Buyers
3.3.3 Threat of New Entrants
3.3.4 Threat of Substitutes
3.3.5 Competitive Rivalry
3.4 Overview of PGD
3.4.1 Indications and Conditions for PGD
3.4.2 Primary Candidates for PGD
3.4.3 Complications Associated with PGD
3.4.4 Advantages and Disadvantages
3.4.5 Techniques used for PGD (e.g. FISH, PCR, CGH, etc.)
3.4.6 Limitations of Techniques
3.4.7 Risk of PGD
3.4.8 Average Cost Analysis
3.5 Regulatory Policies and Legality Framework for PGD: Major Countries of Asia
3.6 Market Attractiveness Analysis: Asia Preimplantation Genetic Diagnosis (PGD) Market, by Geography, 2014
3.7 Heat map analysis for key market players
3.8 Number of PGD centers, By Country
Chapter 4 Asia Preimplantation Genetic Diagnosis (PGD) Market Revenue (USD Million), by Test Type, 2013 – 2023
4.1 Overview
4.2 Aneuploidy Screening
4.3 Chromosomal Aberrations
4.4 Gender Selection
4.5 HLA Typing
4.6 Single Gene Disorder
4.7 X-linked diseases
Chapter 5 Asia Preimplantation Genetic Diagnosis (PGD) Market Revenue (USD Million), by End-user, 2013 – 2023
5.1 Overview
5.2 Fertility Clinics
5.3 Healthcare Facilities
5.4 Academic Institutes and Research Centers
Chapter 6 Asia Preimplantation Genetic Diagnosis (PGD) Market Revenue (USD Million), by Geography, 2013 – 2023
6.1 Overview
6.2 South Eastern Asia
6.2.1 Indonesia
6.2.2 Malaysia
6.2.3 Philippines
6.2.4 Singapore
6.2.5 Thailand
6.2.6 Rest of SEA
6.3 Eastern Asia
6.3.1 China
6.3.2 Japan
6.3.3 South Korea
6.3.4 Rest of Eastern Asia
6.4 Southern Asia
6.4.1 India
6.4.2 Sri Lanka
6.4.3 Rest of Southern Asia
6.5 Central Asia
6.6 Western Asia
6.6.1 Israel
6.6.2 Turkey
6.6.3 Jordan
6.6.4 Saudi Arabia
6.6.5 United Arab Emirates
6.6.6 Rest of Western Asia
Chapter 7 Current Trends and Recommendations
Chapter 8 Company Profiles
8.1 Genesis Genetics
8.1.1 Company Overview
8.1.2 Financial Overview
8.1.3 Product Portfolio
8.1.4 Business Strategies
8.1.5 Recent Developments
8.2 Genea Ltd.
8.3 Illumina, Inc.
8.4 Laboratory Corporation of America Holdings (LabCorp)
8.5 Natera, Inc
8.6 PerkinElmer, Inc.
8.7 Quest Diagnostics, Inc.
8.8 Repro Genetics
8.9 Reproductive Genetics Innovations
8.10 Others
Custom Market Research Services
TMR offers custom market research services that help clients to get information on their business scenario required where syndicated solutions are not enough.
Request Customization
Preimplantation Genetic Diagnosis Market