Industrial Gloves Market
Industrial Gloves Market (Product - Disposable Gloves and Re-Usable Gloves; Material - Rubber/Latex, Nitrile, Vinyl, Neoprene, and Polyethylene; Application - Pharmaceuticals, Food Healthcare, Chemicals, and Manufacturing) - Asia Pacific Industry Analysis, Size, Share, Growth, Trends and Forecast 2017 - 2025
Category :

Factory Automation

Format :
Asia Pacific Industrial Gloves Market: Snapshot
Considering industrialization witnessed in Asia Pacific over the last few decades, the demand for industrial gloves has soared higher than ever. The region has emerged as a lucrative market for a majority of the leading manufacturers, as they target capitalizing on untapped opportunities across developing nations. Besides this, the fact that the leading players in the rubber industry are domiciled in Asia Pacific has catapulted the region at the fore of the overall industrial gloves market. As workers operating in the rubber industry are often exposed to hazardous environment, wearing industrial protective gears is imperative for them. Growth witnessed in the region's rubber industry will therefore give significant impetus to its industrial gloves market. This also entails volatility witnessed in the demand for rubber will subsequently have a negative impact on the Asia Pacific industrial gloves market.
Moreover, stringent regulations have compelled industries to invest in industrial protective gears, thus creating opportunities for the Asia Pacific industrial gloves market. Exhibiting a CAGR of 7.6%, the Asia Pacific industrial gloves market is forecast to reach US$1.25 bn by the end of 2025. The market's valuation was US$0.66 bn in 2016.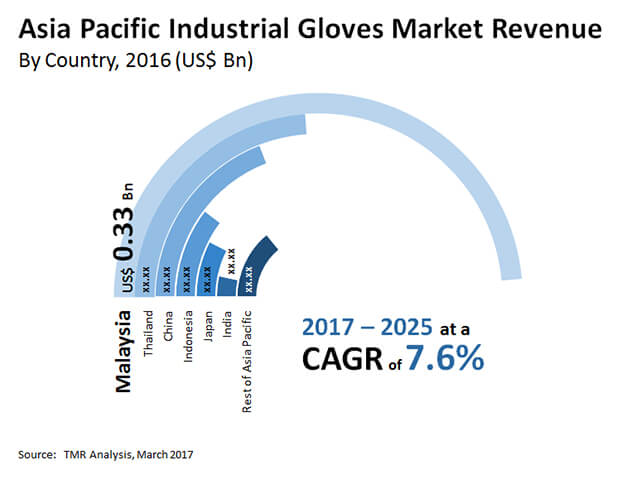 Disposable Gloves to Remain High in Demand on Account of their Low Price
Based on product, the dominance is expected to be with the disposable gloves segment through the course of the forecast period. It held nearly 75.4% of the Asia Pacific industrial gloves market in 2016. Manufacturing cost for the same is low compared to its re-usable counterparts. This is a key factor contributing towards the segment's growth, as it allows producers to maintain a lower price point thus attracting a large number of consumers.
Based on materials, rubber dominated the industrial gloves market in 2016 and is expected to remain the lead through the forecast period. Rubber gloves, also known as latex gloves are natural material which is made from rubber. Some of the key attributes of rubber gloves include its proper fitting, high level of touch sensitivity, good for wearing for a long period of time, durable against high-risk situations that involves infectious materials, cost effective, bio-degradable, and has a high level of elasticity among others. However, rubber has several adverse effects on human health such as irritant dermatitis, which is not considered extremely dangerous if neglected. It can cause cracks in the skin through which latex particles infiltrate, thus creating latex allergies on the individual. Delayed cutaneous hyper sensitivity is another effect caused due to extensive use of rubber/latex gloves which is manifested within 6 to 48 hours post exposure to latex particles. Due to these factors, this particular material is expected to lose demand in the future.
Based on application, chemicals and pharmaceuticals accounted for the dominant share in 2016. Both industries are expected to maintain their respective positions throughout the forecast period. Workers in chemicals as well as pharmaceutical industries are exposed to hazardous chemicals and thus require high quality industrial protective gears. Also governments keep a strict vigil on these industries to ensure workers' health and safety. Spurred by this, the market is expected to witness high demand for industrial gloves from chemicals and pharmaceutical industries.
Malaysia to Remain Most Lucrative Market for Industrial Gloves in Asia Pacific
By country, Malaysia has emerged as the most lucrative market for industrial gloves in Asia Pacific. It held over 49.9% of the market in 2016. The country is expected to remain dominant through the forecast period. The flourishing rubber industry will support growth of the industrial gloves market in Malaysia in the coming years. Besides this, China and Thailand are expected to hold considerable share in the market. Industrialization witnessed in these nations will drive the industrial gloves market.
Some of the leading players operating in the Asia Pacific industrial gloves market are Top Glove Corporation Bhd, Hartalega Sdn Bhd, and Kossan Rubber Industries among others
Booming Industrialization and New Workplace Safety Norms will invite Considerable Growth Opportunities for the Asia Pacific Industrial Gloves Market
The industrialization prospects have progressed at a rapid pace across the Asia Pacific region. The growing availability of cheap labor and a treasure of natural resources have made the region a profit haven for industrialists and companies around the world. Massive foreign direct investment infusions and the rising number of government initiatives of various countries in the region regarding industrialization have led to an escalation in industrialization prospects. All these factors will serve as growth boosters for the Asia Pacific industrial gloves market during the assessment period of 2017-2025.
Industrial gloves perform the function of protecting the skin from sharp metals, heat, and harmful environments. They offer comfort to the user and do not affect the efficacy and performance of the user in terms of work. These gloves are made from diverse materials such as vinyl, natural rubber, polyethylene, nitrile, neoprene, and others. The user chooses the gloves according to his/ her profession and the type of work.
The heightening awareness about the advantages of wearing industrial gloves among a considerable chunk of the populace will serve as a prominent growth factor for the Asia Pacific industrial gloves market. The introduction of various workplace safety norms by the government bodies in the region will also bode well for the growth.
The COVID-19 pandemic has changed the growth projections of the Asia Pacific industrial gloves market to a certain extent. COVID-19 emerged from China and the nation went into a full lockdown from January 2020, following a huge rise in corona positive cases. Other countries in the regions also started imposing strict lockdowns following a rapid rise in transmission. Thus, these aspects resulted in the closure of manufacturing facilities and industries, which eventually led to a decline in demand.
However, the relaxation in lockdown restrictions and mass vaccination drives across numerous countries in the region will serve as a boon for the players in the Asia Pacific industrial gloves market.
APAC Industrial Gloves Market: Overview
Industrial gloves give insurance against heat, icy, chemicals, scraped areas, harm by erosion and maladies. They are used to ensure worker wellbeing and sanitary conditions in the environment. Industrial gloves market is witnessing a rapid growth on account of increasing applications across metal fabrication, oil and gas, machinery, aviation, automobiles, construction, healthcare, and food processing. Moreover, healthcare reforms and government regulations are some of the key factors driving the growth of the global industrial gloves market. The gloves are selected on the basis of span of the environment, occupation environment, and the type of conditions associated with the employment.
The report on the industrial gloves market offers a detail assessment of key factors affecting influencing the market, such as drivers, restraints, trends, challenges, and opportunities. The research report also profiles leading market players operating in the market for industrial gloves.
APAC Industrial Gloves Market: Drivers and Restraints
Industrial gloves market is primarily driven by rising utilization of industrial gloves in chemical, healthcare, and food industry. Additionally, the growth of various end-user segments such as construction. Metal fabrication, mining, and automobiles has increased the need for industrial gloves in order to prevent any hazards in the workplace. Rapid industrialization along with rules and regulations enforcing the use of protective gears at workplace also give boost to industrial gloves market. Industrial gloves market is primarily comprises of disposable gloves and re-usable gloves. Increasing demand for disposable gloves is attributed to its low cost in comparison with re-usable gloves. However, re-usable gloves are used in several end use industries such manufacturing, construction, and oil and gas.
Uncertainty related to availability of substandard products and fluctuations in raw material prices, and use of robotics may limit growth of the market for industrial gloves. However, government initiatives to deal with these issues is likely to stable the market in the coming years.
APAC Industrial Gloves Market: Geographical Outlook
On the basis of geography, the market for industrial gloves market can be segmented into various regions including Asia Pacific, Latin America, North America, the Middle East and Africa, and Europe. In Asia Pacific region, Malaysia has emerged as the most vibrant market for industrial gloves and is expected to dominate the market throughout the forecast period. On the other hand, China and Thailand are expected to hold considerable share owing to rising industrialization and increased number of accidents taking place in the workplace.
Developing nations such as India and Japan are likely to cement their position in the market, as they are prominent market for the industrial gloves. Governments are coming up with various initiative in order to tackle the issues related to safety.
APAC Industrial Gloves Market: Company Profiling
The competitive profiling of the leading players in the industrial gloves market has been included in the study. Key players participating in the industrial gloves market include Kossan Rubber Industries, Glove Corporation Bhd, and Hartalega Sdn Bhd.
This report gives you access to decisive data such as:
Market growth drivers
Factors limiting market growth
Current market trends
Market structure
Market projections for the coming years
Key highlights of this report
Overview of key market forces propelling and restraining market growth
Up-to-date analyses of market trends and technological improvements
Pin-point analyses of market competition dynamics to offer you a competitive edge
An analysis of strategies of major competitors
An array of graphics and SWOT analysis of major industry segments
Detailed analyses of industry trends
A well-defined technological growth map with an impact-analysis
Offers a clear understanding of the competitive landscape and key product segments
Custom Market Research Services
TMR offers custom market research services that help clients to get information on their business scenario required where syndicated solutions are not enough.
REQUEST CUSTOMIZATION

Asia Pacific Industrial Gloves Market