Aquafeed Additives Market
Aquafeed Additives Market (Product Type: Amino Acids, Antioxidants, Antibiotics, Vitamins, Minerals, Feed Acidifiers, and Feed Enzymes; Application: Carps, Marine Shrimps, Tilapia, Catfish, Salmon, Sea Bass, and Others; and Source: Plants, Animals, and Microorganisms) - Global Industry Analysis, Size, Share, Growth, Trends, and Forecast, 2019 - 2029
Category :

Food & Beverages

Format :
Protein and Mineral-rich Aquafeed Additives Contribute toward Market Growth
Aquaculture is one of the fastest developing animal production industries worldwide. This has created a demand for protein-rich and nutritious aquafeed additives that are a healthy source of fatty acids. Growing concerns about obtaining the right vitamin and mineral additives for aquatic animals are some of the key drivers contributing toward market growth. Increased awareness about premixes has triggered the demand for aquafeed additives. For instance, animal nutrition company Alltech revealed in their Annual Alltech Global Feed Survey that the global feed production is rising. This is evident since the aquafeed additives market is estimated to reach a revenue of ~US$ 2.2 Bn by the end of 2029.
Due to the growing demand for mineral-rich aquafeed additives, companies are experiencing an uptake in the sale of premixes. Increased awareness about bioavailability in these additives is another key driver for market growth. Hence, companies in the aquafeed additives market are increasing production capabilities in straight mineral supplements to meet the demand of end users.
Request a sample to get extensive insights into the Aquafeed Additives Market
Manufacturers Focus on Revenue Opportunities in Asia Pacific
Companies in the aquafeed additives market are eyeing opportunities in Asia Pacific and Europe, since the production of aquaculture feed is anticipated to increase in these regions. Manufacturers are targeting countries such as Vietnam, India, and Indonesia to create steady revenue streams. Likewise, China is also emerging as a profitable region for business expansions. These drivers have triggered the demand for feed supplements for optimum shrimp farming. Thus, companies in the aquafeed additives market are increasing R&D to introduce phytomolecules, prebiotics, and organic acids in these supplements.
To understand how our report can bring difference to your business strategy, Ask for a brochure
In the ever-evolving aquaculture industry, feed supplements with phytomolecules carvacrol and cinnamaldehyde are becoming increasingly mainstream. Manufacturers are gaining expertise in liquid aquafeed additives for flexible use so that phytomolecules are stabilized using an emulsifier. Moreover, growing concerns of animal welfare have created a demand for aquafeed additives that improve the intestinal health and digestion of aquatic animals. Manufacturers are increasing awareness about adequate application of feed additives to prevent incidences of negative consequences during their production.
Health-promoting Functional Ingredients Drive Innovations in Shrimp Feed
Functional ingredients are being highly publicized in the aquafeed additives market, owing to their advantages in improving the health and development of shrimps. There is a growing demand for functional ingredients for the development of novel feed additives that improve the immune response and other physiological responses of aquatic animals. Companies in the aquafeed additives market are aiming at enhancing the reproductive functions of shrimps, while supporting the animal's response against oxidative stress.
Since shrimps and aquatic animals are susceptible to diseases and environmental stress such as fluctuation of oxygen and salinity, novel feed additives can help to improve the health of these animals, so that they can withstand harsh circumstances. Manufacturers are increasing their production capabilities to develop feed additives involving nucleotides, since these compounds form the basis for early stage development in aquatic animals. Nucleotides are acquiring popularity for their ability to enhance disease resistance and tolerance in shrimps.
Natural Feed Additives Overcome Challenges Associated with Environmental Sustainability and Animal Welfare
The aquafeed additives market is expected to expand at a modest CAGR of ~5% during the forecast period. However, challenges associated with environmental sustainability, animal welfare, and profitability act as barriers for market growth. Since aquaculture directly impacts farm environments, as fish and shrimp consume feed and release ammonia and feces in water, there is a growing need to valorize fish feed. Hence, manufacturers are developing natural aquafeed additives for aquaculture species. For instance, Nor-Feed- a provider of natural solutions for animal health & nutrition has expanded its product portfolio with Norponin Opti and Norponin Aqua, natural aquafeed additives that decrease the ammonia released by aquatic animals.
The demand for natural additives is estimated to grow in the aquafeed additives market, as animal welfare is an everyday concern for fish farmers. Product innovations are focused on animal welfare where manufacturers are adding lemon balm extracts and soluble magnesium in additives that help to naturally calm aquatic animals.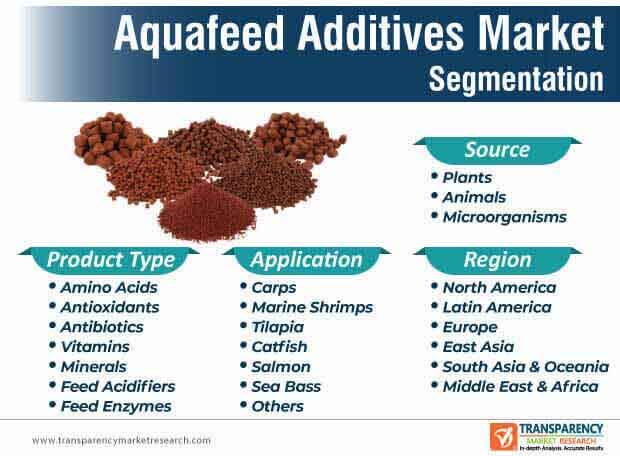 Stuck in a neck-to-neck competition with other brands? Request a custom report on Aquafeed Additives Market ?

Analysts' Viewpoint
Natural feed additives are generating incremental opportunities for companies that cater to demanding needs of end users. Novel compounds such as phytomolecules, prebiotics, and organic acids are helping manufacturers to leverage the nutritional value of feed supplements. However, phytomolecules are not heat stable, and heat treatment increases the loss of phytomolecules in supplements, thus reducing their efficacy in aquatic animals. Hence, manufacturers in the aquafeed additives market should coat phytomolecules onto the feed with a drum or vacuum coater after pelleting. Manufacturers should tap opportunities in countries of Asia Pacific such as Vietnam and China to capitalize on the rising production of feed additives in these profitable countries.
Aquafeed Additives Market: Overview
The global aquafeed additives market value stood at ~US$ 1.2 Bn in 2019, finds Transparency Market Research (TMR) in a recent study. According to the report, the market is anticipated to reach ~US$ 2.2 Bn by 2029, at a CAGR of ~5%.
The increasing demand for natural and organic additives/ingredients is the key factor increasing sales of aquafeed additives. Apart from this, the global increase in seafood consumption is propelling the market for aquafeed additives.
Aquafeed Additives: Market Frontrunners
Based on product type, amino acid based additives was the leading segment in 2019 accounting for approximately 34.1% of the market. Furthermore, the antioxidant based additives segment accounted for 4.9% of the market in terms of value.
By application, the carps is the key segment; however, the sea bass segment is anticipated to show growth at a higher rate as compared to carps
In terms of source, the plant-based aquafeed additives segment holds approximately 95.4% of the total market share, whereas the microorganisms based aquafeed additives segment holds the remaining share in the global aquafeed additives
East Asia is leading the global aquafeed additives market followed by Europe and North America and South Asia. East Asia accounts for around 32.1% share in the global market.
Aquafeed Additives Market: Trends
Aquafeed additives producers need support from investors to grow, as investors have medium- to long-term horizons and a willingness to invest in capital-intensive infrastructure. Manufacturers are exploring new ways to overcome this problem. Therefore, aquafeed additives such as animal-based, plant-based and microorganism based additives are best alternative to traditional ingredients in aquafeed additives, as they reduce the cost of production and are good sources of protein. Plant-based aquafeed additives are expected to offer better long-term value, but to withstand the price fluctuations affecting fish and grain meals, they may have to compete on the basis of enhanced functionality as compared to other sources of aquafeed additives.
Increasing Research and Development Expenditure by Manufacturers:
Expenditure on research and development is increasing as manufacturers in the global market are now facing competition from the local/regional players. Innovative technologies introduced by regional companies are impacting the global food sector at a high pace. It has therefore become very necessary for the established market players to boost the scale of their research and development efforts.
More aquafeed manufacturing companies are shifting their research activities away from their headquarters. It is expected that emphasis on research and development will rise in the upcoming years, as manufacturers are anticipated to provide products that are of improved quality as compared to their rivals. Manufacturers are also targeting on positioning their product brands better to improve sales.
Aquafeed Additives Market: Strategies
Key players in the global aquafeed additives market are focusing on new product launches to draw the attention of a large consumer base. Customers are easily attracted to those brands that offer superior products with improved and innovative product taste and quality as well.
Marketing Campaign: Apart from the product innovations, players are spending in several marketing activities to promote their products.
Target Region for Aquafeed Additives Market
East Asia has emerged dominant, holding the largest share in the global aquafeed additives market in 2019. It is projected to remain at the top place in the global aquafeed additives market through the forecast years. However, North America, South Asia, and Oceania are anticipated to show the higher growth rate in the upcoming years.
Aquafeed Additives Market: Players
Key players operating in the market, as profiled in the study,

ADM Animal Nutrition
Roquette Frères S.A.
MJI Universal Pte Ltd
Kemin Industries
Skretting
Green Plains Inc
Cargill Incorporated
BIOMIN,
Aller Aqua A/S among others
Aquafeed Additives Market - Scope of the Report
Transparency Market Research (TMR) has recently published a market study on the aquafeed additives market. It provides a detailed assessment of key market dynamics, including the drivers, trends, opportunities & restraints, and detailed information about the aquafeed additives market structure. The market study presents exclusive information about how the aquafeed additives market will grow during the forecast period of 2019-2029.
Key indicators of market growth, which include year-on-year (Y-o-Y) growth of the market, value chain, supply chain analysis, and compounded annual growth rate (CAGR) are elaborated in the study in a comprehensive manner. This information is intended to help readers understand the quantitative growth prospects of the aquafeed additives market during the forecast period.
The study is intended to offer a holistic market overview to stakeholders in the aquafeed additives manufacturers, suppliers, distributors, and investors, and to help them develop winning growth strategies. Stakeholders in the aquafeed additives market, which include investors, industry experts, researchers, and journalists, and business researchers, can leverage the information and data presented in TMR's study.
The study also includes statistics and facts related to the macro as well as microeconomic factors that are impacting expansion of the market. It also offers actionable insights into the future trends in the aquafeed additives market. Furthermore, small businesses and new entrants in the aquafeed additives market can make use of the information presented in this study based on which, they can make appropriate business decisions in order to gain momentum in the market.
Key Questions Answered in TMR's Aquafeed Additives Market Report
Which region will continue to remain the most profitable regional market for aquafeed additives market players?
Which factors will induce a change in the demand for aquafeed additives during the assessment period?
How will the changing trends impact the aquafeed additives market?
How can market players capitalize on the low-hanging opportunities in the aquafeed additives market in developed regions?
Which companies are leading the aquafeed additives market?
What are the winning strategies of stakeholders in the aquafeed additives market to catapult their position in the forefront?
Aquafeed Additives Market: Research Methodology
In TMR's study, a unique research methodology is used to conduct extensive research on the growth of the aquafeed additives market and identify future growth parameters. This research methodology is a combination of primary and secondary research, to help analysts ensure the accuracy and reliability of the conclusions.
Secondary resources referred to by analysts for compiling the aquafeed additives market study include statistics from governmental organizations, trade journals, white papers, and internal and external proprietary databases. Analysts have interviewed senior managers, product portfolio managers, CEOs, VPs, marketing/product managers, and market intelligence managers, who contributed to the development of this report as a primary resource.
Information acquired from primary resources and secondary resources is compiled in a comprehensive manner. This also acts as a validation from companies in the aquafeed additives market, which makes TMR's projections more accurate and reliable.
Aquafeed Additives Market – Segmentation
TMR's studies the aquafeed additives market in terms of a few important segments. These are product type, application, source, and region. This report offers comprehensive data and information about the important market dynamics and growth parameters associated with these categories.
Product Type

Amino Acids
Antioxidants
Antibiotics
Vitamins
Minerals
Feed Acidifiers
Feed Enzymes

Application

Carps
Marine Shrimps
Tilapia
Catfish
Salmon
Sea Bass
Others

Source

Plants
Animals
Microorganisms

Region

North America
Latin America
Europe
East Asia
South Asia & Oceania
Middle East & Africa
Custom Market Research Services
TMR offers custom market research services that help clients to get information on their business scenario required where syndicated solutions are not enough.
REQUEST CUSTOMIZATION

Aquafeed Additives Market