Apple Cider Vinegar Market
Apple Cider Vinegar Market (Nature - Organic, Conventional; Product Type - Filtered, Unfiltered; Form - Powder, Liquid, Capsules, Tablets, End Use - B2B, B2C; Distribution Channel - Store-based Retailing, E-Retailing; Flavor - Flavored, Unflavored; Price Range - Economy, Mid-range, Premium; Special Diet Need - Gluten-free, Non-GMO, Dairy-free, Organic, Vegan, Wheat-free, Fat-free, Halal, Kosher, Natural, Sodium-free, Sugar-free, Zero Calorie) - Global Industry Analysis, Size, Share, Growth, Trends, and Forecast 2019-2027
Food & Beverages
TMRGL44363
2019-05-14
250

Pages
Avenues of Growth in Apple Cider Vinegar Market Go beyond the Health & Wellness Trend
Gone are the days when apple cider vinegar was only known for its benefits in facilitating weight loss and maintaining blood-sugar balance. While apple cider vinegar is one of the most commonly used ingredient in natural remedies as well as food products, manufacturers are exploring ways to broaden the width of its end-uses and industrial applications.
Apple cider vinegar sales have increased by around 4% per annum since 2015, reaching US$ 836 million in 2018, and dynamics of apple cider vinegar market have ceased to revolve around its health-promoting properties. Marketing campaigns to promote apple cider vinegar as the secret of celebrities and popular health fanatics will continue to remain on the cards for market players. However, in the future, apple cider vinegar manufacturers are likely to expand their horizons by launching products to appeal to the young demographic, which resonates not only with their health aspirations but encompasses wider elements pertaining to beauty and personal care.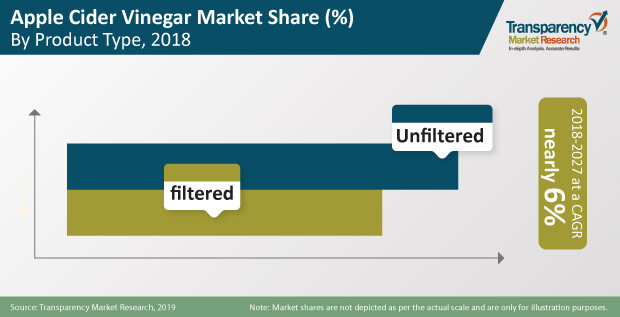 Apple Cider Vinegar: From a Niche Segment to Mainstream Product
There is enormous untapped potential for apple cider vinegar in sectors other than the traditional streams—health & wellness, and food & beverage. Leading players in the apple cider vinegar market are foraying into pharmaceuticals, personal care & cosmetics, and dietary supplements.
Personal care & cosmetics industry is emerging as one of the fastest-growing end-use segment for the apple cider vinegar industry. Manufacturers are capitalizing on consumer inclination towards natural ingredients in cosmetics and personal care products. Apple cider vinegar is also becoming an integral part of consumers' skin and health care beauty regimes, which creates new opportunities in the personal care & cosmetics industry.
Manufacturers are exploring ways to improve functional characteristics as well as the taste of conventional apple cider vinegar by introducing innovative flavors. The trend of introducing novel ingredients, such as green tea, ginger, and walnuts, in apple cider vinegar is purveying among market players as specialty beverages with functional ingredients are gaining immense popularity. These innovations in the apple cider vinegar market are in sync with broader trends impacting the food & beverage sector, notably the spurt in veganism and growing consumer preference for natural and clean label.
Product Diversification - The Key Strategy for Players in Apple Cider Vinegar Market
Growing consumer inclination towards health and wellness products has led to market fragmentation and pricing pressures. Apple cider vinegar market players are tinkering with their product and marketing strategies to maintain their respective market shares. From mergers & acquisitions to effective marketing communications, the apple cider vinegar market players are likely to pull out all the stops in the near future.
Global giants in the food & beverage industry, such as PepsiCo Inc. and The Kraft Heinz Company, are prioritizing merger & acquisition-based strategy in lieu of investing in their own production facilities. Large companies are also wielding their influence in the global beverage industry to collaborate with small businesses in the apple cider vinegar landscape and expand their geographical footprint.
Apple cider vinegar manufacturers are focusing on cutting their dependency on outsourcing raw materials from apple farmers. Growing own apple orchards to improve product quality and slash manufacturing costs is emerging as a winning strategy for manufacturers in the apple cider vinegar industry. In addition, manufacturers are focusing on maintaining transparency of source rowing in order to improve consumer loyalty by virtue of homegrown apples used in the apple cider vinegar production.
Effective packaging—traditionally, the X-factor in food & beverage product positioning—continues to be a primary focus area for apple cider vinegar manufacturers. Considering the fact that the target audience of apple cider vinegar comprises conscientious consumers, brands have been cautious to include sustainable and recyclable materials in their offerings. The use of packaging to effectively communicate the health benefits and nutritional information of apple cider vinegar remains a key marketing strategy of the manufacturers.
Growing Application of Apple Cider Vinegar Fuel Demand Opportunities for Manufacturers
Apple cider vinegar is gaining impetus across worldwide health enthusiasts owing to plethora of advantages it offers. It is widely utilized for weight loss purpose and maintenance of blood sugar levels. Owing to the extensive use of apple cider vinegar in various natural remedies and food products, vendors in global apple cider vinegar market are projected to gather lucrative avenues in the forthcoming years.
Several companies across the global apple cider vinegar market are focused on discovering various new industrial applications and end-uses of apple cider vinegar. To achieve this motive, they are increasing cash in-flow toward research and development activities. Apart from this, many vendors are concentrated on strengthening their marketing strategies. This move is helping stakeholders in growing awareness regarding various applications of apple cider vinegar, and thereby increasing their sales.
Many market players are expected to explore the usability of apple cider vinegar in various untapped sectors such as pharmaceutical, cosmetics and personal care, and food supplements. This scenario is indicative of promising expansion opportunities of the global apple cider vinegar market in the years to come.
In recent few years, the major population across the globe is growing inclination toward the use of natural ingredients in cosmetics and personal care products. This trend is projected to drive demand opportunities in the global apple cider vinegar market in the forthcoming years.
The recent COVID-19 pandemic has resulted into sluggish growth rate of the overall food industry including the global apple cider vinegar market. Many end-users of apple cider vinegar of facing issues related to production and distribution activities. This scenario has directly impacted on the sales of the players in the global apple cider vinegar market. Apart from this, many apple cider vinegar manufacturers are witnessing problems in performing regular operational activities owing to the shortage of staff. Thus, stakeholders are investing time and money to strategize their business moves in order to regain their regular production and distribution activities in short period.
Transparency Market Research recently published a report titled "Apple cider vinegar Market: Global Industry Analysis 2015-2018 and Opportunity Assessment, 2019–2027". The report sheds light on the most important factors impacting the growth of the global apple cider vinegar market, along with a detailed assessment on untapped opportunities for stakeholder, trends and developments shaping the dynamics of the global apple cider vinegar market.
The report provides an in-depth analysis of the current growth prospects of the global apple cider vinegar market and predicts the growth of the market during the assessment period. Valuable insights about the growth of the global apple cider vinegar market are featured in the report, which can help stakeholders in the market to make important business decisions. The report also provides all the information that market players can leverage which developing crucial business strategies for growth.
Market players including distributors, manufacturers, suppliers, marketers, business analysts, researchers, and business journals too, can benefit from the information contained in the report. It can help manufacturers in instigating critical changes in their manufacturing processes and marketing strategies in order to consolidate a stronger position in the market.
Based on historical data, facts, and recent statistics associated with the factors influencing the market growth, the report provides helpful insights about the future prospects of the market. It can prove to a handy resource for industry experts, business analysts, managers, and al the market players in attaining a stronger position in the global apple cider vinegar market.
The report sheds light on key developments and activities executed by the prominent service providers operating in the A global apple cider vinegar market. The report provides detailed market share analysis of the global apple cider vinegar on the basis of key manufacturers. A section of the report highlights country-wise global apple cider vinegar. To offer insights on the global apple cider vinegar market in a comprehensible manner, the report is categorically split under six sections: market analysis by product type, nature, form, end applications, distribution channels, and region.
The report commences with an overview of the global apple cider vinegar market. The executive summary of the global apple cider vinegar market provides brief quantitative data about the overall market and its leading sub-segments. The executive summary is followed by the market introduction and market definition. These segments help readers understand the basic overview of the growth of the global apple cider vinegar market. This section also includes TMR's analyses of key trends, drivers and restraints from the supply and demand perspectives. Impact analysis of key growth drivers and restraints based on the weighted average model are included in the report to better equip and arm clients with actionable decision-making insights.
Research Methodology
When developing the market forecast, the starting point involves sizing up the current market, which forms the basis on how the market is anticipated to take shape in the near future. Given the characteristics of the market, we triangulated the outcome on the basis of various analysis results based on both supply side and demand side. However, quantifying the market across the aforementioned segments and regions is more a matter of quantifying expectations and identifying opportunities rather than rationalizing them after the forecast has been completed.
In order to understand key growth segments in terms of growth and performance of the apple cider vinegar market, Transparency Market Research developed a market attractiveness index. The resulting index should help providers identify real market opportunities.
The concluding segment of the report contains a comprehensive list of the key companies in the market and detailed information about them including the sizes of all the companies. It also provides important insights by analyzing the recent activities in the global apple cider vinegar market such as mergers, collaborations, acquisitions, partnerships, and new product launch. Apple cider vinegar industry structure and company market share analysis has been analyzed in this report.
The market share of each company in the market is estimated on the basis of sales of apple cider vinegar across the globe. Various sources referred include company annual reports, investor presentations, analyst presentations, and company press releases. Some of the major market players featured in this section are:
PepsiCo, Inc.
The Kraft Heinz Company
GNC Holdings, Inc.
White House Foods Company
Carl Kühne KG (GmbH & Co.)
Castelo Alimentos S/A
Pompeian, Inc.
Manzana Products Co.
Solana Gold Organics
Aspall Cyder Ltd.
Nutraceutical Corporation
Eden Foods, Inc
Higher Nature Limited
Vitane Pharmaceuticals, Inc
Bragg Live Food Products, Inc.
Swanson Health Products, Inc.
Mautner Markhof Feinkost GmbH
Regions

North America
Latin America
Europe
Asia Pacific Ex. Japan (APEJ)
Japan
Oceania
Middle East and Africa

Product Type

Basis of Nature

Form

Powder
Tablets
Liquid
Capsules

End-use

Food and Beverages

Salad Dressing
Marinades
Food Preservatives
Others

Dietary Supplements
Personal Care & Cosmetic
Retail

Distribution channels

B2B
B2C

Store-based Retailing

Hypermarket/Supermarket
Convenience store
Discount stores
Pharmacy/Drug store
Food and Drink Speciality Store
Independent small Groceries

E-retailing
Custom Market Research Services
TMR offers custom market research services that help clients to get information on their business scenario required where syndicated solutions are not enough.
REQUEST CUSTOMIZATION

Apple Cider Vinegar Market