Anticancer Drugs Market
Anticancer Drugs Market (Drug Type - Cytotoxic Drugs (Alkylating Agents, and Antimetabolites), Targeted Drugs (Monoclonal Antibodies and Tyrosine Kinase Inhibitors), and Hormonal Drugs; Therapy Type - Chemotherapy, Targeted Therapy, and Immunotherapy; Cancer Type - Lung Cancer, Breast Cancer, Leukemia, and Colorectal Cancer) - Global Industry Analysis, Size, Share, Growth, Trends, and Forecast 2017 - 2025
Category :

Pharmaceutical

Format :
Anticancer Drugs Market: Snapshot
One of the leading causes of death is cardiovascular diseases followed by cancer. It is estimated that 1 out of 6 deaths is caused due to cancer. Within 3 years of the discovery of cancer its antidrug was invented hence proving that medical science has made enormous advances. On account of the growing demand for cancer curing drugs worldwide, the pharmaceuticals market, especially with regard to anti-cancer drugs is on hike.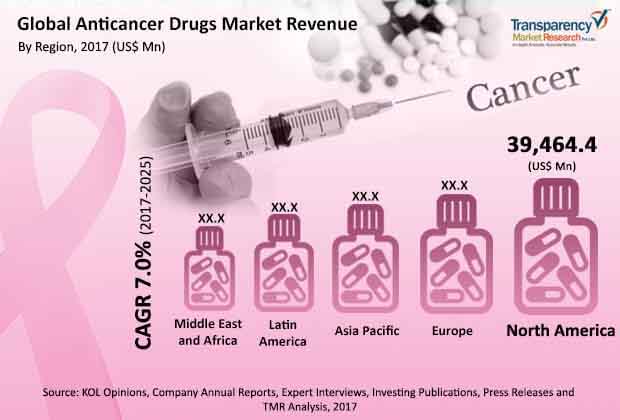 The Global market for anticancer drugs comprises of a highly aggressive vendor landscape. In view of a number of the largest leading pharmaceutical players of the world, the market is fragmented. The leading companies compete with innovative products and strong pipelines to boast the high efficacy and efficiency in the market. There is also a constant rise in the number of small players as they are focusing on innovative treatment methods.
The global anticancer drugs market is estimated to expand to US$155.6 BN by 2025 with a 6-7% CAGR within the forecast period of 2017 to 2025. The previous market value of 2015 was at US$ 85.0 bn in 2016.
Anti-cancer drugs with minimum Side-effects driving growth in the market
Based on therapy, the anticancer drug market is segmented into immunotherapy, targeted therapy and chemotherapy. Immunotherapy is usually for treating melanoma, a dangerous form of skin cancer. The segment for targeted drugs accounts for more than 40% of share value in the global drugs market for anti-cancer. As compared to cytotoxic drugs, minimum side effects along with effective results and high specificity of the drugs are predicted to expand the growth of the segment by 2025.
On the basis of cancer type, there is colorectal cancer, breast cancer, leukemia and lung cancer out of which lung cancer is predicted to expand at a strong CAGR of over 6% due to large number of lung cancer incidences and high prevalence and promising pipeline for non-small cell lung cancer (NSCLC) drugs during the forecast period.
North America to Contribute Large Share in Future with Private and Public Sector Support
The global anticancer drugs market is studied on the basis of key geographies Middle East and Africa, Latin America, Asia Pacific, Europe, and North America. Among these, Germany, U.K. and U.S. show higher adoption for anti-cancer drugs compared to other regions. This is because of the prevalence of unhealthy lifestyle, developed healthcare infrastructure, targeted efforts of government and NGOs towards cancer management.
North America is expected to grow at a rapid pace during the forecast period other than Japan and Australia which seems favorable for the market growth. Increased awareness regarding the benefits of early diagnosis, rising disposable incomes, rising prevalence of number of forms of cancer, and projected pipeline drugs are propelling the growth of the regional market. Due to the easy availability of drugs in the region, and high healthcare expenditure from both the private and public sector, North America is predicted to contribute largely to the anticancer drugs market globally. Apart from that, established players are entering China and India due to high prevalence making the market attractive. The markets in other regions such as Africa, Middle East and Latin America are expected to grow during the forecast period at moderate rate.
In the global anticancer drugs market, companies like Amgen Inc, Takeda Pharmaceutical Company Limited, Eli Lilly and Company, and F. Hoffmann-La Roche Ltd are the key players.
Global Anticancer drugs Market: Scope and Research Methodology
This report on the global anticancer drugs market analyzes the current and future prospects of the market. The report comprises an elaborate executive summary, including a market snapshot that provides overall information of various segments and sub-segments.
The research is a combination of primary and secondary research. Primary research formed the bulk of our research efforts along with information collected from telephonic interviews and interactions via e-mails. Secondary research involved study of company websites, annual reports, press releases, stock analysis presentations, and various international and national databases. The report provides market size in terms of US$ Mn for each segment and sub-segment for the period from 2017 to 2025, considering the macro and micro environmental factors. Growth rates for each segment within the global anticancer drugs market have been determined after a thorough analysis of past trends, demographics, future trends, technological developments, and regulatory requirements.
A detailed qualitative analysis of factors responsible for driving and restraining market growth and future opportunities has been provided in the market overview section. This section of the report also includes market attractiveness analysis that provides a thorough analysis of the overall competitive scenario in the global anticancer drugs market.
Market revenue in terms of US$ Mn for the period between 2015 and 2025 along with the compound annual growth rate (CAGR %) from 2017 to 2025 are provided for all the segments, considering 2016 as the base year. Market size estimations involved in-depth study of features of different type of drugs, therapies and cancer types. Additionally, market related factors such as rise in preference of targeted therapies, high prevalence rate of cancer, rise in per capita healthcare expenditure etc. in various geographies and historical year-on-year growth have been taken into consideration while estimating the market size.
Anticancer drugs Market: Segmentation
Cancer is caused due to abnormal growth of the cells. Anticancer drugs are also known as antineoplastic drugs. These drugs prevents and inhibits the growth of cancer cells.
Based on drug types, global anticancer drugs market is segmented into cytotoxic drugs, targeted drugs, and hormonal drugs. The targeted drugs segment is further segmented into monoclonal antibodies, tyrosine kinase inhibitors and others. The segment is anticipated to hold a significant share of the global market. The targeted drugs have a significant demand and is expected to continue dominating the global market throughout the forecast period.
Based on therapy type, global anticancer drugs market is segmented into chemotherapy, targeted therapy, immunotherapy and others. Targeted therapy held the highest share of the market and is anticipated to dominate the market during the forecast period. Side effects of chemotherapy and specificity of the targeted drug are the factors driving the growth of global market.
Based on cancer types, the global anticancer drugs market is segmented into lung cancer, breast cancer, leukemia, colorectal cancer and others. The lung cancer segment is expected to expand at the fast rate due to high prevalence of the disease worldwide.
Anticancer drugs Market: Geographical and Competitive Dynamics
Geographically, the global anticancer drugs market has been segmented into five regions: North America, Europe, Asia Pacific, Latin America and Middle East & Africa. In addition, the regions have been further segmented by major countries from each region.
The report also profiles major players in the anticancer drugs market based on various attributes such as company overview, financial overview, SWOT analysis, key business strategies, product portfolio, and recent developments. Key companies profiled in the report include F. Hoffmann-La Roche Ltd, Eli Lilly and Company, CELGENE CORPORATION, Novartis AG, Pfizer Inc, Amgen Inc, Bayer AG, AstraZeneca, Takeda Pharmaceutical Company Limited, Merck & Co., Inc. etc.
The global anticancer drugs market has been segmented as follows:
Drug Type

Cytotoxic Drugs

Alkylating Agents
Antimetabolites
Others

Targeted Drugs

Monoclonal Antibodies
Tyrosine Kinase Inhibitors
Others

Hormonal Drugs

Therapy Type

Chemotherapy
Targeted Therapy
Immunotherapy
Others

Cancer Type

Lung Cancer
Breast Cancer
Leukemia
Colorectal Cancer
Others

Geography

North America
Europe

Germany
U.K.
France
Spain
Italy
Rest of Europe

Asia Pacific

China
Japan
India
Australia & NZ
Rest of APAC

Latin America

Brazil
Mexico
Rest of LATAM

Middle East & Africa

GCC Countries
South Africa
Rest of MEA
Custom Market Research Services
TMR offers custom market research services that help clients to get information on their business scenario required where syndicated solutions are not enough.
REQUEST CUSTOMIZATION