Antacids Market
Antacids Market (Drug Class - Proton Pump Inhibitor, H2 Antagonist, and Acid Neutralizers; Formulation Type - Tablet, Liquid, and Powder; Distribution Channel - Hospital Pharmacies and Retail Pharmacies) - Global Industry Analysis, Size, Share, Growth, Trends, and Forecast 2017 - 2025
Pharmaceutical
TMRGL32864
2017-10-11
184

Pages
Sedentary and Stressed Lifestyle Necessitates Demand for Antacids
According to the data revealed by the Population Reference Bureau (PRB), the genarian population across the world is expected to reach 16% from 9% in 2018. As these people are more susceptible to weak digestion and stomach related issues due to low immunity, they are the important consumers of antacids. With the advancement in medical technology, there has been a rise in life expectancy in people, which leads to an increased number of the elderly population. Based on WHO statistics, the global life expectancy in 2016 was 72 years average, with 74.2 years in women and 69.8 years in men. Owing to improvement in sanitation, vaccination, and so on, the number of mid and early-life mortality is foreseen to decrease to a large extent. This fortifies the usage of antacids by the elderly population, stimulating the demand in global antacids market.
Besides this, the consumption of antacids has also increased due to a number of people relying on ready-to-eat foods due to a busy lifestyle. In addition, consumption of junk food which has certain preservatives responsible for disturbing the digestion, and chemicals triggering heartburn is another factor that encouraged Transparency market Research to come up with a report on antacids market. Lack of physical activities leading to obesity and chronic gastrointestinal disorders are additionally fortifying the motive behind presenting this report for the clients and investors for detailed analysis. The report highlights all the leading factors and trends in antacids market, along with certain drawbacks which should be considered before investment. It also unveils the important market figures depicting the current and upcoming market scenario.
.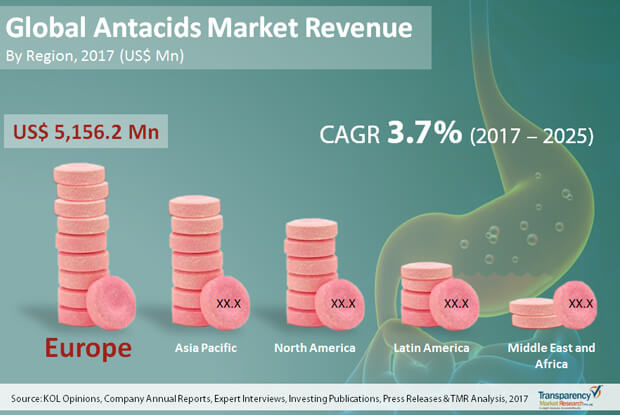 Researchers Working on Developing More Instantly Effective and Long Lasting Antacids
Around two decades ago, proton pump inhibitors (PPIs) were among the most preferred drugs to treat patients suffering from chronic acidity. But, these agents still lacked the efficiency to treat acidity completely, as they did not possess accuracy in several aspects. Earlier, the PPIs, named (lansoprazole, omeprazole, and pantoprazole worked well for showing immediate relief from stomach-related issues. However, they were inefficient in treating acid-related issues for a long time. The advanced proton pump inhibitors drugs, esomeprazole, and rabeprazole, are more reliable and effective. These are known to have a greater and long-lasting effect during evening after 5 days of administration.. These new antacid drugs with PPI agents have several advantages in managing gastro-esophageal reflux disease (GERD). In addition, growing awareness about these disorders is adding to the demand in antacids market.
Proton pump inhibitors accounted for a whopping 66.4% revenue in 2016, leading the global antacids market. The consistent growth in revenue is expected to sustain its dominance in the coming years as well, owing to several developments coming its way. Looking at this, the global antacids market is prognosticated to expand at a CAGR of 4.1% during the forecast period from 2017 to 2025. In market was valued around worth of US$9,050 mn in 2016, which is likely to reach around US$12,857.3 mn. Looking at the figures, the players willing to invest as well as the existing ones are likely to have a huge scope of growth in the coming years. With an amount ~US$3,806.7 mn the global antacids market is expected to provide a significant incremental value for the key players in the market.
Reliability on Digestive Remedies Due to Low Physical Activity to Uplift Market Growth
Some of the leading factors responsible for the rising consumption of antacids are leisure habits, sedentary lifestyle, poor diets, obesity, and increasing stress in daily life. These aspects are known to have a detrimental effect on the digestive system and its functioning. Because of this, the consumers are relying on several digestive remedies, such as antacids. Additionally, there has been a major shift ] from prescribed drug to OTC drugs, in the pharmaceutical sector. Thus, the antacid drugs can be purchased over-the-counter, and are available at affordable price in various flavors. Some of the OTC drugs are Gelusil, Alka-Seltzer, and Pepto-Bismol. According to a study, the global antacids market grows by US$10 bn every years. The rising prevalence of GERD, heartburn, and acidity since a while, there is a growth in North America from 18% to 28%, among which 25% are adults complaining for acidity and heartburns regularly.
Consumption of Aluminum-Based Antacids to Have No Indications of Dementia
Lately, the intake of aluminum-based antacid was consumed without the fear of suffering from dementia. The amount of aluminum in antacids is extremely small, and a body has its own ways of excreting that negligible amount, without harming the function of any organ, and making it toxic.
A few years ago, concerns were raised against consumption of PPIs for a long duration. However, recently, a study fortified that the intake of proton pump inhibitors is not associated with mortality rate, as stated in other studies earlier. With PPIs claimed to be safe for consumption, the global antacids market finds another factor in its current situation.
According to a recent study published by Nature Communications journal, intake of drugs prescribed for treating heartburn could result in allergies in some people. Researchers studied the people prescribed with drugs such as H2 blockers and PPIs, who were also recommended to have an anti-allergy medicine. The study said that allergy might pop-up after few years after consumption of gastric acid inhibitors. Eight million people were kept under observation for this research.
Home Remedies for Acidity Related Issues to Have Reverse Impact on Market Growth
However, on the flipside, home remedies for occasional heartburns and acidity, and change in eating habits and lifestyle are some of the other alternatives posing a threat to global antacids market. Moreover, awareness about herbal medicines and traditional methods are also among the restrictive factors in the market growth.
Astudy published by Gut journal stated that young children who were prescribed drugs to reduce stomach acid, showed symptoms of obesity. Prolonged consumption of acid-related medicines tend to alter gut microbes resulting in weight gain.
Another study has showed the link between prescribing antacids to infants and bone fractures. Acid suppressants given to babies below the age of 1 year, resulted in 23% chances of fracture when consumed PPIs, and a huge 31% chances when PPIs and H2 blockers, both were prescribed. Having said that, there are other factors influencing the cause of fracture such as child being overweight, gender, and pre-mature birth, to state the least.
Growth in Online Pharmacy in Europe to Make it a Leading Region
The global antacids market was led by Europe by 36.9% share in 2016. The regional market is anticipated to witness a steep growth graph in coming years as well with a CAGR of 3.2% within the forecast period from 2017 to 2025, with an expected valuation of ~ US$6647.4 mn. This dominance is attributed to increasing cases of gastrointestinal diseases in the region, along with advanced facilities for therapeutics and diagnosis. As a result the region holds a huge demand and availability of antacids as over-the-counter drugs in several brand stores. Growth in online pharmacy and rise in e-commerce sector is another fueling factor behind the growth in Europe antacids market, resultantly fulfilling global demand.
In addition, the region is a home for many leading companies in global antacids market such as Bayer AG, AstraZenca, Boehringer Ingelheim GmbH, GlaxoSmithKline plc., and Sanofi. According to the analyst at TMR, these companies are majorly focusing on strategies like mergers and acquisitions and product development. In March 2015, AstraZeneca got into agreement with a company in the US, Daiichi Sankyo, Inc. for Movantik, which is an oral, once-a-day, peripherally-acting mu-opioid receptorantagonist (PAMORA) used for treating opioid-induced constipation (OIC). This has resulted in improved revenue for both the companies.
Similarly, GlaxoSmithKline in February 2015, took over GlycoVaxyn AG, headquartered at Switzerland, which is a specialist vaccine biopharmaceutical firm, to take ahead itsinitial stage vaccines pipeline. The company also invested US$294.39 million in 2016, for R&D in Consumer Healthcare, for innovations, like Excedrin Gel-tabs, Eno in new ajwain flavor in India, Sensodyne True White, and so on. These launches have helped the company to increase their reach among the masses, along with new flavors which would attract the customers to buy their product.
Relaxed Regulations for OTC to Help Market Penetration Easy for Players
The global antacids market seems to be fragmented due to presence of several players across the globe. Increasing number of companies involved in manufacturing of pharmaceutical products intensifies the competition in the global antacids market. However, various regional and local players are willing to invest, owing to low production cost and easy availability of raw materials for antacids.
In addition, relaxed regulations for over-the-counter drugs is another factor attracting the players to enter in the global market. Thus, there is a moderate threat for new players to set their foot and make their presence noticed.
Apart this, the players are investing heavily in the research activities looking at the lucrative scope in the market, and also to explore the untapped regions. Owing to better healthcare funding from the governments in various regions, such as North America and better healthcare policies, the global antacids market is foreseen to develop by leaps and bounds in coming years.
Nevertheless, owing to strong foothold by the leading companies in the regional and global market, it seems to be a bit difficult for the new entrants to secure their position easily.
Global Antacids Market: Scope and Methodology
This report on the global antacids market analyzes the current and future prospects of the market. The report comprises an elaborate executive summary, including a market snapshot that provides overall information of various segments and sub-segments.
The research is a combination of primary and secondary research, conducted for understanding the arriving trends, used to forecast the expected revenue of antacids used in various gastro esophageal diseases in the near future. Primary research formed the bulk of our research efforts with information collected from in-depth interviews and discussions with a number of key industry experts and opinion leaders. Secondary research involved study of company websites, annual reports, press releases, investor presentations, analyst presentation and various international and national databases. The report provides estimated market size in terms of US$ Mn for each drug class, formulation type, and distribution channel. In addition, the report provides estimated market size in terms of US$ Mn for various geographic regions for the period 2015 to 2025, considering the macro and micro environmental factors. The revenue generated from each product was calculated by considering their launch date in the market, customer acceptance, volume sales, price of the product, trends in industry, end user trend, and adoption rate across all the geographies.
The market overview section of the report comprises qualitative analysis of the overall antacids market considering the factors determining the market dynamics such as drivers, restraints and opportunities, along with Porter's five force analysis and market attractiveness analysis. In addition, market opportunity analysis for the drug class, formulation type, distribution channel, and key industry developments has also been provided. Key industry developments include the major events occurred in past 4-5 years and are expected to occur during the forecast period which are likely to affect the market dynamics.
The market report comprises an elaborated executive summary, which includes market snapshot that provides information about various segments of the market. It also provides information and data analysis of the market with respect to market segments based on drug class, formulation type, distribution channel, and geography. The report also provides value chain analysis of the market that describes the sequence of activities involved, from identification of the market need to their final reach to the end users. All these factors will help the market players to decide about the business strategies and plans to strengthen their positions in the global market.
Global Antacids Market: Segmentation
Antacids can be defined as medicines used to suppress the acid production in stomach. They fall in different drug class depending on their mechanism of action.
Based on drug class, global antacids market is segmented into proton pump inhibitor (PPI), H2 antagonists and acid neutralizers. Proton pump inhibitor are strong and effective drugs, used to inhibit the acid production. They are mainly used to treat gastro esophageal reflux diseases (GERD), peptic ulcers, etc. These drugs are often used for occasional heartburn, acidity, upset stomach, acid indigestion etc. This report analyzes the current and future prospects of the antacids market based on drug class, formulation type, distribution channel, and geography.
Based on formulation type, the market is segmented into tablets, liquid, powder and others. The others segment which include melt in mouth granules, disintegrating thin films, gummies, etc. is likely to have steady growth during the forecast period, while tablets segment is projected to account for dominant share of global antacids market. Based on distribution channel, the market is segmented into hospital pharmacies, retail pharmacies and others. Retail pharmacies segment is anticipated to hold significant share and have steady growth during the forecast period. Others segment which include online pharmacies and drug stores is projected to account for dominating share in global antacids market.
Based on geography, the market has been analyzed for major regions: North America, Europe, Asia Pacific, Latin America, and Middle East & Africa. In addition, the regions have been further segmented by major countries from each region.
Migraine Drugs Market: Geographical and Competitive Dynamics
The report concludes with the profiles of major players in the global gastrointestinal drugs market such as AstraZeneca, Bayer AG, Boehringer Ingelheim GmbH, Dr. Reddy's Laboratories Ltd., GlaxoSmithKline plc, Johnson & Johnson, Pfizer Inc., Procter & Gamble, Reckitt Benckiser Group plc, Sanofi, Sun Pharmaceuticals Ltd., Takeda Pharmaceutical, Valeant Pharmaceuticals International, Inc., among others. The major market players are evaluated on various parameters such as company overview, financial overview, product portfolio, business strategies and recent developments.
The global antacids market has been segmented as follows:
by Drug Class

Proton pump inhibitors
H2 Antagonist
Acid neutralizers

by Formulation Type

Tablet
Liquid
Powder
Others

by Distribution Channel

Hospital Pharmacies
Retail Pharmacies
Others

by Region

North America
Europe

U.K.
France
Germany
Italy
Spain
Rest of Europe

Asia Pacific

India
China
Japan
Australia & New Zealand
Rest of Asia Pacific

Latin America

Brazil
Mexico
Rest of Latin America

Middle East & Africa

Saudi Arabia
South Africa
Rest of Middle East & Africa
Custom Market Research Services
TMR offers custom market research services that help clients to get information on their business scenario required where syndicated solutions are not enough.
REQUEST CUSTOMIZATION