Amino Acid Based Formula Market
Amino Acid Based Formula Market (Product Type - Lactose, and Lactose Free; Application - New Born, Infant, and Toddler) - Global Industry Analysis, Size, Share, Growth, Trends, and Forecast 2017 - 2026
Food & Beverages
TMRGL42251
2018-04-10
170

Pages
Allergies to cow's milk has become a common ailment among infants, which has led parents to opt for formula feeding. The U.S. Food and Drug Administration (FDA) estimates over 1 million infants being fed with formula instead of breastfeeding in the U.S. currently. The FDA further foresees over 2.5 million infants to rely on formula until they are 3 months old. Wide variety of formulas have been developed for young infants with different tolerance limits, such as soy-based formulas and amino acid-based formulas.
Although soy-based formulas might be recommended in light of their lactose tolerance or cow's milk protein tolerance, the American Academy of Pediatrics considers their use for feeding preterm or low-birth-weight infants unadvisable. Amino acid-based formulas however are considered to be the first preference in infant formulas, as they can be fed to new-born as well as young infants intolerant to casein hydrolysates, soy protein isolates, and cow milk proteins.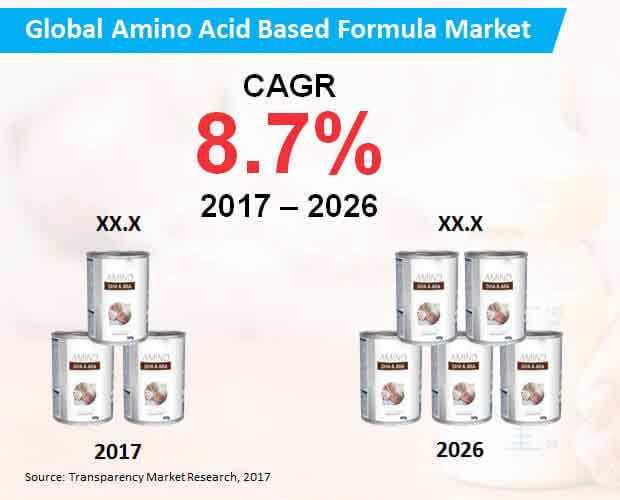 A new Transparency Market Research (TMR) report foresees the global amino acid-based formula market to record an impressive 8.7% value CAGR through the forecast period, 2017 to 2026. Volume sales of amino acid-based formula worldwide is pegged to surpass 15,400 tons by 2026-end.
Surging Incidences of Hypoallergenic Disorders in Infants
Population across the globe has been witnessing a rise, driven by rising birth rate in developing nations, coupled with efforts of developed countries to enhance birth rates. Number of hypoallergenic disorders in new born and young infants has also been increasing abreast rising birth rates over the past couple of years. UNICEF and the WHO estimate over 2-3% of young infants across the globe to be affected with hypoallergenic disorders, leading them to become intolerant to cow milk proteins.
This has further driven demand for effective infant formulas, with amino acid-based formula being the first preference among parents worldwide. With several authoritative organizations and governments around the world taking efforts for improving outcomes of CMPA and hypoallergenic disorders, demand for amino acid-based formulas will further gain an uptick in the near future.
Opportunities exist for Innovation in Flavor & Taste
Most of the infant formulas based on amino acid have a slightly bitter taste, with limited flavors. This has further reflected on consumer hesitation and consumption rejection of infants significantly. Infant formula manufacturers are therefore developing new formulations to equip various flavors that would be appealing to infants and relieving stress off busy parents.
For example, Neocate Junior, nutritionally complete and powdered amino-acid based infant formula has been introduced in the market with various flavors such as strawberry and vanilla. Several other manufacturers are also focusing on leveraging the opportunity to develop innovative flavored infant formula products, in order to increase their market reach.
Over the years, infant formula manufacturers have made several improvements in their products, by adding or adjusting ingredients in response to research developments and trends. Additionally, these manufacturers adopt attractive packaging solutions such as ready-to-use plastic bottles having easy-to-grip shapes, for providing convenience to busy parents in carefully tending to their children. Key companies contributing to expansion of the amino acid-based formula market include Ausnutria Dairy Corporation Ltd., Abbott Laboratories, Danone, Mead Johnson Nutrition Company, and Nestlé S.A.
Rapid Development of Healthcare Industry Worldwide to Aid in Favor of Amino Acid Based Formula Market
The developing accessibility of amino acid-based formula in pockets, pair with more modest ordinary compartments, for example, tubs, their deals have seen a striking ascent. Makers are focusing in on utilizing creative bundling answers for baby formulas, for example, prepared to-utilize plastic jugs that encourage strong hold. This further turns out to be a feasible option for busy parents that have to manage between a healthy meal and other errands. Therefore, the availability of this formula in pouches and handy packaging systems are likely to aid in expansion of the global amino acid based formula market in the years to come.
With fast development in wellbeing and health industry around the world, probiotics have acquired a vital significance in food items, and in newborn child formulas also. As probiotics advance gainful microorganisms in human stomach for appropriate gut working, they are being considered as indispensable fixings in baby formulas. Ongoing examinations have displayed viable administration of hypoallergenic illnesses and alteration of gut microbiota in youngsters when taken care of with amino acid based baby formula containing probiotics. Inclination for such newborn child formulas have thusly expanded among guardians around the world, which thus is clearing worthwhile roads for baby formula producers.
The increasing number of GHDI consumers in agricultural nations, such as India, Singapore, and China spend more on the health and hygiene of their families. This has ultimately indicated another method of attracting more revenue, thereby fundamentally thought increasing the interest for premium items among devours. Parent need to offer their kids with the best arrangement accessible on the lookout, and premium baby formulas are no exemption.
Infiltration of premium amino acid based baby formula is additionally expected to acquire energy, with developing instances of hypoallergenic infections, malabsorption, and malmetabolism among youthful babies around the world.
Characterized by the blood-streaked pain and stools during defecation, food protein-induced proctocolitis basically occurs among young infants. While some infants having food protein-induced proctocolitis have responded well to casein hydrolysate formula, a large number of infants require amino acid-based formula, which come in both lactose and lactose-free variants.
Amino acid-based formulas are being considered to be first preference for infants with allergies to cow milk, as these can be fed to young as well as new-born infants intolerant to soy protein isolates, casein hydrolysates, and cow milk proteins. Over the years, the infant formula manufacturers made several improvements in amino acid-based formula, by adding ingredients in response to the research developments.
A recent Transparency Market Research (TMR) research report offers valuable insights on the evolution of global amino acid-based formula market for the foreseeable future. Quantitative data and qualitative information have been provided by the report, which track the growth of global amino acid-based formula market during the forecast period, 2017 to 2026. TMR's report also issues an array of objective information on the way manufacturers of amino acid-based formula are developing and implementing novel strategies for capturing untapped opportunities across the global landscape.
Report Synopsis and Market Segmentation
The market players can benefit from this report by procuring an all-inclusive researched intelligence, which has been validated around multiple market parameters. Effective & efficient technologies encompassing the fabrication of amino acid-based formula have been elucidated. An insightful roadmap regarding future prospects of the amino acid-based formula market has also been provided in the report. The report offers comparative analysis on the fast-expanding market segments and remunerative regions for the market expansion.
Every element related to design, fabrication, and application of amino acid-based formula has been studied in detail for weighing its influence on growth of the market in the upcoming years. Key chapters in the report deliver segmentation analysis & forecast on growth of the global amino acid-based formula market. In order to offer thorough analysis, the report has classified the amino acid-based formula market into 3 key segments namely, application, product type, and region. Forecast on country-specific amino acid-based formula market has also been delivered in these chapters of the report, along with a cross-segmental examination of the market.
Competition Landscape Analysis
Various insightful data have been procured through conduction of consistent interviews with the market players, and industry leaders worldwide. Intelligence imparted by companies have revealed the confidential reality engulfing the development, demand, and sales of amino acid-based formula. On the basis of current market standings, key companies underpinning the market growth have been identified and profiled in detail, including information on their product overview, company overview, key financials, and key developments.
All information aggregated and offered in this concluding chapter of the report have been contemplated in a balanced manner. In this chapter, the report delivers valuable insights on the way new strategies can enable improvements in businesses of the existing market players. Additionally, this analytical research study also issues knowledge about ways of market penetration for new and emerging players, and how these players can use insights offered in the report to make effective future business decisions.
Market Taxonomy
Region

North America
Latin America
Europe
Japan
APEJ
MEA

Product Type

Application
(Additional information, including cross-sectional data and country-wise analysis & forecast is available in the report)
Custom Market Research Services
TMR offers custom market research services that help clients to get information on their business scenario required where syndicated solutions are not enough.
REQUEST CUSTOMIZATION

Amino Acid Based Formula Market