Global Allergy Diagnostics Market: Snapshot
The global allergy diagnostics market is envisaged to take charge of a high growth rate on the basis of a few vital factors such as rising worldwide occurrence of allergies, transforming food habits, and longer pollen seasons due to climatic changes. Manufacturers in the world market are busy developing efficient automated systems, optimized allergen extracts, and diagnostic techniques through effective research and development activities. In this regard, the analysts foresee the market to be influenced by catholic technological advancements and research efforts.
With a double-digit CAGR of 12.8% for the forecast period 2016–2024, the world allergy diagnostics market is prophesied to set the tone for a titanic growth of US$3.8 bn by the concluding forecast year. In 2016, the global market had registered a valuation of US$1.4 bn.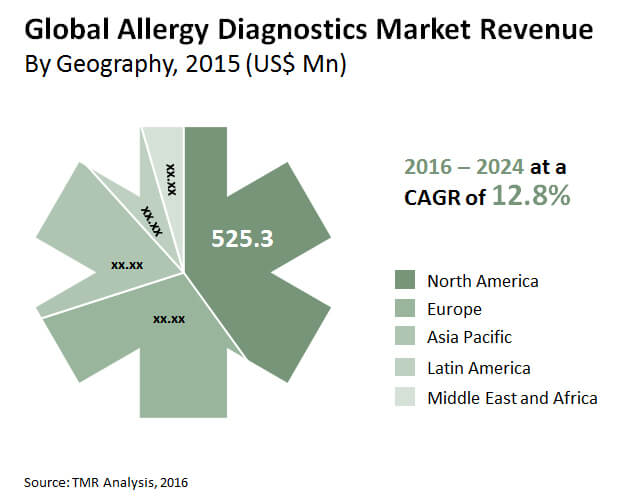 Inhaled Allergens Causing Allergic Rhinitis Prove Most Lethal
The consumables product type segment is prognosticated to reserve nearly half of the total share in the international allergy diagnostics market by 2024, putting behind the markets for assay kits and instruments. The results were almost similar in 2016. Research analysts predict the high volume and low cost of consumable products to be the decisive factors responsible for the higher share of the consumables market.
By type of allergen, inhaled allergens are envisioned to secure a princely share in the global allergy diagnostics market during the course of the forecast period. Allergic rhinitis is found to affect almost 30.0% to 40.0% of the global population, as per the statistics of the Asthma and Allergy Foundation of America. Patients suffering from this most prevalent allergy around the world are discovered to witness a 40.0% to 50.0% of asthma prevalence. Altering pollen seasons as a result of elevating global temperatures and changes in climate have augmented the prevalence of asthma and allergic rhinitis.
The in vivo test market for allergy diagnostics is foretold to outshine the in vitro test market on account of the cost-efficiency and sensitivity of skin tests. Ease of performance and unparalleled efficiency are the other factors that have made in vivo tests so attractive in the global allergy diagnostics market. For the forecast years, the in vivo test segment could continue its dominance while exhibiting a phenomenal CAGR.
With ease of access and improved diagnostic facilities in place, the diagnostic laboratories segment by end user is anticipated to clasp a king's share. The dominance of diagnostic laboratories could prevail until the end of the forecast period. Players operating in this market are expected to cash in on the advancements in diagnostic equipment and methodologies and heightened occurrences of inhaled and food allergies.
U.S. Stimulates Weighty Demand in Wake of Economic Impact of Allergies
North America could be the most attractive geographical segment by 2024, owing to increasing awareness about allergy threats, enhanced diagnostic technologies, improved health care facilities, and surging prevalence of allergies in the U.S. Coupled with technological developments and availability of sophisticated health care facilities, the U.S. flaunts a towering per capita health care expenditure.
The U.S. bears an approximate US$4.3 bn in annual cost to cater to the needs of 40.0 mn allergic rhinitis patients and up to US$700 mn in indirect costs due to 4.0 mn missed working days. In order to curb such a heavy impact on the U.S. economy, the government are taking to certain initiatives and the implementation of allergy awareness and education programs. Moreover, the reimbursement policies in the U.S. cover a majority of treatment procedures and tests pertaining to allergy diagnosis and treatment through the Medicare and Medicaid Services.
Europe is also researched to offer lucrative opportunities while Asia Pacific is forecasted to be a faster growing allergy diagnostics market.
Allergy Diagnostics Market: Scope and Methodology
Allergy diagnostics includes products and tests that are used to determine the presence of allergens such as grass, weed, peanuts, milk, or drugs etc. in the samples by determining the presence of antibodies developed by the immune system. The report on global allergy diagnostics market, analyzes the current and future prospects of the market. The report consists of an executive summary that provides information about the products, its segments and sub-segments, market opportunity analysis, along with a market snapshot and comparative analysis by geography, in terms of revenue %, for 2015.
A detailed overview of market dynamics, including the drivers, restraints, and opportunities of the allergy diagnostics market, along with porter's analysis, and value chain analysis, of the global market, has been provided in this report. Market revenue analysis for all the above mentioned segments, and their sub segments has been provided for the forecast period of 2016-2024, considering 2015 as the base year, and 2014 as the historical year, along with compound annual growth rate (CAGR %), for the forecast period of 2016-2024. Market share estimations were based on in-depth analysis and study of products, and their features, prices etc.
This report provides in-depth analysis of the allergy diagnostics market. The stakeholders for this report include companies involved in the manufacturing of products for allergy diagnosis. For providing a snapshot of this market to the stakeholders, executive summary section is included in this report, which summarizes the market size, trends and competition in different regions. Market share analysis among the market players is analyzed to signify percentage share of the major players operating in the allergy diagnostics market. Furthermore, the report incorporates market attractiveness analysis by geography that depicts the most attractive and significant region in the global market in 2015.
The research methodology is a combination of primary and secondary research. Primary research includes information collected via e-mails, and telephonic interviews of Key Opinion Leaders (KOL), and forms the bulk of our research. Secondary research includes information collected from various sources, by study of company websites, annual reports, stock analysis presentations, press releases, and various national and international databases.
Allergy Diagnostics Market: Segmentation
Based on products, the global allergy diagnostics market has been segmented into assay kits, consumables and instruments. The instruments considered in the study include blot analyzers, luminometers, mass spectrometers, ELISA analyzers, immunoassay analyzers etc. Based on allergen type, the allergy diagnostics market is segmented into inhaled allergens, food allergens, drug allergens, and others. Based on tests, the allergy diagnostics market is segmented into In-vivo tests and In-vitro tests. Based on end users, the market is segmented as hospitals, diagnostic laboratories, academic research institutes, and others.
Based on geography, the market is segmented into North America, Europe, Asia Pacific, Latin America, and Middle East & Africa. The regions are further segmented into major countries which include, U.S., Canada, Germany, U.K., France, Italy, Spain, rest of Europe, China, Japan, India, Australia, Rest of Asia Pacific, Brazil, Mexico, Rest of Latin America, Saudi Arabia, South Africa, and Rest of Middle East & Africa.
Allergy Diagnostics Market: Competitive Landscape
The report also comprises list major players in the market, their SWOT analysis, market share of these players in the Allergy Diagnostics market, key business strategies, product portfolios, and recent developments. Key market players profiled in this report include, Thermo Fischer Scientific, Inc., Quest Diagnostics, Inc., BioMerieux SA, Stallergenes Greer, Omega Diagnostics Group Plc, Siemens Healthineers, and HAL Allergy group, among others.
The global allergy diagnostics market has been segmented as follows:
Global Allergy Diagnostics Market, by Product
Assay Kits
Consumables
Instruments
Global Allergy Diagnostics Market, by Allergen Type
Inhaled Allergens
Food Allergens
Drug Allergens
Others
Global Allergy Diagnostics Market, by Tests
In-vivo tests
In-vitro tests
Global Allergy Diagnostics Market, by End-users
Hospitals
Diagnostic Laboratories
Academic Research Institutes
Others
Global Allergy Diagnostics Market, by Geography
North America
Europe

U.K.
Germany
France
Italy
Spain
Rest of Europe

Asia Pacific

China
Japan
India
Australia & New Zealand
Rest of Asia Pacific

Latin America

Brazil
Mexico
Rest of Latin America

Middle East & Africa

South Africa
Saudi Arabia
Rest of Middle East & Africa